Kensington Entertainment 500 review
Kensington's latest dock wants to cradle your iPod like a newborn child and give it a voice through your hi-fi. Should you set them up?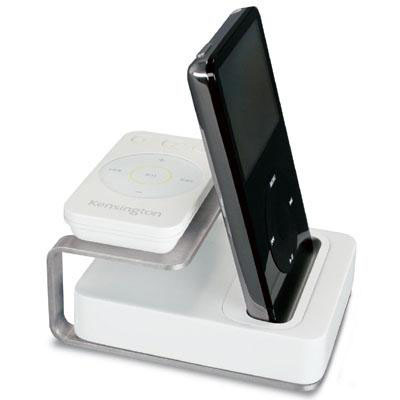 Some iPods lead the lives of pampered poodles, wearing expensive coats and sitting atop Fatman iTubes. Others aren't so lucky and spend much of their time wired to cheap throwaway speakers bought at the airport.
But what if you want to give your iPod a homely middle-class existence, connected to your hi-fi and TV for music and video? There are plenty of options. Apple sells a budget Universal Dock, but joining the Onkyo DS-A2 and Denon ASD-1R in the slightly more expensive bracket is this chap from Kensington.
In the dock
For 60 big ones, you not only get a cradle that boasts solid sound quality, but a rather handy remote. This lets you shift tracks and control volume, but also access all of your iPod's functions from the sofa.
The sound may not be as spacious and accomplished as the Denon ASD-1R, but you'll be saving enough cash for a few albums on iTunes and bagging yourself that handy remote.
You also get the option of watching your iPod's video on a TV via the S-Video output, although the often fuzzy results you get from such compressed video mean it's more of a novelty than a killer feature.
The competition
The only other decent option in this price range is the Onkyo DS-A2, which also offers a remote but proudly puffs out its chest to deliver a more dynamic sound and positively cavernous bass for such a tiny dock.
If you're looking for a dock, we'd recommend the Onkyo, but the Kensington is a more than capable substitute and marginally easier on your wallet.