Insta360 X3 review: the joy of X
Shoot first, point later with this fantastic 360 all-in-one camera
Insta360 rules the roost when it comes to 360 action cameras. Despite challenges from the likes of GoPro, nobody else is bringing as much to the marketplace as this Chinese company which, fresh off the back of releasing the high-end, modular (and clunkily named) Insta360 One RS 1-Inch 360 Edition this summer, has just updated its mainline X range with this, the Insta360 X3.
Replacing the 2020-launched X2, the X3 is an all-in-one 360 camera armed with two ultra-wide lenses that allow it to capture all kinds of activities in clear, crisp 360-degree spherical fashion.
Can it build significantly on the X2's capable performance and ease of use or is it just more of the same, done slightly better?
Design and build quality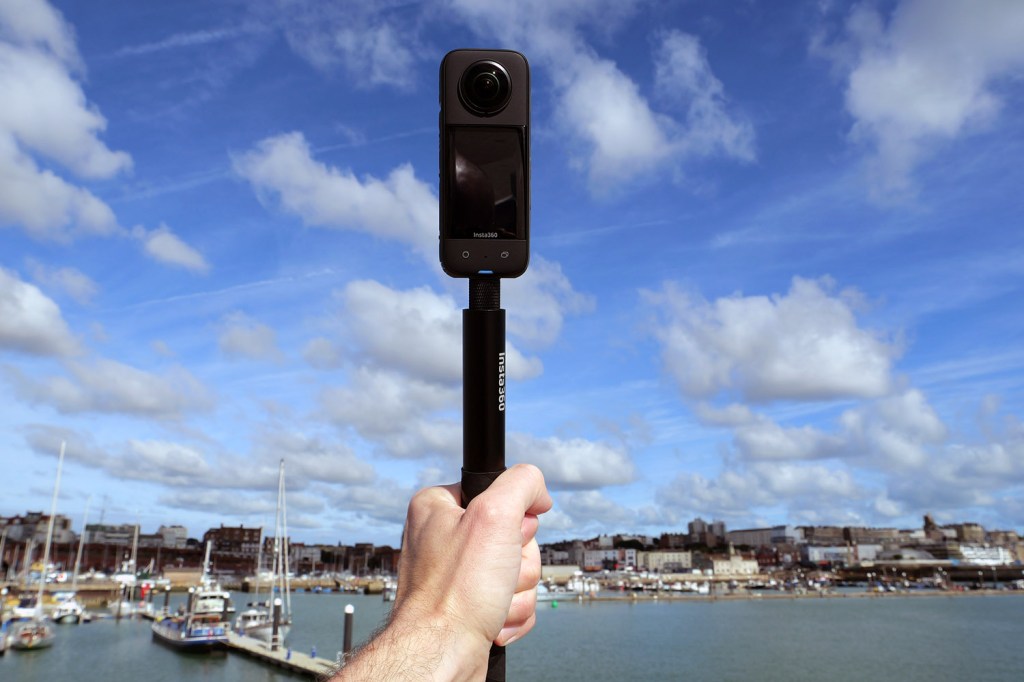 "If it ain't broke, don't fix it," seems to be the guiding principal here, with the X3 taking its design cues from X series models of yesteryear. That's no bad thing: the matt black candy bar design with easy-to-grip textures and few protrusions worked well before and works well here. The camera is small enough to fit in a trouser pocket, lightweight and easy to hold, and its four physical buttons stay flush to the body. They have haptic feedback, so that you know your presses are registering, even if you're wearing gloves.
There's also a standard tripod thread on the bottom, used to fix the camera to a selfie stick (pretty much an essential accessory if you want to get the most out of the X3) or other mount.
One thing that could be addressed is the fact that the twin lenses protrude, making their surfaces liable to scratches and dings should you drop it or otherwise scrape it along the ground on a nearby wall. We're not sure how one would address it, mind you, given that the whole 360-degree imaging thing requires both lenses to give an unimpeded ultra-wide view. Still, it's something to look out for when transporting and using the camera, and the soft cover supplied in the box is definitely worth deploying for the former.
It's otherwise quite rugged and hardy, with waterproof seals for the battery chamber (which also includes a microSD card slot), USB-C socket and microphone openings giving it the same IPX8 rating as the X2, meaning it'll operate down to 10m below the surface.
Features and performance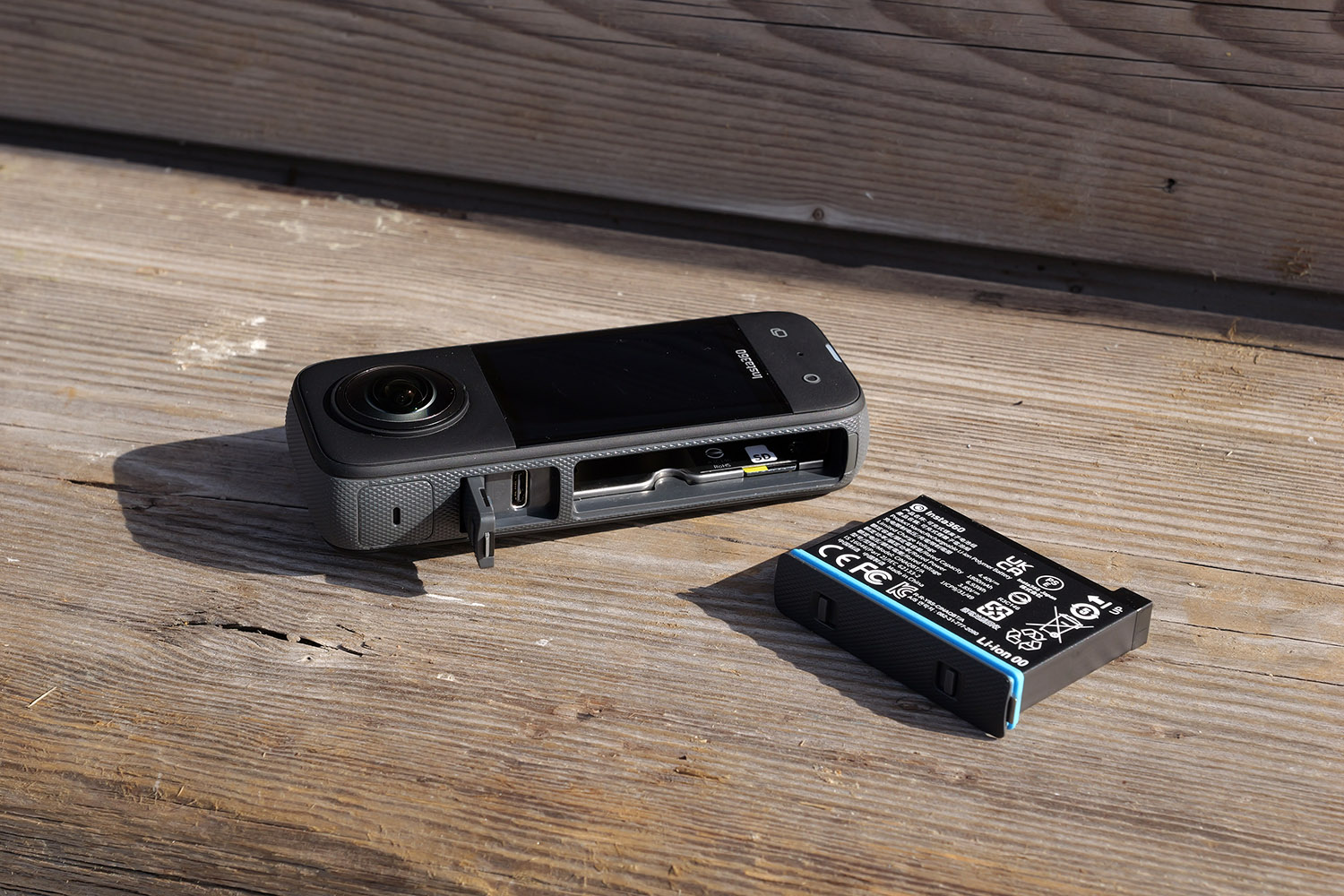 The first obvious upgrade versus the X2 is the new touchscreen. The X2 had a tiny circular touchscreen for adjusting settings and quickly checking your framing, but its small size and odd shape detracted from its usefulness. Not so with the new screen, which is a generous 2.29in in size and a much more amenable rectangle shape. The screen curls around the sides of the camera slightly, allowing you to swipe in from the edges to open menus, and its size means it's genuinely handy for checking composition.
Not that you have to use it very often. Like its predecessors, the X3 is designed to be used with the Insta360 smartphone companion app, and it's here where it works best. The app lets you switch between the various shooting modes and tweak settings quickly, as well as stop/start recordings, take stills, review and edit footage and photos and share directly to social media, not to mention live stream should you wish. We've not been overly impressed with it in the past, but it's now a much more mature piece of software with its kinks and quirks planed away.
Features-wise the X3 is packed to the gills, albeit with a list of capabilities that doesn't differ too much from the X2. It retains its predecessor's excellent auto-stitching, auto-levelling and image stabilisation tech, which keeps footage looking level and (relatively) well stitched at all times.
It also includes pretty much the same list of shooting modes: video, photo, time-lapse, hyper-lapse, star-lapse and looped (aka dashcam-style) recordings all return, with some minor improvements here and there (for instance: 360 photos can now be shot at 72MP rather than 18MP, and a new Active HDR video mode lets you use image stabilisation while shooting HDR). These are meaningful improvements, if not massive ones.
In terms of general performance, the X3 feels about right. The battery provides enough power for about 80 minutes of filming and speed of the dual-band Wi-Fi has been improved by about 50% over the X2. We had no issues with connectivity at all, wired or wireless.
Image quality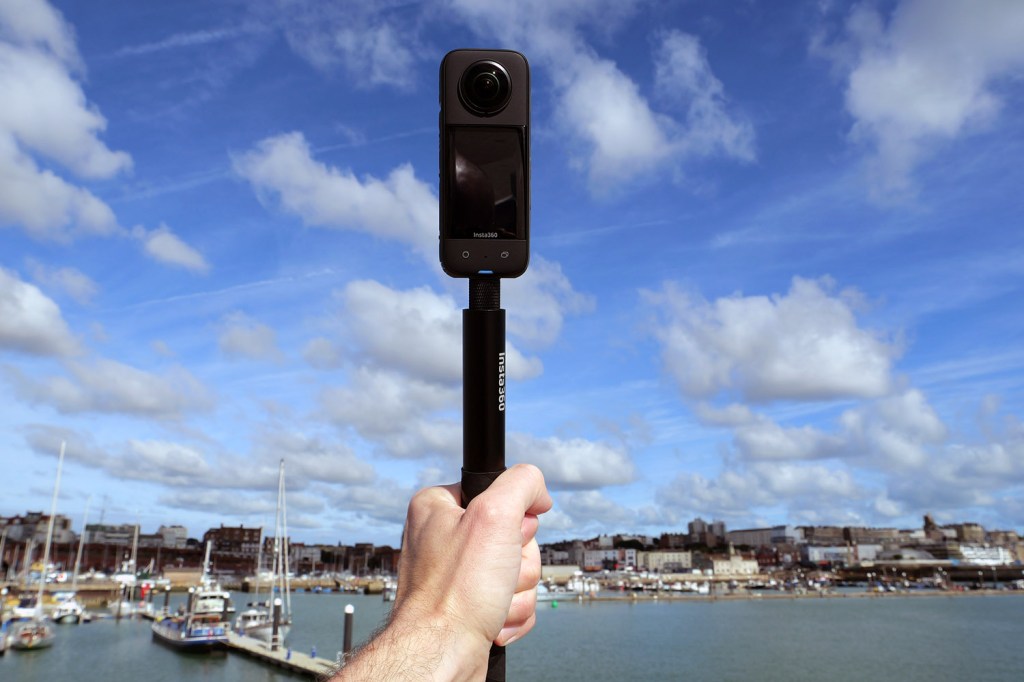 The big deal with a 360 camera isn't its ability to shoot spherical videos and photos per se, it's the subsequent skill by which you can shoot them, then choose where to point the camera in the editing process later. This makes them fantastic for extreme sports and the like, because you can concentrate on your activity safe in the knowledge that everything is being captured and that you can reframe later to get the best angles.
This hasn't fundamentally changed with the X3 – it keeps the same 5.7K/30fps maximum quality, with 4K/60fps also retained – but the base level of image quality has improved slightly over the X2 thanks to new sensors and slightly faster lenses. Do videos look markedly better than they do from the X2? Perhaps if you're paying close attention and looking for differences they do, but in general the improvement is minor.
That's not to disparage the X3 too much. It still has excellent image stabilisation and auto-levelling, and the way it stitches together footage (and completely removes your selfie stick from the frame) with only minor distortion at the seam is brilliantly user-friendly.
Insta 360 X3 verdict
We were hoping the Insta360 X3 would be a giant generational leap over the X2, but it's not. Rather, it's a step forward, and a confident one at that, that cements Insta360's spot at the top of the 360 action cam league.
If you already own an X2 already (or a One RS), we don't think the improvements here are worth the costly upgrade. But for anyone looking to take their first steps into 360 imaging? The Insta360 X3 is a fantastic buy. It's compact, rugged (to a point), waterproof and tackles a wide range of photo and video styles with aplomb and user-friendliness. Image quality is solid all-round too, making it a great gateway into making shareable, eye-catching content.
Stuff Says…
The best all-in-one 360 camera on the market just got (a little bit) better
Good Stuff
Compact, sturdy and waterproof build
Large rectangular touchscreen
Wealth of user-friendly features
Bad Stuff
Relatively small upgrade over the X2
Insta360 X3 technical specifications
| | |
| --- | --- |
| Video modes | 5.7K/30fps, 4K/60fps |
| Still resolution | 72MP |
| Connectivity | BLE 5.0, 802.11ac Wi-Fi, USB-C |
| Storage | microSD (up to 1TB) |
| Battery | 1800mAh, approx. 80 minutes |
| Durability | IPX8, 10m waterproof |
| Dimensions | 114x46x33.1mm, 180g |