Huawei P30 Lite review
Faux flagship does a lot for less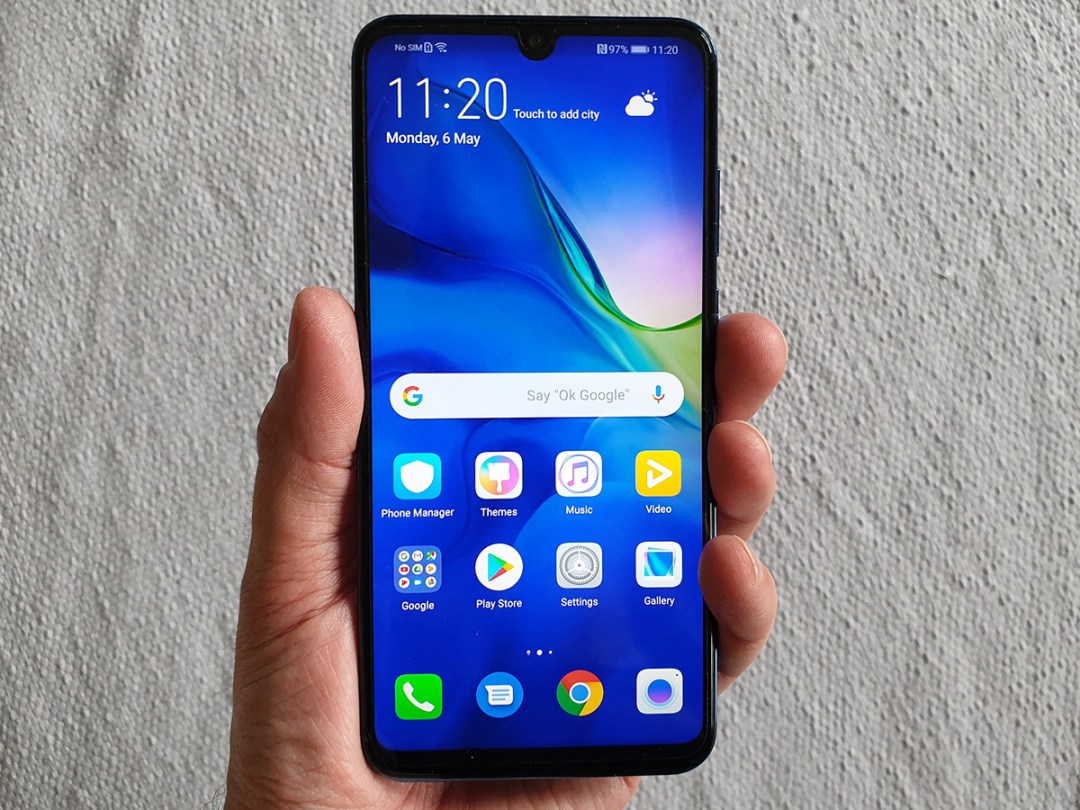 I know what you're thinking. Anything with Lite in the name can't be all that great, can it? That's like buying Sainsburys Basics instead of Taste the Difference.
Not so fast. In the smartphone world, it means a bonafide bargain. Just take your average whiz-bang flagship phone, shrink a few specs and give the design team the day off – the result costs half the price, looks just like the full-fat version, and your mates won't be able to tell the difference.
That's pretty much how Huawei gave us the P30 Lite, a dead ringer for the P30 and P30 Pro but one that'll leave you bank balance a whole lot happier. But what features made the cut to keep the cost down, and what didn't?
DESIGN & FEATURES: LOOKS LIKE A STAR
There's not much to clue you in on the front of the phone – the P30 Lite looks just like its bigger brothers.
OK, the screen bezel is a little bit beefier, but you still get the same teardrop notch at the top, same USB-C port, speaker grille and 3.5mm headphone jack at the bottom, same triple camera array on the back (sort of).
The only major giveaway is the physical fingerprint sensor. In-display digit scanning isn't going to fly at this price, but the alternative is well-placed on the back of the phone and (whisper it) even quicker than the more expensive P30.
The materials don't feel quite as premium, though. There's no Gorilla Glass protecting the display, it isn't water resistant, and the shiny rear is a real magnet for fingerprints – even if the Peacock Blue colour is a stunner.
HUAWEI P30 LITE DISPLAY & SOUND: BRIGHT, COULD BE BETTER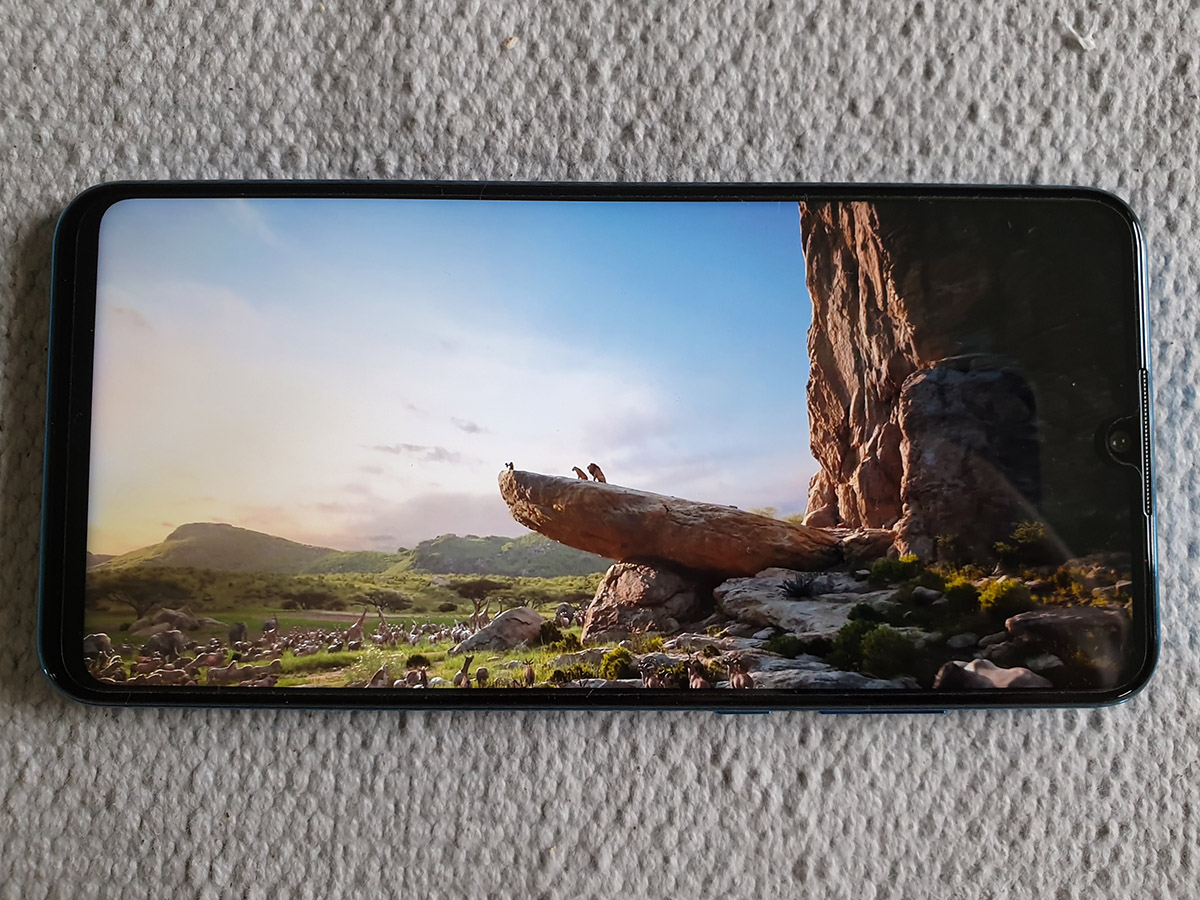 At 6.15in, with an en vogue elongated aspect ratio and 2312×1080 resolution, the Lite's screen seems to be reaching similar heights to the more premium P30. But it's taken a shortcut to get there.
Instead of OLED, the P30 Lite uses an LCD panel that's not able to match its bigger brother for inky contrast and rich, vibrant colours. It still does a decent enough job with YouTube clips and games, but rivals like Samsung's Galaxy A range manage to deliver OLED for a similar price.
Out of the box, colours are a little too warm. Switching to the Vivid colour profile helps balance things out, but goes a bit too far on the saturation. Good job there's a temperature colour wheel that lets you customise things to your personal preference.
LCD's strength is brightness, and here the P30 Lite delivers. You still have to crank things up to see clearly outdoors, but only the brightest of sunny skies will be a struggle. There might be a teensy speaker grille above the teardrop camera notch, but it's purely for voice calls – the P30 Lite is a mono music maker.
The single speaker at the bottom of the phone is easily muffled, and sounds pretty tinny if you turn up the volume. It's fine for the basics, but you'll be glad Huawei kept the headphone jack when you still swear by wired headphones.
PERFORMANCE: PAR FOR THE COURSE
So far the P30 Lite has largely walked the walk, but it's still a budget phone underneath, with a Kirin 710 CPU and 4GB of RAM providing the kind of oomph you'd expect given the price.
That's not to say it's a slowcoach, as you're still getting an octa-core chip. Most apps feel snappy enough, and compared to other cut-price rivals, the P30 Lite largely keeps up the pace. Still, more demanding apps can take a bit longer to open than they might on a flagship, and animations aren't always completely smooth.
If you spend a lot of time flicking between apps, expect a slight pause or two before everything resumes. That's especially true of games. Unless you're happy to crush candies or clash clans, you're going to see a bit of slowdown and stutter.
3D titles like Fortnite or PUBG Mobile are going to need lower detail settings, or else frame rates are going to tumble. Snapdragon 710-powered rivals fare much better here, regardless of how much Huawei reckons it has optimised its Mali GPU.
It's a shame, because with 128GB of storage and a microSD card slot for adding more, you're never going to be short of space for downloading apps and games from the Play Store.
CAMERA: TEMPTING TRIO
It was inevitable that photography was where the P30 Lite was going to take the biggest hit. Those Leica-branded lenses on the P30 don't come cheap, after all.
You do still get a three-camera setup, though, and on paper they all sound pretty useful. The main snapper is a huge 48MP, with f/1.8 lens and phase-detect autofocus. The secondary ultrawide sensor drops down to 8MP, while the 2MP depth sensor is really only there for faking bokeh blur a little better than with software alone.
All those pixels do a great job of capturing light, with software smarts pixel-binning your snaps down to 12MP for the best picture quality. Scene recognition also tweaks your shots depending on what you point the camera at. There's a noticeable drop when switching to the wide-angle lens, but it's still handy for fitting more in the frame at once. The results aren't going to live up to the P30 or P30 Pro, but they're comfortably near the top of the class in the Lite's price bracket.
Images are detailed, colours are accurate without being boosted to cartoonish levels, and although HDR is still buried away in a menu rather than automatic, it's largely effective at balancing exposure.
The default camera mode isn't quite as good, which can leave some snaps looking a bit overblown, unless you dial down the exposure slider a notch or two before pressing the shutter button.
Low light, usually the undoing of a budget phone, isn't much of an issue either. Noise levels jump up, whether you're using Huawei's multiple exposure Night Mode or not, and images aren't quite as crisp or detailed, but most are perfectly usable.
Only Google's Night Sight on the Pixel 3 does it better – and that includes more expensive rivals.
BATTERY LIFE: DAY TRIPPER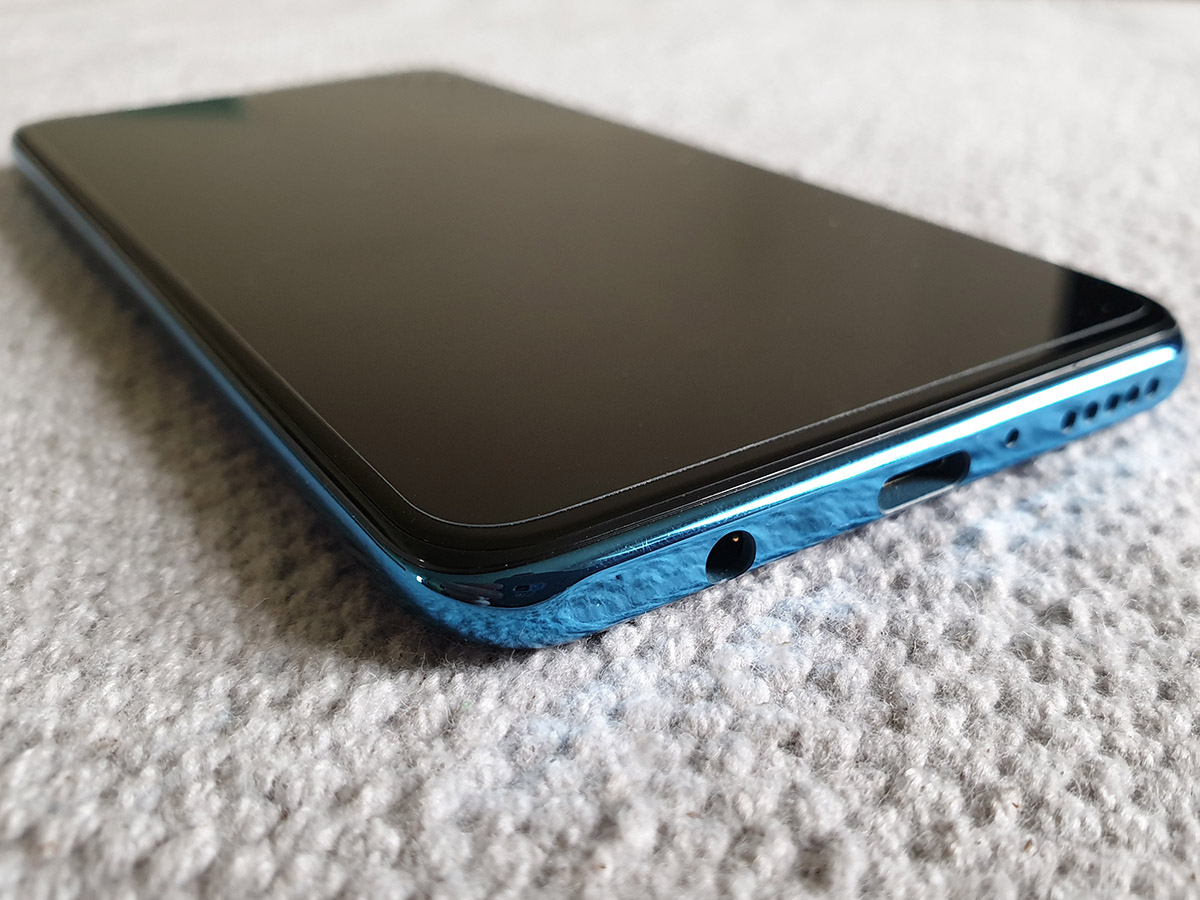 A 3340mAh battery sounds like plenty, but the P30 Lite isn't the most efficient phone, so that charge doesn't go as far as you might think.
Stick to social media, web browsing, calls and music streaming and it will last you until bedtime, but attempt anything more strenuous and you'll need to top up before you make it home.
On pure video playback it lasted around 11 hours, which is several hours short of what you'll find in a Snapdragon 710-powered rival like the Nokia 8.1. This is a mid-ranger, so you don't get goodies like wireless charging, but at least the USB-C charging port is keeping up with the times.
HUAWEI P30 LITE VERDICT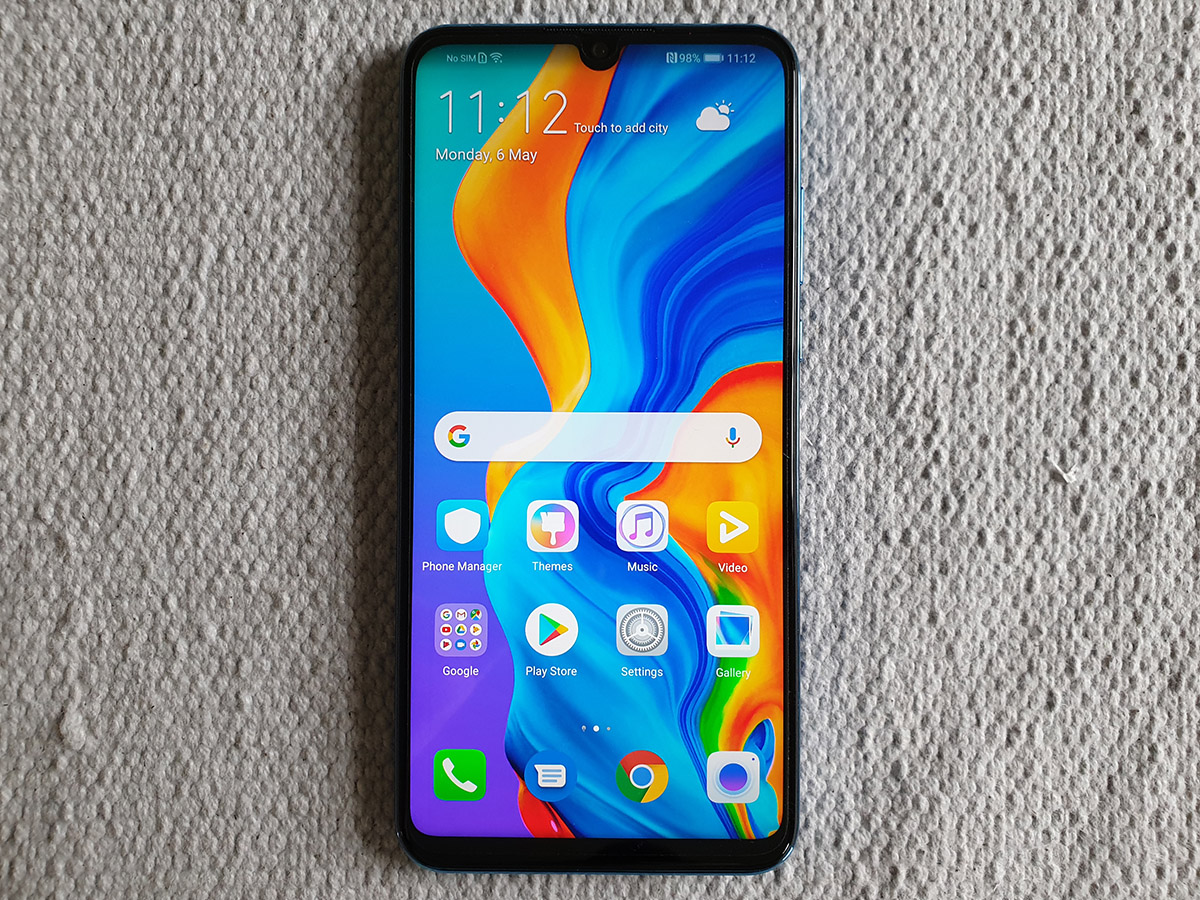 The P30 Lite does a great job of distilling the bits we loved about the P30 and making them available at a more manageable price.
Now that flagship phones are regularly shattering the £1000 mark, cut-price versions like this are only going to get more popular. Still, it does feel a bit like this is a phone riding on the coattails of a more in-demand bigger brother – were it called something different there's every chance Huawei would have charged less for it.
Battery life isn't amazing, the display is only average and performance, particularly in 3D games, is a bit lacking, so while £329 is still something of a bargain, there are rivals that come impressively close for even less cash.
But if you're sold on the looks, want a flexible camera and know the full-fat P30 is out of your grasp, this is a happy compromise.
Tech specs
| | |
| --- | --- |
| SCREEN | 6.15in, 2312×1080 LCD w/ 19.3:9 aspect ratio |
| CPU | HiSilicon Kirin 710 octa-core |
| MEMORY | 4GB RAM |
| CAMERA | 48MP, f/1.8 main, 8MP ultrawide & 2MP depth sensor triple rear w/ phase detect autofocus, LED flash. 24MP, f/2.0 front |
| STORAGE | 128GB on-board, microSD expansion |
| OPERATING SYSTEM | Android 9 Pie w/ EMUI 9.0 |
| BATTERY | 3340mAh non-removable |
| DIMENSIONS | 153x73x7.4mm, 159g |
Stuff Says…
Huawei proves you don't have to spend a lot to get a lot. The P30 Lite isn't the perfect budget phone, but there's still plenty here to like if a flagship is out of your reach
Good Stuff
Premium design and funky stunning colour choices
A capable set of cameras
Won't run out of storage in a hurry
Bad Stuff
Battery could be better
Not exactly a speed demon in apps and games
Speaker is pretty tinny