Huawei MateBook X Pro (2019) review
Huawei is back for round two, with only a few tweaks to the skinny-yet-speedy laptop formula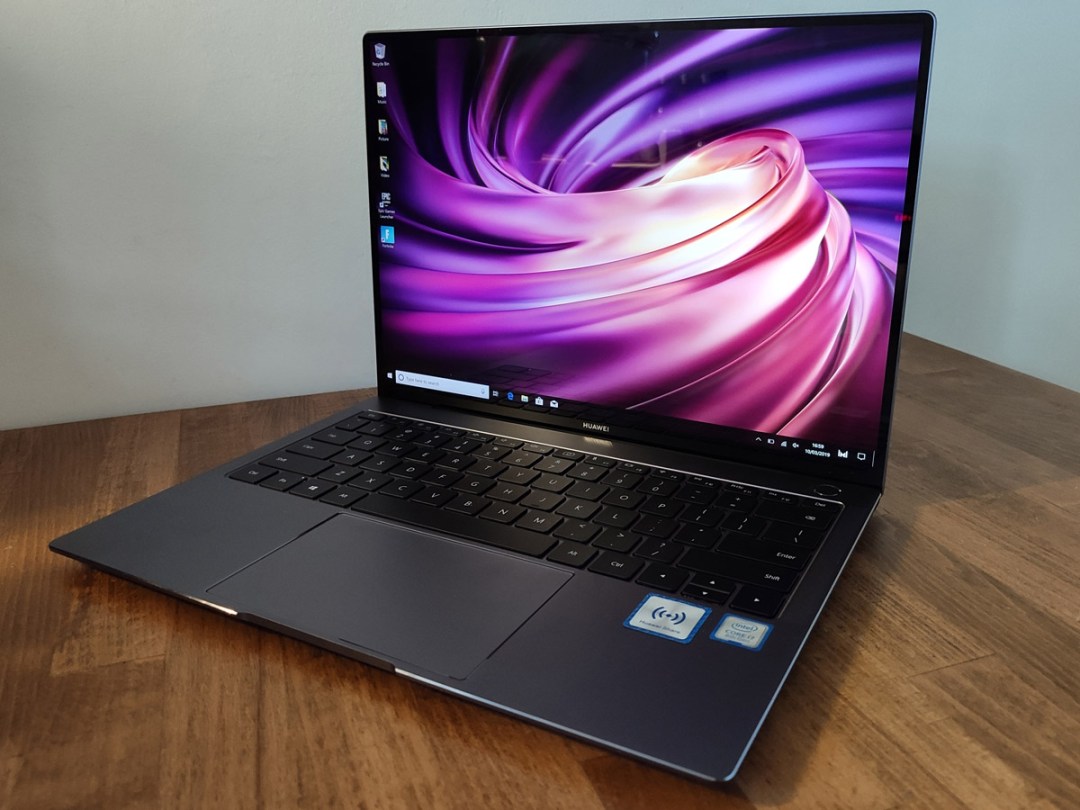 It only made the jump from Android a few years ago, but Huawei is already showing the Windows world how to get the job done. A string of excellent ultraportables has even seen the Chinese giant knocking on Apple's door.
2018's MateBook X Pro was a direct response to the MacBook Pro, with almost everything we wanted from a top-spec notebook at the time. And now it's back for 2019.
This year's version gets more powerful hardware and a few extra features, but otherwise keeps the recipe the same. After all, it worked before.
The tech world doesn't stand still, though. Are small tweaks alone enough to stay top of the class?
DESIGN & FEATURES: DEJA VU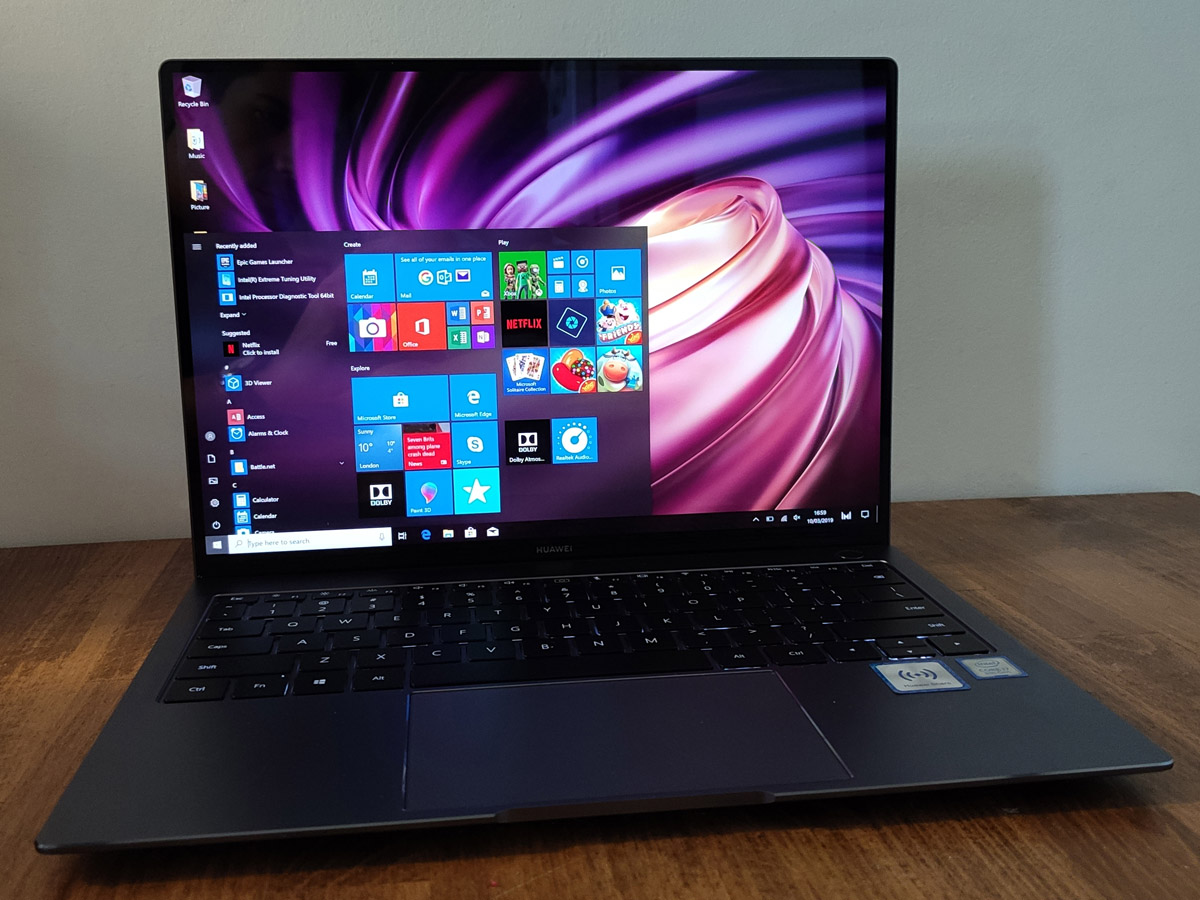 From the outside, not a whole lot has changed. The MateBook X Pro is still machined out of aluminium, in your choice of silver and 'space gray' colours – just like a MacBook Pro. The one visual tweak is that the logo on the lid is gone, replaced with more subtle Huawei lettering.
It takes up less room in a backpack than a pad of A4 paper, and it light enough to lug around all day without giving a second thought.
You get the same handy selection of ports at the side: two USB-Cs and a headphone jack on the left, and a regular USB3 on the right, so there's no messing about with dongles – unless you need to pull files off an SD card, as there's still no card reader. One of the USB-Cs gets full-lane Thunderbolt 3 connectivity, too, for even faster file transfers than the half-pipe old model.
Open the lid and you'll see that bezels continue to be public enemy number one at Huawei's R&D centre, so the screen fills nearly all of the laptop's 13.9in diagonal. The power button continues to pull double duty as a fingerprint scanner, too, letting you skip the Windows login screen with a digit.
The MateBook X Pro stealthily hides a webcam inside its keyboard make those pencil-thin display edges possible.Give the button a nudge and it pops up like a curious meerkat, and once stowed away you know no-one can be using it to secretly spy on you.
Of course, there's a reason most laptops stick the webcam above the screen. With the MateBook X Pro on your knees your video chat partner will be treated to a close-up of your stomach, and even at a desk, the angle is a recipe for unflattering double-chins, unless you're sat a good foot or two away from the machine. It's less of an issue if you can count the number of times you've ever used a webcam on one hand, mind.
Huawei has added one new feature, but it's only useful if you're also rocking a Huawei phone. NFC connectivity lets you tap phone to laptop and transfer photos instantly, saving you from slow Bluetooth sending or reaching for a cable. It can also set up a Wi-Fi hotspot or share any text saved to the clipboard. It's a neat idea, but we'd be more interested if it worked across all phones – and didn't need an ugly NFC sticker slapped on top of an otherwise gorgeous laptop.
HARDWARE: A SPLASH OF WHISKEY LAKE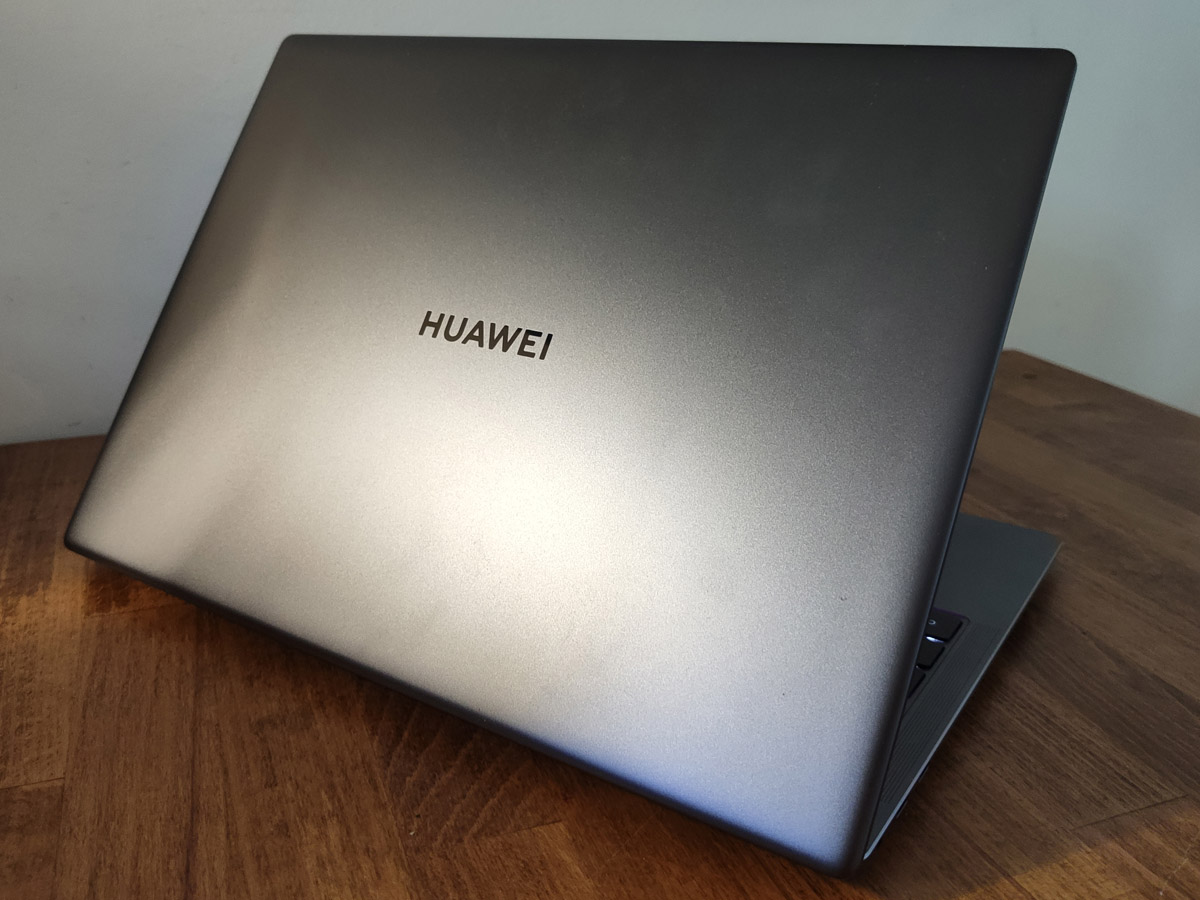 The big changes are all under the skin, with outdated Intel CPUs being swapped out for the latest and greatest Whiskey Lake silicon. You'll find a Core i5-8265U powering the entry-grade MateBook X Pro, or a Core i7-8565U in the top-end model.
Look past the numbers and these are still 8th-gen chips, only now they can run at slightly faster clock speeds than last year's versions – and without sapping any extra battery power to boot.
Benchmarks reveal the 2019 model is around 5-10% quicker than the outgoing machine, which was already something of a speed demon relative to its size.
Whichever you go for, the Matebook X Pro has more than enough grunt to handle daily tasks, from web browsing and document editing right through to photo editing and video rendering. Photoshop was hardly a challenge, and even 4K video clips couldn't bring the laptop to a halt.
Core i5 laptops have 8GB of RAM, while our Core i7 machine has 16GB. A super-speedy 512GB NVMe SSD comes as standard, but a whopping 1TB is available if you've got the cash to splash.
The 57Wh battery is unchanged from last year, so you can expect battery life to be roughly on par with the original laptop. That's certainly what we saw when testing, lasting a bit over eight hours between charges for basic tasks, slightly less when playing video or cranking the screen brightness up too far. It's not the best we've seen in an ultraportable, but it's still enough to get you through a whole day of work away from the mains.
GAMING: NVIDIA DELIVERS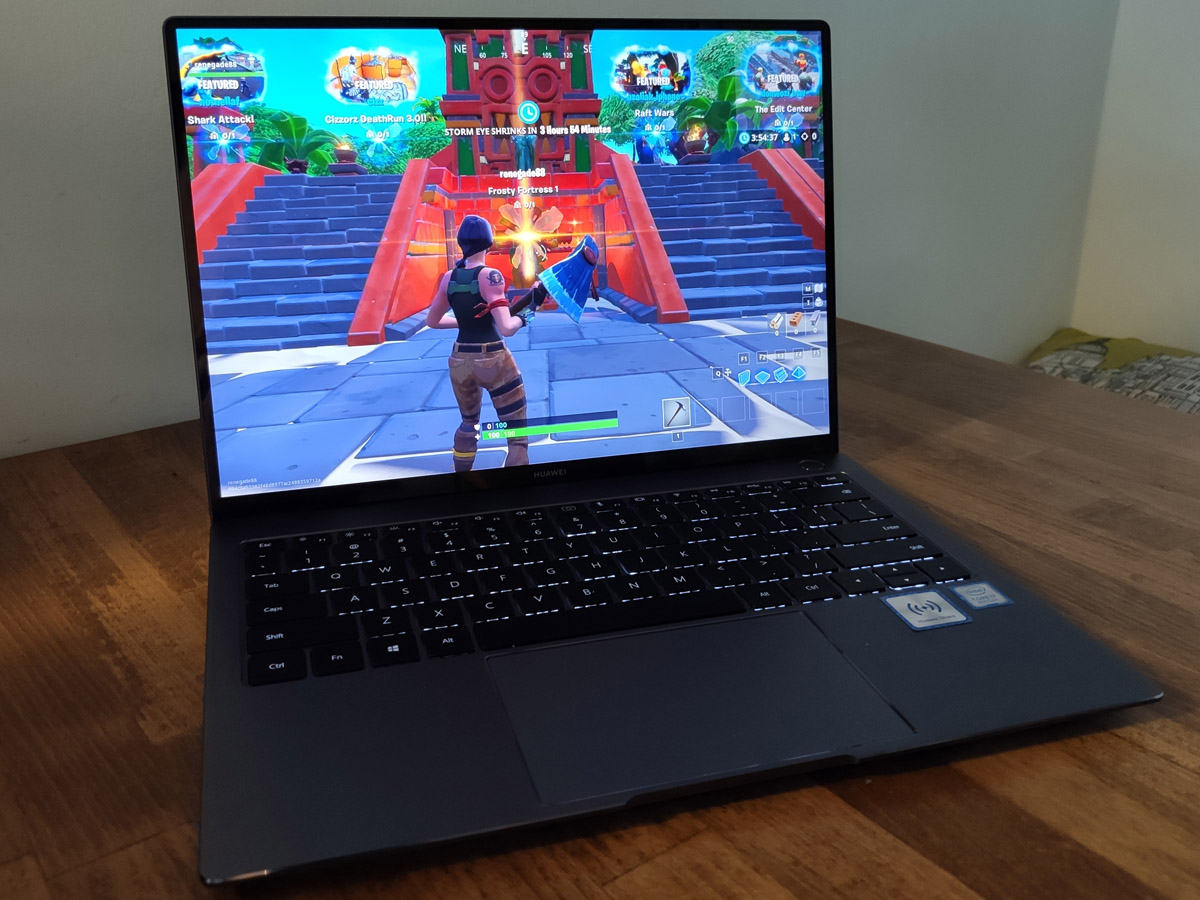 A big reason to pick a MateBook over other ultraportables is its Nvidia graphics card – an unusual find in a thin and light laptop.
OK, the MX250 might not be a Metro Exodus-smashing monster of a GPU, and the underlying silicon is largely identical to last year's MX150, but it's still a big step up from Intel's built-in graphics.
Slightly higher clock speeds translate to roughly 10% gains over the original MateBook X Pro, so as long as you're sensible with resolutions and detail settings, you'll find that a lot of your game library is playable.
It can certainly feed your Fortnite addiction, managing 50fps at 720p and medium details. Crank things up to 1080p or high details and you'll still be nudging north of 30fps – a real achievement for a machine barely any thicker than the phone in your pocket.
More demanding games are doable, too: Destiny 2 ticks along at 720p and low details. If you don't mind a bit of 30fps gameplay, a bit of fiddling in the settings screen will get most titles to a playable state – even if they won't be looking their best.
If you're wearing headphones, you won't even notice the fan kicking into overdrive to keep the laptop cool, either. It's not quite hurricane-force loud, but you can't miss it.
DISPLAY & SOUND: STEALS THE SHOW
Easily the highlight of the original X Pro, Huawei has kept the excellent 13.9in display for its 2019 laptop, complete with 3:2 aspect ratio and 3000×2000 resolution.
It's an LCD panel, which can't deliver the kind of inky blacks you'd get on an OLED screen, but don't let that put you off: this is comfortably one of the best-looking displays going on a Windows laptop.
Colours are vibrant and punchy, with an abundance of detail. Contrast is excellent, with real depth to images and videos. There's real clarity here, which makes watching videos a real joy. The figures back that up, with a 1500:1 contrast ratio and 100% sRGB colour coverage for professional-level image editing.
Viewing angles are superb, and it gets plenty bright, too (Huawei says 450 nits). It would have been nice to bump that further, and throw in HDR certification for good measure, but it's not like you'll struggle to see what's onscreen in direct sunlight as it is.
Four-speaker Dolby Atmos-certified audio returns, with two down-firing drivers dedicated to bass and two more facing upwards for treble and mid-range. They make for a potent combination, meaning you'll rarely want to crank the volume higher than 75%. It becomes sharp when turned up to the max, but largely avoids actual distortion.
There's a real sense of stereo when watching video clips, but it hardly delivers a thumping low-end. For music you're better off plugging in a pair of headphones.
KEYBOARD & TOUCHPAD: FEELS FAMILIAR
We had no complaints tapping away on last year's MateBook X Pro, with its large, backlit keys. Huawei has sensibly kept things the same for 2019, so this new version is equally suited to bashing out emails or text documents.
Each key has a decent amount of travel and is rather springy. Only the arrows and function keys (which double up as shortcuts for volume, screen and keyboard backlight brightness and the like) are half-size, but are still easy enough to hit on the first attempt.
Prod them with enough force and they'll still bottom out, and you couldn't call it as satisfying to type on as Apple's butterfly switch-equipped MacBook, but there's very little not to like.
That goes for the giant touchpad, too. It doesn't feel quite as sensitive as before, so you aren't constantly triggering multi-touch gestures by mistake, and the sheer size of the thing makes getting around the high resolution screen a doddle.
You could ignore the touchpad and tap the touch-sensitive screen instead, but that means leaning over the keyboard. As sturdy as the laptop's hinges are, they can't stop the screen from wobbling when you tap the top edge.
HUAWEI MATEBOOK X PRO (2019) VERDICT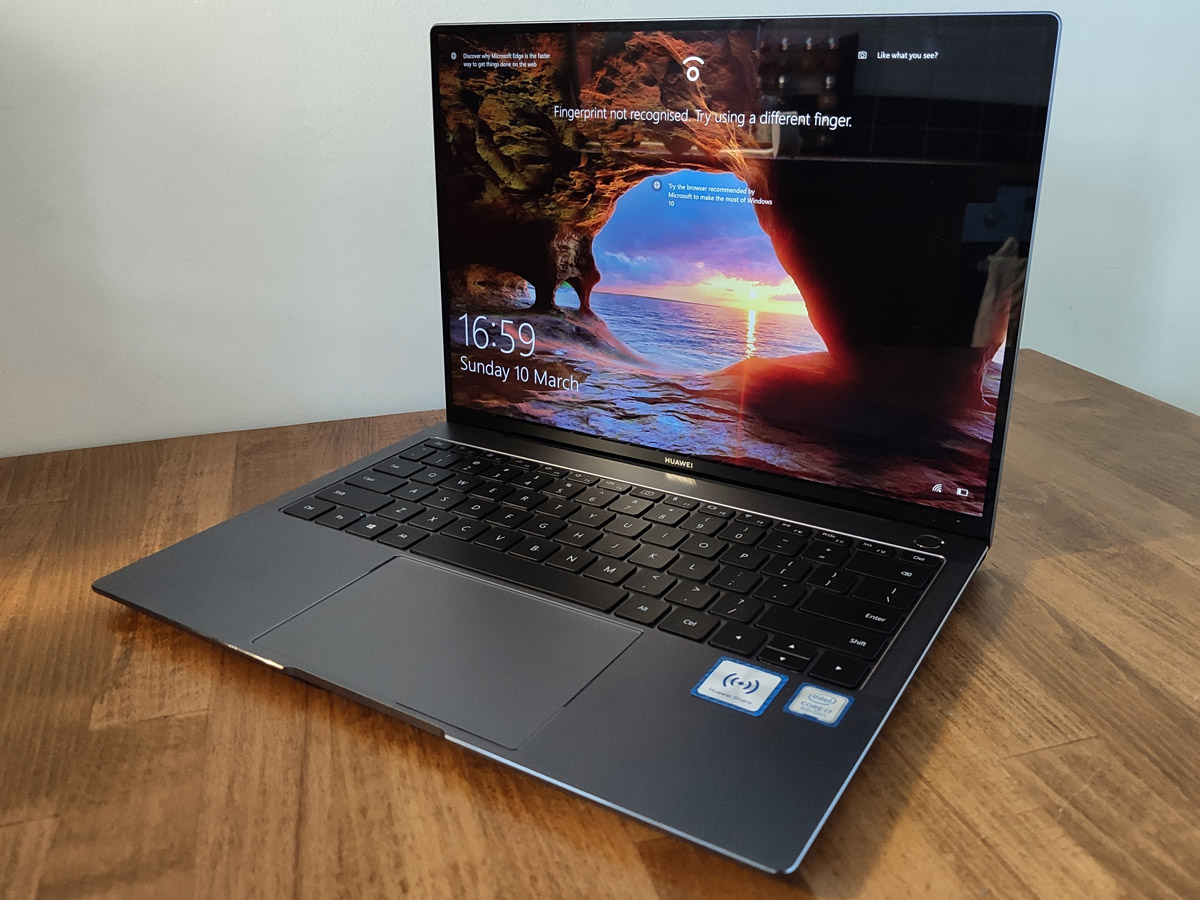 There wasn't a whole lot wrong with the MateBook X Pro before, so some hardware upgrades and a few neat NFC tricks help this 2019 edition leave an equally positive impression.
The thing is, Huawei has had twelve months to make those minor changes – changes that aren't enough for existing owners to worry about upgrading. And what has the competition been doing in that time? A Dell XPS 13 2-in-1 has almost identical hardware for less cash, while Lenovo's upcoming Yoga C730 adds an OLED display to the mix. Neither have an Nvidia GPU, mind.
Spec up a 13in MacBook Pro to match the MateBook X Pro and you're looking at £2300 – if you want Apple's clever Touch Bar controls, anyway. Ditch them and you'd still be spending over two grand.
A Core i7 MateBook X Pro with 1TB of storage doesn't exactly scream good value in comparison (you might even call it overkill) but get the spec right and it's still plenty powerful, can actually manage some modern games, and looks every bit as premium as its rivals. Which sounds like a win to us.
Stuff Says…
A few minor upgrades don't make the MateBook X Pro a massively better ultraportable – but it was a damn good one already. If you want a powerhouse Windows laptop that you can carry anywhere, it's still a great choice.
Good Stuff
Still one of the best-looking laptop screens
Fully-loaded models pack plenty of power
Premium looks and quality keyboard
Bad Stuff
Webcam still guaranteed to capture your double chin
Build quality issues not quite ironed out
Pricey for only iterative performance gains