Hannspree Hannsgolf review
Technology and fashion seldom make good bedfellows, but that hasn't stopped HANNSpree. Behold, the telly that looks like a golf ball. Ish.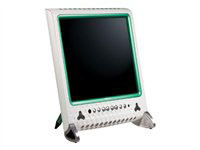 In the bland lookey-likey world of black'n'silver-finished flatscreens, HANNSpree's innovative Sports Line range of portables can certainly be described as different.
Each TV is designed to appeal to sports fanatics – football fans can fuel their fantasies with the football-esque HANNSdribbling, basketball buffs are offered the delights of the HANNSball, and then there's this, the HANNSgolf.
Unique looks
Predictably, the HANNSgolf is styled to appeal to golf fanatics. The supporting feet are iron club heads, while the prop-style stand at the set's rear resembles a ball resting on a tee. Liberally dotted dimples round off the effect, together with a simple green trim line around the screen.
Given that styling is so fundamental to this set's appeal, your personal reaction to the HANNSgolf's distinctive looks is bound to colour how you feel about it. We'll confess, we weren't that enticed: trying to be different is good, but an excess of personality can be a bad thing, too. It's just one step from 'different' to 'wacky'…
Quality product, but at a price
Having said that: delve a little deeper, and the HANNSgolf does have strengths. It's beautifully made, for starters – fit and finish is a cut above any mainstream brand, rivalling the best upmarket product from B&O and Loewe. The remote control and on-screen graphics are classy affairs, too.
Picture quality? Decent enough. True, the set only has an analogue TV tuner, but the off-air image is crisp and reasonably stable, although we've seen sets with more decisive contrast and punchier colours.
Of greater concern is the set's limited connectivity: you don't get a Scart, only a Scart adaptor cable, which limits maximum signal quality to S-Video. Given that most set-top-boxes offer either composite video or RGB Scart, but not S-Video, that's a blow.
All this would be reasonably forgivable if the HANNSpree's price was vaguely sensible – but it's not – £389 is frankly far too much for a television of this size and capability, whatever reservations you might or might not hold about its styling.