Fossil Sport review
Style meets sport, but what about stamina?
Founded in the early '80s in Texas, Fossil has been crafting time pieces for over 30 years. However, the firm hasn't got quite the same experience when it comes to the smart variety. It launched its first wearable in 2015 and has made one or two each year ever since.
The Fossil Sport, was announced late last year appearing almost identical in appearance to its slightly younger sibling, the Explorist. However, this time it's based on the latest Qualcomm Wear 3100 processor, which is much more efficient chip and should, in theory result in extended battery life.
We've spent a good week or so putting the Fossil Sport through its paces to see how much of a difference this new chip makes, and how well a wearable can perform from a company known more for its traditional watches.
DESIGN: CHEAP BUT CHEERFUL
Before we talk about the design, you should know that the Fossil Sport comes in two sizes: 41mm and a marginally bigger 43mm, each of which are made to suit different wrist sizes. We were sent the smaller 41mm model to review, which only weighs 38g (including the super soft silicone strap) and is a pleasantly slim 11.5mm thick.
Now, on to looks. The first thing you'll notice about the Fossil Sport is that, unfortunately, it does feel a little cheap. And at £250, that's definitely not something you want. This isn't helped by its light weight, which – on the other hand – does make it very comfortable to wear; a bonus for those looking for something light, slick and unobtrusive.
All-in-all, the Fossil Sport is well designed and flaunts a nice, minimalist aesthetic, which we think is important for smartwatches considering how much information is usually displayed on the screen. Its brushed aluminium bezel (which is what helps make it so light), gives it a class feel, but still, it does still look a little plastic-y. Something we just can't look past.
SCREEN: ALL OF THE LIGHTS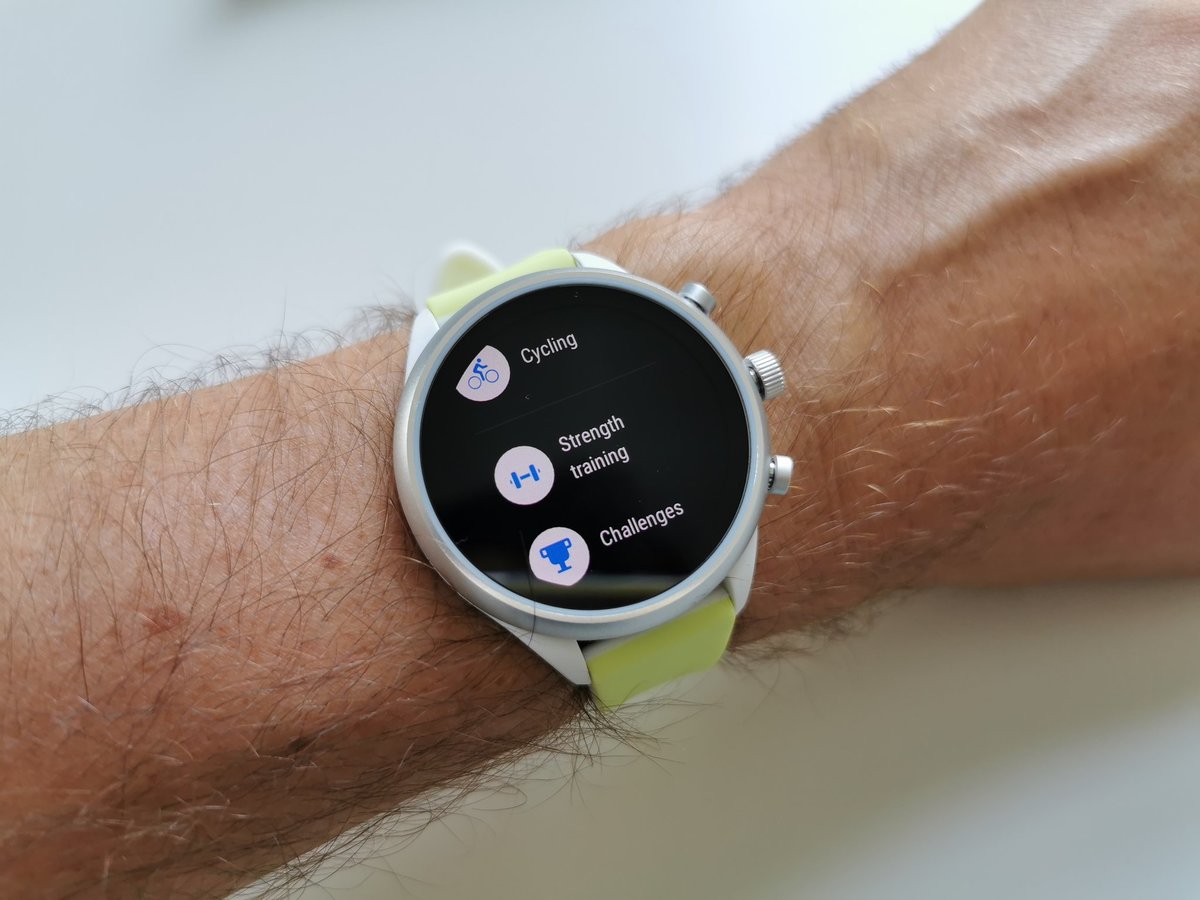 Depending on which of the two Fossil Sport sizes you go for, you'll either have a 1.19-inch or a bigger 1.29-inch OLED screen. Ours was the smaller of the two. Both have the same 390 x 390 resolution, meaning the larger screen has a slightly lower pixel density, which you'll probably not notice unless you have the chance to compare the two side-by-side.
What really stands out on the screen is how incredibly bright it is. You can turn this down in the settings if you want to preserve the battery life, but it's a nice touch – especially if you're used to Garmins that can sometimes be a nightmare in sunlight. Saying that, it does reflect a lot of light, so can equally be a pain in the ass at times. Especially if you're the kind who wants to take photos of your workout results for instagram.
In terms of responsiveness, the screen generally reacts very well to commands, although it's on the software side that it's a bit of a let down, but more on that later on. Overall, text and icons are displayed clearly and neatly, albeit a tad on the small side.
PERFORMANCE: JUST NOT ENOUGH
Powered by the fresh Qualcomm Wear 3100 chip, the Fossil Sport should be one of the most powerful smartwatches on the market. This is because it's said to be a much more efficient chip, offering any smartwatches that feature it a better level of performance while using less power – something that should result in an extended battery life.
But the thing is, it doesn't. We found that it offers just under a day of usage between charges, which is pretty lame by today's standards. This, oddly, is the same as its predecessor the Explorist, which is powered by the previous version of the Qualcomm chip, the 2100. And then you've got to take into account how most smartwatches we test these days are able to last at least double this. And yes, that's even including the Apple Watch, which is notorious for having a limited battery life.
The software is not so easy to get the swing of, either. The touch screen feels a bit too small and fiddly to get to the workout you want to right away. Then when you get it figured out, apps take a second longer to open than you'd expect, and the on-screen keyboard has a bit of lag to it. Frustrating to say the least.
If you're a first time Android Wear user, for example, making use of Google Fit and doing the whole 'tracking a workout' thing could see you faffing around until well into five minutes of your activity. Again we found the screen was just a little too small when scrolling through worksouts. And because it's so responsive, you'll find yourself swiping past the option you want and pressing buttons you didn't mean to.
Then again, a lot of this could be down to the learning curve involved with every new smartwatch purchase. It's just perhaps a little steeper on the Fossil sport
FOSSIL SPORT VERDICT
Despite its flaws, the Fossil Sport is a really stylish-looking device, but it doesn't really live up to this when it comes to performance.
Priced at £249, it does feel a little cheap for the price, and considering there are much cheaper options on the market that are more reliable when it comes to performance, such as the Fitbit Versa Lite, we can't really recommend it for hardcore fitness fans.
Nevertheless, it is a very pretty watch, so if you're planning on using it more for the everyday, such as paying for stuff and counting your steps, or simply showing off – all while having a more feature-rich alternative to a traditional timepiece, then knock yourself out.
Stuff Says…
A pretty smartwatch full of features that doesn't quite cut it when it comes to performance.
Good Stuff
Google Wear looks the part
Lightweight
Great quality display
NFC and Google Pay
Bad Stuff
Screen is a little small
Feels cheap