Fitbit Charge HR review
With a heart rate sensor on board can the Fitbit Charge HR plug the gap between casual tracker and serious sports watch?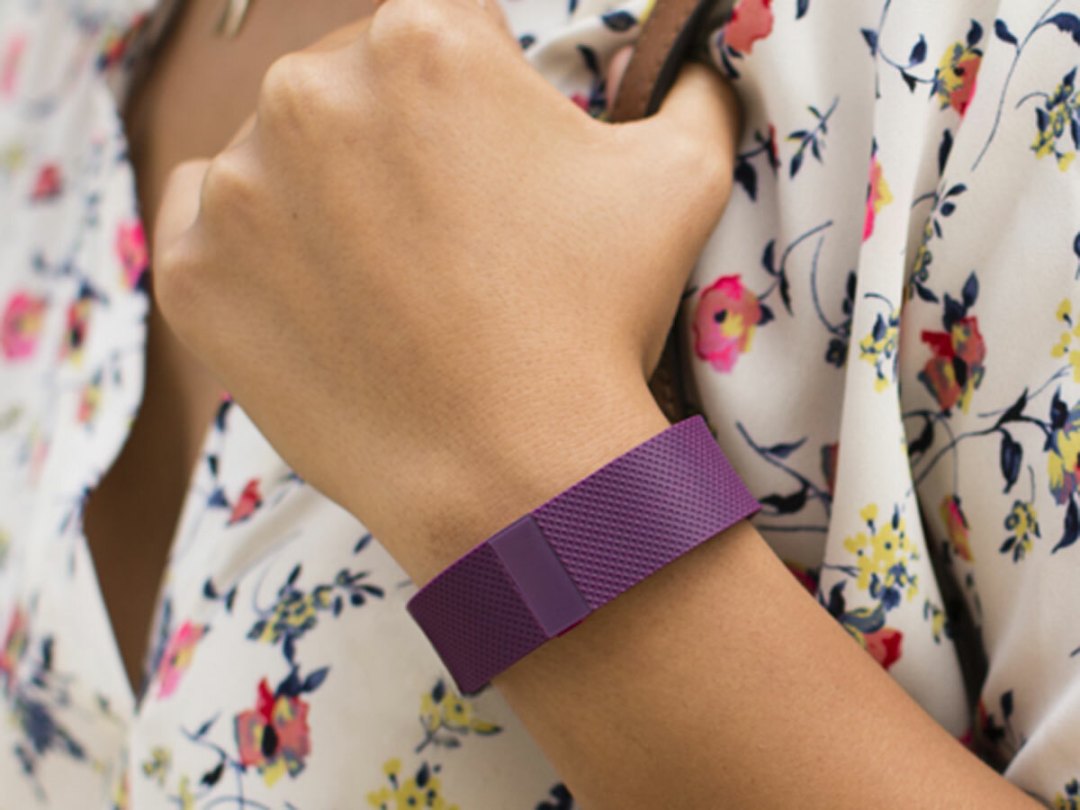 The heart is the key. At least it is when it comes to effective training.
Everyone's body is different, and fitness boffins say training for weight loss and training for strength (just as two examples) requires training in different "zones". How do you know which zone you're in? You measure your pulse.
Which is why the key new feature for 2015's health-tracking fitness bands is heart rate monitoring. After all, there's nothing more awkward or weird looking than running down the street holding your own wrist.
The Charge HR sounds the perfect tracker, combining the smart notifications and step counting of the original Charge with the heart rate tracking of a hardcore sports watch. So is it about to turn an army of casual step counters into motivated marathon runners?
Design and build quality
The Charge HR looks almost identical to the original Charge with the exception of a traditional buckle clasp. The soft rubber is extremely comfortable and even though you need to wear it slightly further up the wrist than you may be accustomed – to improve heart rate monitoring – it is slim and light enough to be ignored.
The textured rubber finish is rather attractive to these eyes, and in black it goes virtually unnoticed in everyday life. If you're after a conversation-starter of a wristband you might be disappointed – even the plum, blue and orange models look understated, albeit in a stylish way.
Listen to your heart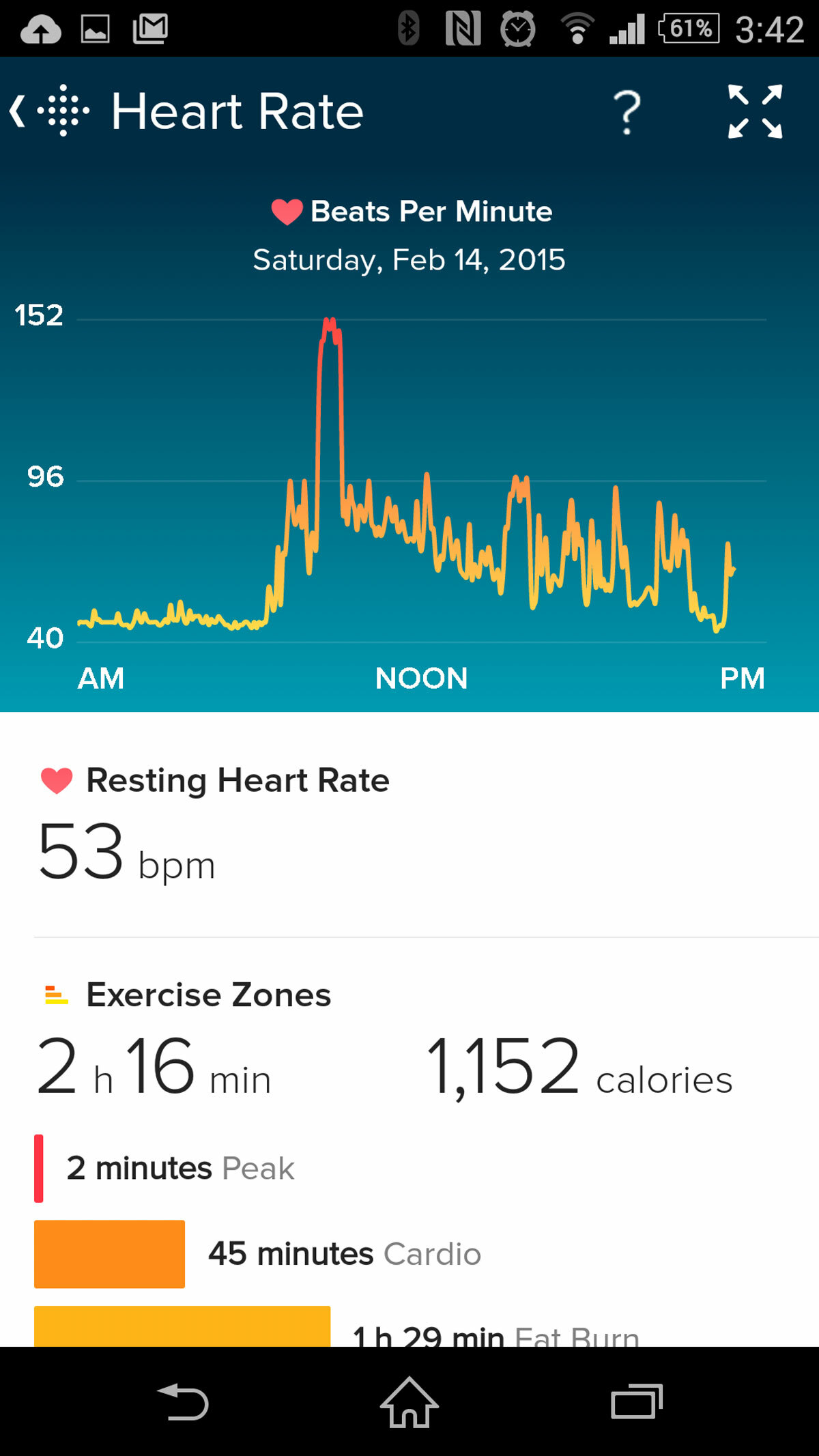 As with most fitness monitors the Charge HR records steps taken, distance travelled, calories burned and hours slept, and thanks to an altimeter it will also record the number of stairs climbed.
But the standout feature here is the continuous heart rate monitoring and it's vital if you're looking to take your fitness beyond the basic 10,000 steps.
An essential in any athlete's armory, a heart rate monitor – either chest strap or watch – allows you to track progress and tailor workouts to burn calories, improve cardio, speed and endurance.
The Charge HR's continuous all-day heart rate monitoring doesn't offer the same accuracy as a professional chest strap, but it does help paint a more accurate picture of your health and activity levels than a simple fitness tracker. And in fact during testing it proved significantly more reliable than the Samsung Gear Fit despite having far fewer features.

Fitbit uses two pulsating green LEDs to detect blood flow and volume in your wrist. It's a tried and tested technology and despite some odd peaks and variations during intense exercise (and I don't think my heart is *that* irregular), it does a good job. Even if you're not looking to smash a new PB being able to see your resting heart rate fall – a sign you're getting fitter – the more exercise you do, is a great motivational tool.
Tracking and notifications
Casual runners and improving gym bunnies can also benefit from the continuous monitoring. A quick button press will show just how much effort you're really putting in – Fitbit calculates your max heart rate with the common formula of 220 minus your age (in this reviewer's case, 187bpm) – or you can check out your daily exertions and resting heart rate via the app.
Being able to track an individual exercise session is also handy if you run regularly. By holding down the button it starts a separate timed event with its own heart rate (average and peak), time and distance tracking, which gets automatically synched to the app.
Being able to track an individual exercise session is also handy if you run regularly. By holding down the button it starts a separate timed event with its own heart rate (average and peak), time and distance tracking, which gets automatically synched to the app.
As for smart notifications, they're as basic as can be – you can't expect much more from such a small screen – but if it is important for you to know who's calling or texting then it does a perfectly fine job. The smarts certainly aren't the main draw of the Charge HR but as an added extra it's certainly handy.
Fitbit Charge HR tech specs
Dimensions: 21mm wide
Colours: Black, plum, orange, blue
Waterproof: Yes, to 1ATM
Battery: Up to 5 days
Display: 20 x 80mm OLED
Sensors: Accelerometer, altimeter, heart rate sensor
Guilty as Charge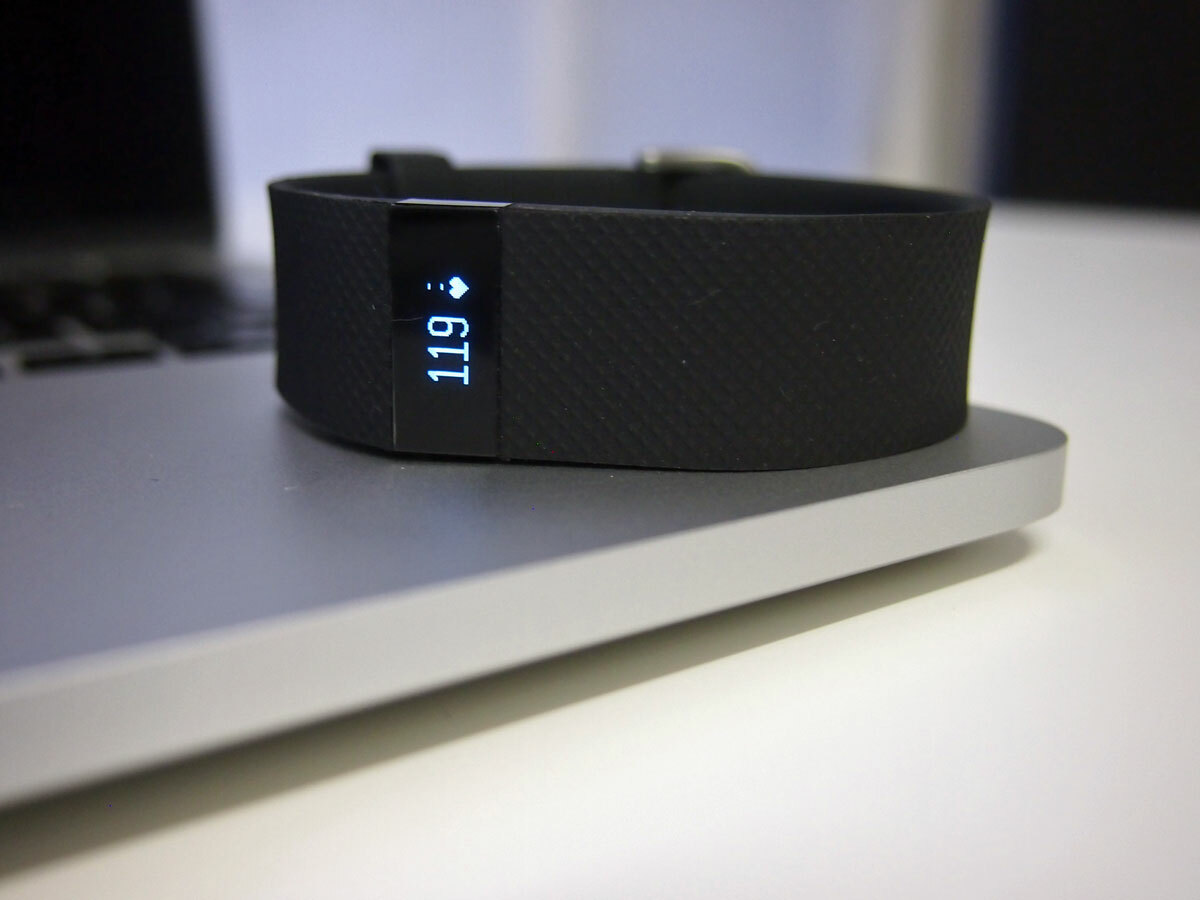 It's difficult to pick holes in the Charge HR, but the appearance of yet another proprietary charging cable irritates. It plugs in the base the same as the Charge but is a completely different connector. We could forgive it if it meant improved waterproofing but it doesn't – it just means another cable you can't afford to lose.
Points are also lost for the tiny screen. The display only stays lit for a few seconds and while you can customise the order data appears it does lag behind the like of the Sony Smartband and Microsoft Band.
Considering the continuous flash of the heart rate monitor the five-day battery life is more than acceptable. Handily the app and band warn you well ahead of time to recharge, a relief if you've just set out on a marathon training run.
Fitbit app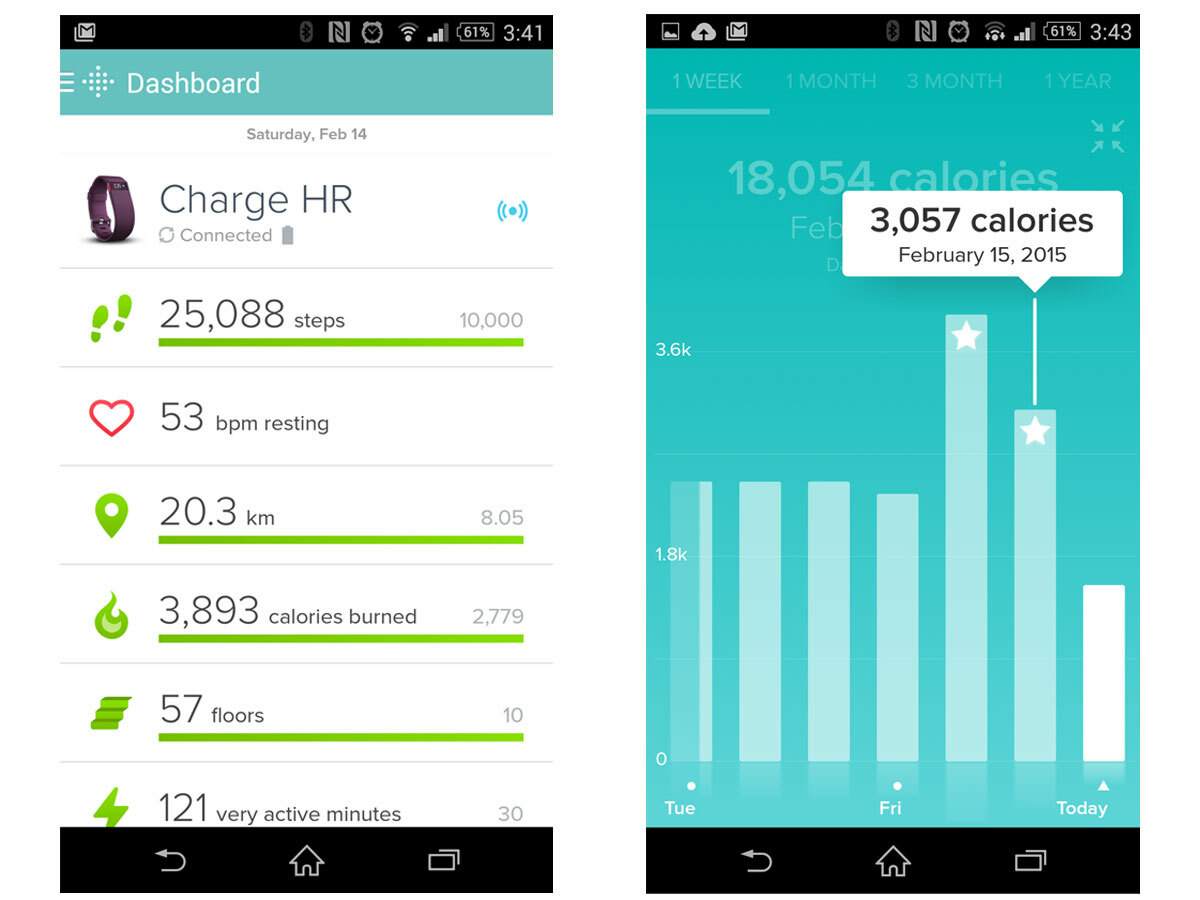 The Fitbit app is well designed and easy to navigate. Scroll through the day's data or look back over the weeks or months to track your progress. If you've invested in any other Fitbit products – such as the Aria Wi-Fi connected scales – the data will be combined to help paint a more complete picture that can be further enhanced if you complete the food plan or water diary.
If you're not used to interpreting heart rate data the graphs may confuse at first, but there is plenty of information available – through links to Fitbit.com – and you'll soon be at ease with your cardio and fat burn figures.
Remember that no Fitbit tracker integrates with Apple Health, so your fitness data from the app can't be imported into the Health app. There is a work around in the form of third-party paid-for app Sync Solver, but that's not ideal.
Fitbit Charge HR verdict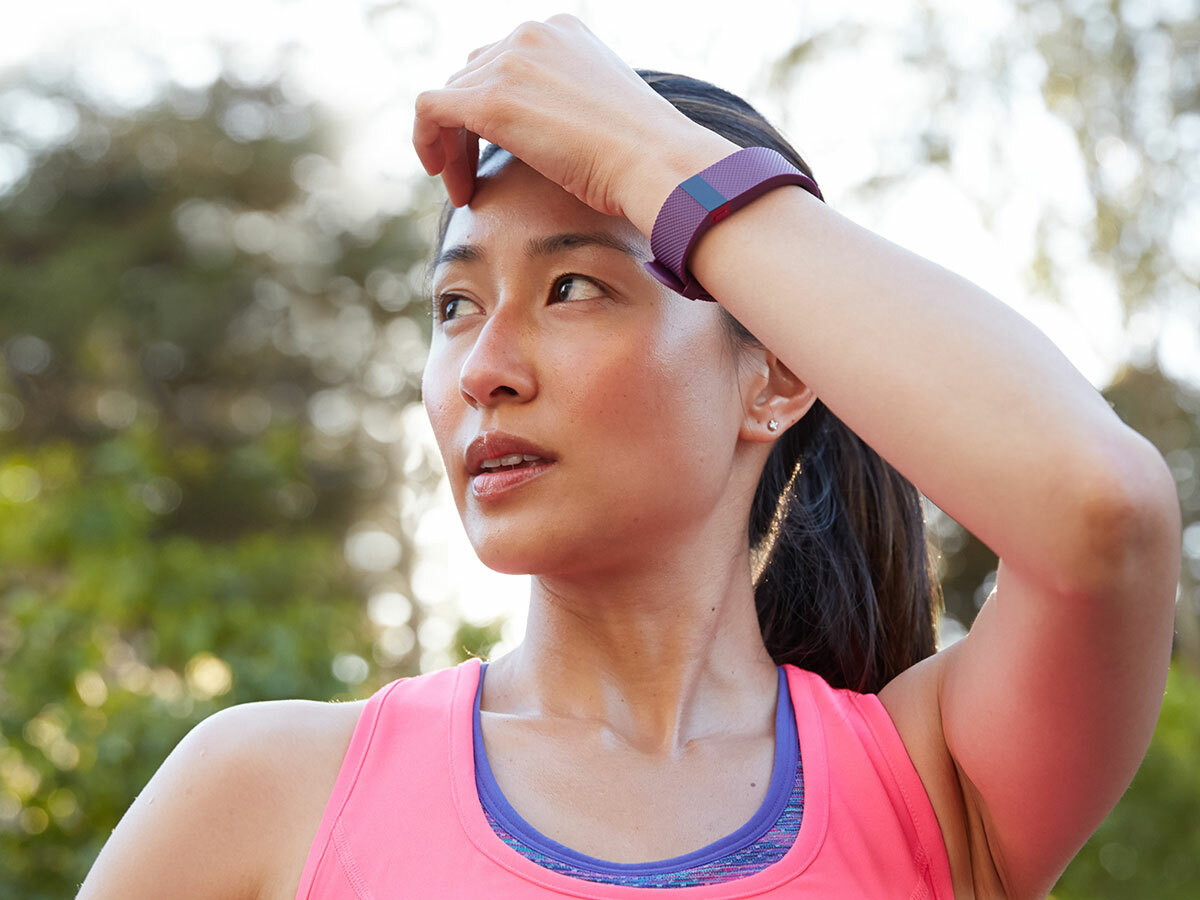 Give it a year and all fitness bands will boast continuous heart rate monitoring – the LED technology, while not up to Olympic standards, offers an invaluable insight into your health and fitness – and for now the Fitbit Charge HR is doing it better than the rest.
Lightweight and quietly stylish, at £120 it might not initially seem a bargain, but the £20 bump up from the original Fitbit Charge is a small price to pay for improved features, better strap and infinitely more useful fitness monitoring. And remember that really serious fitness watches such as the TomTom Multi-Sport Cardio and Garmin Forerunner 920XT cost significantly more.
Stuff Says…
Subtle and understated, the Charge HR is a nice compromise between casual step counter and hardcore fitness tracker
Good Stuff
Continuous heart rate monitoring
Lightweight design
Simple operation
Bad Stuff
Screen too small for smart notifications
Expensive considering the competition
Yet another charger