FIFA 22 review
FIFA makes its proper next-gen debut. But is it more Leo Messi or Leo Sayer?
1-0 is the most popular scoreline in football, but if you played last year's FIFA 21 you'd be forgiven for thinking it was 6-5 or 5-4.
With speed king, skill moves overpowered and defending seemingly an afterthought, FIFA 21's end-to-end goalfests might have been entertaining to some, but apart from the 22 players attempting to kick the ball into a big rectangle at each end of the pitch, the matches often bore only a passing resemblance to the real thing.
With FIFA 22 – the first to be fully developed for the new generation of consoles – EA has brought the game back down to earth. And while off-pitch developments are only minor and the economics of FIFA Ultimate Team (FUT) are still problematic, it's definitely a step in the right direction.
Goals are overrated
While it often takes a little while to get to grips with the gameplay changes made to any new FIFA game, you'll probably find it harder than usual to score your first goal on FIFA 22.
The general pace of the game has been noticeably reduced, passes have less zip, defenders are better at standing their ground and intercepting the ball, and goalkeepers are much harder to beat. They're also less inclined to push the ball back into dangerous areas, instead of redirecting shots past the post, so those irritating rebound tap-ins are far less common.
That's not to say goals are impossible to come by, it just tends to require a little more patience. With defences better at keeping their shape and making it harder to find space in the final third, good passing and movement are key, but with players reacting better to dextrous use of the left stick, it's easier to manipulate the ball in tight spaces without having to learn a load of skill moves.
You've now got a much better chance of outwitting opponents by second-guessing them and making subtle movements to open up space. Pace certainly still has its place, but it feels like it now needs to be used in conjunction with well-timed flicks of the right stick in order to knock the ball away from your opponent first.
There are still some routes to goal that feel a little overpowered. Finesse shots from outside the box go in a little too often, although it's not easy to work enough space to get one off without it being blocked, and driven through balls straight down the middle of the pitch can sometimes find their way to a pacey forward just that little bit too easily. These are the kind of things that EA often tones down with an update if it deems them to be an issue, though, so that may well change in time.
Join the club
It's rare that EA makes sweeping changes to any of FIFA's game modes and FIFA 22 is no different.
The biggest new addition is probably to Career mode, which now lets you create your own club and insert it into one of the many playable leagues. It's a nice way of allowing supporters of non-league clubs to join in, and there are plenty of choices when it comes to designing your team's kits, but other customisation options are a bit limited. It also fills your squad with a bunch of made-up players, which ruins the illusion somewhat. Just being able to edit the names would make a real difference for those that could be bothered to do so.
Volta has taken a turn for the ridiculous with the addition of power-ups that can be deployed to give your players a temporary skill boost, while its new Volta Arcade, which offers mini-games such as Dodgeball and Foot Tennis, is bizarrely only available to play at the weekend. If you've got no interest in learning how to do the game's skill moves, Volta will still be of no interest to you – but considering how many Ronaldo perves there are tediously elastico-ing their way through online games it really should be more popular.
And then we come to Ultimate Team. There have been some slight changes to the way you earn coins and tweaks to the structure of its competitions that make FUT slightly more forgiving, but overall it's still the same cash-hungry monster it's always been. A bit like Jamie Vardy, you either love or hate FUT and that's not going to change this year, but it's about time some of its grubbier pay-to-win strategies went in the bin (and you can chuck goal music, VAR and Michael Owen's 'punditry' in there while you're at it).
Of course, you can play without spending an extra penny, but it pretty much means you'll only see certain players on opposition teams. Where else are you going to find Pele assisting Adam Lallana while wearing Las Palmas's away shirt, though?
The beautiful game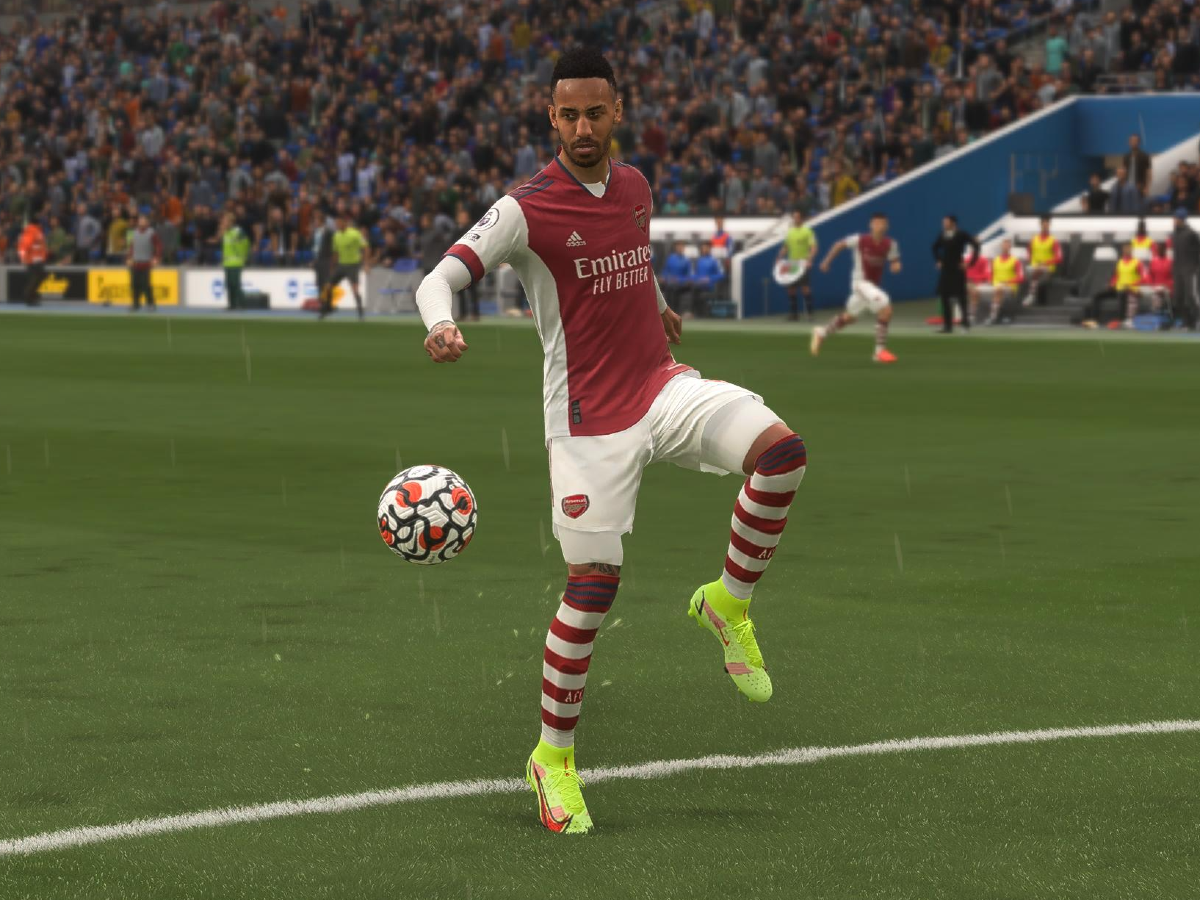 FIFA 22 certainly looks good, with player likenesses and cut scenes taking a noticeable leap forward, but it's probably not the first game you'd use to show off the graphical prowess of your new console.
There are some nice touches though. The nets ripple more naturally when a goal goes in (or you miss and hit the pole that holds them up), stadium seats start to empty when you're on the end of a pasting, and the extra animations mean that players have more ways to get the ball under control or pluck it out of the air. This doesn't just look good either, it adds to the sense of having more control over what you can do on the pitch. The way the ball moves through the air looks much more natural now too, with raking crossfield passes particularly pleasing (and much more effective than before).
Some niggly little issues still remain though. Player switching can be maddening when it refuses to give you control of the defender you want quickly enough, and a new system that allows you to press L3 and R3 and then flick the right stick to choose a particular player just isn't up to scratch.
EA also still seems incapable of stopping referees from occasionally turning up in the same colour shirt as one of the teams, while getting a defender to head the ball back to the goalkeeper rather than using their feet is still nigh-on impossible. The back-pass rule changed 30 years ago, lads.
FIFA 22 verdict
For those who were sick of FIFA 21's frenetic and often slightly absurd gameplay, FIFA 22 will be a welcome change. It's a much more authentic recreation of the beautiful game that rewards a more patient approach, which some will find difficult to get to grips with.
The off-pitch changes feel less significant but for many, that won't be an issue. Why mess with a winning formula, right? Now if only they'd do something about those microtransactions…
Stuff Says…
FIFA 22 offers a more mature approach to football, but it could do with being replicated on Ultimate Team
Good Stuff
Less focus on pace
Looks and feels more lifelike
Really quick to load
Bad Stuff
FUT still too greedy
Few changes off the pitch
Commentary has got worse