Blackberry 8100 Pearl review
With mobile email in the bag, BlackBerry has plunged headfirst into the heady world of multimedia and style with the sleek 8100 Pearl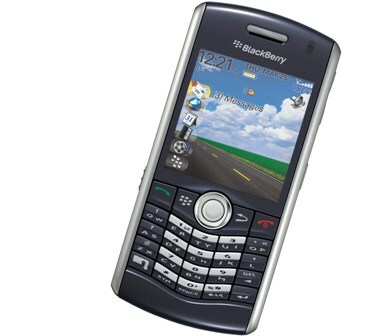 The Blackberry has always lived in the fast-moving business world and had little time for anything else. But after being shunned by fashion phones on the mobiles social scene, its creator RIM has undone its top button and instructed its new 8100 Pearl to have some multimedia fun. 
The Pearl is RIM's first crack at the mainstream; a phone that can be used both during and after work hours. It ushers in this new era by fitting a 1.3MP snapper, microSD card slot and a fetching trim phone-like design.   
On the ball
Compared to past QWERTY-packing BlackBerry's the 8100 Pearl is incredibly compact and lightweight, taking the BlackBerry 7130 design and giving it a slinkier feel. It's also the first 'Berry to sport a central TrackBall navigation globe that glows brightly and is the inspiration behind the Pearl moniker. 
This loose fitting orb needs just a gentle brush from your thumb to prompt. At first it reacts almost too quickly but you can modify its speed and control settings to suit your pace. Those weaned on the BlackBerry's signature side thumb jog-dial may take a while to acclimatise to this new technique. 
Because of its sleek torso, the 8100 Pearl can't find space for a full QWERTY so has plumped for the dual-function last seen in the 7130. Each key is assigned two letters, separated by a rocker switch and those with elfin digits won't find this layout a problem. Meatier pinkies will undoubtedly find it fiddly and vexing to thumb – if this sounds like you we recommend sticking with the full QWERTY species.
Alpha mail Nothing has changed on the email front, which is no bad thing. Setting up accounts (up to ten POP3 or IMAP4 clients can be integrated) is granny proof and messages are retrieved and sent over a GPRS/EDGE connection.  
RIM still hasn't upgraded to 3G technology but for messaging purposes these speeds are satisfactory and only really effect internet browsing – web page loading is a little sluggish. Google Talk and Yahoo! Messenger instant messaging apps are also embedded to get real time chatting. 
The camera is another BlackBerry first but the fixed focus 1.3MP job feels a bit like like tokenism – apart from white balance and a very sketchy flash LED, photographic features are non-existent. It's only really geared for wallpapering and MMS-shenanigans. Similarly the music player is bare bones stuff with no audio enhancements in sight. 
RIM should give itself a pat on the back for its first stab at mainstream acceptance. OK, the Pearl's multimedia performance may fall short but it definitely brings some much-needed style to its previously prosaic messaging world.