Audi RS5 Coupe (2017) first drive review
Potent V6 power proves the RS5 means business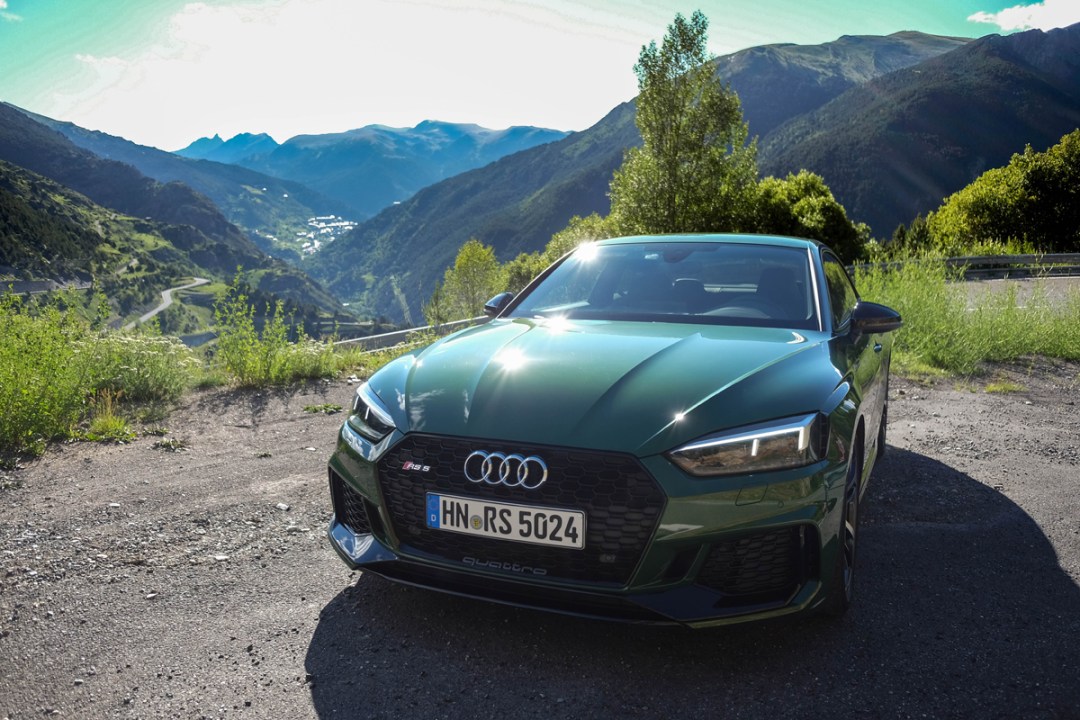 An RS badge is supposed to be something special.
It means the technical wizards at Audi have tweaked, fettled and adjusted just about everything they can, in order to squeeze the best possible performance out of a car before they let you get behind the wheel.
The 2017 RS5 is the latest to make the grade. It's the grand tourer of the RS range, with more than 400bhp under the bonnet and angry body styling that's guaranteed to get you noticed.
Having previously spent the week with an S5 Coupe earlier this year, though, I was curious: is that badge really all it's cracked up to be? Does more power, sportier looks and a shoutier exhaust note justify the extra cash?
After blitzing one through northern France and across Andorra's mountainous roads, it's easy to spot the difference. The RS5 is every bit the beast that badge suggests it should be. And that's a very good thing indeed.
SIX APPEAL
Let's get this out of the way early: there's no growling V8 engine under that elongated bonnet. Audi has made the switch to a more environmentally (and wallet) friendly V6, which might sound like sacrilege to fans of older RS models, but don't panic just yet.
The 2.9-litre, twin-turbocharged block was co-developed with Porsche, and can already be found in the Panamera 4S. It isn't exactly a thriller in the heavier Porsche – where a subdued engine note doesn't help – but here, a remapped power curve, lighter chassis and Quattro all-wheel drive help it come alive.
Oh, and a shouty twin-exhaust system helps too.
Power is identical to the outgoing V8, with two fewer cylinders required to hit 444bhp. Torque has been given a significant boost, though, all the way up to 443lb ft. Impressive on paper, sure, but it's a lot more dramatic in action: 0-62mph takes a supercar-baiting 3.9 seconds.
The twin turbos unlock all that power above 2000rpm in one big gut-punch, shoving you back in your seat with every stamp of the accelerator. It might only be one second faster to 62 than the S5, but the way it gets there is nothing short of violent.
It's addictive, especially with the (artificially enhanced) exhaust system shouting, popping and growling all the way through the rev range.
A torque convertor gearbox rattles up and down through the gears with real pace, too – you won't miss the old dual-clutch seven-speed system.
The Quattro all-wheel drive system is still able to keep all that power under control, even when you're trying very hard to beat it. That means fantastic grip when you're flying around Andorran hairpin corners, but in perhaps a more clinical way than I'd like.
I still think the trademark Audi steering feel is a little too restrained, and too light compared to the similarly-priced competition, even if it's accurate for daily driving. The torque split between front and rear wheels tends to err towards neutral balance, so you won't be throwing the back end out.
Things stayed surprisingly comfortable in the more posterior-friendly driving modes, even on some particularly dodgy Andorran side-roads, but switch into Dynamic and even small bumps will punish your lower back.
THRASH DIET
The RS5 isn't much of a departure from the S5 coupe in terms of looks, with only a few additions and tweaks letting you know about the potent engine lurking under the hood.
You get a similar low profile, flared rear end, and wide front grille, only now opened up even further to show off the honeycomb air intakes.
The angular rear windows return, as do the bulging side skirts, but here they've been given optional accent colours. The silver trim around the windows (as seen on the S5) has been ditched, and the black wing mirrors look a lot slicker than the S5's contrasting silver ones too.
You still get twin exhaust pipes at the back, only here they're surrounded by a rear splitter for improved aero, and an optional carbon trim pack that somehow makes them look angry, even before you push the start button.
The whole car looks sleek, and while there's no denying it's long, it doesn't weigh nearly as much as you'd expect. Dropping a pair of cylinders has helped trim 30 kilos from the engine, and Audi has managed to strip away a further 30kg from the rest of the car too.
It makes all the difference to handling and performance, giving the RS5 the urgency and chuck-ability you expect from that badge.
CABIN PRESSURE
Audi interiors are nothing short of luxurious, no matter what the price range, and the RS5 is no different.
Drop yourself into the low-slung bucket seats and you'll be surrounded by high quality leather, Alcantara and metal. The standard materials are a step above anything you'll find from Alfa, BMW or Mercedes.
The flat-bottomed RS steering wheel reminds you you're driving something sporty, with perfect placement for sliding in and out of the cavernous bucket seats. The adjustable side bolsters keep you planted while you're in the corners, and they've even got massagers for those long motorway cruises.
The raised centre console will feel familiar to anyone that's been inside any Audi in the last few years, with only a few logos making it clear you're behind the wheel of an RS model. The driving position is excellent, with great all-round visibility – even if you are sat closer to the floor than you would be in a typical saloon.
That means you get all the high-end toys, though, including three-zone climate control and completely customisable mood lighting. This can tie in to the Drive Select modes, changing to an aggressive red in Dynamic but dialling things back to a more calming white in Comfort.
You can easily squeeze two passengers into the back, and while there's plenty of room, getting in and out of those seats could never be considered dignified. The boot is similarly spacious, with easily enough room for a pair of suitcases. Or a bag of golf bats, if you're that way inclined.
THE SCREEN SCENE
Audi has been ahead of the game when it comes to driver-friendly tech for what feels like forever. Virtual Cockpit is so good that VW and Peugeot have come up with versions of their own, but drop into the RS5's cockpit and you get the original.
It basically replaces the entire traditional instrument cluster with a high-resolution TFT screen, so you can customise your view of the speedo, rev counter, gear indicator and trip computer. In the regular A5, it defaults to two smaller dials that bookend your satnav map, but here, the RS5's default view puts a giant Rev counter front-and-centre, changing colours to tell you when to upshift if you're using the wheel-mounted paddles.
It's angry. It's in-your-face. And it's a perfect fit for the RS range.
Rather than duplicate the centre console's infotainment system, it also puts race-inspired extras like a G-meter in your peripheral vision. Slam into a corner, floor it on the exit and you'll rapidly fill up the gauges – it's pointless, except to put a big smile on your face.
It's all very easy to control with the wheel-mounted buttons and scroll wheel, and the high-res screen means everything looks clear and easy to read. It's vibrant, too, with bright colours that really give maps and navigation a satisfying clarity.
Controlling the 8.3in centre console screen with the rotary dial sat behind the gear stick is pretty slick, too. Twist to scroll through menus, press to select – it's not quite as straightforward as a touchscreen, but it's less distracting when you're on the road.
TECH TOYS
The RS5 plays nicely with Android Auto and Apple CarPlay too, so you can pass control of the centre console's screen to your phone instead of Audi's own infotainment system. There's a USB port in the arm rest, so you can stay topped up while you're driving – plus a wireless charging pad if you've got a compatible phone.
You can't charge an iPhone while playing music over Bluetooth, though, which is a pain if all your tracks are on Spotify instead of iTunes.
We've gone over Audi's more advanced tech before, and everything is available here if you want it, so we won't go over it again here. There's one to highlight, though.
Adaptive cruise control and lane assist are as close to autonomous driving as the RS5 gets, but they've both handy to have for any long-distance journeys.
Having cruise control on a separate control stalk can be a bit fiddly at first – on-wheel buttons would be better – but once engaged it works brilliantly. Set your speed and the car stays a set distance from the traffic in front of you. It'll slow down when they do, and pick up speed again when there's room.
Audi RS5 Coupe (2017) initial verdict
The RS5 absolutely deserves that RS badge – even if it loses two cylinders compared to the outgoing model, along with the authentic soundtrack. The twin turbo V6 provides ample power across the rev range, and even though it's artificially tuned, the exhaust will still make you smile.
Its two main rivals, the BMW M4 and Mercedes C63 Coupe, still have the edge in terms of dynamics, but they both cost more, and are now an all-too-common sight on the road. The Audi still stands out, and has plenty of interior extras to keep you happy while you're behind the wheel. Ones you won't have to raid the options list to get hold of, too.
In fact, the RS5 is probably the ultimate everyday fast Audi. The shouty, snarly RS3 is really reserved for the younger crowd, the R8 supercar is too "look-at-me" and the RS6 Avant is best for taking those 2.4 children on the school run.
This, though? It's refined and restrained, while still threatening to claw your face off if you so much as look at it funny. And that's exactly what you want from an RS.