Audi A8 (2018) first drive review
Inside the AI-controlled, multi-connected car of Audi's future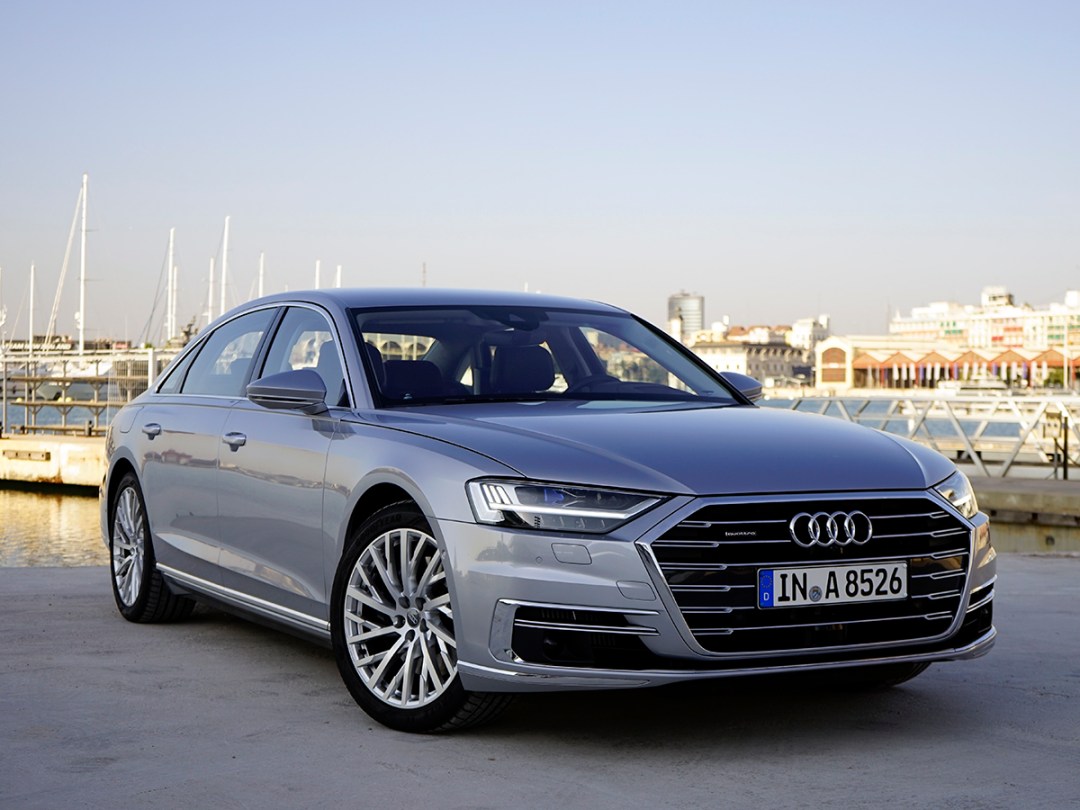 You might think the A8 is the exclusive domain of the rich, chauffeured glitterati and on the shopping list of UberLUX drivers everywhere – but you'd be wrong.
It's actually Audi's statement of intent, packed with more tech than anything out of Ingolstadt and built for an autonomous driving future where you'll be able to swap chauffeur for smartphone.
Not bad for a two ton executive saloon, right?
I got the chance to get behind the wheel of one – and experience things from the back seat too – at Audi's first drive event in Valencia. And while I don't think it's about to make Lady Penelope hand Parker his P45, it's the closest I've got to true autonomous driving. Which is very cool indeed.
INTERIOR
Half of me thinks that this isn't a car you drive – it's a car you're driven in. That's why my first experience of the A8 was from the rear passenger seat.
Open the door and the trick air suspension raises the car by 40mm, making it easier to plonk your backside into the leather, heated, will-even-massage-you-if-you-want reclining seats. You're also greeted by a subtle light show, with almost every panel illuminated by ambient LEDs.
There's room for three seats here, of course, but expect most configurations to ditch the middle position for an eye-catching centre console instead. It's an arm rest, it can hide airplane-style tray tables for working on the move, and even has its own touchscreen that pops out for handheld use – just like a smartphone.
I never knew how much I needed wireless control of my seats before this – or that my co-passenger was not to be trusted with the buttons that started the alarmingly vigorous buttock massaging mode.
It handles media playback too, and even the privacy blinds fitted to the rear windscreen and back windows. You wouldn't get the system wasn't plugged in – it works flawlessly.
Digital screens fitted to the backs of the front seats do a similar job, replicating the infotainment system you'll find up front. They're near-identical to the ones in Bentley's Bentayga, but here they give you control over music and lighting, and even let you keep an eye on the driver with real-time stats like speed and fuel consumption. You want TV, too? You got it.
I could go on. So I will: the door panels are covered in ash wood, the seats are all covered in leather, and the front passenger seat even has a hidden foot massager built-in.
Is it overkill? Absolutely. But when has luxury ever been about subtlety?
Subtle isn't a word that applies to the Bang & Olufsen sound system, either. It uses 3D surround sound pre-sets to project music around the cabin, and delivers detail like few other systems you'll find on four wheels. Hans Zimmer's Planet Earth II suite genuinely gave me tingles.
DASHBOARD & CENTRE CONSOLE
There's a lot going on in the back, then, but somehow things are even busier up front. Since when did the chauffeur get all the best gadgets?
The instrument cluster is one big screen, the latest iteration of Audi's virtual cockpit. Digital versions of analogue gauges get shunted to the sides, making room for a huge, screen-filling sat-nav view. It's much quicker here, thanks to an Nvidia Tegra K1 CPU doing all the heavy lifting, and looks more seamlessly integrated with the rest of the dashboard to boot.
The centre console has not one, but two screens: one for the Audi MMI infotainment system, and another for climate control. Both are touch-sensitive, with the lower screen turning into a giant doodle pad for writing letters with your finger – Audi reckons this is less distracting than tapping away at an onscreen keyboard.
Haptic feedback is supposed to help you 'feel' every button press, with audible clicks and a bit of rumble letting you know you've tapped the right icon, but honestly, it's a lot to take in. I took a good 20 minutes getting acquainted with the different screens, but still had to take my eyes off the road to figure out where the drive select modes were.
Both screens are built into a single glass panel covering the whole dashboard – and it looks flippin' ace. The giant display in Tesla's Model S might make a great impression, but it's not exactly subtle: turn the A8's engine off and the main screen almost fades into the surrounding glass.
Oh, and let's not forget the optional heads-up display, which beams your speed, navigation directions and the current speed limit right onto the windscreen.
AUDI AI & AUTONOMOUS DRIVE
So far, so luxurious, but all that Nvidia processing power isn't exclusively used to stream Taylor Swift's latest jam to the bangin' stereo – it's also keeping a ridiculous number of sensors in check.
Audi has crammed an awful lot in and around the car, including long-range radar, 360-degree cameras, four mid-range radars, night vision, as many as twelve ultrasound cameras, and even LIDAR – a first for a production car.
It's that final one that should open all manner of self-driving doors for the A8. Officially, this is called Level 3 Conditional Automation, which means the driver doesn't have to continuously monitor the road – a fancy way of saying you'll be able to poke and prod the stereo without having an accident.
Audi's Level 3 Traffic Jam Pilot mode will slow and stop the car in slow-moving traffic, then start it up again and accelerate back up to cruising speed (around 30-40mph), all while keeping you in your lane. Just punch the big Audi AI button and the car will take over.
Unfortunately, as Spain hadn't yet opened up the laws to let AI-controlled cars loose on Valencia's roads, I didn't get to see this in action.
Instead, I tried level 2 autonomy, where you keep your eyes on the road (and your hands on the wheel) but let the car maintain speed and lane discipline. It'll slow down if the car in front of you does, then pick up speed again when the road is clear.
It sounds like a small difference, but it's light years in terms of autonomous driving. Pushing all these settings to a third indicator stalk is a little clumsy, – the oodles of touchscreen space would be a much better fit for it.
Now Audi just has to make it clearer to the driver exactly what's being done – the tiny icon kind of gets lost amongst the rest of the virtual cockpit graphics right now.
SAFETY FIRST
That's not to say the A8 doesn't have your best interests at heart though: it's fit to bursting with safety features.
With cameras constantly scanning all angles, the car can detect when there's about to be a collision, and jack the suspension up by 80mm in just half a second. That means the other car will hit the much sturdier door sills, keeping you safe inside. Those 360-degree cameras can also be put to good use when parking, creating a 3D replica of your car and overlaying it on the dashboard screen, with a live view of your surroundings. It'll highlight individual wheels if they're getting too close to the kerb, so you don't dent your precious alloys.
The doors have a similar party trick, watching out for blind spots and delaying the handles from opening when a cyclist passes by. The delay is less than a second, but it's enough that you should hopefully not swing open your door into some poor sap's face.
A similar system keeps one eye on the road ahead, pre-configuring the suspension so individual wheels better absorb the impact of potholes and those dreaded speed bumps. You can actually feel the car raising, and the resulting bump is definitely softened as a result. Which should hopefully keep the rear passenger's champagne flutes from tipping over.
This was kinda possible before, but behaved more like a row of dominoes – the first system had to topple before the second could start. According to Audi, the new car's near-Mensa levels of brainpower mean this can now happen simultaneously.
One final setting straddles the line between safety and autonomy: completely automated self-parking. Previous systems could scan for parallel or perpendicular spots, then handle the steering while you managed gas, brake and gears.
Now, the car can do all that by itself. You can even get things started with your smartphone: Audi's app gives you 30 seconds to get out of the car once you've found a space, then you just hold a button onscreen and the car will turn, accelerate, brake and change gears for you – it'll even do your windows up once it's parked, and can extract itself from a particularly tricky spot too.
Basically, if parking was the one thing putting you off buying a road barge like this, you've not got an excuse any more.
EXTERIOR DESIGN
I don't feel too bad in calling the last-gen A8 a bit boxy, especially in the nose – so sending this 2018 model to the plastic surgeon feels like a sensible move. Audi's design team have given it much more presence, with a wider grille that adds a dash of aggression to the otherwise restrained looks.
There are tiny little details dotted around the car that add up to make a big difference, though, like the horizontal light bar above the brake lights.
This is something I've seen on mean American muscle cars before, but never on a luxury saloon – and the light show it puts on whoever the car is locked or unlocked always put a smile on my face. It also helps highlight the intricate OLEDs built into the brake lights.
Up front, the headlamps are equally tech-heavy, with an LED matrix setup paired with a long-distance laser. This effectively doubles the range of the high beams, and only engages when there's no-one coming towards you on the other side of the road.
DRIVE
In 340-horsepower, V6 diesel guise, the A8 has all the power you'll need for motorway cruising at a healthy rate of knots. There's also a 3.0-litre V6 petrol putting out similar power, a 4.0-litre V8 and monstrous 586bhp W12, as well as a plug-in hybrid model due later next year.
Honestly, though, it's the diesel that will sell in big numbers to us Brits, so this was where I spent most of my time behind the wheel.
Whether I was carving up twisty, mountain roads, hammering across silky-smooth Spanish motorways, or slowly crawling between Valencia's many traffic light-controlled junctions, the A8 was always quiet and stable.
All-wheel steering makes the whole thing feel almost unnaturally light, taking fewer turns to pull off every manoeuvre. Even tight U-turns were doable in one attempt, thanks to a tighter turning circle. A system like this probably wouldn't please a petrolhead, but road feel is less of a concern if your car is also your workplace.
AUDI A8 (2018) INITIAL VERDICT
Even after a whole day spent driving, riding as a passenger and experiencing its autonomous modes, I steel feel I've only scratched the surface of the tech Audi has crammed inside the A8.
A long wheelbase luxury limo like this is a long way removed from my usual runaround, but as a taster of car tech to come, it's potentially more exciting than the sportiest of supercars. That's because the majority of the A8's tech is sure to find its way down into Audi's more mainstream models.
OK, you're not going to be wandering into a showroom next month and slamming down a deposit on a family hatchback with smartphone-controlled, bum-massaging seats, but dashboard-filling touchscreen controls, more reactive and intelligent safety systems, and of course autonomous driving modes now feel a lot closer to becoming an affordable reality.
And if you can't wait that long? You'd better find €90000 before the A8 arrives in Europe at the end of the year.