Archos 101 XS Gen 10 review
The ultra-thin G10 is Archos' most exciting tablet in ages, with a killer magnetic keyboard as its secret weapon. But can its innards match up to its outards?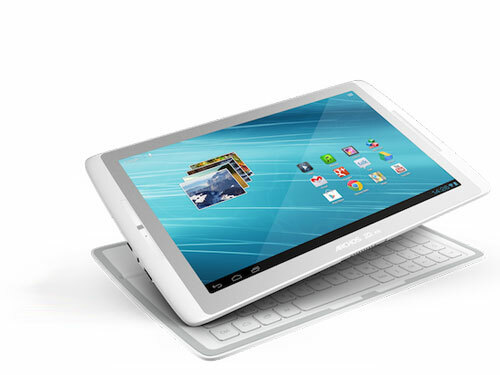 The space-age styled Gen 10 is bravely gunning for the Asus Transformer Pad Infinity's title of best hybrid tablet in the world. A tall order, but its super-thin 8mm form, skinny magnetic keyboard and positively lean price of just £300 are a good start.

The Gen 10's lone speaker sits to the right of its 10.1in screen, with the power button and volume hiding on the bottom right hand side – not exactly elegant. Its 720p webcam is on the left hand side of the tablet, or on top when in landscape mode. It's a rather odd placement whether for video calling or 1.3MP stills.
Archos 101 XS Gen 10 – design and build
The Gen 10 doesn't have the quad-core Tegra 3 chip of the Asus Transformer Pad Infinity – instead packing a 1.5GHz ARM Cortex A9 – but neither will the Archos let you down when it comes to power. In fact, other than the odd app or game crashing (to be expected on an early review unit), Android 4.0 Ice Cream Sandwich ran silkily.
Archos has thrown in all sorts of genuinely useful OS extras alongside Ice Cream Sandwich, including a Remote Control app and Media Server for streaming media to smart TVs and consoles. There's not too many to get bloaty though, thankfully.
Archos 101 XS Gen 10 – performance
The chiclet-keyed, magnetic Coverboard isn't a particular improvement over third-party Bluetooth or USB keyboards, lacking a trackpad and neither extending battery life nor adding ports to the tablet. Although it lacks a built-in battery, if you treat it as a docking station and leave it plugged in at home, it will charge the Gen 10 when docked.
At this price it's a neat extra, even though the way you twist it off the front of the tablet before docking is on the clunky side.
The Gen 10's Achilles' heel is its distinctly average 1280×800 display. It can't compete with the eye-popping colours of the Galaxy Tab 2 or the sharp, bright full HD displays of the (admittedly more expensive) Asus Transformer Infinity or Acer Iconia Tab A700. Then again, unless you've seen better it shouldn't be a deal-breaker.
Archos 101 XS Gen 10 – apps
The Archos' keyboard dock makes it great value, but the Coverboard won't provide particularly comfortable typing on the go. Its average screen counts also against it – and given that a screen is pretty much all there is to a tablet, that's enough to leave it lagging behind its rivals.
Archos 101 XS Gen 10 – Coverboard
Archos 101 XS Gen 10 – display
Archos 101 XS Gen 10 – verdict