Apple CarPlay review
Apple's iPhone-powered in-car tech gets the long-term test treatment via the Pioneer SPH-DA120 touchscreen stereo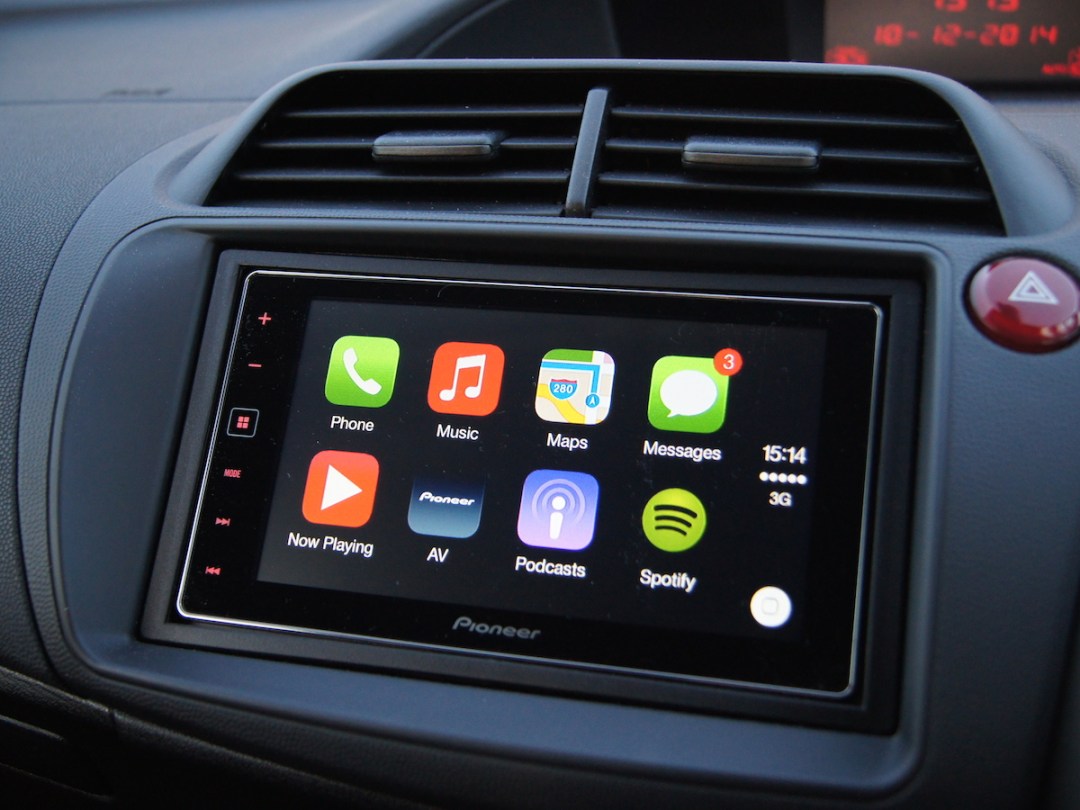 You can spend well over £100,000 on a new car and its in-cabin tech will still seem remarkably dumb compared to even a £320 iPhone 5c.
We've had a whole bunch of brilliant and beautiful cars pass through the car park of Stuff Towers over the last few months, and while we've fallen hard for some, even the fanciest and most expensive have interfaces and features that fall way short of the sort of slick, intuitive, smart experiences we all get from our smartphones every single day.
That's what makes CarPlay so exciting – it promises to transfer the iPhone experience directly to a touchscreen in your car.
Right now there are just two ways to get CarPlay: buy a £230,000 Ferrari FF, or install a CarPlay-enabled head unit from Pioneer or Alpine in your current motor. Even Stuff's pockets aren't deep enough for a Ferrari, so we've gone with the second option.
CarPlay-flavoured ICE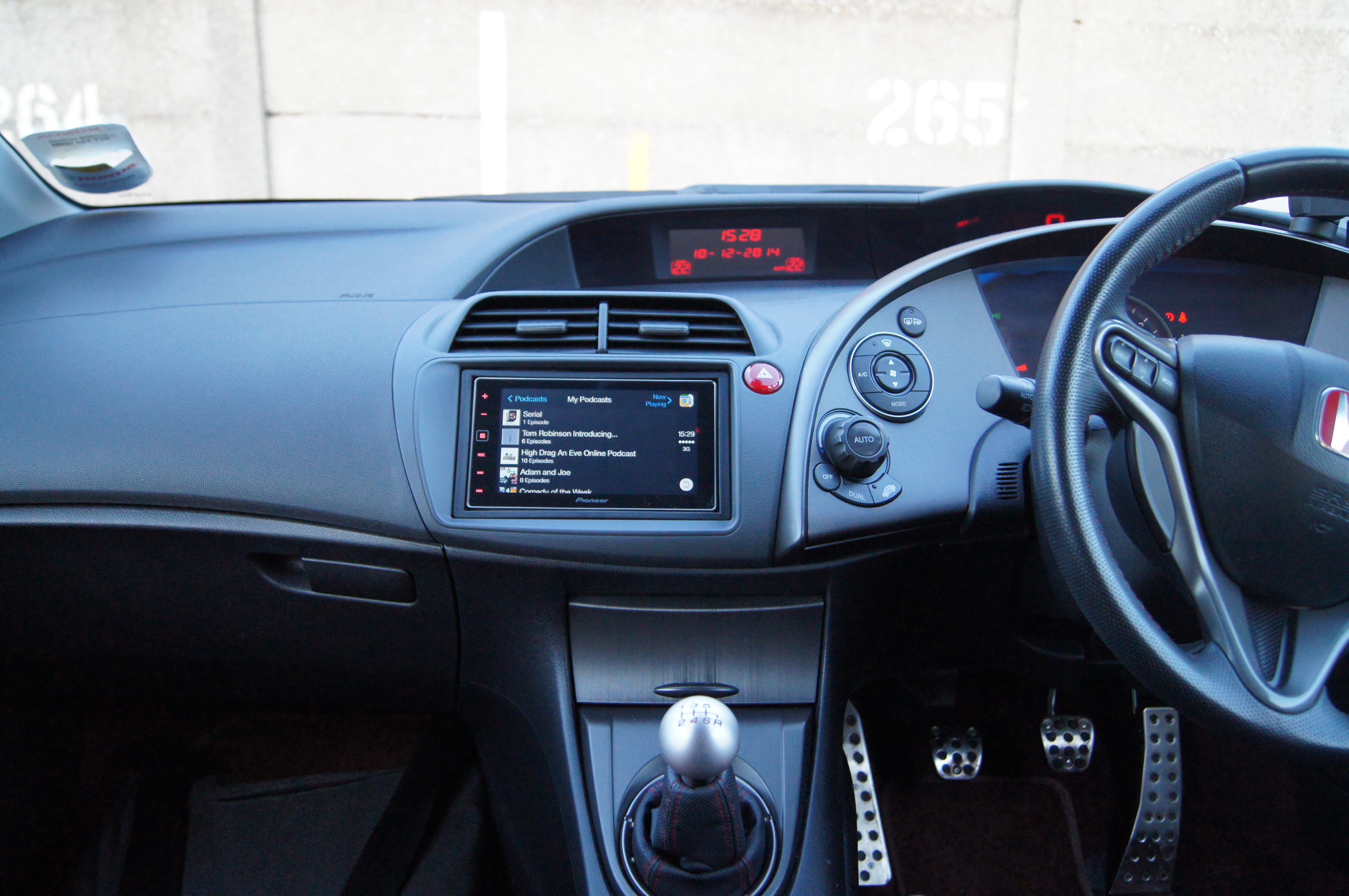 Pioneer supplied its SPH-DA120 for this test and arranged for installation into my aging but much-loved Honda Civic Type-R at Auto Audio. It's nerve-racking leaving one's car at the mercy of mechanics, but looking around the garage at the various Ferraris, Lamborghinis and Bugattis, I realised there was little to be concerned about.
Sure enough, a few hours later the car was back and in the place of the old slot-loading CD player and big-buttoned radio I had a flashy, 6in touchscreen.
The SPH-DA120 is actually a standard double-DIN unit, so you might fancy having a go at installing it yourself. Alternatively, if you pick up your unit from Halfords they'll install it for about £30, although that can go up if your car needs special adapters, as many modern ones now do.
Pioneer SPH-DA120 tech specs
CarPlay compatibility: iPhone 5, 5c, 5s, 6, 6 Plus
Fitting: Double DIN
Display: 6.2in WVGA multi-touch
Amp power: 4x50w
Other features: AppRadio, MirrorLink, HDMI, aux-in
Typical Apple simplicity, but where are the apps?
Turn the SPH-DA120 on and Pioneer's own interface pops up first. This is because as well as CarPlay functionality the head unit has its own features, such as AppRadio, Android MirrorLink and an FM/AM tuner.
Those bits will be tackled in a separate test. Right now we're concerned purely with CarPlay, and as soon as you connect your iPhone to the lightning cable (which in my case has been handily routed to a cubby hole by my left elbow) the CarPlay interface bursts into life. Sort of. You have to click on an annoying warning message first. And then you have to unlock your iPhone if you forgot to do so before plugging in. And this is the startup process every… single… time.
Once you get there you're greeted by typical Apple simplicity – apps are presented eight to a screen, with big, easily prodable icons. But if you're expecting endless apps, you're going to be disappointed.
Only eight of my iPhone's bajillion apps have a CarPlay mode – Maps, Music, Podcasts, Phone, Messages, Spotify, Rdio and Stitcher.
In fairness, having an app for music and one for navigation is the real priority here, and those bases are covered, but how well? I have to admit, the short, evening journey home from the garage suggested Apple Maps might have turned a corner (sorry) but this was going to need longer testing.
The Apple Maps Issue
It turns out that that first Apple Maps-navigated journey was just perfect for showing off its good bits. Since then I've encountered plenty that's far less impressive.
But the good stuff first: Apple Maps hasn't failed to recognise an address yet, and I've been using it for weeks. It's fast to search, has big icons and clear text, voice instructions are brilliantly clear and at nighttime it's very bold and easy to read. During the day it's less clear – the colour palette is almost entirely white and grey, which means reading it in bright light can be tricky (the reflectiveness of the Pioneer head-unit's screen certainly doesn't help here) and the 3D elements can obscure your route.
But the real problem is that Apple Maps still falls well short of third-party rivals when it comes to driving.
It does have traffic data, which appears on the route planning screen as little red and yellow areas of carnage, but it seems to make little discernible effort to avoid them. You are given three possible routes to use, but traffic still doesn't seem to play a big part in them and they're so different that only the default ever really seems worth considering.
And once you're on your way there are no traffic updates. Massive accident occurs after you've set off? You won't know about it until you get there. And even when you do get snarled up there's no button to get Maps to plot a new route around it.
And there's a general lack of intelligence when it comes to route planning, too. I know that if at all possible one should pretty much always avoid London's infamously nasty North Circular, and during Friday night rush hour that's more true than ever.
The TomTom iPhone app knows that, too, which is why it kept beeping at me in alarm when I had it running on a second phone while I selflessly ignored it and tested Maps by following the route it picked for me for my regular drive from Cambridge to London. The North Circular was entirely predictably a nightmare and the journey took well over an hour longer than it should.
By current sat-nav app standards these are pretty much basics, so it should come as no surprise that Apple Maps also lacks other features such as speed camera locations.
If you have very simple navigation requirements you might get on just fine with Maps on CarPlay, but the fact that almost every third-party rival is better but unavailable to you is mighty disappointing.
Pumping tunes (and podcasts)
Having Spotify built into your car is A Great Thing, and the CarPlay app works much like the iPhone app, but with bigger, bolder text that's more readable on the move.
There are some small flaws in the presentation. The landscape orientation means you have to do a lot of swiping to get through long lists and playlists, and the swiping isn't as smooth as you'd expect from Apple. You can't search the whole Spotify library either – you're limited to saved playlists and whatever Spotify has put into its browse section. It also seems a missed opportunity that you don't get lovely big artwork on the big touchscreen.
But overall this is the sort of experience you'd expect, and in the case of the Pioneer SPH-DA120 it sounds very good, too. Night and day over my old built-in stereo in fact, even with the same speakers.
The Podcasts and Music apps work in the same way – a simple list of what you've downloaded and what's available, and sound is very good from both.
And navigating between the lot is dead simple thanks to the white home button, which appears on the bottom-left by default but can be switched to UK-friendly bottom-right in the options. And the Maps icon appears at the top-right of the screen whenever you have a map plotted, making returning to your route practically instant at any time.
And if that's all a bit too physical for you, there's always Siri…
Siri, the in-car assistant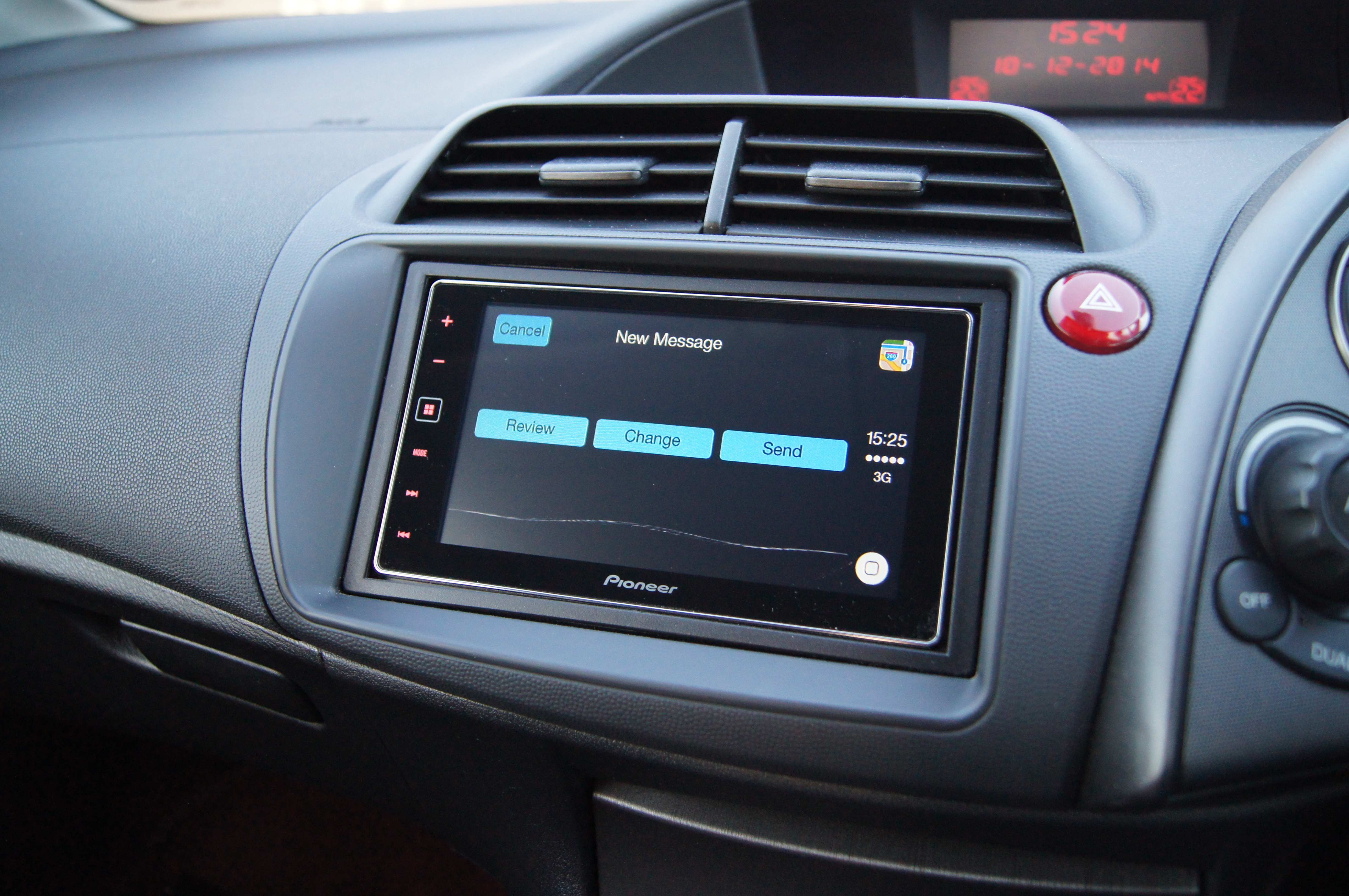 But is there always Siri? He's always there and always available, but he can't always do what you want him to do. One of the biggest issues with Siri is that he can't perform any request at all if he hasn't got a data connection. That includes simply phoning someone from your phonebook.
It's less of an issue when you're moving relatively slowly on foot, but when driving you regularly encounter little pockets of dropout, and you can bet your backside it'll be when you're holding down that Home button to get some Siri assistance. More than ever it feels as though Siri should be able to perform a small number of very simple tasks without having to report to a central server.
And even when he is chugging on 3G or 4G there can be problems. I've tried a number of times to plot a route by giving Siri a destination and he's never once found the right one, and names are often mis-heard – even ones that he's successfully recognised a whole bunch of other times. It's of course possible that the microphone supplied as part of the Pioneer SPH-DA120 system is playing a part here, but that doesn't explain the inconsistencies and I'm told that my voice comes through very clearly when using it for mid-drive conversations.
An Apple that's uncharacteristically riddled with bugs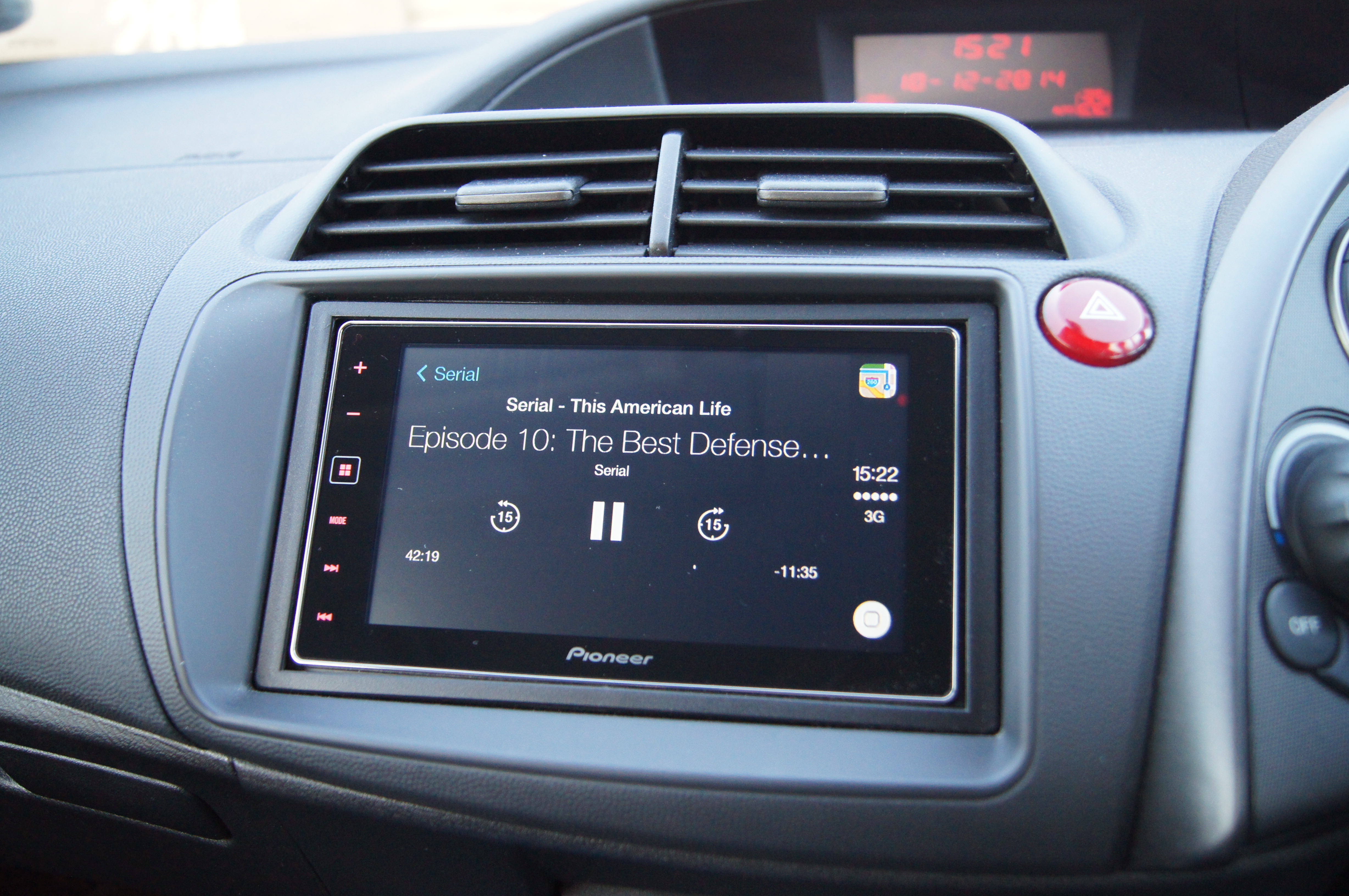 Now this really is a surprise: this is an Apple device with lots of bugs. Over the last few weeks I've encountered regular full-on crashes and restarts, and there's a problem with Spotify whereby it regularly refuses to play any track you select and instead spurts out whatever it fancies from your iPhone's local storage.
The latter bug can sometimes be fixed by unplugging and reconnecting your iPhone, and at other times by starting the track you want on your iPhone instead, but you can't legally do either of those things when you're driving and it's massively distracting even if you could.
There's a weird little foible that involves Podcast folders frequently stating they've got nothing in them even when they're full of episodes, too.
For now I've learned to make sure everything is set and playing before I set off, but it's clear that there are lots of bugs that still need squishing, and that's a big surprise. Perhaps it's not all Apple and the Pioneer head unit is contributing to some of these issues, but we won't know that until we can test a CarPlay device from another manufacturer.
Tester's Notes
The pace of progress in CarPlay has been disappointingly slow so far. I've been using it since before Christmas and practically no new apps have appeared and there's been no mention of any iOS updates bringing fixes or adding features to CarPlay. Pioneer hasn't updated the SPH-DA120's firmware since October either.
And finding CarPlay apps is really tricky. "CarPlay" isn't a section in the App Store and there seems to be no central list of apps that are CarPlay-enabled. If an app you've already got becomes compatible through an update it will obviously just appear in-car the next time you plug in, but finding brand new apps that are CarPlay compatible is currently far trickier than it should be.
Apple CarPlay verdict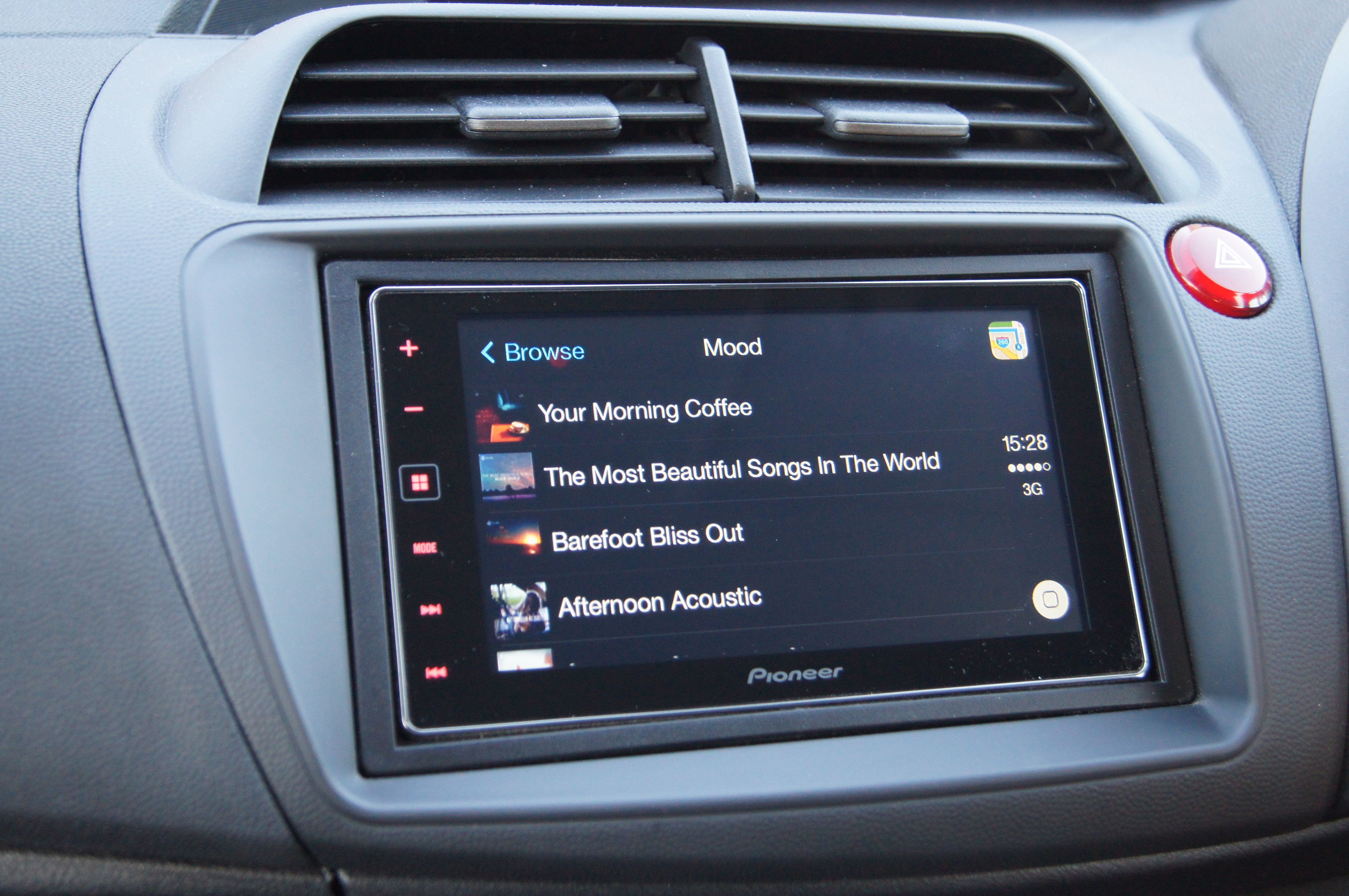 In these weeks of testing I've seen nothing to alter my view that Apple CarPlay (and probably also rival Android Auto) is the future of in-car entertainment and navigation, but it's not the right now.
It feels distinctly unfinished, with too many bugs and far too few apps. It needs other and better navigation options right now. If TomTom and/or Waze were introduced it would immediately make CarPlay a far more powerful proposition. An app for radio would be a big bonus, too – come on, TuneIn.
I've spoken to people who are assuming that Apple's simply restricting CarPlay to its own apps, but that's very hard to believe as it goes so much against its general iOS approach, and makes you wonder why an exception was made for the likes of Spotify.
No, I'm going to assume that it's simply the case that this is early days for CarPlay, and that Apple is taking a more cautious approach to certification for third-party apps for safety reasons.
That's admirable if true, but it still means I wouldn't recommend a CarPlay setup right now.
And Apple needs to get on with the bug swatting and app expansion pretty sharpish if it doesn't want to find itself immediately behind when Android Auto launches in the coming weeks.
Stuff Says…
CarPlay will probably turn out brilliant, but right now it feels like it's in beta
Good Stuff
Apple style and simplicity in-car
Spotify + Maps might be all you ever need
Bad Stuff
But Maps can't compete with proper sat-nav
Lots of bugs
Far too few apps right now