App of the Week: Laundrapp review
We find out if "the Uber of laundry" is clean as a whistle or just a lot of old pants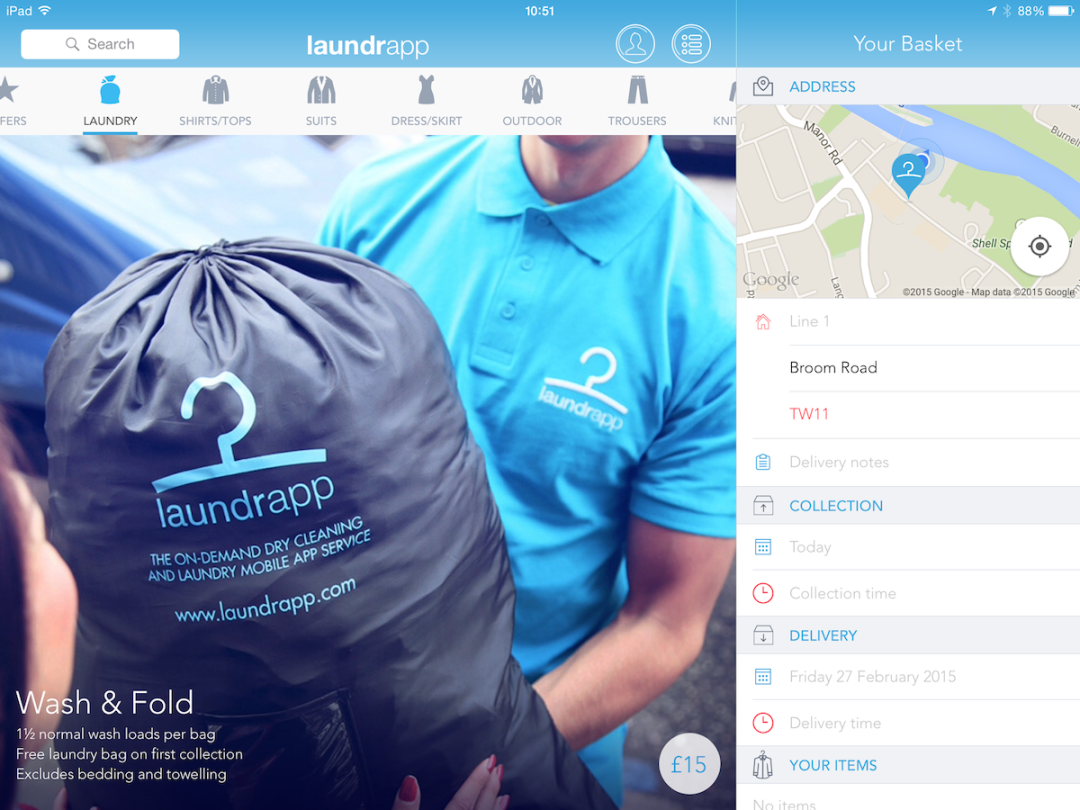 We give many things to many apps – time, attention, comments, information, money – but today was the first time I've given an app a bag full of my own pants.
It felt good. It felt like the future, if your vision of the future is one in which a man in a van comes round on Sunday mornings and takes your well-worn grundies away to be cleaned and folded.
Laundrapp aims to be the Uber of laundry. Uber knows that you tend to drive your own car most of the time, but that there are occasions when you're too drunk or it's inconvenient or you just can't be bothered, so you whip your phone out and get someone else to do it for you. That, but with laundry. Sounds tempting.
Too much information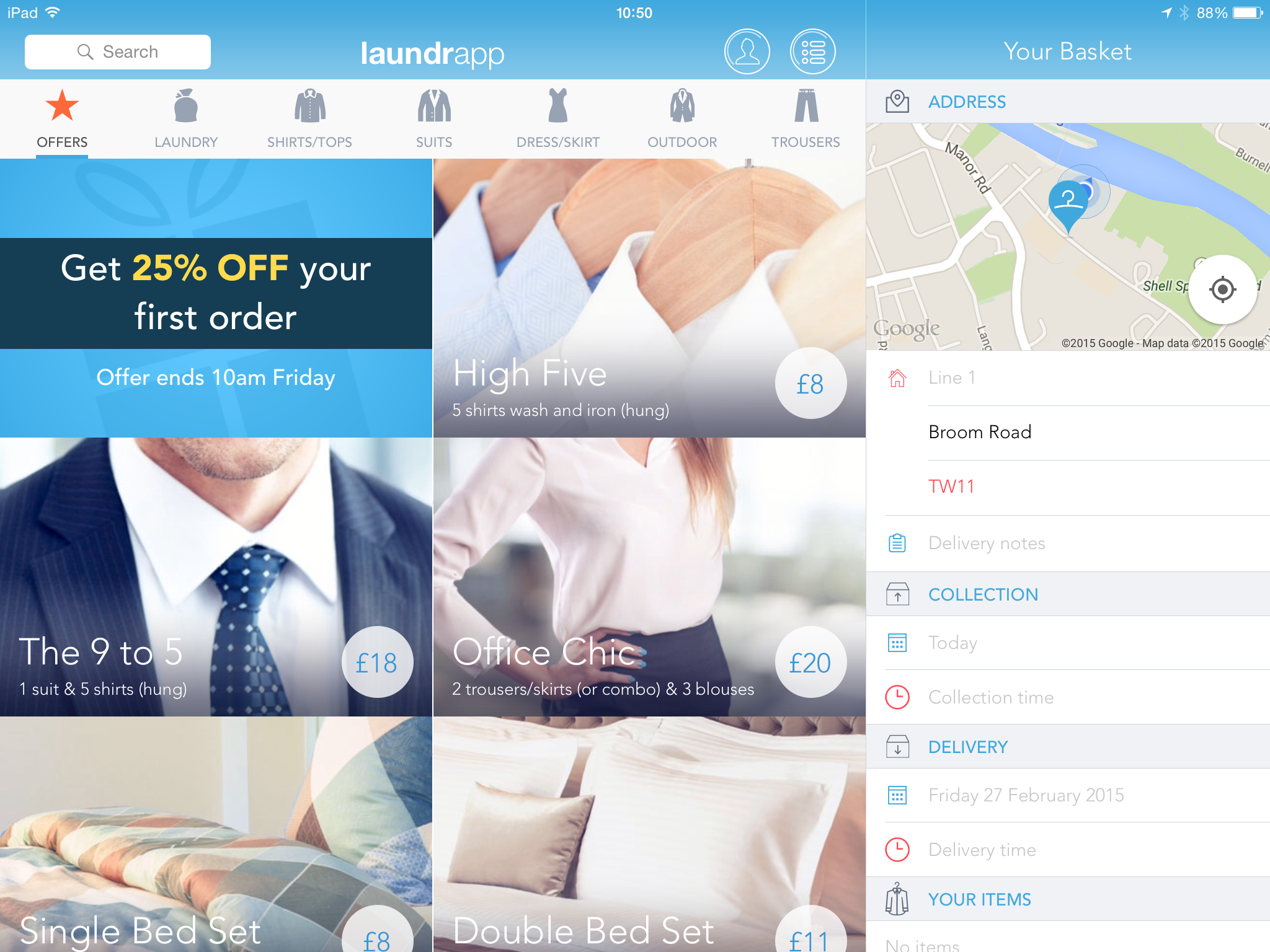 The temptation continues when you open the app, which is really very nicely designed. Each page is made up of offers that you click from side to side to add or remove them from your cart. Everything makes sense and once you've decided what you want you can get it ordered in seconds, one-thumbed. If I had to give a lecture in effective app design, I would use Laundrapp as an example.
Signup is similarly quick and easy. One gripe, though, is that the app asks for your date of birth. I'm not exactly a champion of digital security, but I don't see why Laundrapp needs to know my birthday. It already has a bag of my smalls; that's close and personal enough.
Special delivery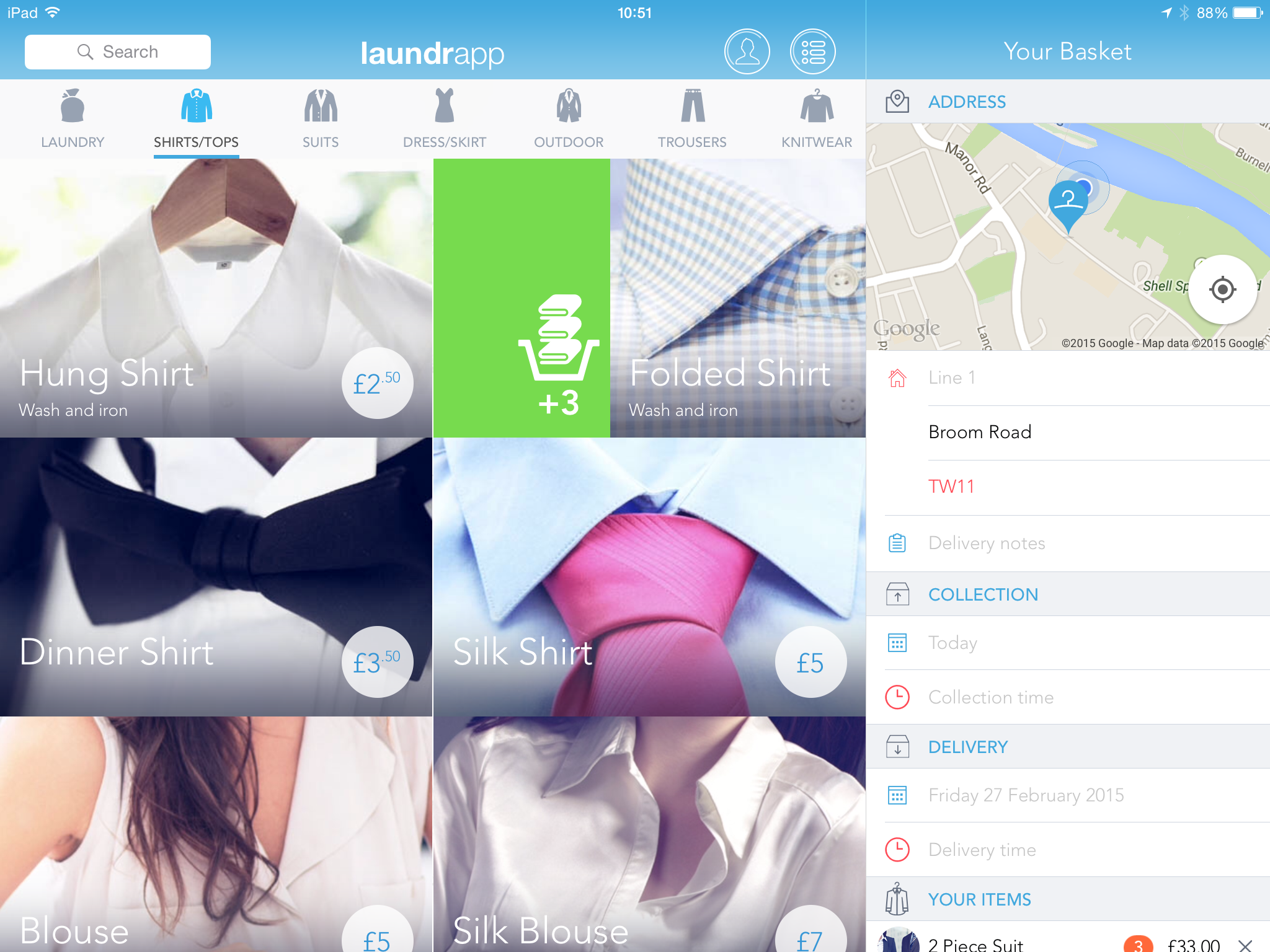 Laundrapp's delivery is its great advantage over your local laundrette, and the range of timeslots is excellent: 8am-10pm on weekdays, 10am-4pm on weekends. My order was picked up at 11am on a Sunday and returned at 8pm on a Tuesday, both times that I definitely didn't want to be in a laundrette. Allow notifications and you'll be buzzed a reminder to start emptying the laundry basket.
My order consisted of one wash-n-fold (£15) and one five-shirt bundle (£8). The wash-n-fold seems expensive, but when you get the bag you realise you can cram a fair bit in there. The Laundrapp bag would have equalled three loads in my Hotpoint washer-dryer. A week's worth of shirts picked up, washed, ironed and delivered for £8 is very decent. As with Uber, it would get expensive if you used it all the time, but it could also be very handy.
Pressing matters
But here's the eight-hundred-penny question: how's the wash? Good. The ironing is great, with formidably pressed collars and cuffs – my guess is they use an ironing machine – and the clothes are clean as a whistle. Even a persistent yellow stain in one of my shirt pockets (a white shirt pocket is never the place to stash a half-eaten saffron bun) is gone. There is a lot of plastic, though: the wash-n-fold comes double-bagged and each shirt is in its own plastic bag, an environmentally rapacious policy that left me feeling slightly guilty for using the service.
Laundrapp doesn't do anything completely new and it's not the only app in its field. (ZipJet will soap your briefs, too, although only if you live in the wealthier parts of London). But it is extremely convenient and fairly priced. Most of the time you're better off doing your own laundry, but there are plenty of occasions when I can see myself using this – just before going on holiday, for example, when it would be nice to have someone do three loads of laundry and fold the whole lot into a suitcase-ready cube. It's available now, if you live in Greater London or Edinburgh, and there are plans to expand to more cities soon.
Download Laundrapp for iPad, iPhone or Android now
Stuff Says…
Fairly-priced and oh-so-convenient, Laundrapp really could change the way we wash clothes
Good Stuff
Well-designed UI
Convenient delivery slots
Does a fine job of washing and ironing clothes
Bad Stuff
Why does it need my date of birth?
Currently limited to London and Edinburgh