Amazon Fire review
£50 for a tablet. Sounds like a great deal, right?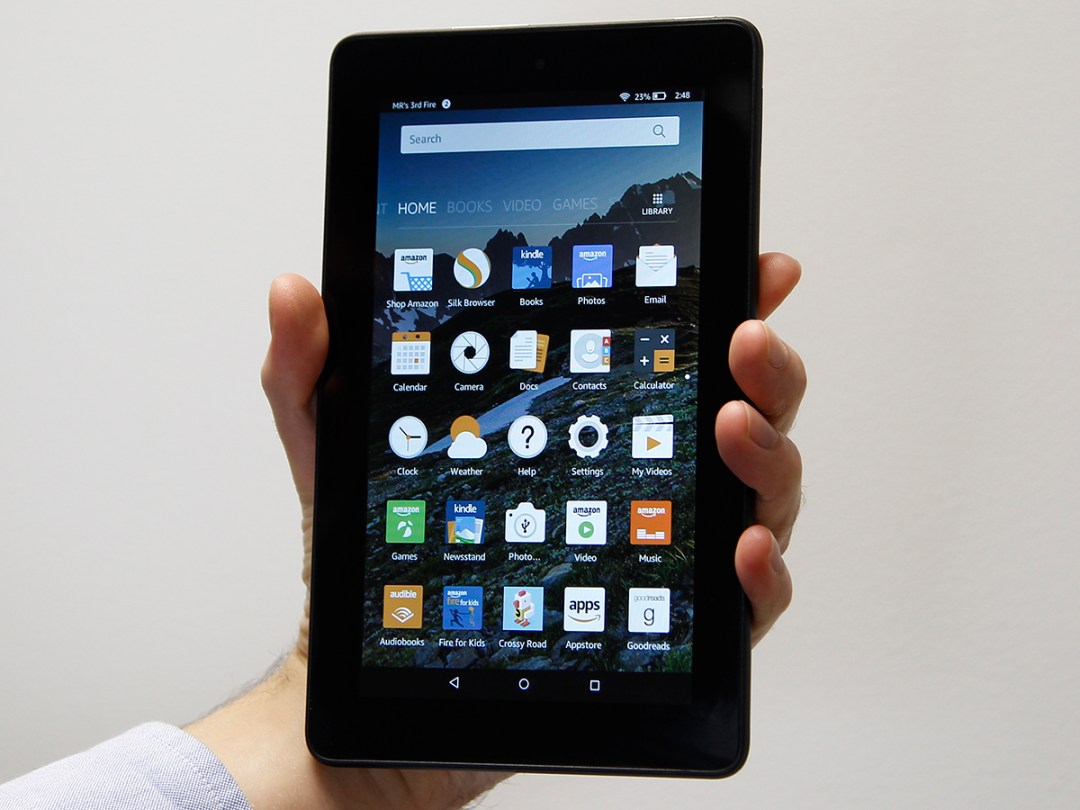 'Wait. It costs how much?'
There was a time when Google's first Nexus 7 seemed cheap at £160. Then you could buy a Tesco Hudl 2 for £100 – an absolute steal.
Now, the Amazon Fire has blown both those devices and their low, low prices out of the water by costing a remarkable £50. Buy five of the things and Amazon will even give you one for free.
Surely that's a bad idea. I mean for that amount of money, the Fire tablet couldn't be any good. Could it?
Born survivor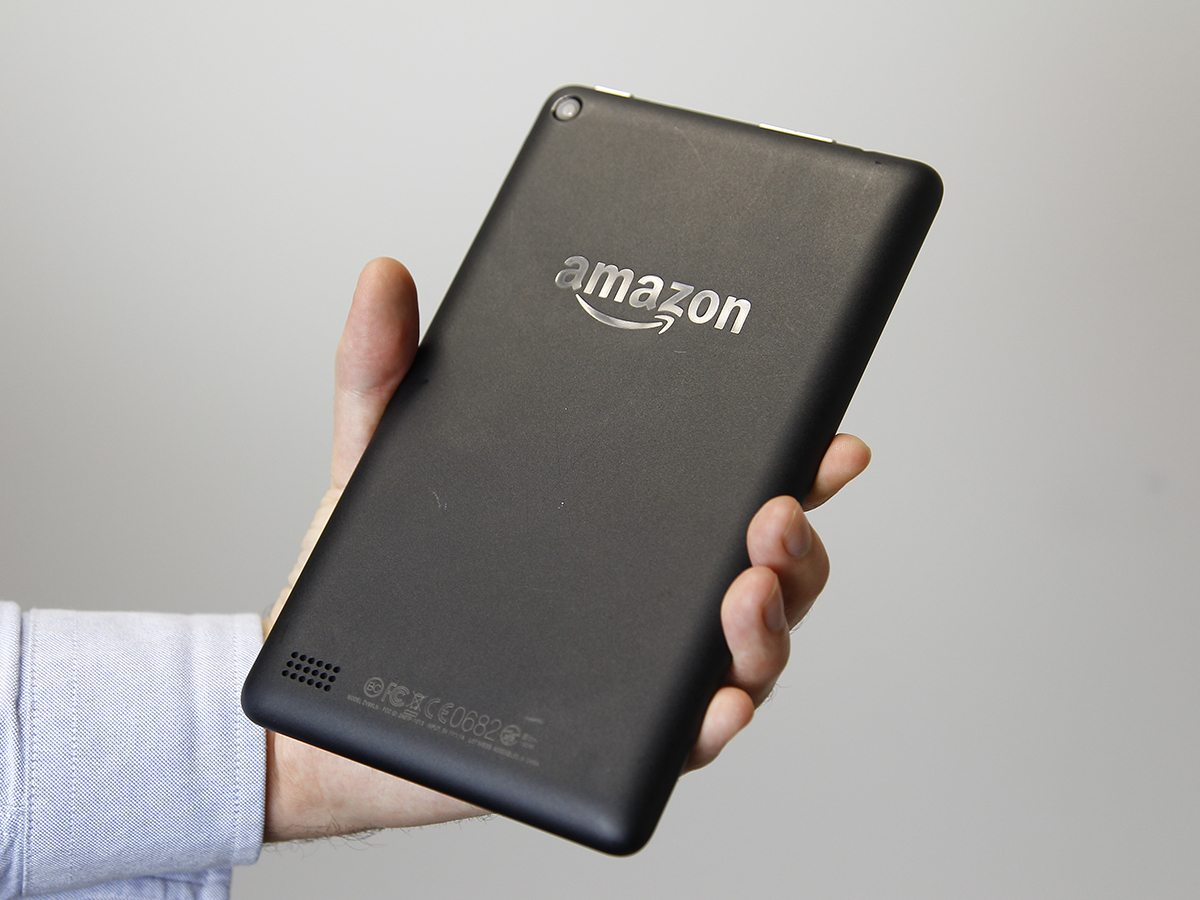 Before you dismiss the Fire tablet out of hand it's worth remembering that Amazon rarely makes a duff product. Fire Phone aside, its devices are meant to keep customers subscribed to Prime and buying new goods when the fancy takes them. A shoddy tablet, Kindle or TV streaming box isn't going to help make Jeff Bezos and his hoard of happy workers any more cash.
On first impressions, the Fire tablet is reassuringly unremarkable. It's got a sturdy plastic case without too much flex, weighs 313g (so it's 97g lighter than the Tesco Hudl 2) and feels compact in your hands at 191 x 115 x 10.6 mm. I've spent the past week chucking the Fire in and out of a bag without it suffering too many scuffs or aberrations.
You could hand this tablet to a six-year­-old and it would almost certainly still be in one piece an hour later. That's not something you can say about many similarly priced devices. The kind that go on sale at Lidl for a day and are never seen again.
Caught by the fuzz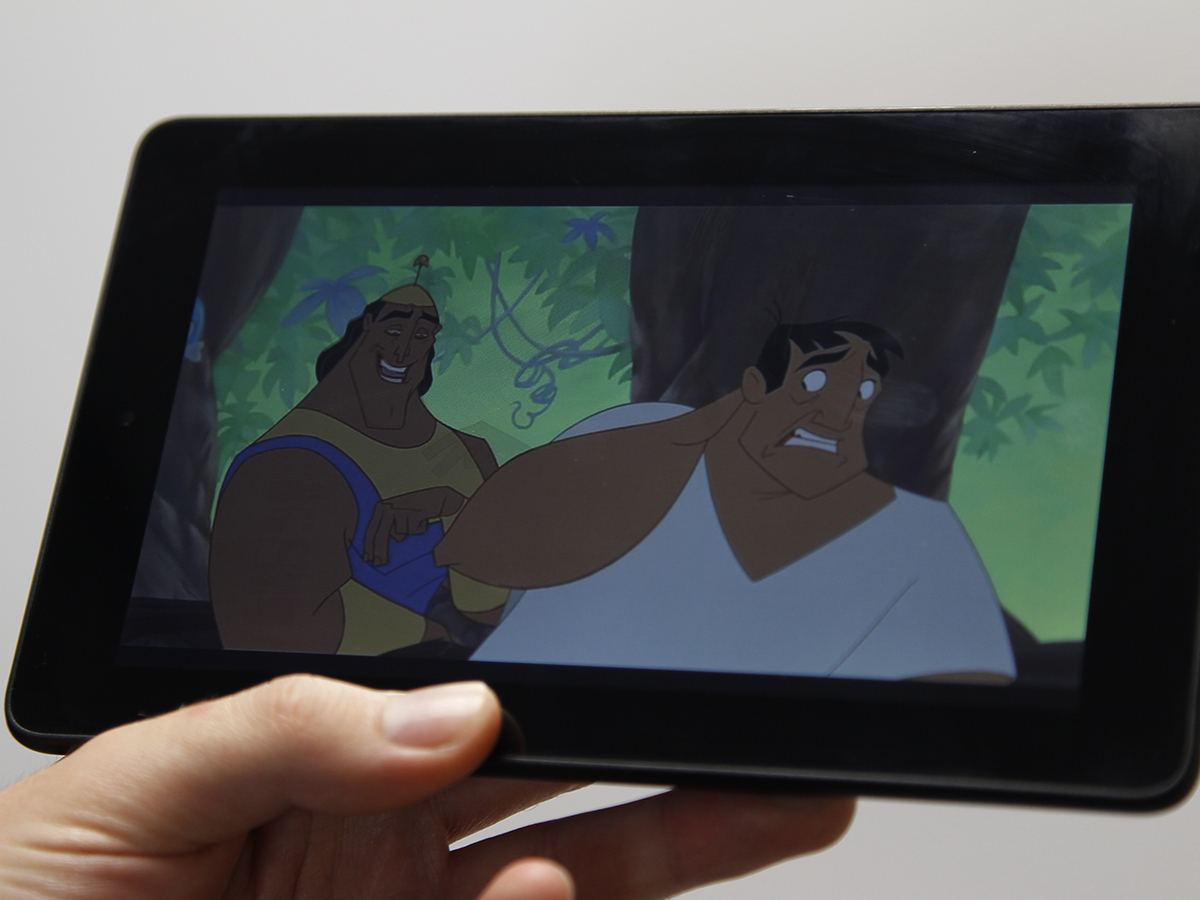 Many sub­ £100 tablets come a cropper when it comes to their screens. No one is going to buy the Fire HD so that they can bash out an email or review a strategy document on it. You can do those things, of course, but why would you want to? You could be watching BBC iPlayer, Netflix or Amazon's own Prime content instead.
The Fire is primarily made for a bit of video here and a spot of ebook reading there, and those modest aims can be achieved with a screen that won't delight many people. Most will tolerate it, but they certainly won't love it.
With a 1024×600 resolution spread across 7in, the Fire tablet's IPS display isn't even HD and features only 171 pixels per inch. In comparison, the Hudl 2's 8.3­inch screen has a 1920×1200 resolution, which equates to 273 ppi. What does this all mean? Pixels equal pleasure, especially in terms of sharpness, but there's also an impact on colours ­ on the Fire they often appear as a dim fuzz with different tones blending awkwardly together.
In one episode of Catastrophe we watched, Sharon Horgan's bobbly jumper was a mess. It looked as though some tearaway had flicked different shades of red at it with a paintbrush. The Emperor's New Groove and its bold, Disney­fied colours fared better, although I didn't have to stare hard at a cartoon lama to see the pixels he was made out of.
Skimming the latest Game of Thrones or 50 Shades (your choice) is a better experience. Text is reasonably sharp and more than easy enough to read. Be warned that whites take on a distinctly yellow tint on the Fire, so ebook backgrounds have a papyrus-­like glow.
For £50, you are very much getting what you pay for with the Fire tablet. That is, not much of quality.
This tablet's philosophy is very much, 'will it do?'. And the answer is generally "just about".
Beware the Crossy Road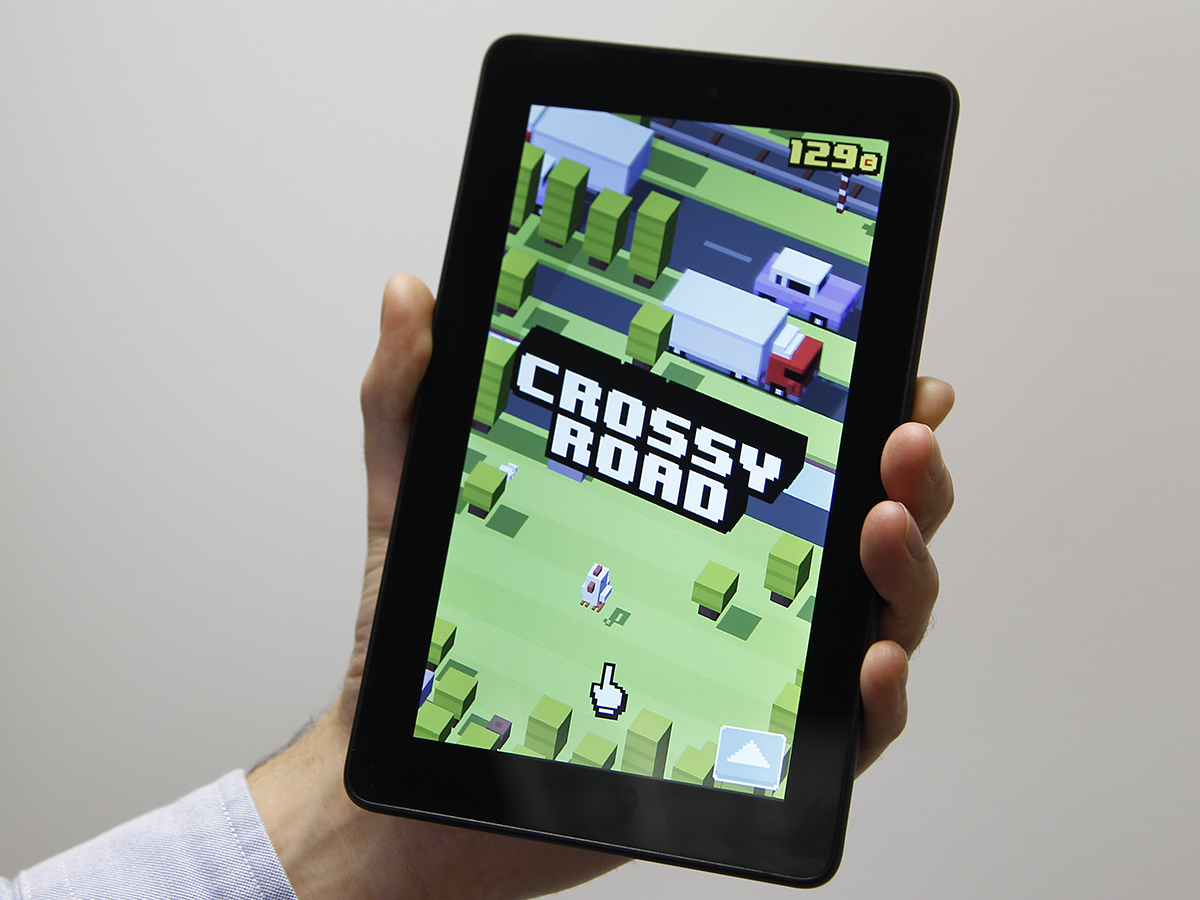 Compared to its screen, the Fire HD is potentially better­equipped in terms of speed. It has a Quad­Core 1.3GHz processor with 1GB of RAM, the same arrangement you'd find on a Nexus 7 from 2012. And we all loved that tablet, didn't we?
Still, this still means the Fire is slower than the Tesco Hudl 2, EE Harrier Tab and, well, pretty much any other tablet. The computing demands of most apps have moved on since three years ago too.
I managed to brick the Fire while playing Crossy Road, a feat that impressed me but will inspire tantrums elsewhere. In addition to completely freezing up, the Fire's auto­rotate mode operates at a dawdling pace and bringing up its virtual keyboard isn't much quicker either. If a tablet creaks like this on Week 1, you worry for its longevity should anyone regularly strain this device. It's not adept at gaming, that's for sure.
As bad as these flaws seem though, they're not fatal. The Fire dawdles a lot, but only fell over on me once. And a lot of the time you're using it just to bring up a 'play' button too. A task it can handle with competency, like a toddler doing a dot-to-dot book.
The Essen­OS of simplicity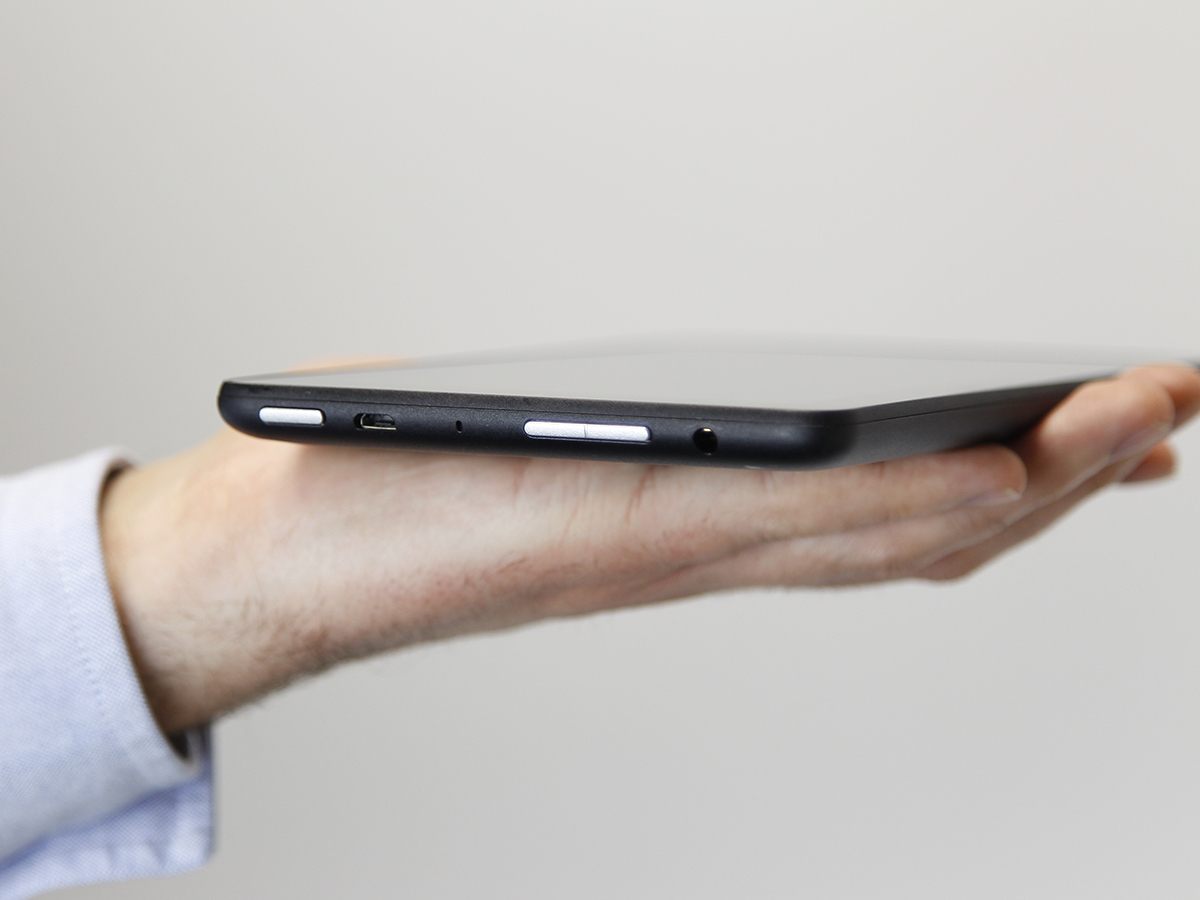 At least Amazon's Fire OS 5 'Bellini' is a breeze to use. With magazine­style homescreen tabs for books, videos, games and music, it's easy to to get sucked into a quick episode of something before you realise lunch is over and this review really won't write itself.
Aiding your procrastination is a the ability to download Amazon Prime content for offline viewing – something that you can't do with Netflix. This is a really handy feature, especially if you increase the Fire tablet's 8GB storage with the help of a MicroSD card.
Although the walled­in Fire OS still isn't a patch on iOS or Android, it does now have 300,000 apps to download with plenty of casual gaming favourites such as Fruit Ninja, Candy Crush Saga and, erm, Sheep Simulator. Just don't go looking for more worthy indie titles along the lines of Her Story or Horizon Chase.
Lasts longer than you'd think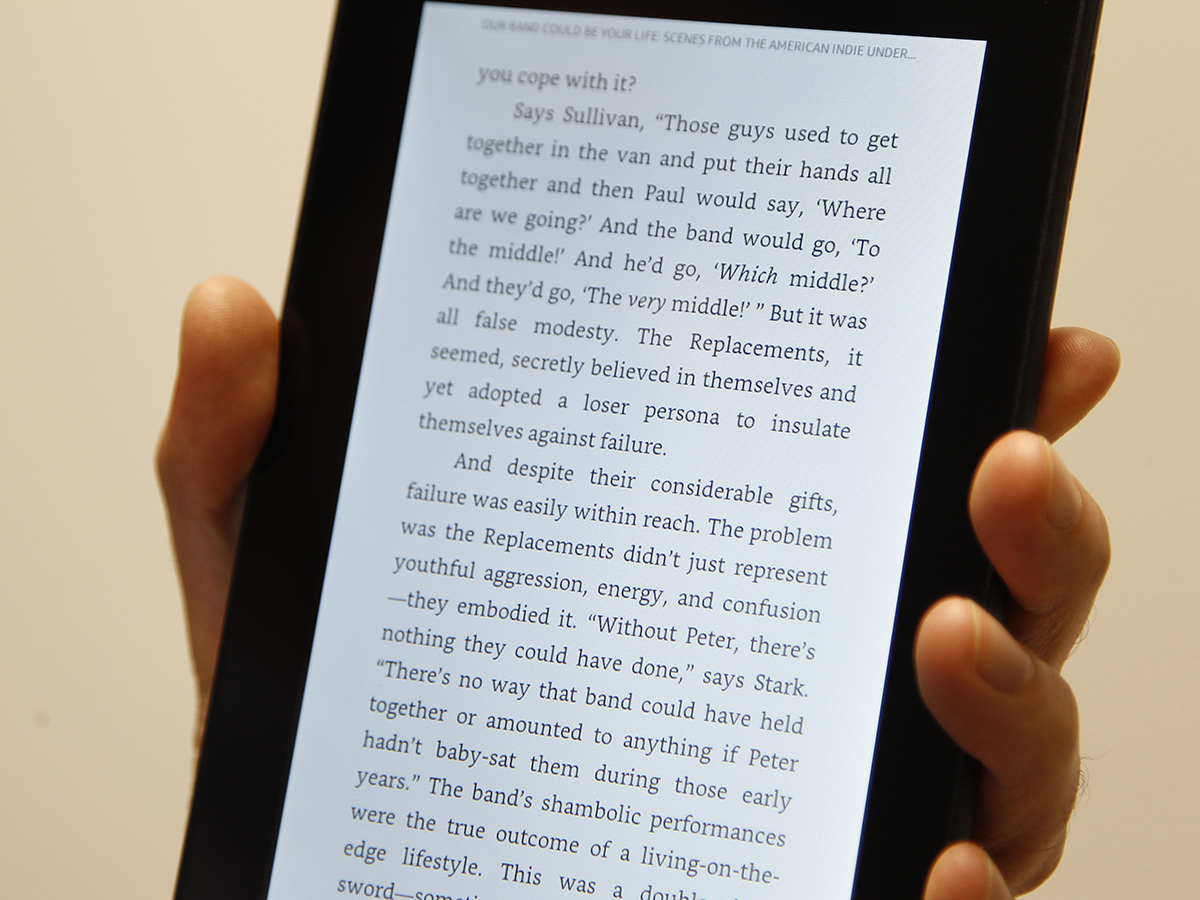 Once you've filled up your Fire with enough content to while away a train journey, you might worry about how long it will hold out for. Well, fear not. According to our testing, you'll get five and a half hours of video from the Fire, which is good enough. Tesco's Hudl 2 gives you seven hours of video, but have we mentioned that it costs twice as much as this Fire?
Planning a trip from London to Glasgow? Then the Fire will last the journey. Just make sure you charge it before you embark on the return leg.
In general use, we were able to use the Fire intermittently for a couple of days before running out of juice. Sure, this isn't a spectacular performance but it's better than you might expect. Amazon's Fire delivers as a functional device. Judged as the sum of its parts, it's ok.
Just don't bother with its 2­ megapixel rear­facing camera, alright? It's horribly grainy, even in good lighting conditions. So use your smartphone instead, just as you would with an iPad or Galaxy Tab.
Amazon Fire Verdict
The Fire is a hellraiser with the face of a cherub, the Ferris Bueller of tablets. For all it does wrong, this device will happily talk its way out of trouble.
"I only cost 50 quid. What do you expect?"
In truth, not much, and the Fire does slump over the bar of our fairly low expectations. It serves up Amazon content on the cheap without making you feel as though you've been conned out of your money.
Is it a good tablet? No. Does it need to be? Not really.
If you're buying the Fire, then you'll be doing so for its price. All you need to know is that it's performance is acceptable. This tablet is slow and has a dreary screen, but it won't fall over at the drop of the hat and has a good enough battery life to keep the occupants of the backseats of a Volvo entertained all the way to Cornwall.
Stump up a little more cash and you'll get a lot more mileage out of the Hudl 2 or EE Harrier Tab. As a frill­-free throwaway, the Amazon Fire will do just fine.
Tech specs
| | |
| --- | --- |
| Screen | 7″ (17.7 cm) touchscreen, 1024 x 600 resolution at 171 ppi |
| Size | 191 x 115 x 10.6 mm |
| Weight | 313 grams |
| Processor & RAM | Quad­Core 1.3 GHz & 1 GB of RAM |
| Storage | 8GB |
Stuff Says…
A cut-price tablet that's understandably rough around the edges
Good Stuff
Cheap as chips
Good battery life
Sturdy build
Bad Stuff
Laggy processor
Weak screen