Acer Predator 8 review
An Android tablet for gamers? Hmmm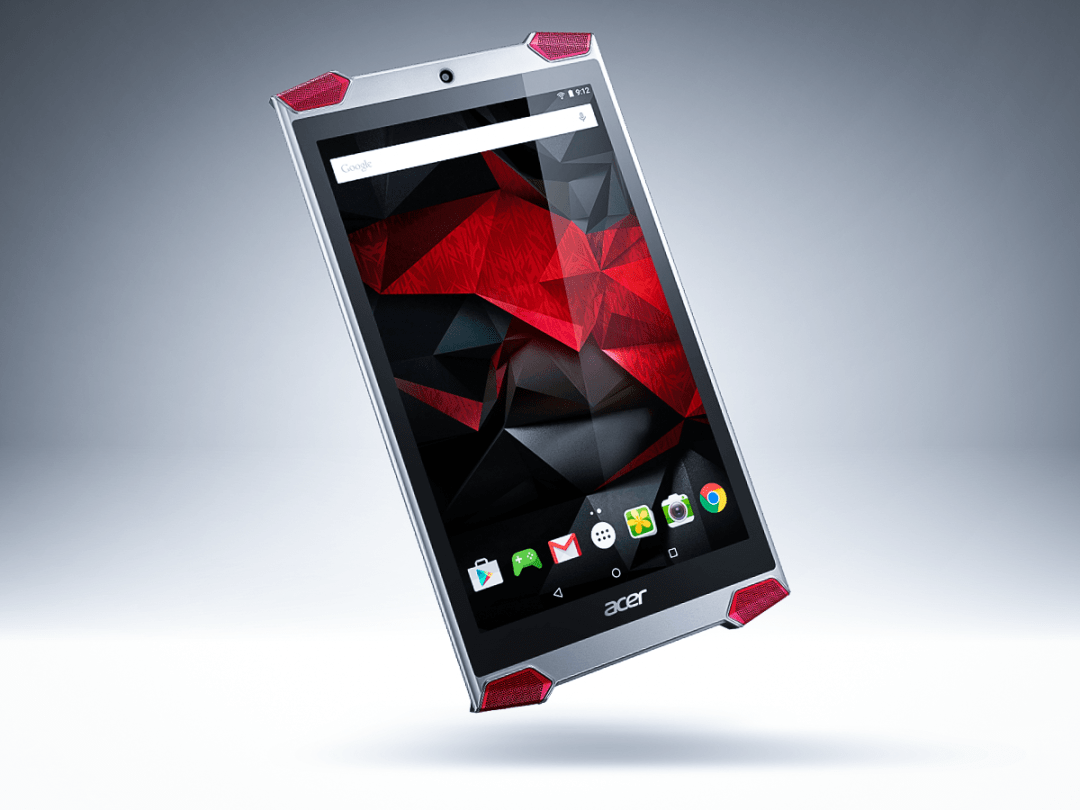 Now that most tablets want to appeal to everyone from your technophobe uncle to your 2-year-old, the Acer Predator 8 is a bit of an aberration. It's just not normal. It's a 'gaming' tablet, and isn't afraid to show it.
This is a tablet companion to Acer's big bruiser gaming laptops and desktops. That's why there are all those funny angles and bits of red on the thing. But where a Predator laptop is for someone who knows an RJ45 from a CAT6 and can't count on one hand the number of LAN parties they've been to, there's an obvious mainstream appeal to the Acer Predator 8.
It's a very powerful Android tablet that costs about £250. And it certainly looks less boring than a lot of the competition at the price. Doesn't it?
A very sharp suit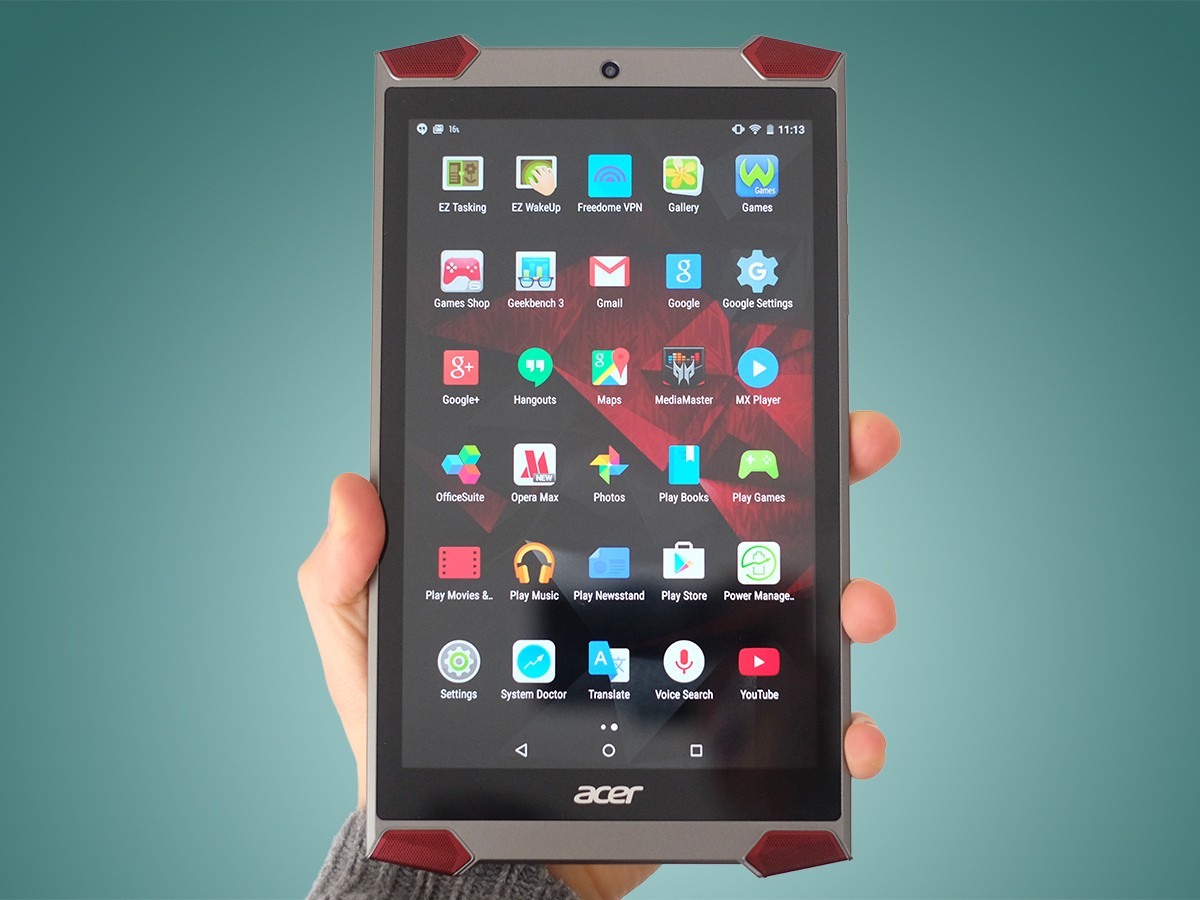 I'd bet the design is already putting off as many of you as it's attracting, though. Aggressive logos, bright red accents and that odd shape won't exactly make it look at home in the hands of a 50 year-old middle manager, will they? Passers-by will wonder what his kids did to warrant taking it off their hands.
You can judge for yourself whether you think it's interesting or a bit OTT.
Like a lot of more affordable tablets, the Acer Predator 8 is made largely of plastic. However, as in some other Acer gear there are metal parts to upgrade the feel a little. The rectangle in the middle of its rear is bonafide brushed metal, and the four speaker grilles on the front are metal too. That's right, this is a budget tablet with a four-driver front speaker array. Not bad, right?
Given the Acer Predator 8 is also slim and feels pretty light, it's a pretty neat design feat, giving a practical edge to the unusual shape.
However, in real life there are elements of the design style that I don't like at all. It's just not comfortable to hold in some positions, particularly upright. There are too many sharp points that load a good deal of the Predator 8's weight onto a very small bits of your palm. After one 20-minute session it left a mark on my palm that looked like it would develop into a multi-coloured bruise.
It didn't. But you get the idea. You need to develop ways to hold the Predator 8 that mitigate the overly sharp shape. It's like one of those BC Rich heavy metal guitars, except you're not going to swing this around in front of a crowd of tens of adoring fans, are you? We hope not.
Surround sound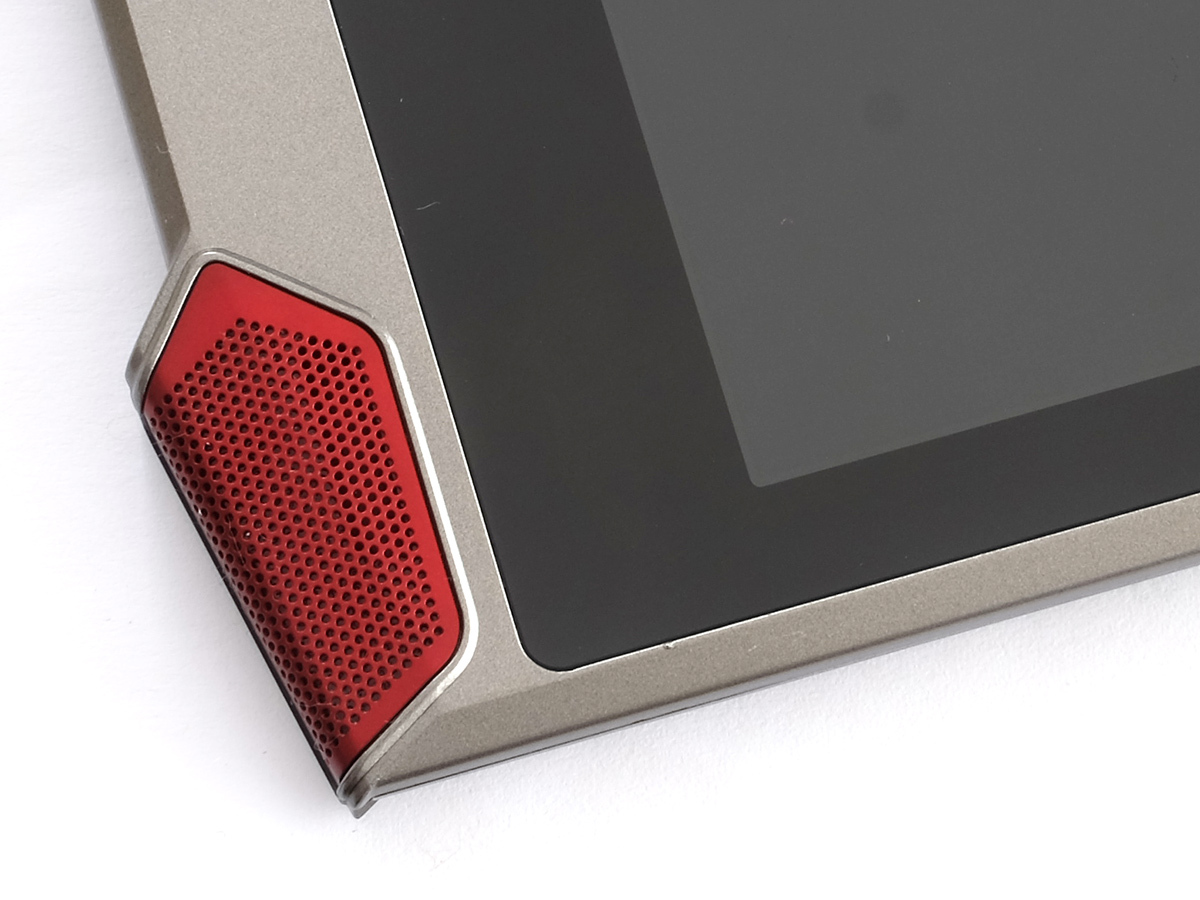 The sacrifice isn't for nothing, of course. You get those four speakers, and sure enough they're pretty good. They'll certainly be better, and louder, than those of your phone, and that's the main thing. It's not the only reasonably priced tablet to feature decent speakers, though. The Tesco Hudl 2 (RIP) and Amazon fire HD 8 have decent speakers too, and the Predator 8 doesn't sound radically deep or powerful.
The array is, as you'd hope, particularly good for gamers, though. As well as offering stereo, having two for each side really cuts down on the sense that the audio is coming from tiny little sites on the front of the thing. And it means you don't have to worry about blocking off speakers with your hands. In other words, nice work Acer.
Other bits the nerdier crowd will love include expandandable storage and a very solid 32GB built-in. Not everyone's going to love the Acer Predator 8, but it ticks a lot of the right boxes. Don't think the quad speakers make up for the spiky design? Check out the Nvidia Shield Tablet K1, which is a serious bargain and has a much more convention (or boring) design.
A Haribo-flavoured screen
One thing the Acer Predator 8 has over the Tablet K1 is higher colour saturation. A lot of the best low-cost tablets use screens that can't really tap that deep into the colour spectrum, but the Predator looks pretty vivid and intense. As someone who's turned off by oversaturated OLED screens at 10 paces I don't mind a bit of undersaturation, but this tablet does look a bit punchier than a lot of its direct rivals.
This is no coincidence either. The Predator 8 uses something called Predator ColorBlast to crank out 100 per cent of the NTSC colour gamut. What this means is that it will look a teeny bit oversaturated because, without wanting to wade too far into the screen nerd swamp, NTSC's colours go deeper than the RGB and sRGB standards most mobile devices aim for.
In other words, like vivid colour? You'll love it. Prefer a more relaxed, natural look? You might prefer the Nvidia Shield K1.
Resolution is a good but not brain-melting 1200p (Full HD with a few more rows of pixels). The iPad mini 2 is sharper.
The Acer Predator 8's black level is just ok, so the screen punchiness is provided more by colour than contrast, but it'll sure make Candy Crush Saga look juicy. I'd hope you'd be looking to challenge the tablet a bit more than that, though.
Gamer's choice?
So how good is the Predator 8 for gaming? Look at the specs and the benchmark results and it seems pretty great. It has a new Intel Atom X7-Z8700 CPU, a quad-core 1.6GHz brain.
That may only sound as powerful as an entry-level Snapdragon CPU, but as usual Intel packs way more punch into each of its cores. The Acer Predator 8 scores 2400 points in Geekbench 3, matching mid-range Qualcomm CPUs rather than entry-level ones. It can't touch the Nvidia Shield K1, though, which scores around 3600 points.
In the past I've seen even powerful-sounding Intel tablets trip up with games, with lower frame rates than you'd expect. So I loaded up a whole bunch of 'challenging' 3D titles on the Acer Predator 8 to see how it fares.
There were no major issues with most games. Dead Effect 2 runs perfectly, Dead Trigger 2 showed a weird Bloom effect bug, but performance was just fine, even at 'high' visual setting.
Asphalt 8 showed the Acer Predator 8 up a bit, though. Switching over to the max graphics setting available, there are pretty serious frame rate drops when you get right up close to a bunch of rival racers.
I get the feeling this is a case of Asphalt 8 not being optimised quite well enough for the tablet's Intel hardware rather than a lack of graphics power. However, that's a bit odd. Asphalt 8 is one of just a few games tailored to make use of a pair of 'haptic motors' in the Predator 8. These give you force feedback-style vibration effects when, say you use a nitrous boost or bang against the side of the track.
Gameloft Asphalt 8 seems optimised in some ways, and really not in others. The haptic feedback is pretty neat, the Acer Predator 8 able to create a bunch of different-feeling effects rather than just a 'dumb' vibrate. However, as you might expect from an ultra-thin tablet, the haptic motors seem to be pretty tiny, producing much shallower 'buzzier' effects than an Xbox One gamepad, for example. I'd rather have the GeForce Now streaming service or extra visual effects you get in the Nvidia Shield tablets, but it's neat anyway.
Soft options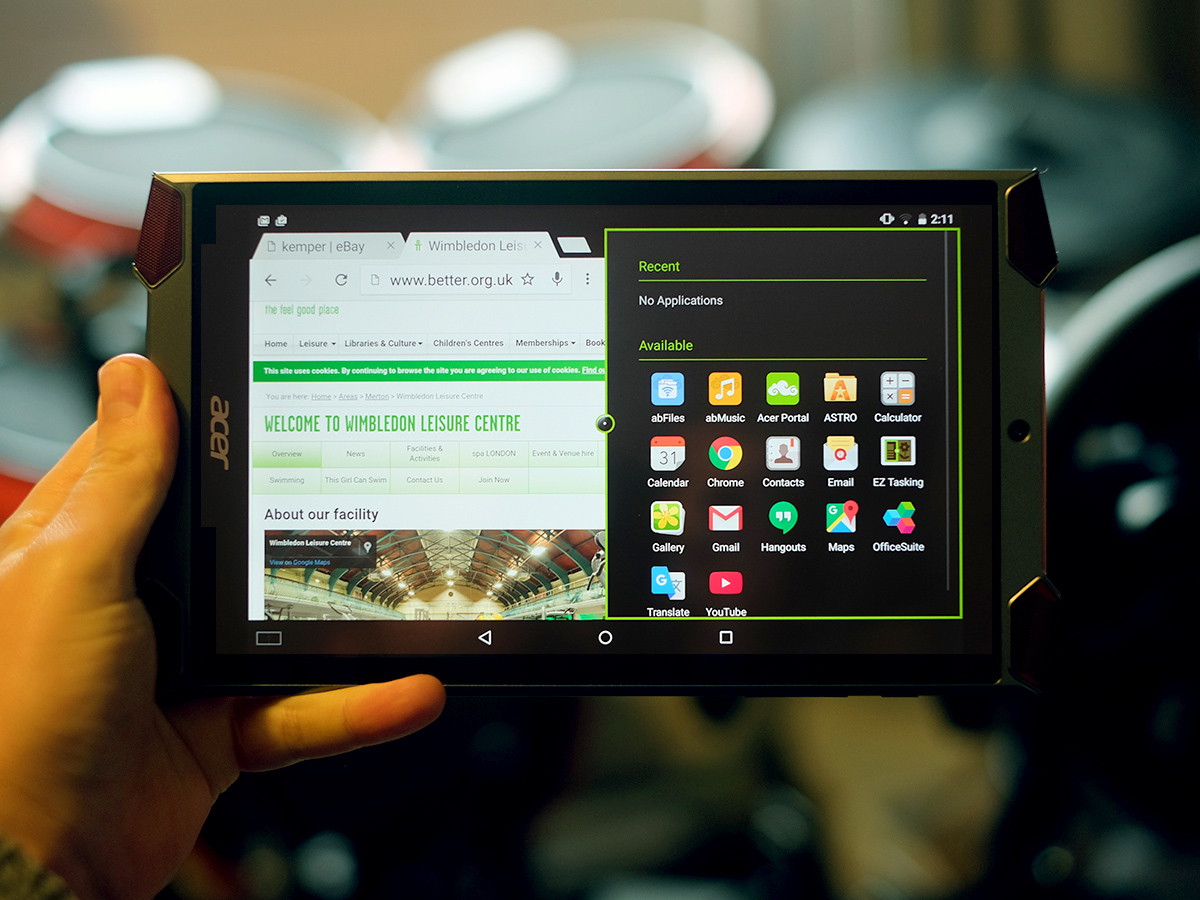 The link between the Acer Predator 8 and Gameloft runs much deeper too. The tablet comes with a bunch of Gameloft bloat preinstalled, which will have helped Acer get the price down to its current pretty accessible level.
There's quite a lot of extra Acer apps too, and other third-party stuff from Amazon and booking.com. It's definitely overloaded, and feels a bit messier than I'd like fresh out of the box. Thanks to the 32GB storage, memory isn't a problem, though, and you can uninstall all the third-party gumpf.
Some of the custom extras work their way into the interface but for the most part the Acer Predator 8 feels simple to use. It's less smooth than the official Google Now style, but there are no extra confusing bits on the surface, just homescreens and apps menu pages, both with the same wallpaper.
So what are the UI extras? There's a whole bunch of 'EZ' additions. For example, hold down on the 'apps' soft key and a widget pops-up letting you check out a web page, calendar, memo pad or calculator on top of whatever you're doing.
Similar in style, you can also run two apps on-screen at once. This is all familiar stuff, and it's not the sort of thing I'd use much day-to-day. Even on an 8-inch screen, just switching between apps feels better most of the time.
While not laggy, I also find the Acer Predator 8 less than completely smooth some of the time. It's generally nothing more than a slight judderiness to screen transitions, but you can afford to be pretty picky about these things if you're willing to spend a few hundred pounds on a tablet. This may be down to the tablet using Android 5.1 rather than Android 6.0 right now. And it's pretty minor anyway.
The little general performance and gaming issues do make you raise an eyebrow when the higher-res Nexus 9 and much cheaper Nvidia Shield K1 are around, though.
Other Essentials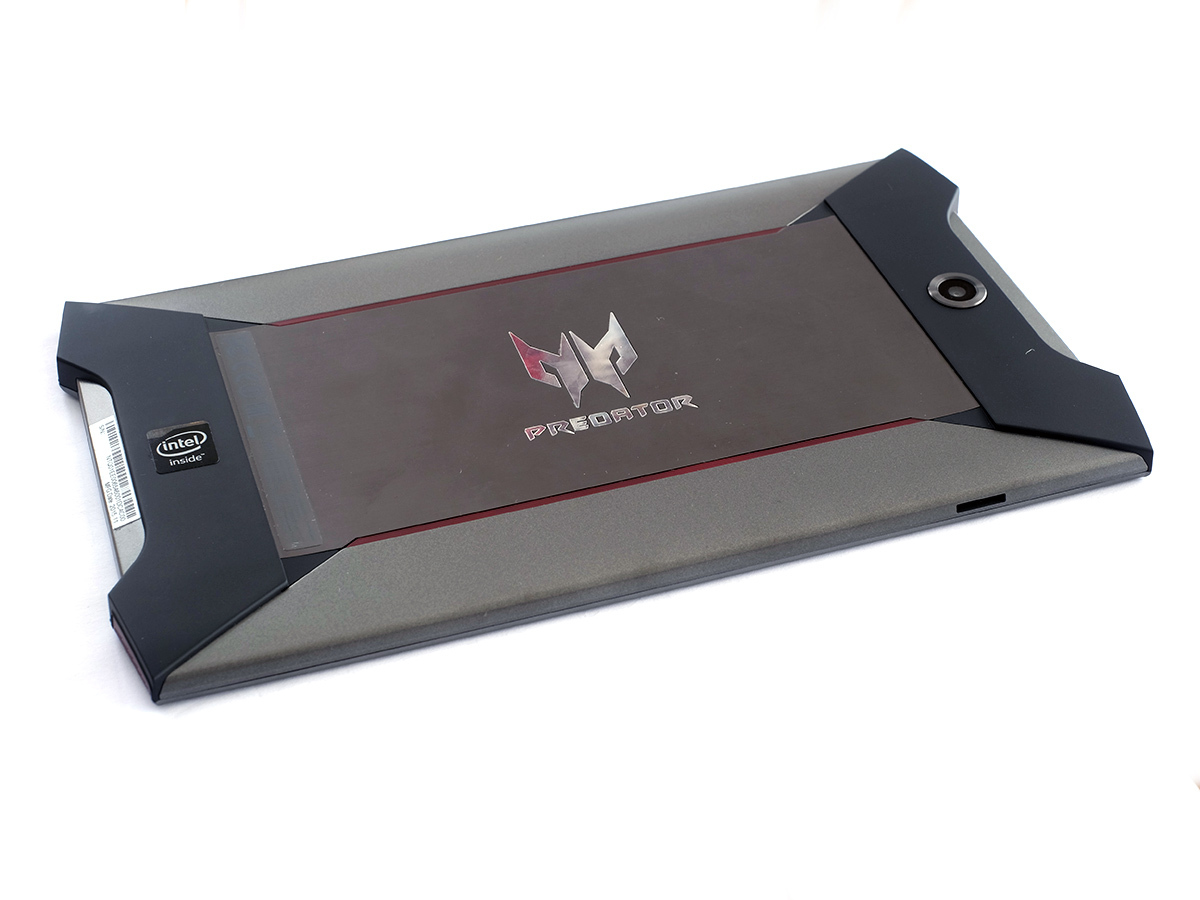 There's nothing too special about the Acer Predator 8 cameras. You get a 5-megapixel camera on the back and a 2-megapixel one on the back.
These are basic cameras, low on detail and prone to lots of colour noise in anything but good lighting conditions. As with so many tablets, unless your phone is pretty poor it'll do a much better job. Focusing speed isn't too hot either.
The Acer Predator 8's front camera has the right setup for video chat, though, with a non-wide angle lens that makes you face fill the screen when held at a 'normal' tablet distance. You'll need long arms if you want to take a family selfie, mind.
Battery life is pretty standard too. Playing a looped 720p MP4 video, the Predator 8 lasts for seven hours 45 minutes. That's not as good as the similarly-priced iPad mini 2 or the much cheaper Nvidia Shield Tablet K1. It's fine enough, but is a bit of a shrug-your-shoulders result.
Acer Predator 8 verdict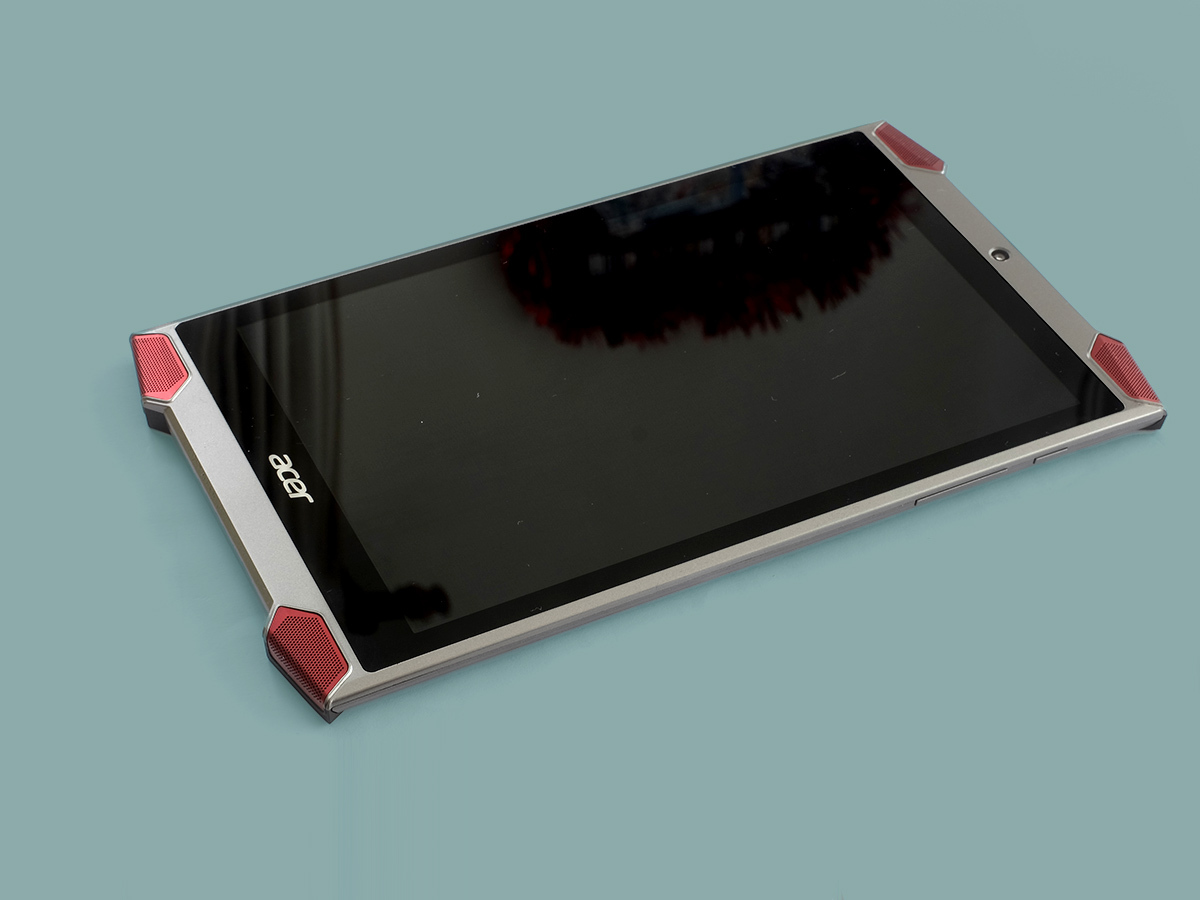 The Acer Predator 8 is a gaming tablet, and it gets you some features that suit that remit down to the ground. A quad-speaker array is worth shouting about and the haptic feedback is a neat, if not exactly essential or revolutionary, bonus.
Some of you will appreciate the colour-saturated screen too, which makes games look pretty lively even if real tech-heads might find it looks quite oversaturated.
A few surprising performance issues in the odd game let it down a bit, though. And these days it has some seriously strong rivals, in the now cut-price iPad mini 2, which has a much sharper screen, and the £100-less but more powerful Nvidia Shield Tablet K1.
Tech specs
| | |
| --- | --- |
| Screen | 8in 1920 x 1200 LCD |
| Software | Android 5.1 with custom EZ UI |
| CPU | Intel Atom X7-Z8700 CPU |
| RAM | 2GB |
| Storage | 32GB with microSD |
| Cameras | 5MP rear, 2MP front |
Stuff Says…
This gamer's tablet packs in some great side order features, but a couple of rivals offer a slightly better core experience.
Good Stuff
Super-vivid screen
Fun haptic/vibrate feedback
Quad-speaker array is a sweet bonus
Bad Stuff
Less-than-perfect gaming performance
Sharp body not all that comfy to hold
You can get better value elsewhere