Stuff magazine November 2021 issue is out now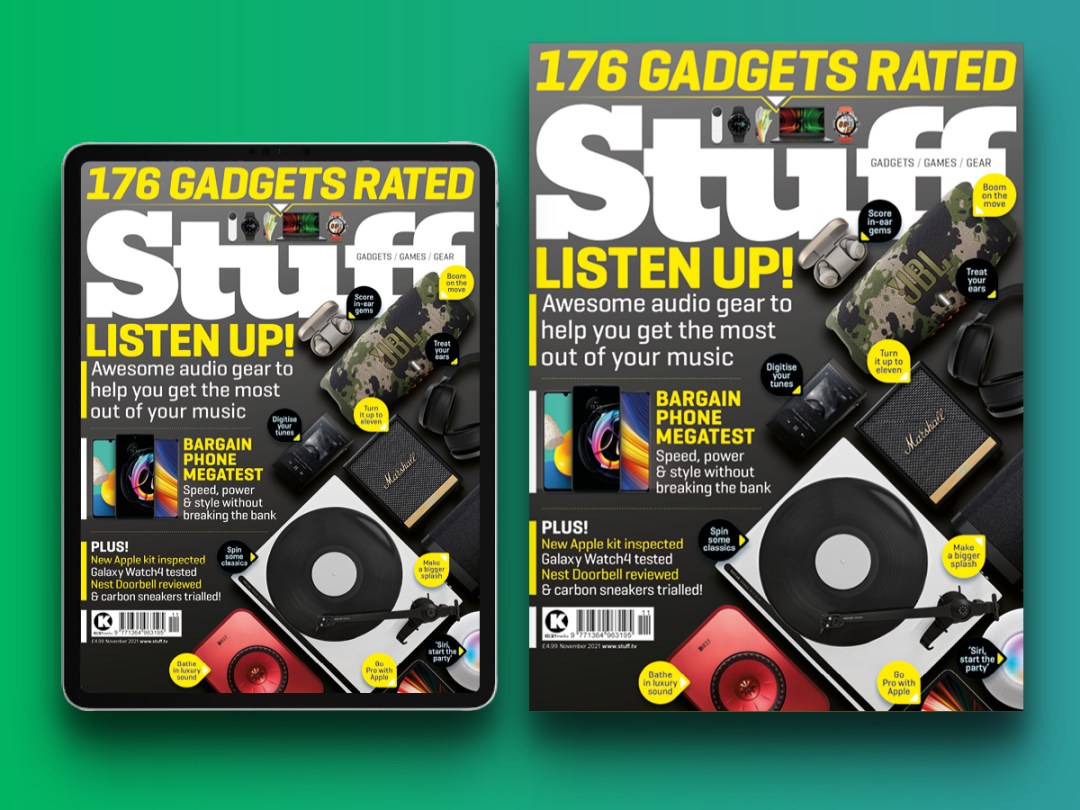 Noise comes in many forms. The type that's quite dreadful, like crying babies and foxes mating. Then there's the sweet sounds of your favourite album played through quality headphones. 
If you're reading this and thinking your music sounds like screeching foxes, you might need to widen your musical tastes, but it's more likely you need to get your hands on this issue where we select the best in-ears, over-ears, portable speakers, smart speakers, turntables, right through to a full hi-fi home set-up.
We were also treated to a massive Apple product launch and we got to test out the best new smartwatch from Samsung.
It's not all about spending megabucks either, we called in the best sub-£300 smartphones for a super-test and were bowled over by how good some of them were. Plus, you're probably looking to save some cash after splurging on loudspeakers. And according to Discogs, those 'Sounds of the Foxes' vinyls aren't worth as much as you originally thought.
STUFF SAYS LISTEN UP!
We're not here to tell you how to consume music, but we're here to show you what's out there. Headlining a main product from each audio category, we've offered a range of alternatives for all budgets and even some listening suggestions, which have gone through a rigorous selection process.
Apple sets the Xmas Wishlist agenda
Tech news has been dominated by Apple in this issue, it's a September thing. We take a peep at the iPhone 13 Pro, which we've since reviewed and were suitably impressed. Then there's the Apple iPad Mini, the full iPad experience in the smallest form factor which comes in grey, pink, purple and starlight and we never thought we'd lust after one this much, but when you see it, it'll become clear why.
When push comes to shove
You'd be right in thinking that we've gotten really into electric bikes. We mounted the saddle in the previous issue when we tested at least six e-bikes, but these two superstars weren't quite ready back then. We're talking about the Cowboy 4 and the LeMond Prolog which is so damn sleek you wouldn't be able to tell there was a motor and battery embedded in the frame at all. We pitted them against each other in terms of design, performance and value. It was almost as close as the 1989 Tour De France race where LeMond defeated Fignon by just 8 seconds. No such luck this time LeMond.
There's loads more inside. Get your Copy.
By no means have we forgotten about Android fans, we donned a pair of goggles and took a deep dive into Google's new OS and jotted down the best new features you need to know about.
We've reviewed some delectable tech too, like the feather-light Coros 2 fitness orientated smartwatch as well as the Razer Blade 14, which looks incredibly dumure for a gaming laptop.
Then the gaming section deals with far more serious matters than saving princesses from castles. Take Life is Strange:True Colors with its star-studded cast for example, it deals with the full spectrum of emotions from misery to moments of pure joy.
Can't wait to get a copy? We're so glad. Simply head to the Kelsey store for single copies and the best subs offers. And if paper ain't your thing, the App Store, PocketMags and Readly have got you covered.
Thank you for the support. We couldn't continue making the best gadget mag out there without you.