Suunto Spartan Sport review
This big blue hunk of Scandi fitness needs to be a multisport marvel to justify that buff price tag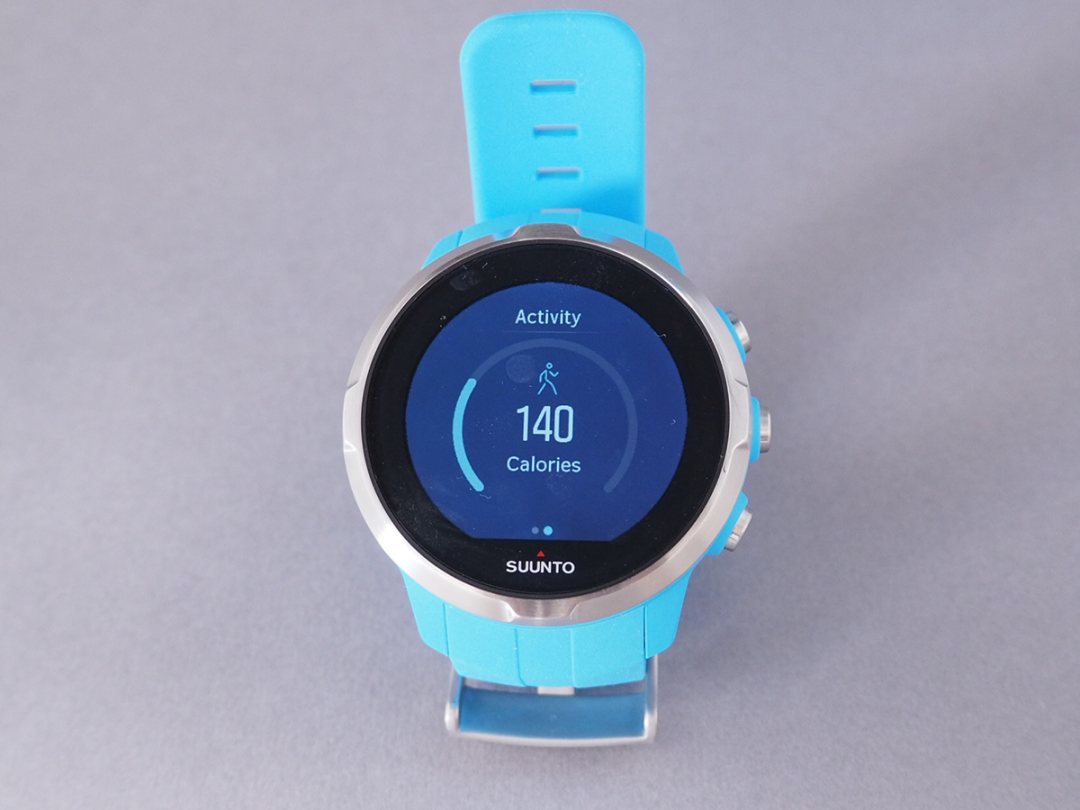 Straight out of the blocks, if you're looking for an electric blue multisport smartwatch, then this is your dog. Apple will do you a royal blue, Garmin a turquoise, but if it's this kind of blue you want, then you need read no further.
Crack the seal on your credit card and get it done. Those of you with a broader criteria, though, we have to some things to talk about.
Beats by you
Right, stop the music. Can you hear your heart, ba-booping away to itself? We hope so. As the fuel pump of your body, it's a great indicator of fitness both during exercise and at rest. The Spartan Sport costs £399 without any kind of heart rate measurement, or £439 with a chest strap. Suunto has shown a new version of the Spartan Sport with an optical HR sensor, but it's not due for a few months.
In theory, a chest strap sensor should be more accurate than an optical wrist sensor on the watch itself, but in our side-by-side comparisons, the difference was no more than a few BPM here and there. The convenience and comfort of not having that chest strap faff was more than worth it, and the comparison device, a Garmin Vivoactive HR, is also considerably cheaper at roughly £200.
Chunky kit sweater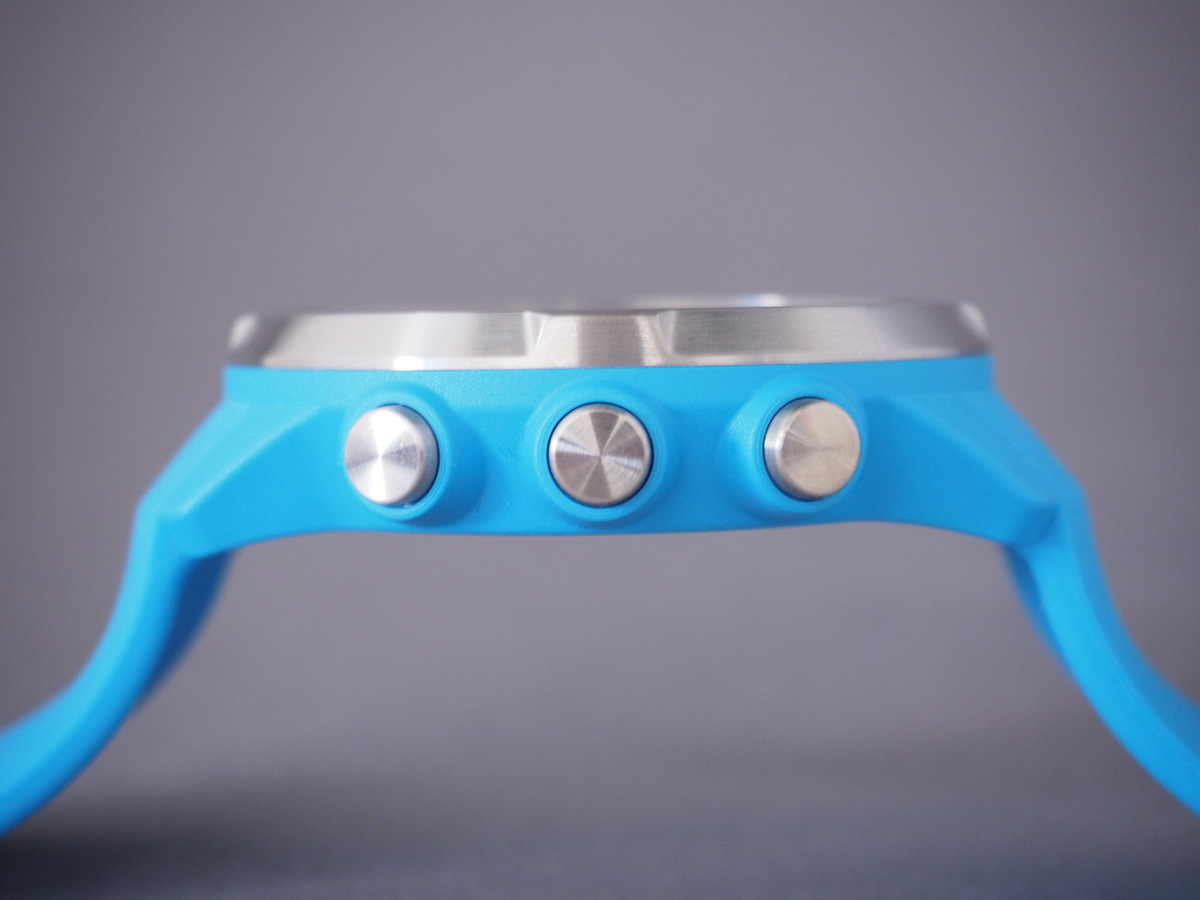 What the Suunto does to justify its price, though, is look good. It's big, but not wildly so, at 50mm diamater. You can have it in black, pink or white rather than this bold blue, and it's solidly made, with a nice soft touch rubber strap. On-screen menus and graphics are minimalist and classy, as is the corresponding Movescount app and web portal.
The watch is controlled by a combination of button inputs and touchscreen swipes – you can go up and down selections and dive deeper into menus with the buttons, but you can only come back up to the watch-face surface by swiping back on the screen. Screen changes are a little ponderous, though the watch seems to cheer up a bit during exercise – curious, given that it's then also recording GPS data and receiving a HR signal. Well, it ought to get excited by exercise, we suppose.
Ready, load, run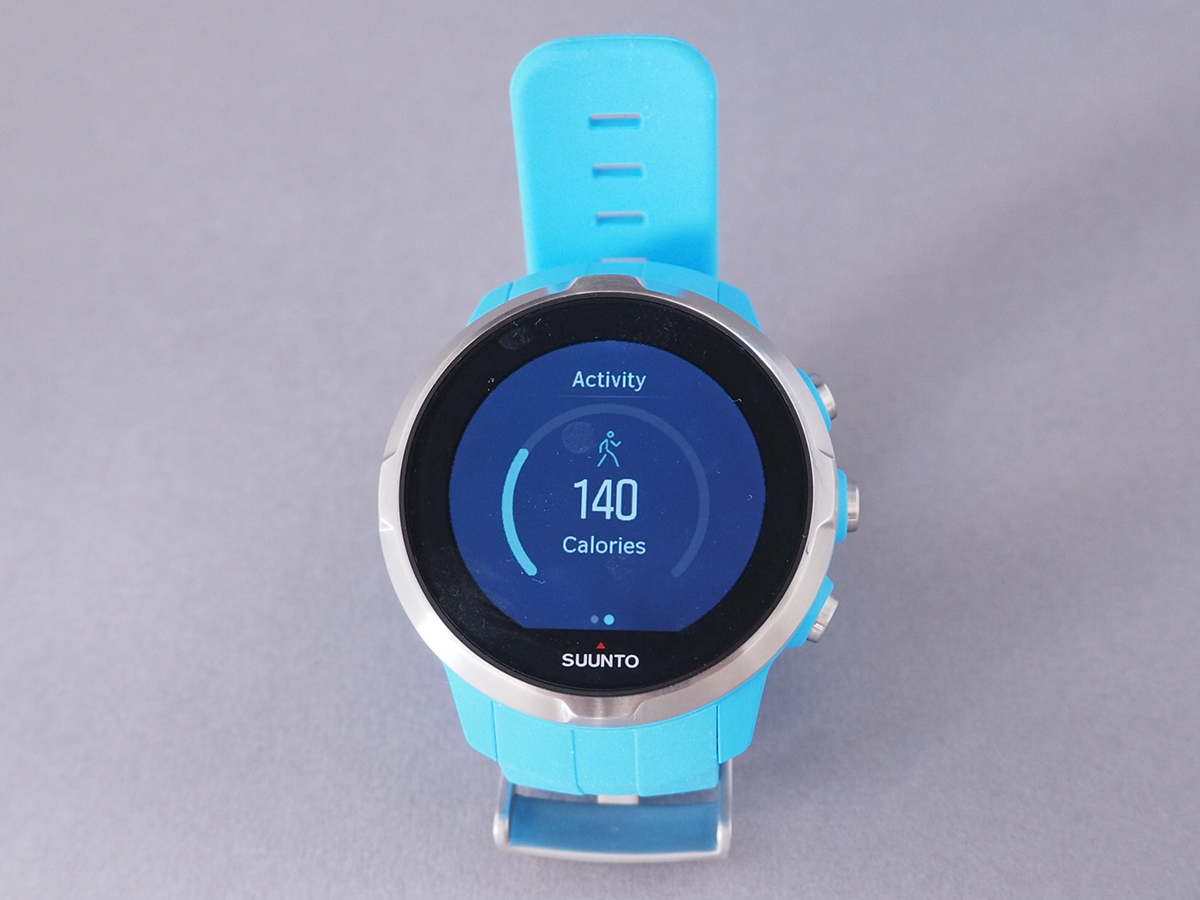 There's a smorgasbord of Suunto-set sports to choose from, ranging from such stalwarts as running and cycling to more esoteric activities as fishing, motorsport and cheerleading. Each is basically recording the same sorts of data, of course, but with a preset arrangement of data screens on the watch. You can set up your own activities, but you can't customise an existing one on the fly. Bit of a bummer, that.
The watch has GPS, so you don't need to take your phone with you on your workout. (Handy if your cheerleading outfit is a little on the skimpy side.) When you return, you can either leave your stats festering on the watch, or you can sync it via Bluetooth with the Movescount app, or you can connect it to your computer using the magnetic USB charging cable and upload directly to the big internet Movescount.com site. Either way, we had numerous problems getting the watch to sync, and when it did connect, the sync process took several minutes. Best to leave it to it and hit the shower.
Hot trails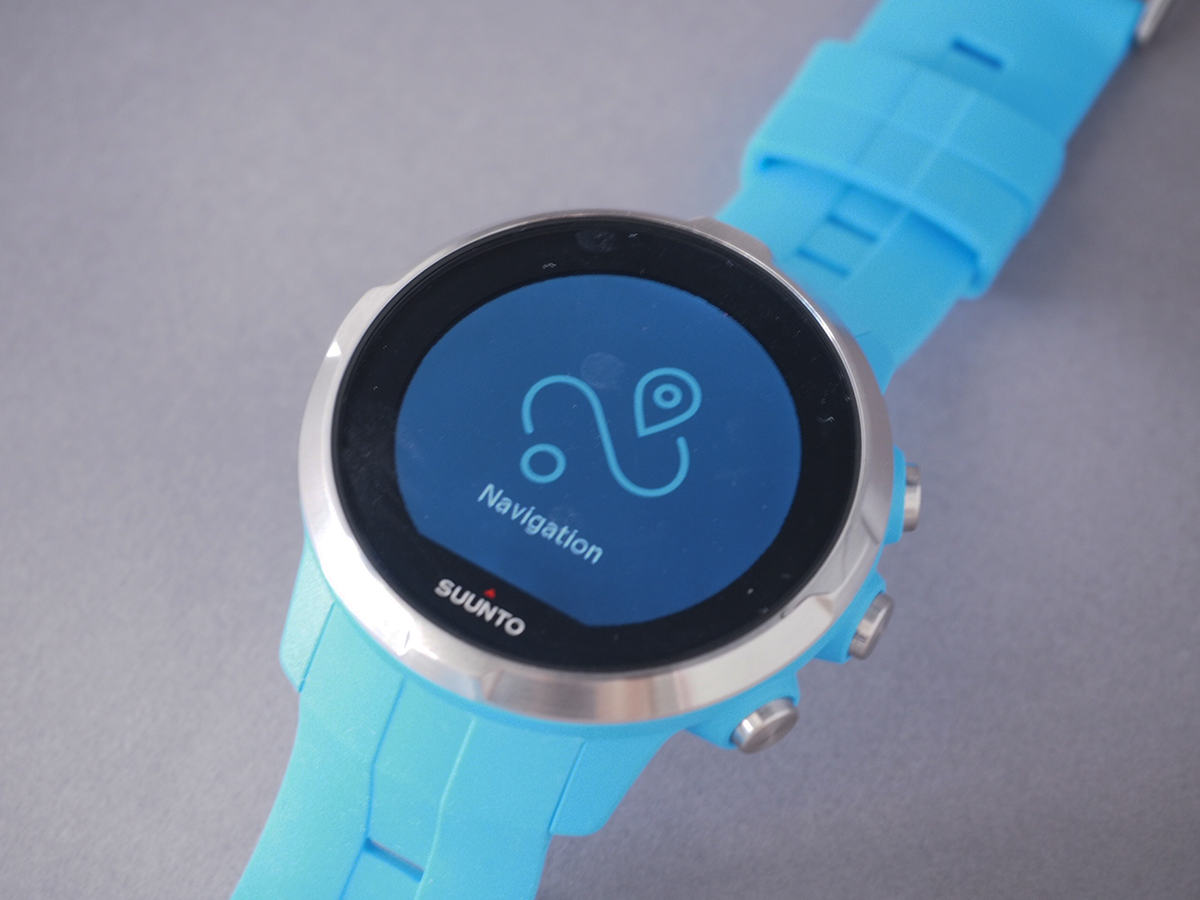 Note: should you decide not to buy the Spartan Sport, it is still worth checking out Movescount – the activity-centric heatmap function is brilliant for seeing who's doing what near you. But if you have pulled the trigger – roguishly ignoring both the star rating and the fact that there's a HR-equipped version on the way – then those same maps are where you can set up or download routes for the Suunto's other big function, navigation.
It's not a high-def experience, but the little stylised route map on the 320×300 screen is enough – along with your forward-looking eyes and common-type sense – to make directional decisions.
And that's all folks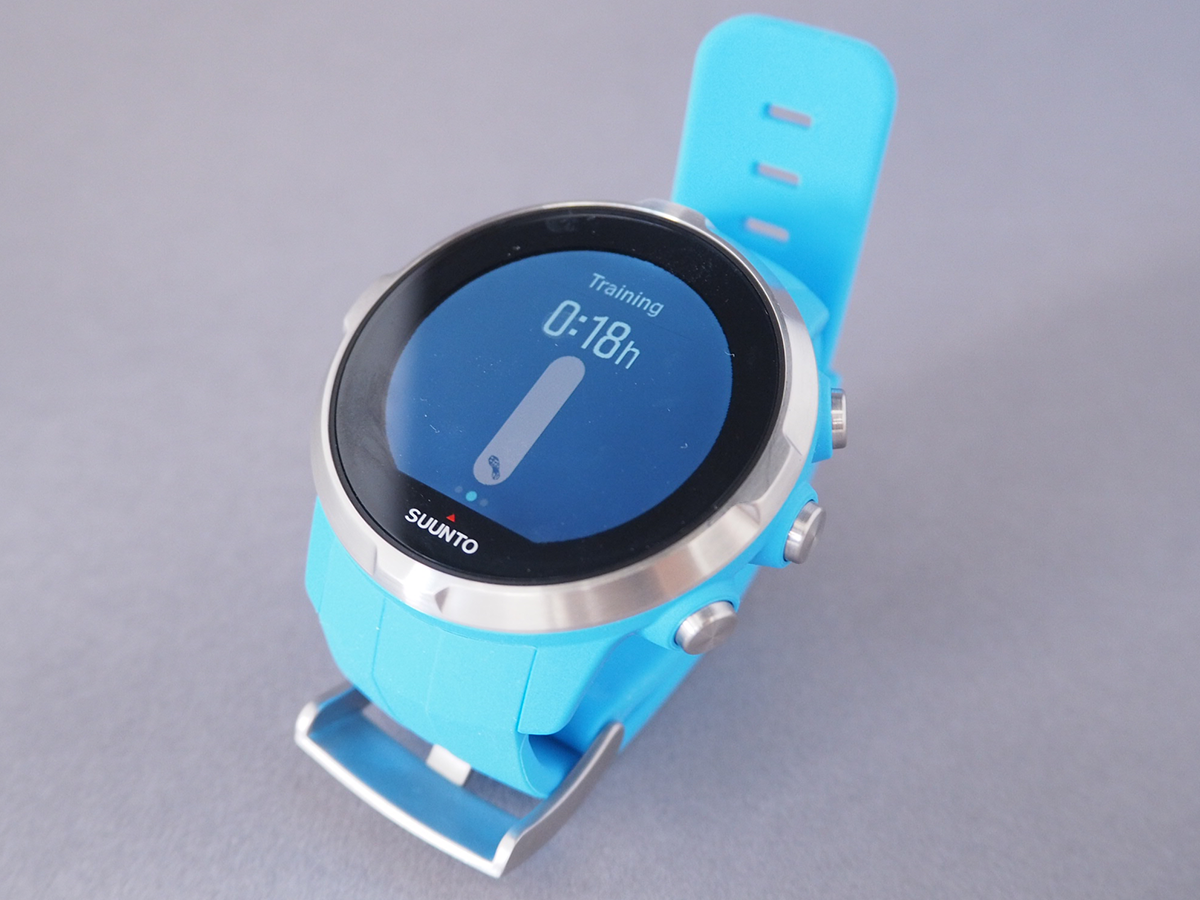 Other than the main activity recording and navigation functions, the Spartan is a little sparse. It'll measure your general activity in terms of steps and calories, but not sleep, nor your floors climbed as it doesn't have a barometric altimeter. (The Sunnto Spartan Ultra, from £559, does).
It'll do basic smartphone notifications if the Bluetooth connection remains stable. It has a stopwatch mode, but no countdown timer or alarms. Suunto has released numerous updates for the Spartan since it launched, and we expect that process to continue, but if you're expecting Apple Watch-level games, bells and whistles, then you're going to be disappointed.
Mind you, it will last for over a week in watch mode without needing a charge, and a healthy 10 hours in GPS activity recording mode.
A sporting sum-up
We can't recommend the Spartan Sport. Nicely made though it is, there are loads of activity tracker watches that offer more functionality for less cash.
When even an Apple Watch offers more value, something is awry. We'll be keen to look at the Spartan Sport HR when it comes out, though… and do take a look at those Movescount heatmaps.
Tech specs
| | |
| --- | --- |
| Screen | 320×300, LED backlit, touchscreen |
| Features | Speed, distance, time, navigation, activity, recovery, stopwatch |
| Water resistance | 100m |
| Sensors | GPS, accelerometer, gyroscope, compass |
| Connectivity | USB via proprietary connector |
| Battery | 10h (GPS), 10 days (time) |
| Accessories | Heart rate monitor chest strap |
| Dimensions | 50mmx13.8mm, 70g |
Stuff Says…
The surprisingly sparse Spartan Sport looks expensive…but is too expensive.
Good Stuff
Clear screen graphics
Solid build
Blue, if you like blue
Other colours, if you don't
Bad Stuff
Comparatively expensive
Ponderous screen switching
No optical heart rate monitor
Movescount online is classy, but clunky