Sony InZone M9 monitor review: more PC than PlayStation
PS5. PC. Why not both?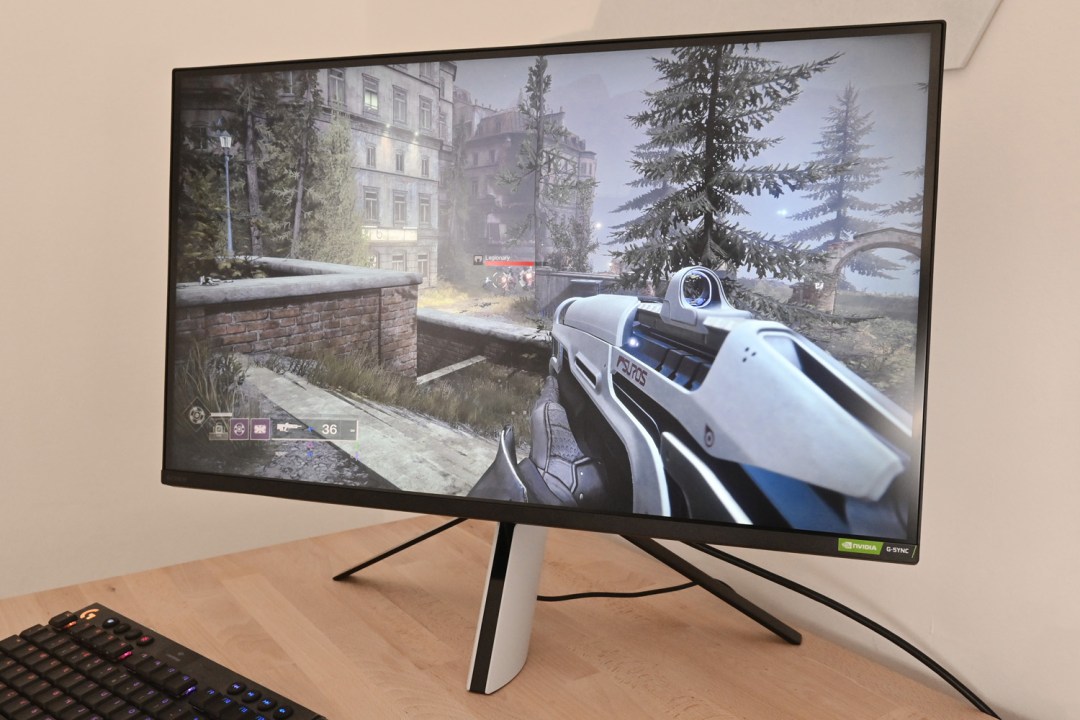 Sony hasn't flung open its doors to PC gamers with quite the same exuberance as Microsoft did with Xbox Game Pass, but now that one-time console exclusives are appearing on Windows, the firm's hardware division is getting in on the action. The InZone M9 is a gaming monitor that doesn't simply target PS5 gamers playing at a desk rather than on a sofa: it's a "console-friendly" display with the sort of features designed to turn the heads of keyboard and mouse aficionados.
Think 4K resolution, a 144Hz variable refresh rate, HDMI 2.1, and a built-in KVM to tame the rat's nest of cables lurking between screen and computer. It's competitively priced and doesn't disappoint on the styling front – but the biggest head-turner is its HDR ability. Full-array local dimming promises to be a real step up from cheaper HDR panels. But can the new sub-brand compete with the PC gaming big-hitters?
Sony InZone M9 design & build: Family tree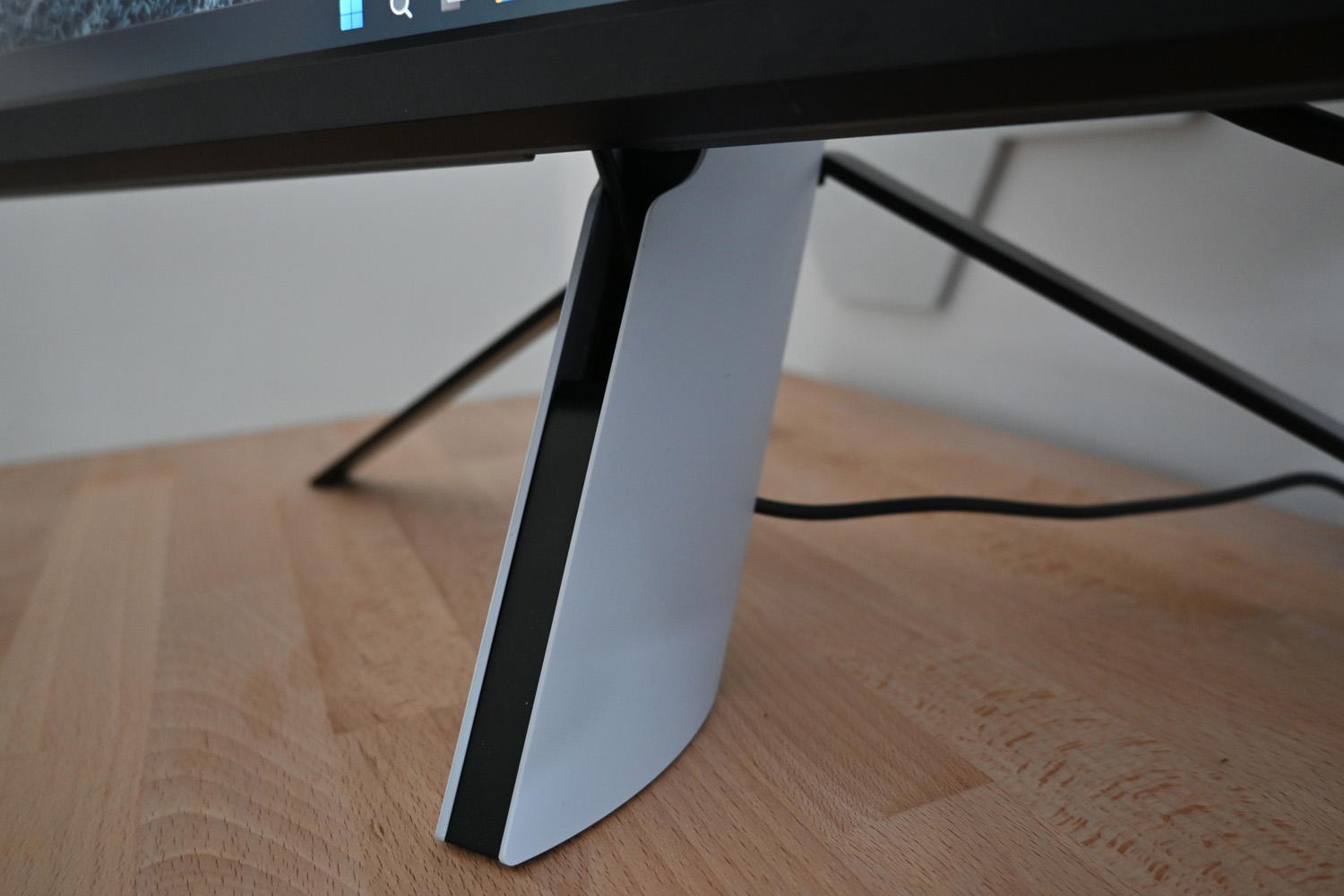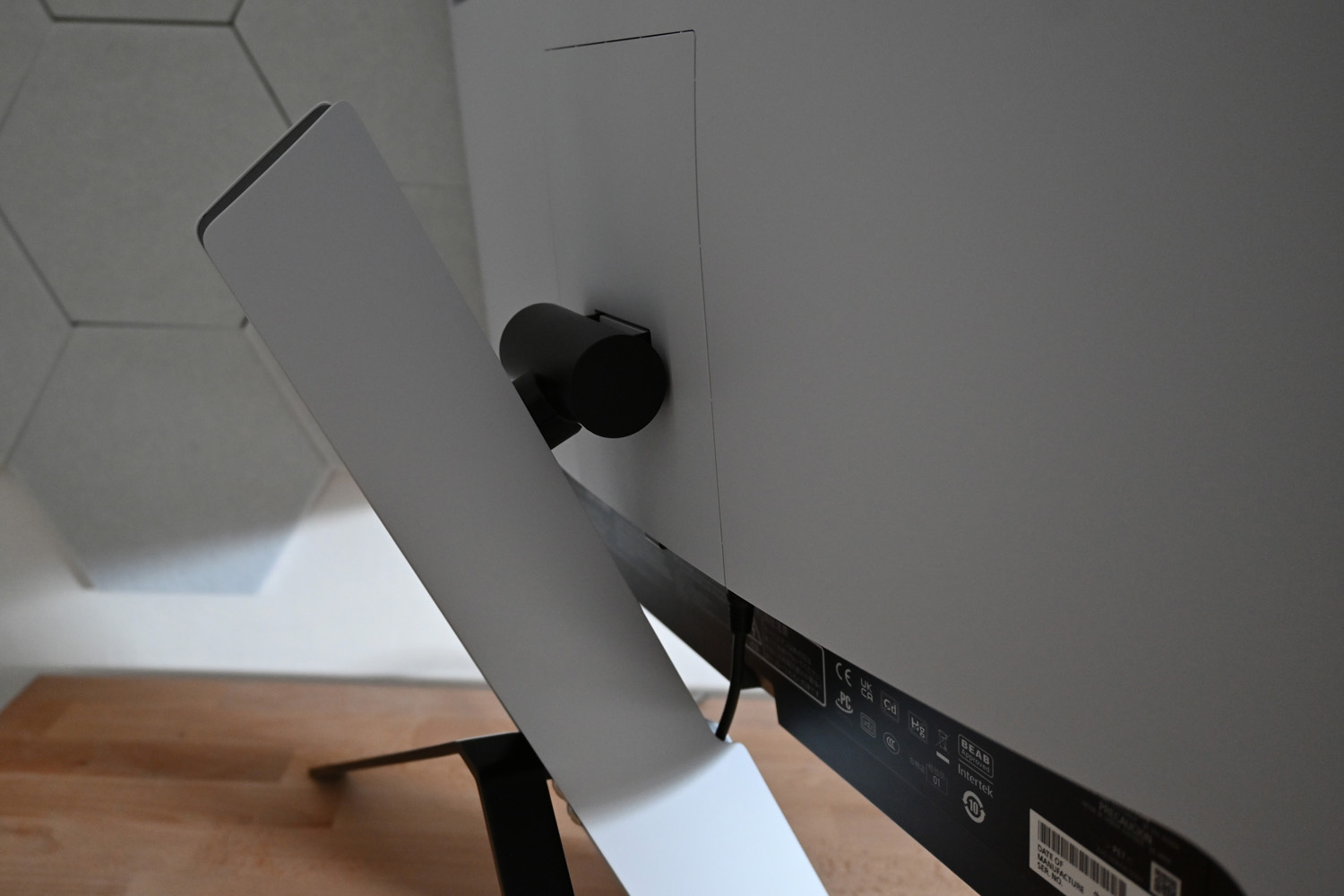 It made a song and dance about this being a PC display first, but Sony has been damn sure to style the M9 so it matches the PS5. The central part of the stand is the same mix of white and black plastic, while the rear is all-white, with subtle RGB lighting. If you game with your console on your desk, it'll fit right in.
A black metal bracket completes the tripod-style stand, which looks minimal and largely keeps away from where you keyboard and mouse are likely to be, but still needs a fair bit of desk space for a 27in monitor. The central part has a handy cable passthrough, but it's not quite as effective at hiding wires as if it were further up behind the display.
There's height and tilt adjustment, but not a lot of either, and there's no pivot or swivel at all. At least it plays nicely with VESA wall mounts and monitor arms.
The screen bezels are nice and slim on the top and sides, and the bottom one isn't exactly a porker, with just enough space for a stealthy Sony logo in the corner. Anyone sick of the typical "gamer" styling will be happy with the minimal approach, which continues on the back. There are just two buttons: one for power and a directional toggle for navigating the onscreen menus.
Sony InZone M9 features: plug-in baby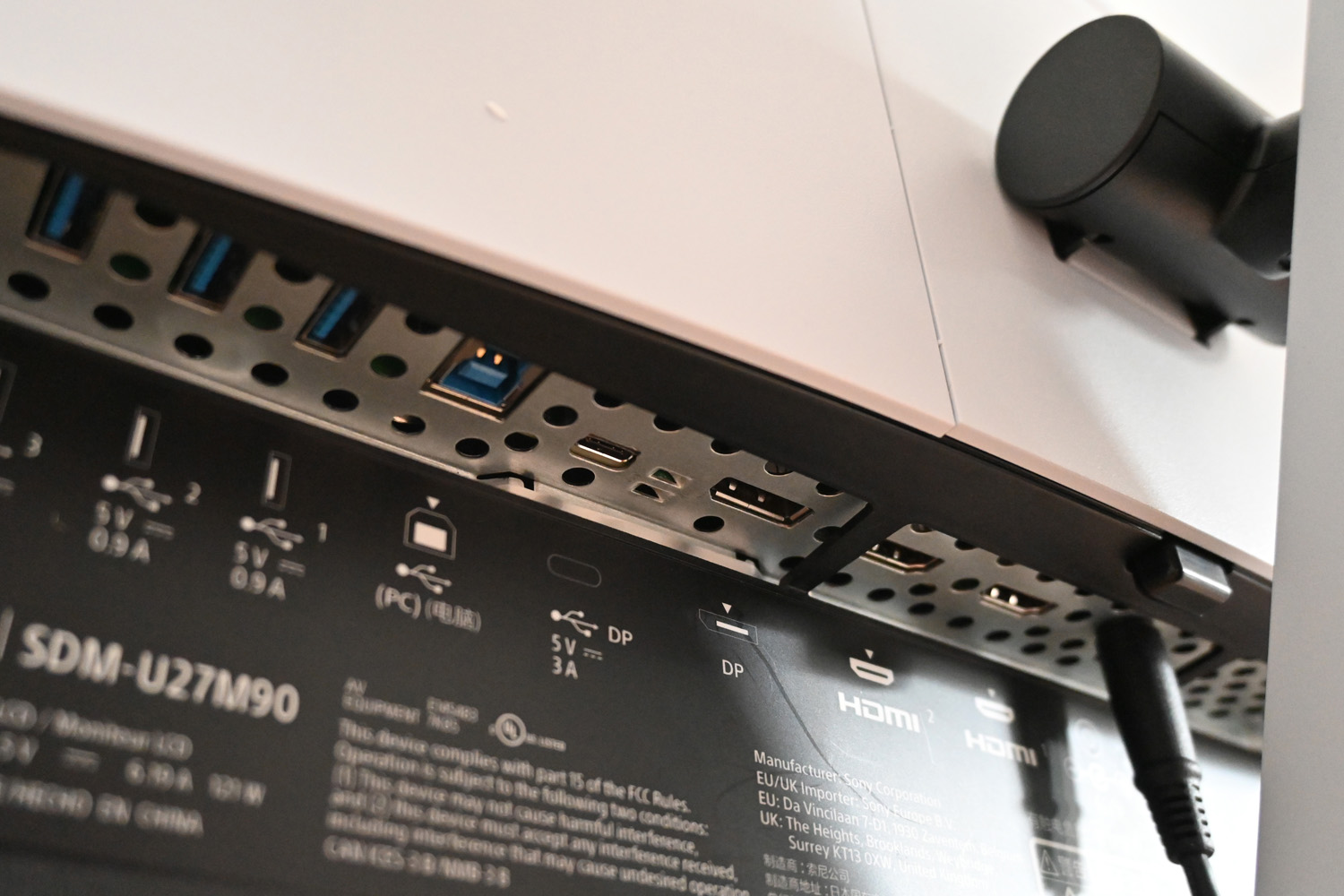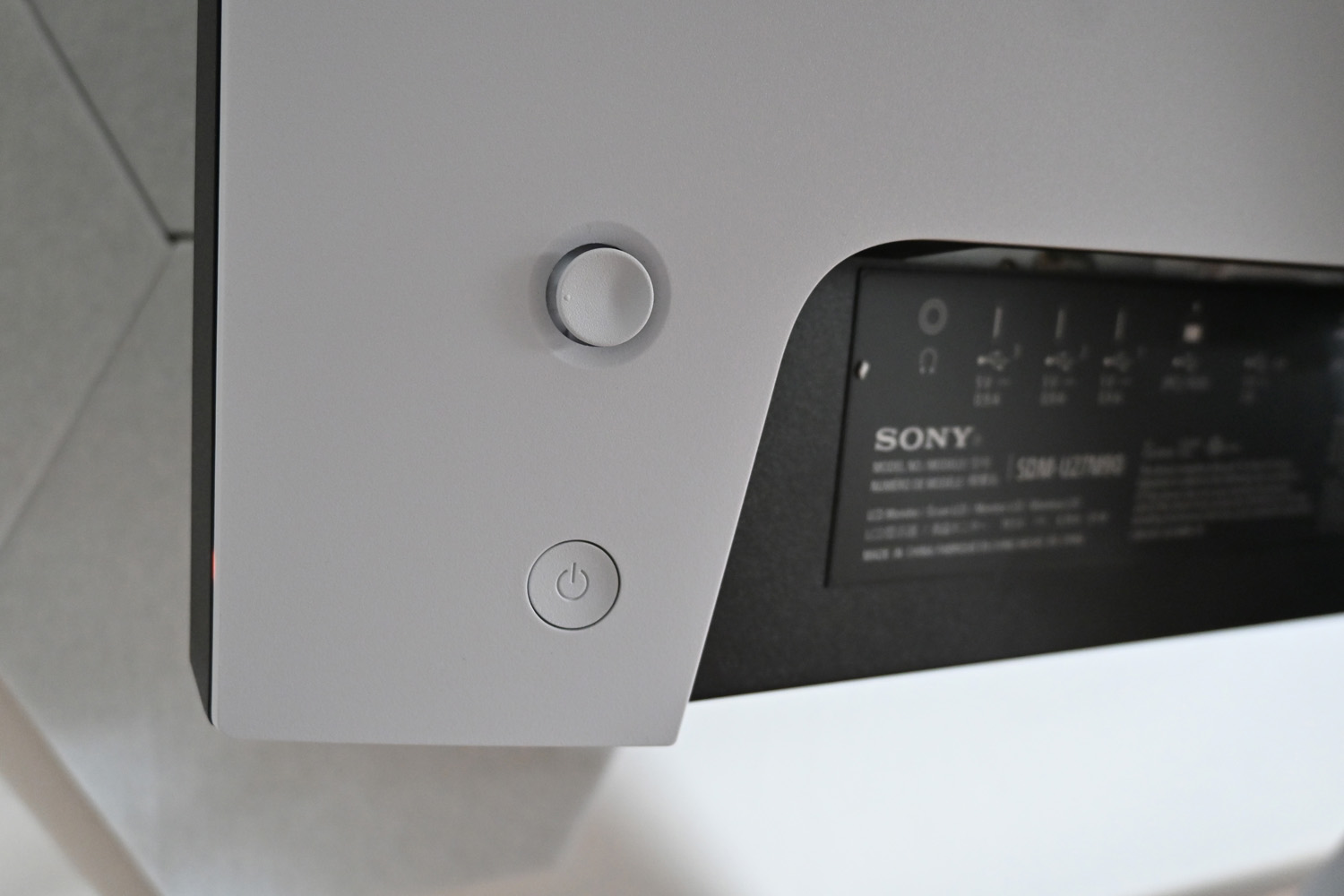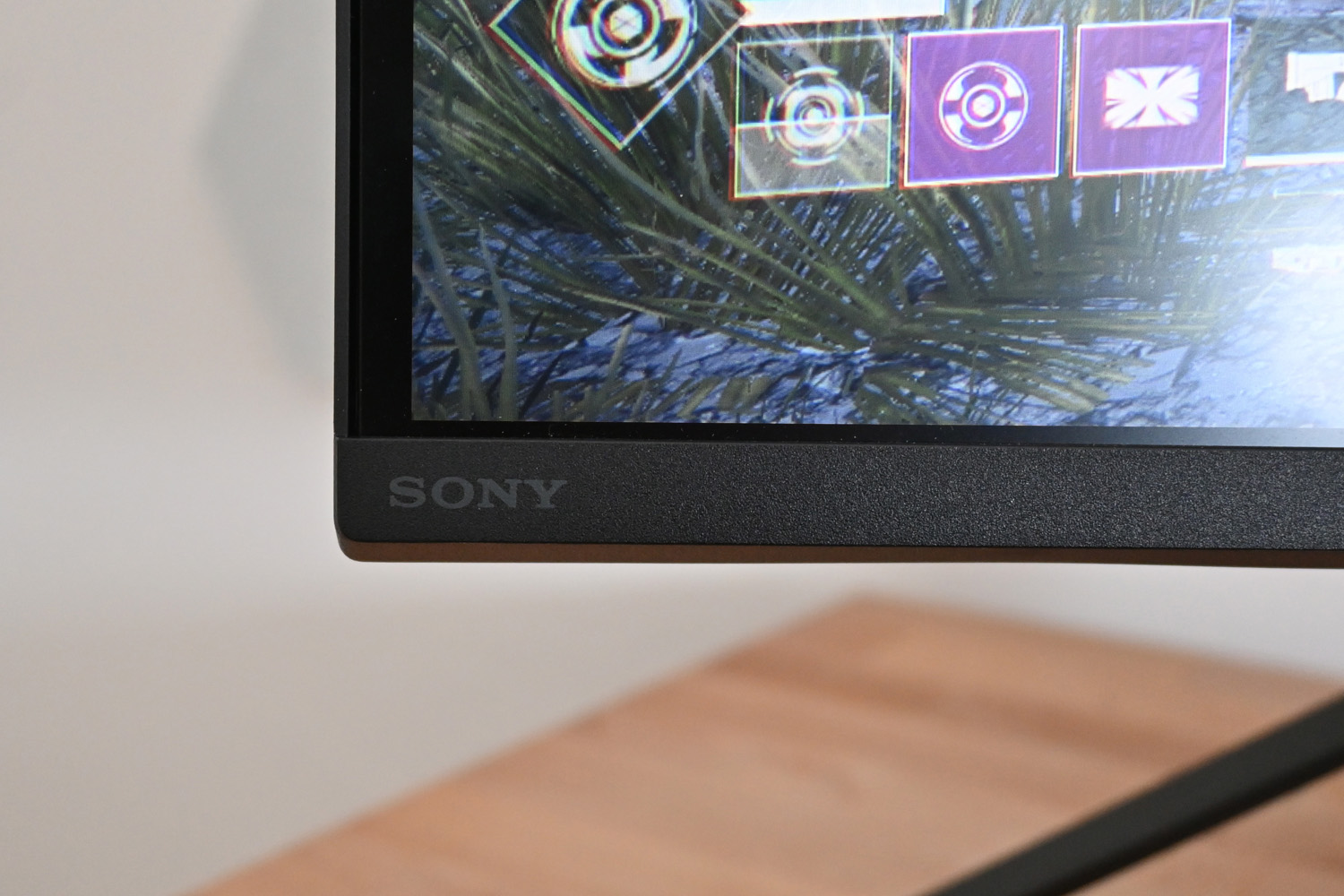 Connectivity is excellent, with a DisplayPort 1.4, USB-C (with DP-Alt mode) and two HDMI 2.1 ports. Both of these can only do 4K at 120Hz, whereas DisplayPort is good for 144Hz. Inputs change automatically when a signal is detected, which is handy. There's also a scattering of KVM-ready USB ports, which let you share devices between two separate systems.
The M9 has a pair of built-in, back-firing speakers, but they are disappointingly average for the price. There's no real bass to speak of, and while they get loud enough, they're particularly tinny. Seeing how computer desks often have less room for dedicated speakers or a soundbar, it basically forces you to reach for a headset for anything more than YouTube clips.
PS5 gamers get the benefit of Auto HDR Tonemapping, which automatically tweaks brightness and darkness settings for each game rather than making you calibrate each time. Annoyingly this doesn't work when playing PC ports of PlayStation games. It'll also switch to Game Mode automatically to minimise input lag, or swap to Cinema mode when watching a Blu-ray or streaming service, but again these are PS5-specific.
Sony InZone M9 interface: screen dream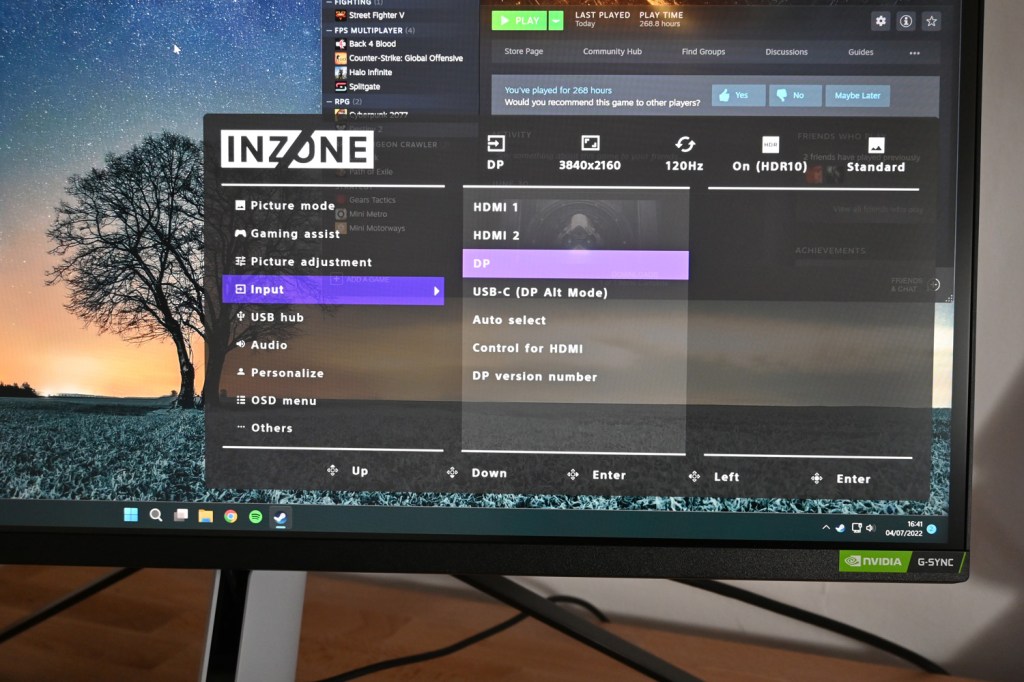 There's no shortage of settings available through the M9's onscreen display, which is clean, responsive to button inputs and sensibly organised.
All the usual suspects are present, including brightness, contrast and colour temperature, plus a handful of presets for films and particular game genres. Showing the active refresh rate and displaying an onscreen crosshair are more gamer-specific, but some might find 'em useful. The power button being separate means you won't accidentally turn off the screen while making changes, too – unlike some rival monitors.
There's also a dedicated software suite that lets you tweak things to your heart's content completely through your PC. You can create picture presets for specific games that kick in whenever you boot them up, although we found it didn't always switch when it was supposed to.
Sony InZone M9 picture quality: HDR hero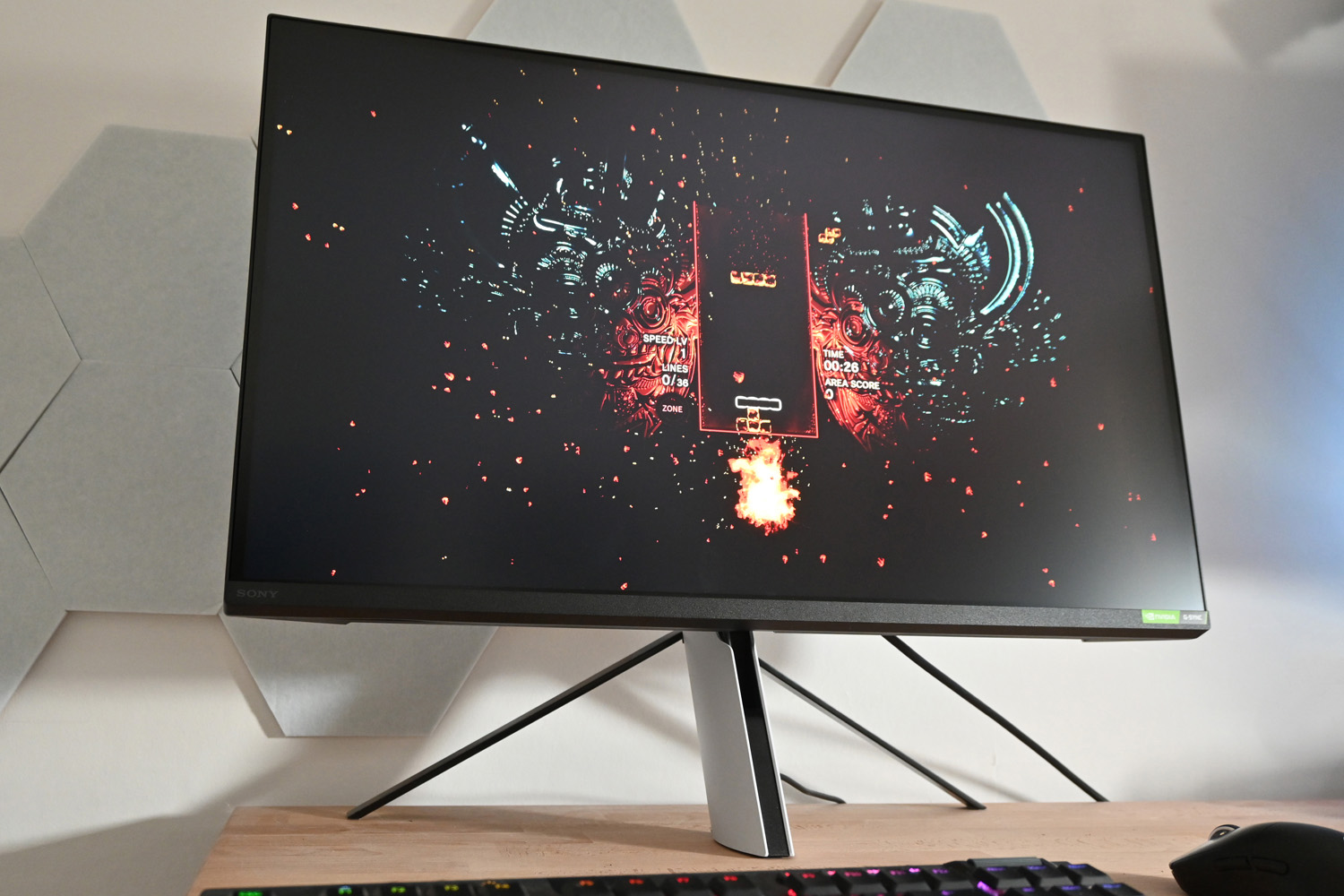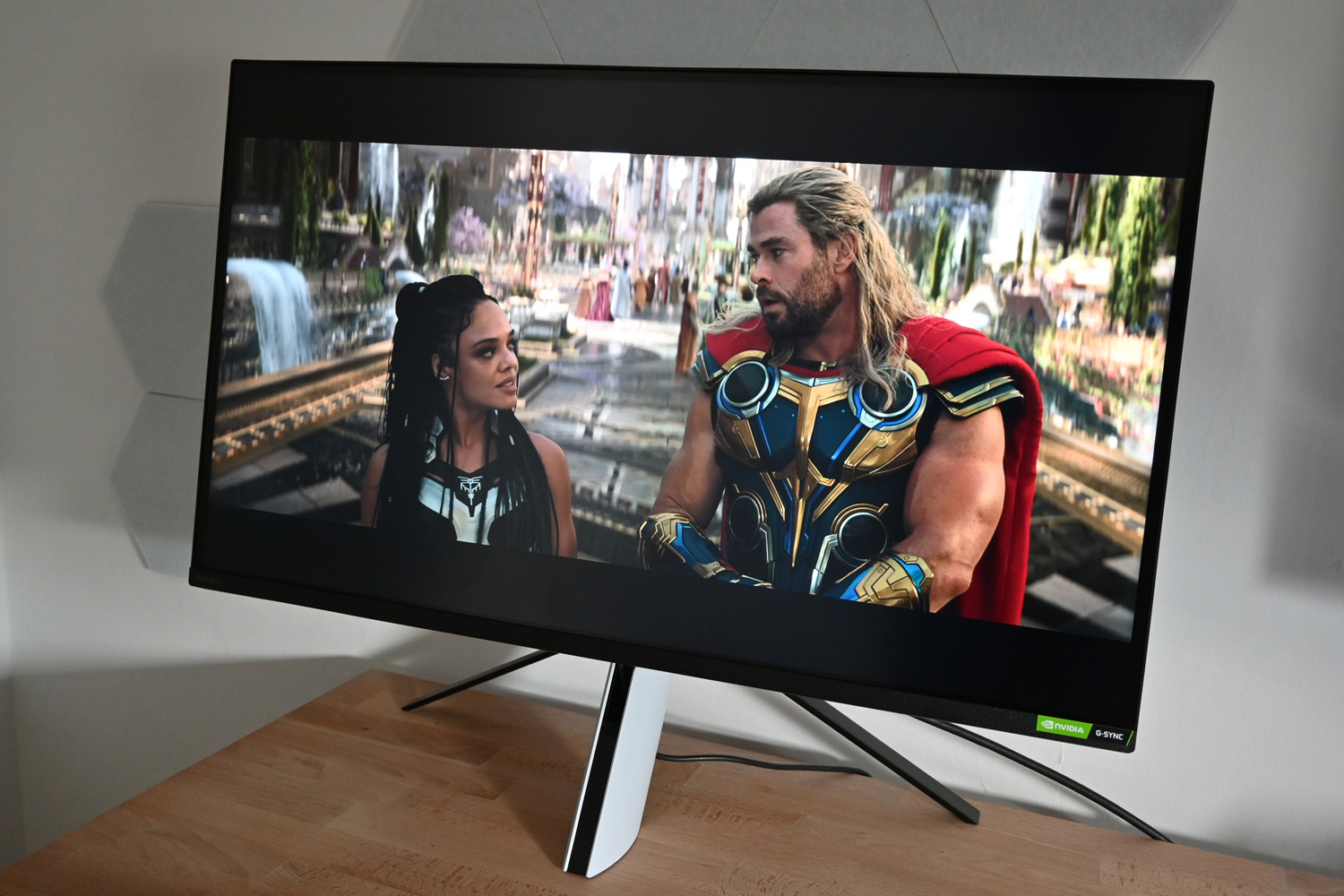 Full Array Local Dimming (FALD) puts the InZone M9 is a class above competing monitors for HDR. With 96 separate zones, the panel can mix and match low- and high-brightness parts of a scene to an impressive degree. The highlights get plenty bright, too. Destiny 2's explosive Guardian abilities properly light up parts of the screen, and Cyberpunk 2077's Night City look more visually stunning than ever.
It's not going to compete with the best local dimming TVs, which have hundreds or even thousands of zones, and OLED is still the king as far as deep blacks are concerned. But if you don't mind a bit of light bloom or halo effect in properly dark scenes (particularly noticeable when playing the particle-heavy Tetris Effect), there's little else around that can match it for the money. And even without HDR, local dimming gives a welcome boost to contrast across the board.
It's an IPS panel, with very good viewing angles and overly saturated out-of-the-box colours. This certainly gives games plenty of punch, with vibrant hues to go with ample brightness, but it's a pain if you also need colour accuracy – say for working on the same monitor you use for games. There's no built-in sRGB profile at all.
Response times aren't quite as snappy as Sony's 1ms claim, even on the most favourable settings, but are still up there with the better gaming monitors at this price. Games look silky smooth, with no torn frames thanks to the choice of variable refresh rate for consoles, and FreeSync or G-Sync for PC gaming. Competitive gamers might prefer faster 240Hz panels, but for the majority we reckon Sony has found the sweet spot.
Sony InZone M9 verdict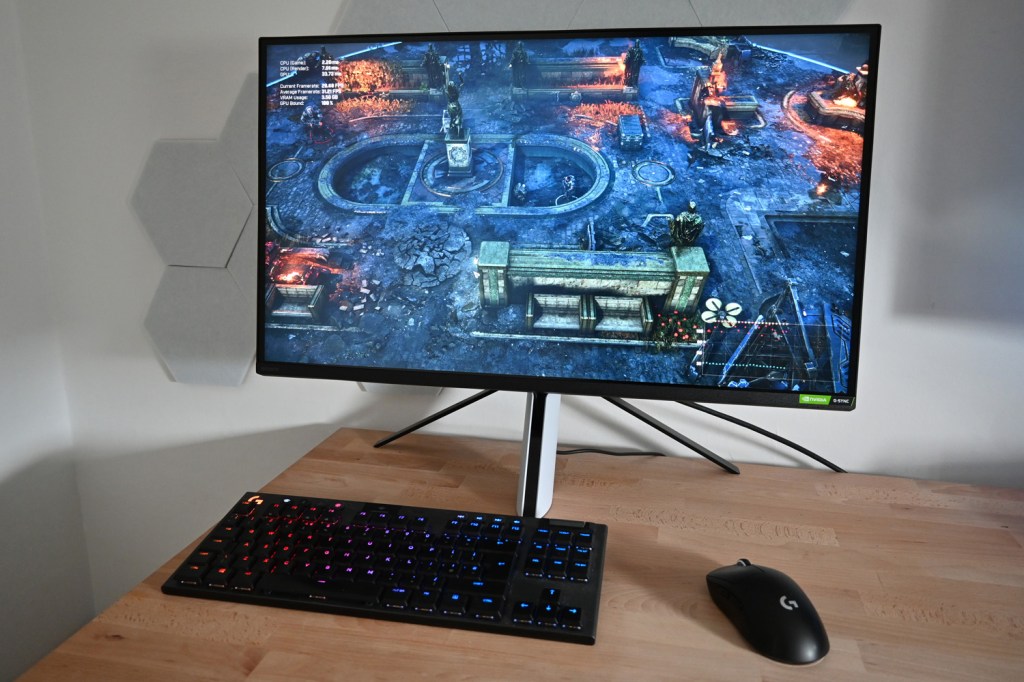 Given Sony's TV expertise, it's no surprise the InZone M9 gets so much right. Local dimming gives it HDR abilities that are well beyond any of edge-dimming alternatives, and the styling will certainly appeal to PS5 owners.
HDR performance rapidly improves once your budget stretches further into the realm of QD-OLED monitors and desk-friendly OLED TVs, but for the money there's little else that comes close.
Crucially, it doesn't skimp on PC-focused features. The high resolution, high refresh rate panel has rapid response times, along with punchy colours and ample brightness. Overall ergonomics could be a little better, and the speakers aren't much cop at all, but the user-friendly interface is refreshing. You don't need to own a console before adding it to your shortlist.
Stuff Says…
A great effort by Sony that will appeal to desktop gamers wanting an HDR experience without having to make room for a top-end telly.
Good Stuff
Local dimming delivers superb HDR
All the features you'd want from a high-end monitor
Fits right in next to your PS5
Bad Stuff
SDR calibration not the best
Speakers are tinny
Average ergonomics
Sony InZone M9 technical specifications
| | |
| --- | --- |
| Screen Size | 27in |
| Resolution | 3840×2160 |
| Refresh rate | 144Hz w/ Nvidia G-Sync, Adaptive-Sync, variable refresh rate |
| HDR | Yes (HDR10, HLG) |
| Brightness | 400cd/m2 (typical) 600cd/m2 (peak) |
| Contrast | 1,000:1 (static) 80,000:1 (dynamic) |
| Speakers | 2x 2W |
| Adjustment | Height (70mm), tilt (+/- 20°) |
| Connectivity | DisplayPort, 2x HDMI 2.1, USB Type-C w/ DP Alt Mode, USB Type-B, USB x3, 3.5mm headphone output |
| Dimensions | 620x479x248mm (with stand), 6.8kg |