Samsung QE55Q8DN review
Majestic QLED
It doesn't matter what an electronics company's motivations are, as long as the end result benefits the consumer. Most of the time, of course, a manufacturer's motivations don't amount to much more than professional pride and profit margin.
Sometimes, though, a brand is motivated by more than just the bottom line. Sometimes, even for a global company with many thousands of employees, it's personal. Samsung can give you plenty of reasons why it prefers to deploy QLED technology on its high-end TVs rather than the OLED tech every single one of its rivals prefer.
And there are upsides to QLED over OLED, without a doubt. But no electronics company wants to be all alone in evangelising a technology – it's hard to shake the feeling that Samsung cannot bring itself to buy OLED panels from its compatriot and arch-rival LG (as every other TV brand does).
But ultimately, the reasons Samsung is ploughing a lonely furrow with QLED don't matter. Not when the results are as impressive as this QE55Q8DN.
Design and build: A little chunky but feet to stand on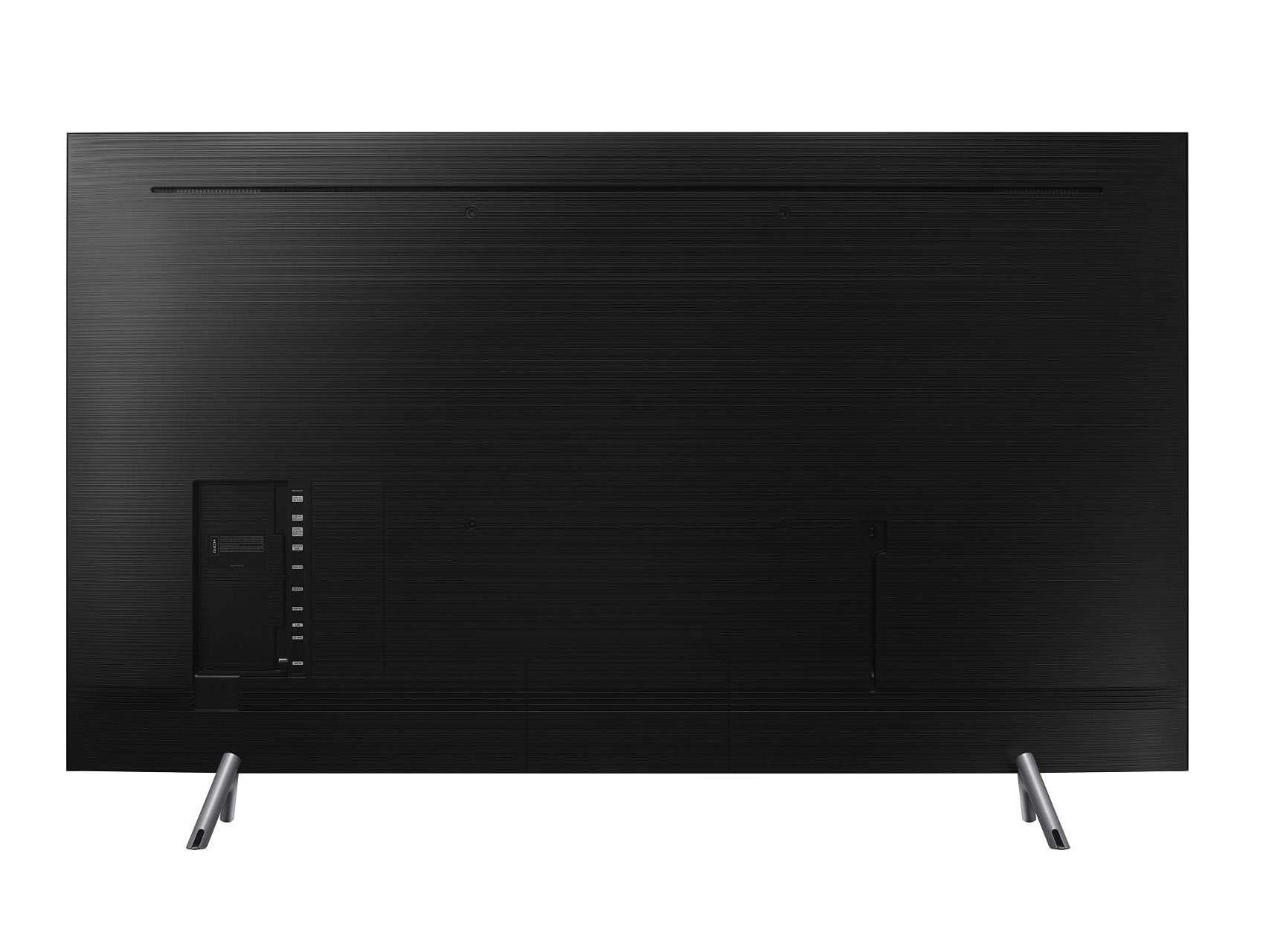 The Q8DN is a cleanly designed, impeccably built television – but it doesn't make all that great a first advert for QLED. Oh, it's a slim TV, be in no doubt. But QLED's need for a direct backlighting matrix means the Q8DN is not as futuristically slim as the OLED alternatives it's fighting against.
If you want to put your expensive new TV on the wall, at 6cm deep the Samsung will stick out a little further than any other brand's £2k telly. If you want to position it on a rack or table-top, the Q8DN makes life (relatively) difficult for you too.
Its two feet are nicely designed, beautifully made and look good in situ – but they're positioned very close the outer edges of the screen. So, you need a pretty wide surface to stand it on, much wider than what would be required if the Samsung stood on a pedestal stand.
And should you opt for wall-mounting, you'll need to bear in mind all the cabling will run to the screen. One of the very few ways the Q8DN is inferior to its top-of-the-range Q9 sibling is in its lack of OneConnect box – pricier Samsungs feature this separate box, which is home to all sockets and inputs. This means a Q9 needs only one cable to the screen, while the Q8 requires cables for main power, aerial, games consoles, and your cable TV box.
Features: 4K and HDR star
In technology terms, the Q8DN passes every test. It's a 4K screen, naturally enough, with most HDR boxes ticked too: HDR10, the broadcast-standard HLG and HDR10+, are all included (HDR10+ is the dynamic metadata standard Samsung developed in conjunction with Panasonic and 20th Century Fox as a rival to Dolby Vision). It's open-source and free from licencing fees, which in theory should make it more attractive to other brands than the cost-option Dolby Alternative.
At the moment, though, HDR10+ content is thin on the ground. Given the Q8 is claimed to hit peak brightness at around 1500 nits, it seems well equipped to make the most of any and all HDR content. That brightness level may be down on what the more expensive Q9 can muster, but it's plenty brighter than any OLED currently available.
Elsewhere, the Q8 isn't short of inputs – even if they do all have to be connected to the back panel of the screen itself. It features a pair of satellite TV tuners, four HDMI inputs (one including Audio Return Channel functionality), a couple of USB sockets and an Ethernet input. Wireless connectivity is also on board.
User interface: Clean, clear, a handy remote and more chock-full of apps
There are a number of ways you can interact with the Q8. There's the bog-standard remote control familiar to anyone who's used a Samsung product in the last couple of years. It's efficiently laid out, features sensibly sized buttons and does everything you could reasonably expect.
Then there's the rather more swish Smart Remote. It's much nicer in the hand, thanks to its mostly metal construction, and features far fewer buttons than the standard handset. It's also the conduit for voice interaction with the Q8: hold down the mic button, issue a command ("volume up", "HDMI one", "Smart Hub", nothing to complex) and then release the mic button to have your request fulfilled. It's hardly Alexa, but it's a neat little party-piece nevertheless.
The on-screen interface is clean, distinct, easy to follow and just a little humdrum. Samsung doesn't overload you with too many set-up options, so even inveterate tweakers shouldn't take too long to get the Q8 looking its best.
There are an absolute stack of apps ready to go (Netflix, Amazon Instant Video, BBC iPlayer, Google Play Movies and Ratuken are all present in their 4K HDR incarnations), and it's very easy indeed to add, delete and rearrange apps for a bespoke Smart TV experience.
Picture quality: All things bright and beautiful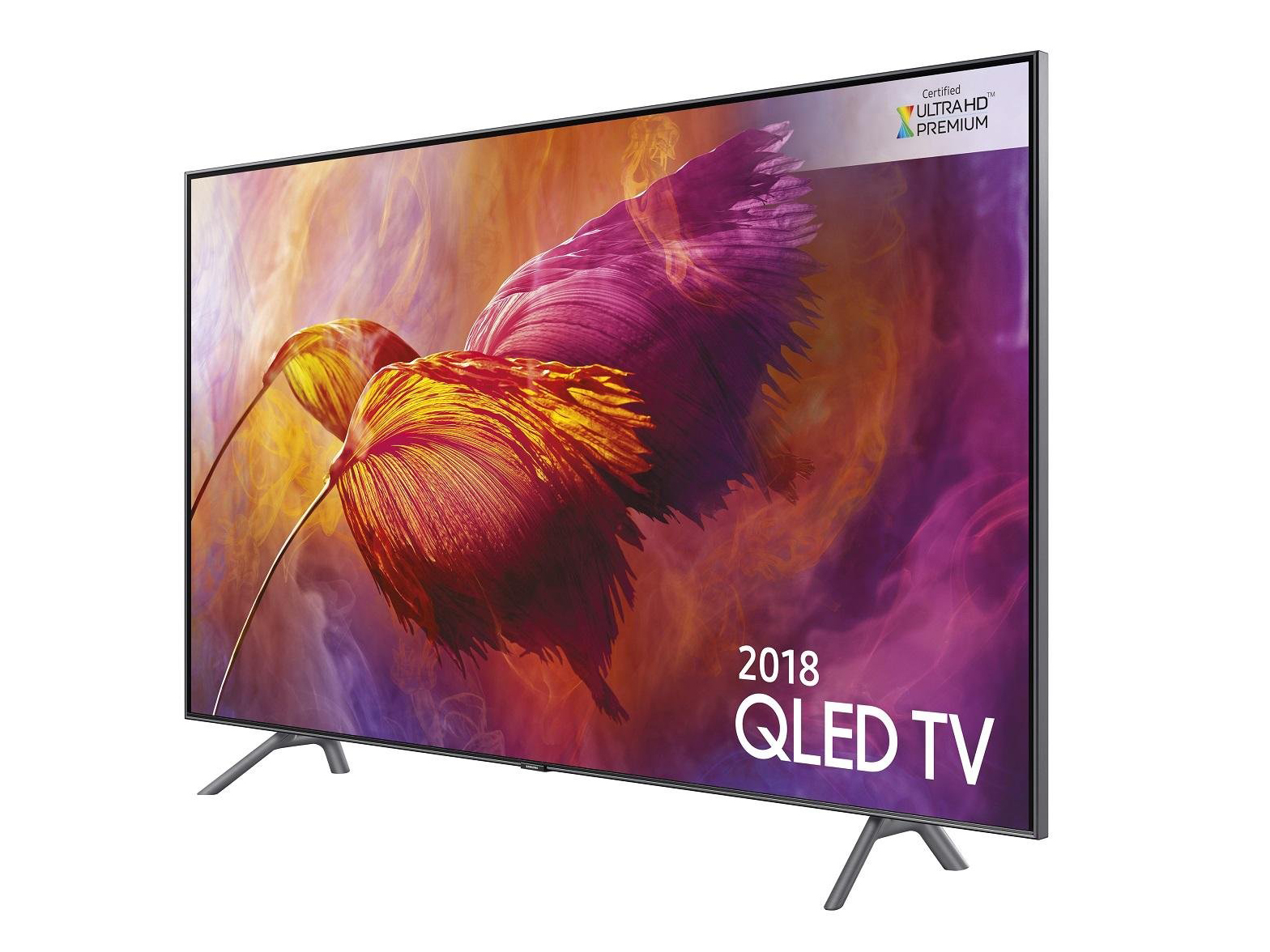 Give the Q8 the best source material available – Netflix 4K HDR content is good, 4K HDR Blu-ray disc even better – and the case for QLED becomes immediately apparent. Despite its requirement for backlighting, and despite having fewer independently dimmable backlighting zones than its Q9 relative, the Q8 is capable of almost OLED-like levels of blackness.
There's not a hint of clouding in the darkest scenes (or in the black bars top and bottom of your image if you're watching some 21:9 content), yet the Q8 manages to give black tones the sort of depth that's far more readily associated with OLED and its individual on/off pixel lighting.
And it has an equally un-OLED facility for maintaining its brightness and accuracy even when viewed quite a long way off-axis. Though it lacks the eye-searing peak brightness of the Q9, the Q8 is still a lot brighter than any OLED rival.
As a result, it's possible to revel in HDR content – the gap between the darkest blacks and the brightest whites is considerable, and every colour in the spectrum in between is bright and vivid, but not overblown. Whether you're watching a murky Scandinavian crime drama or an over-caffeinated Manga adventure, the images are always vibrant and convincing.
In terms of the sheer amount of detail the Samsung retrieves and displays, there's currently no way of making a meaningful improvement by buying any other TV from any other manufacturer. The Q8 serves up a staggering amount of detail, whether it's in the fine creases around the eyes of a veteran actor, or in the fine patterning of an ill-advised jacket the very same actor wears.
Edges are drawn smoothly and confidently, too – there's simply no other £2k TV currently available that makes a more compelling case for Ultra High-Definition content.
It's only with motion that the Q8 is anything less than utterly assured. With the most testing content – sport is always a good choice, as it's easy to get a picture that features a) swathes of green, and b) a ball moving in the opposite direction the way the camera's panning – the Samsung has to work hard to keep movement smooth and controlled.
Drop down in quality to non-HDR and Full HD content, and the story is much the same – just slightly less so. The excellent contrasts and black levels remain, the lavish detail levels stick around, and motion can be just a little problematic. The Q8 is a very accomplished upscaler. It's only when having to make up the vast majority of on-screen information (when displaying a poor-spec DVD picture, for example) do images become soft and indistinct.
Audio quality: Get yourself a soundbar
Everyone is used to flat screen TVs making an underwhelming sound, but special mention must go the Q8 in this respect. Not only does it sound thin and lightweight, but its midrange (where all your dialogue resides) is capable of getting coarse and hard-edged with very little provocation.
Anyone with two thousand pounds to spend on a TV really should budget to include a half-decent soundbar at the very least, and that's particularly the case where the Q8 is concerned.
Samsung QE55Q8DN verdict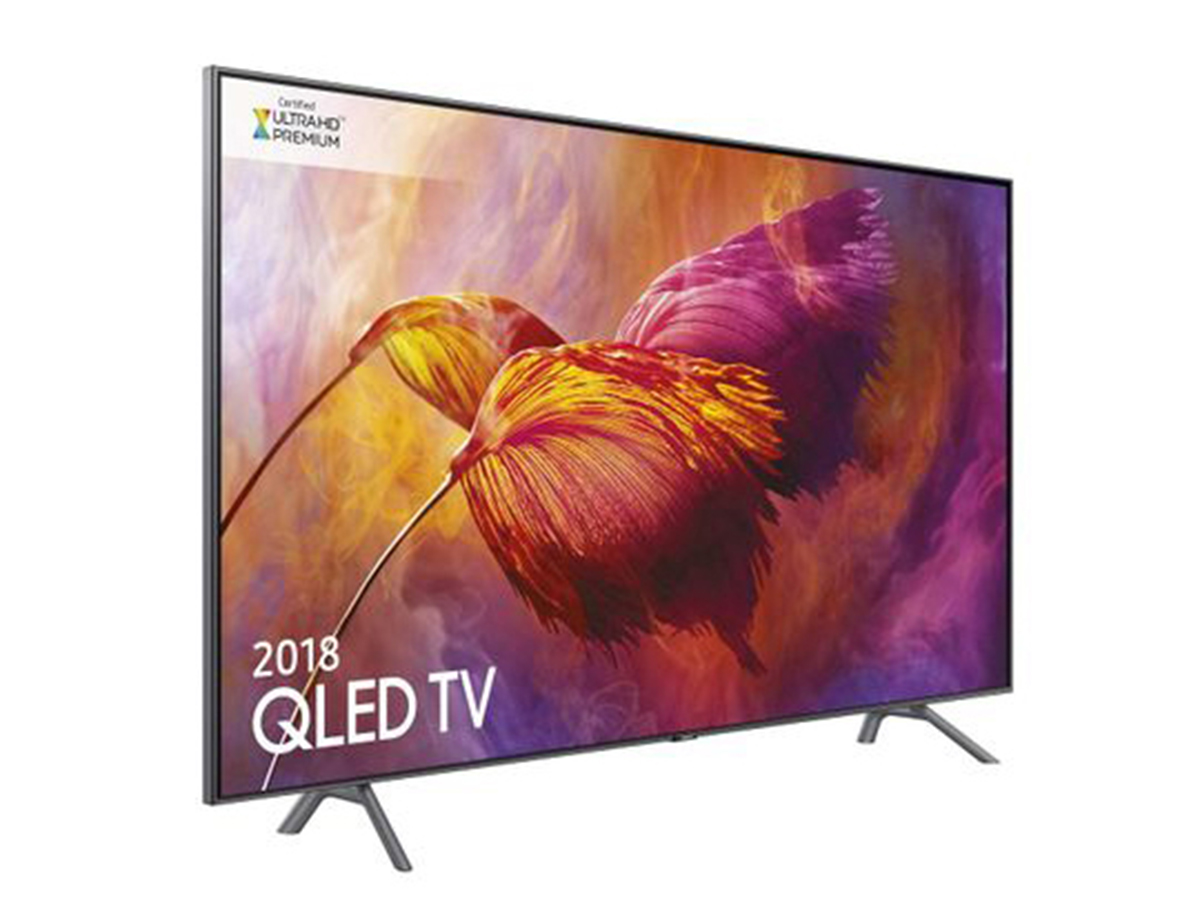 OLED is not the only game in town when it comes to premium televisions. Samsung's insistence on backlit LCD may seem more than a little dogmatic, but the results it delivers are hard to argue with.
If you can live with the Q8's (relative) bulk and (unarguable) weediness of sound, it's a brilliantly accomplished TV.
Stuff Says…
£2k is a lot of money for a TV, but the Q8 is worth every penny
Good Stuff
Great for HDR content
Easy to use interface
Brighter than any OLED rival
Bad Stuff
Sound not up to scratch without soundbar