Samsung Odyssey OLED G9 review: desk-dominating display decadence
As incredible as it is expensive, the OLED G9 is the ultimate immersive gaming monitor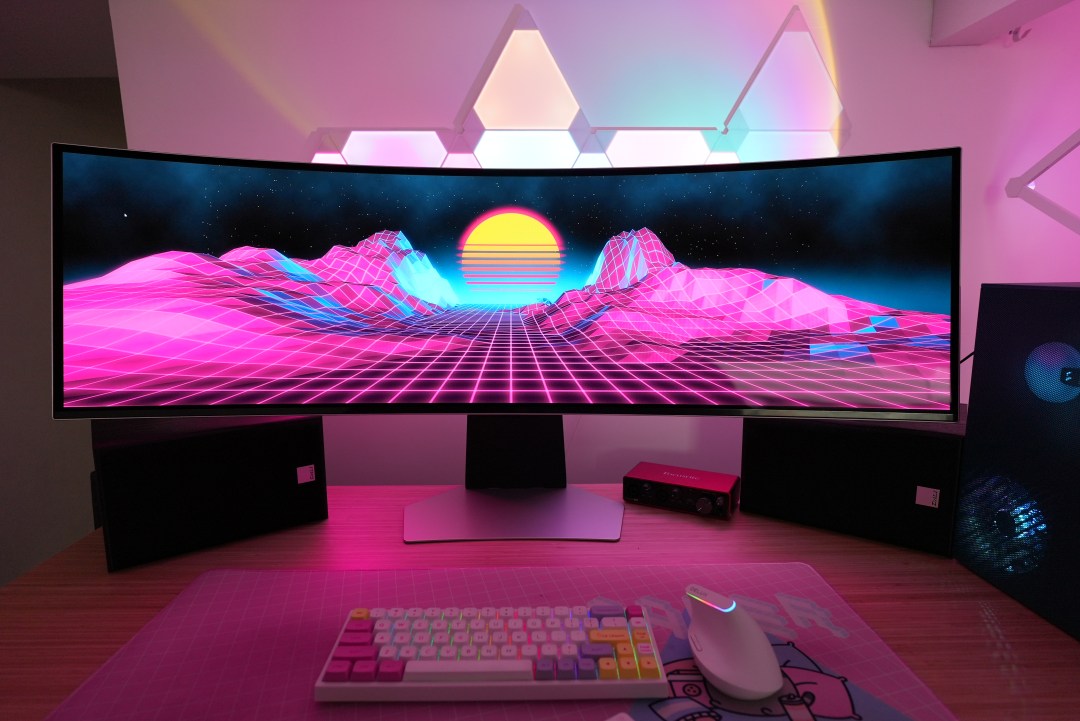 If you're lucky enough to be able to drop a couple of grand on a gargantuan 49in, ultrawide, 240Hz QD-OLED monitor such as the Samsung Odyssey OLED G9, congratulations: you've got money to burn and plenty of people to make envious. Meanwhile, the rest of us will be pawing through this review in the same way we read about the Bugatti Chiron: save for a lottery win, we know we'll never feel their thunderous engines rattle our vertebrae. And that's okay. We still read about 'em, because they're absolutely, aspirationally, bonkers.
Yes, the Oydyssey OLED G9 requires you to part with a ludicrous amount of money – but then again, it's a ludicrous bit of kit. No OLED monitor blends this screen size, ultrawide aspect ratio, and super-fast refresh rate together. On paper, at least, the Odyssey OLED is a gamer's dream. The ultimate experience. The End Game. But while its specs are absolutely drool-worthy, can it really live up to the hype? Does it deliver the perfect gaming experience? Will it take your multitasking and productivity to plateaus never before thought possible? Let's find out.
Design & build: monolithic masterpiece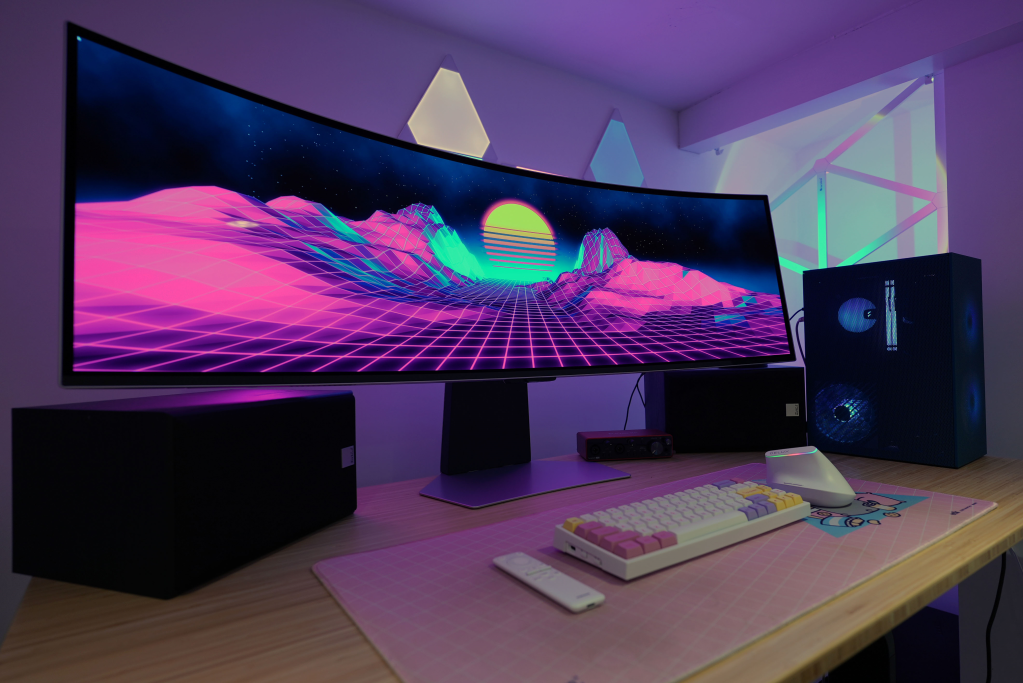 Massive. Enormous. Gigantic. Whichever synonym of "huge" you use, it still won't accurately portray just how vast the Odyssey OLED G9's 49in ultrawide display is in person. Dominating even the largest of desks, it will more than likely require some rejigging if you have extras like speakers and PCs on your desktop.
Owners of Samsung's older 49in Mini-LED Odyssey Neo G9 will be used to having a giant slab of curved glass dominating the room. Thanks to its OLED panel though, this latest G9 is noticeably thinner and lighter than its predecessor. This made setting it up an absolute breeze — simply slip in the height adjustable monitor arm, slot in the sturdy base, tighten two tool-less screws to secure, lift it out of the box, and you're done.
The OLED variant also has a gentler 1800R curve, compared to the Mini-LED model's more aggressive 1000R bend. While it's still a very noticeable curve, it makes for a slightly less problematic setup in terms of desk space. While some gamers might prefer the larger curve (especially those that want to maximise immersion in titles like racing sims), we rather like the more subtle approach — especially as larger curves are less ideal for productivity and design work.
In situ, the OLED G9 is an attention-sucking monster, but an elegant one. Its sleek metal base (which we prefer over the dual-leg variety) is less imposing and more practical, while the matte grey rear and subtle accent lighting provide a refined look without entering gaudy "Xtreme G4Ming" aesthetic territory.
Features, sound, & connectivity: specced to impress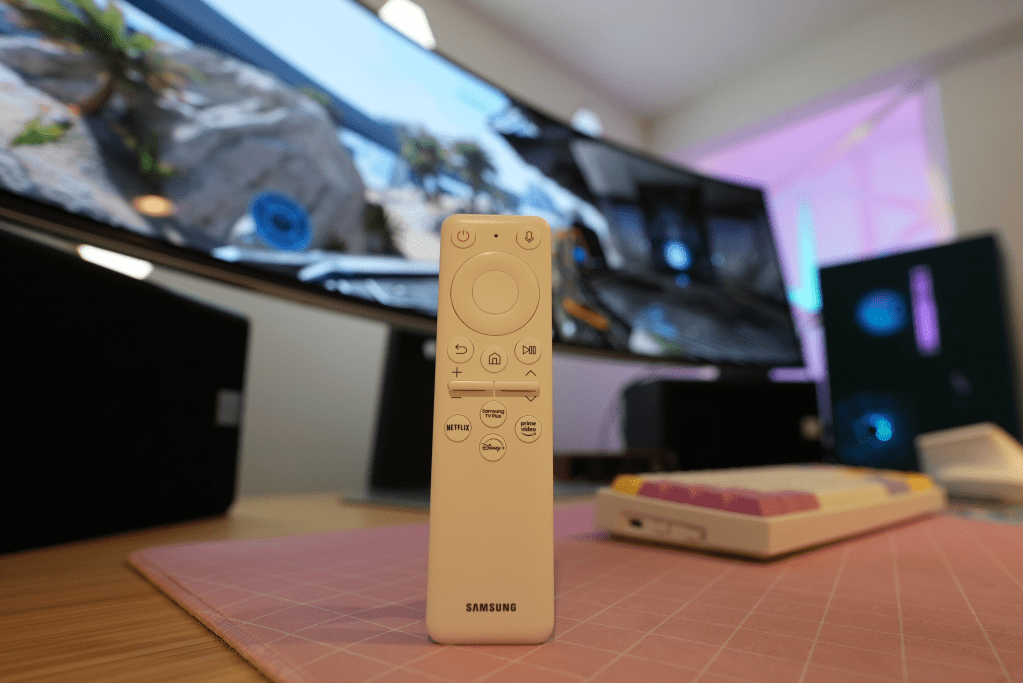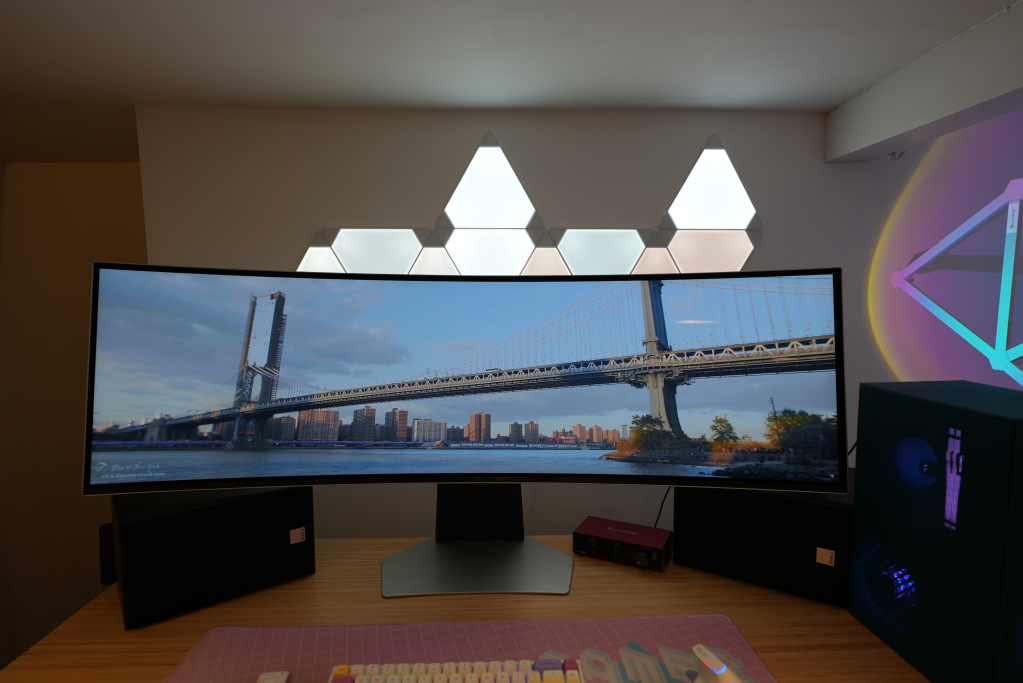 Fire up the OLED G9, and Samsung TV owners will be instantly at home. Running the same Tizen OS as its TV siblings, it's got all the built-in channels and apps like Samsung's Gaming Hub, Netflix, Disney+, and more. The included remote lets you navigate through all of these with ease, and is far more convenient than fiddly joysticks (although there's still one on the rear of the monitor, if you prefer). Our only gripe with it is the lack of a dedicated input switch button. It takes a fair few button presses to switch between apps and your PC input. You can use voice controls to open apps at least, with Bixby and Alexa offering their services.
On the sound front, we think users will be pleasantly surprised. Traditionally, built-in monitor speakers tend to be slotted firmly into the "why even bother category," with anaemic, tinny, ear-offending sound requiring mandatory headphones or speakers. But that's not the case with the OLED G9. The built-in dual 5W speakers are, quite frankly, rather impressive, reaching almost uncomfortably loud volumes without any distortion, while remaining meaty and balanced enough to let you enjoy games and films without reaching for headphones.
Sure, the bass is, as you'd expect, lacking when compared to a dedicated setup, but on the whole, you can rest easy in the knowledge that your eye-wateringly expensive monitor won't require any immediate supplementary purchases in the audio department.
Before we dive into the gorgeous inky black depths of the OLED panel, let's have a quick look around the back, where you'll find a ring of colour-changing LED lights (aka Core Lighting), and all of the main ports.
The former can be turned on or off depending on your preference, with the option to choose a specific colour, or have it mirror the on-screen action using the CoreSync mode. It's a nice, yet subtle addition to add extra ambience, especially if you've got a white wall behind the monitor itself — just don't expect Philips Ambilight levels of room-lighting power.
As for the ports, they include an HDMI 2.1 port, a Micro-HDMI 2.1 port, and a USB hub. Unlike the yet-to-be-released 57in Odyssey Neo G9, which features the latest DisplayPort 2.1 standard, the OLED G9 sticks with DisplayPort 1.4. This might be disappointing for future-proofing fans, but both it and the HDMI 2.1 port are more than capable of reaching the max 240Hz refresh rate at the panel's 5120×1440 resolution. The 57in, 7680 x 2160 Odyssey Neo G9 on the other hand requires the extra bandwidth provided by DisplayPort 2.1.
Screen and performance: a whole new world
We've teased you long enough. It's time to chat screen. At 49in, with an ultra-wide 32:9 aspect ratio, 5120×1440 resolution, QD-OLED panel, 240HZ refresh rate, and a typical brightness of 250 nits, this is easily one of the best, most spec-packed monitors ever made.
How do all those stats translate to the real world? Incredibly well. People can rave about the extra brightness and lack of burn-in worries that Mini-LED rivals offer all day long, but the second they'll lay eyes on an OLED panel of this size, their arguments will fizzle out like a sparkler in a downpour.
Everything from games and TV shows, to films and YouTube look utterly stunning on the OLED G9's display. The true blacks and punchy colours provide an immensely rich viewing experience, which, coupled with the impressive HDR performance, add an extra depth that you simply won't find in a non-OLED panel.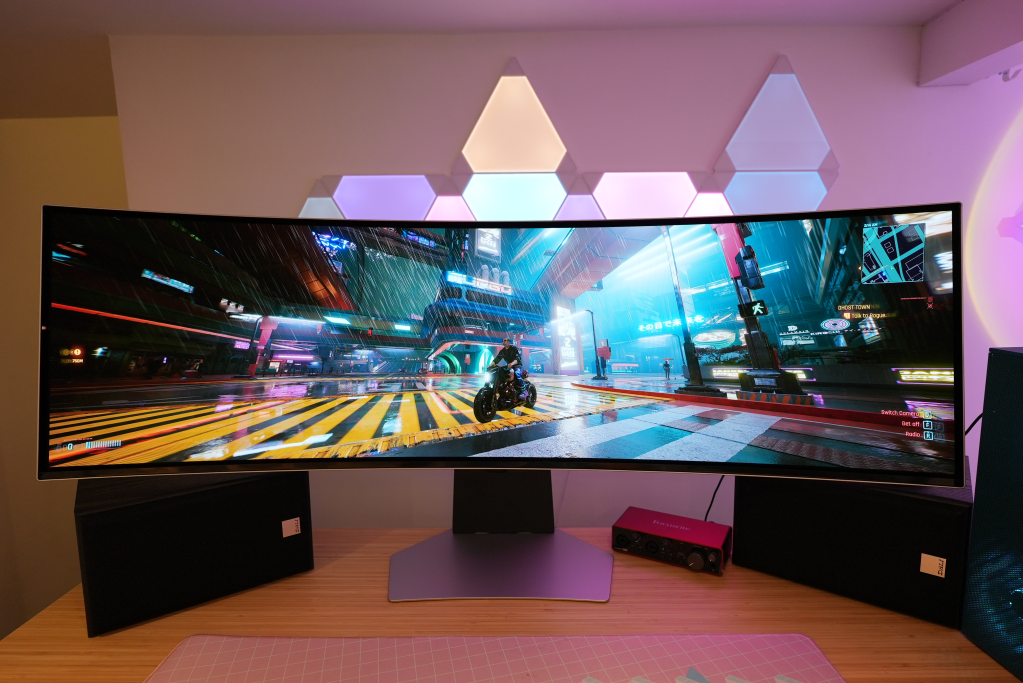 From exploring the candlelit corridors of Hogwarts to the shady back alleys of Cyberpunk 2077's Night City, there's a real sense of almost being able to dive into the screen and becoming part of the virtual world itself. It sounds like hyperbole, but honestly has to be seen to be believed. The immersion is, of course, made all the more impressive by that insanely large screen/aspect ratio combo, while the gentle curve adds to the experience even further.
Brightness levels are also impressive, thanks to the Quantum Dot tech. Although you still won't reach the eye-searing brightness of a Mini-LED monitor, we found the OLED G9's brightness to be more than suitable for use in a bright room, although it really (and quite literally) shines in the dark. If you've got lighting or a window behind you like us though, you might find the reflections from the curved nature of the screen a little distracting. The extent to which this will bother you depends entirely on your setup and personal preference, but it wasn't a major knock in our book.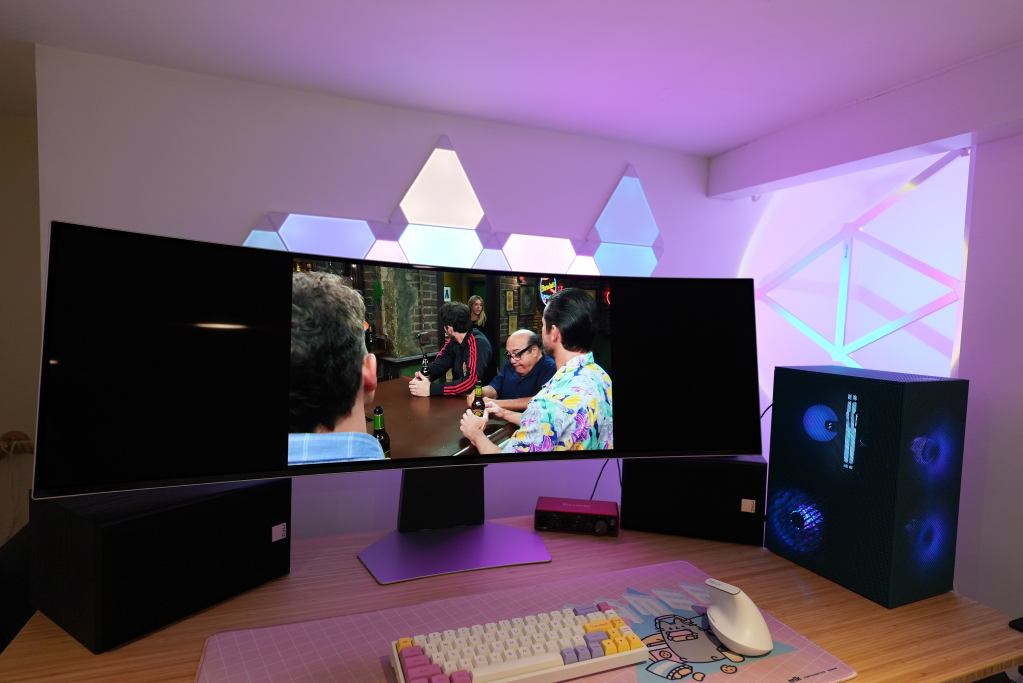 Gaming though, is where this level of immersion is at its highest. While films and TV shows look incredible, their more traditional aspect ratios mean that only a smaller, central portion of the display is used. Thankfully, given the nature of OLED panels, the resulting massive pure black bars on each side of the media aren't distracting.
You can also hunt around on YouTube for 21:9 and 32:9 content, but there's not much. The few 32:9 4K trailers and drone footage we found though, were stunning, thanks to their ability to make use of the entire screen. Overall, however, if you're planning to primarily watch a lot of media, this isn't the best use of your cash. A smaller (and cheaper) 4K OLED monitor or TV would make more sense for your needs.
Then there's the refresh rate. While 240Hz isn't at the absolute bleeding edge offered by serious esport displays, they are, for the most part, only around 25-27in, and typically max out at 1440p resolutions. You'll also be hard-pressed to find any graphics-hungry AAA titles that reach 240Hz. Even with a beasty Intel Core i7 1300K and Nvidia RTX 4090 running the show, 240Hz in games like Cyberpunk 2077 and Hogwarts Legacy at max/ultra settings proved to be impossible.
In less demanding esports games like Rocket League however, 240Hz was easily achievable and as buttery smooth as you'd expect – especially combined with the practically instant 0.03ms response rate. The OLED G9 also supports AMD FreeSync Premium Pro + VESA Adaptive Sync, but our Nvidia card still performed without a hint of screen tearing or stutter in sight. Having said that, our ageing gamer eyes fail to see much, if any difference between 120Hz and 240Hz, so the aforementioned games, along with the likes of Microsoft Flight Simulator and Halo Infinite all looked and felt amazing.
The 32:9 ultrawide aspect ratio, while providing superb immersion in single-player games, also provides a genuine advantage in multiplayer games too. Our performance in Rocket League absolutely improved, thanks to the ability to see so much more of the pitch, letting us plan manoeuvres much further in advance. Our Spartan-shooting skills also got a boost in Halo Infinite, as we could see enemies much earlier than if we were using a traditional screen.
It's worth noting, however, that some games are better suited for this ultrawide aspect ratio than others. Halo Infinite, for example, has handy settings that let you position the on-screen HUD (like the radar, ammo count, etc) closer to the middle of the screen, so that you're not wasting time turning to the corners of the vast display to keep on top of everything. In other competitive games, you might struggle with the extra width, though you can always play in a smaller windowed mode to avoid this.
As for HDR (VESA DisplayHDR True Black 400, to be exact), it works well, and looks stunning. There are various levels to tweak, both in-game, in Windows, and on the OLED G9 itself. But the upshot is that brightness and contrast levels come together to produce beautiful scenes that will enthral.
Productivity: work hard, play hard
It might seem odd to have a dedicated section to productivity on a gaming monitor, but given the huge amount of display real estate on offer, we imagine there will be quite a few people interested in the multitasking capabilities of the OLED G9 as well.
In short, working on this screen is an absolute joy. The ability to have multiple browser windows, Spotify, and Photoshop all open at the same time on one display is, quite frankly, a godsend. Sure, you can achieve the same results with a multi-monitor setup, but it's not as practical, or clean, and there's just something incredibly decadent about having all this space on a single monitor.
Now, given the subpixel layout of the QD-OLED panel, there will be a particular set of users (like those who browse the OLED Gaming subreddits) who will voice their concerns about the clarity of text on the OLED G9. We can only speak for ourselves, but both before and after running Windows 11's ClearType wizard (which tweaks text clarity to your preference), we honestly had no problems with text sharpness or clarity, despite being closer to the screen than probably advisable.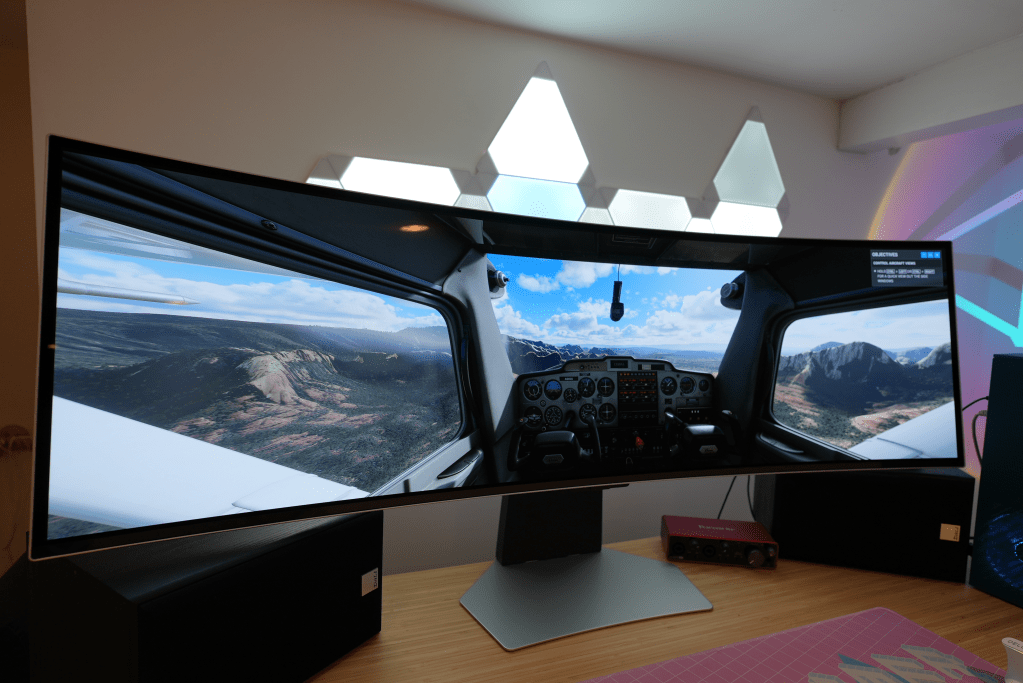 The only main problem we've had with using the OLED G9 as our gaming/work monitor, in fact, is the fear of burn-in. (AKA image retention) — the Achilles' heel of all OLED panels. Now, burn-in tech has come a long way, and there are plenty of built-in preventative measures available. The OLED G9, for example, has a Pixel Shift function which periodically (and, importantly, imperceptively), shifts everything in another direction by one pixel. That one feature alone goes a long way to alleviating a lot of our burn-in anxiety, but we still can't completely shake it — especially when we can spend eight or more hours a day with browser tabs and Photoshop toolbars on constant display.
Ultimately, between the Pixel Shift feature and remembering to turn off the monitor whenever you leave it, burn-in shouldn't be an issue for the lifespan of the monitor. The key word being "shouldn't". As with all other OLED screens, nothing can be guaranteed indefinitely, so this is something you'll have to consider for yourselves, especially if you want to run the OLED G9 as your main monitor for 5-10 years.
Personally, being the over-reactive, over-cautious type, we were very consciously aware of turning our monitor off and even moving windows around periodically, despite knowing that Pixel Shift was on. That overly cautious behaviour is, of course, entirely on us, but if you're of a similar disposition and also plan on doing just as much, if not more, productivity work than gaming, then this is something you'll want to consider. A Mini-LED monitor will completely eliminate this burn-in anxiety entirely, although, of course, at the cost of that glorious OLED performance.
Samsung Odyssey OLED G9 verdict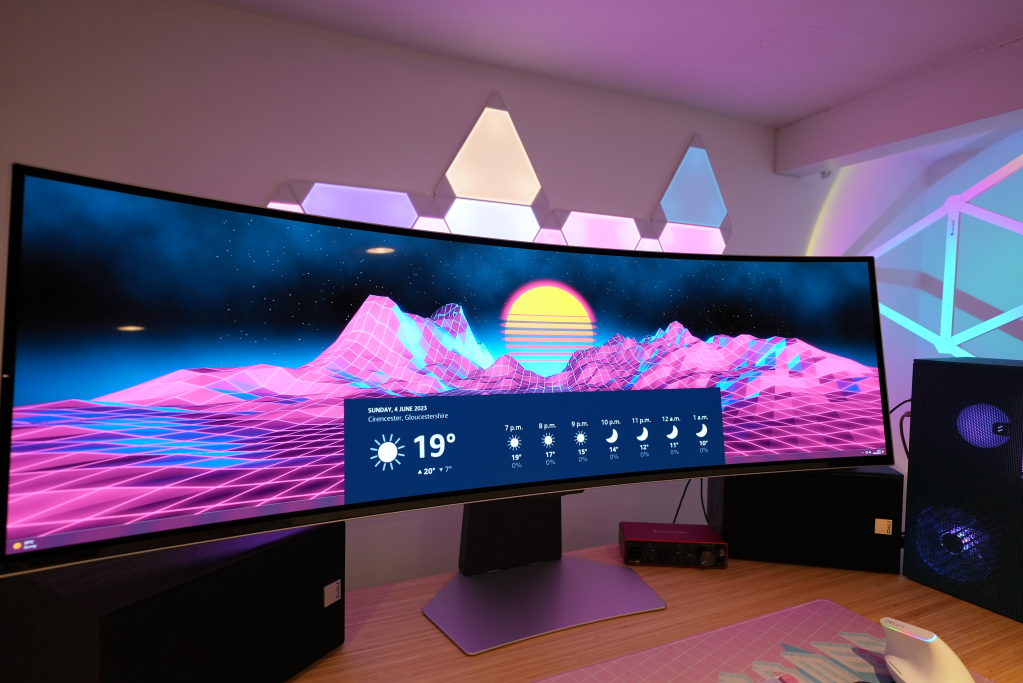 Is the Samsung Odyssey OLED G9 the best gaming monitor ever made? It's definitely up there. Combining the glorious performance of OLED with a super-fast refresh rate and ultrawide immersiveness, it's an absolute joy to experience. It won't be for everyone of course — its size alone is enough to be a dealbreaker for some. And then there's the ever-present concerns about burn-in, which will be hard for the most anxious of users to shake off.
Oh, and let's not forget the price. This is an absurd amount of money for most people to spend on a gaming monitor. But in the same way you wouldn't judge someone for dropping hundreds of thousands of pounds on a bleeding-edge hypercar, you can't really blame anyone for picking one of the best monitors in the world right now. But you can sure as hell feel jealous. We know we are.
Stuff Says…
A vast, gorgeous OLED screen with jaw-dropping performance to match, this is one of the best (and most expensive) gaming monitors around right now
Good Stuff
Stunning OLED image quality
49in ultrawide display is incredibly immersive
Quality HDR experience
Speedy 240Hz refresh rate
Bad Stuff
Massive desk footprint
Very expensive
Burn-in might always be in the back of your mind
Samsung Odyssey OLED G9 technical specifications
| | |
| --- | --- |
| Screen | 49in 5120 x 1440 QD-OLED, VESA DisplayHDR True Black 400 |
| Response Time | 0.03ms |
| Refresh Rate | 240Hz |
| Connectivity | HDMI 2.1, micro-HDMI 2.1, 2x USB TYpe-A, DisplayPort 1.4 |
| Weight | 9.2kg |
| Dimensions | 1194.7 x 365 x 180.8mm |