Nokia Lumia 830 review
The thinnest Windows Phone 8.1 mobile around, but is it thin on substance too?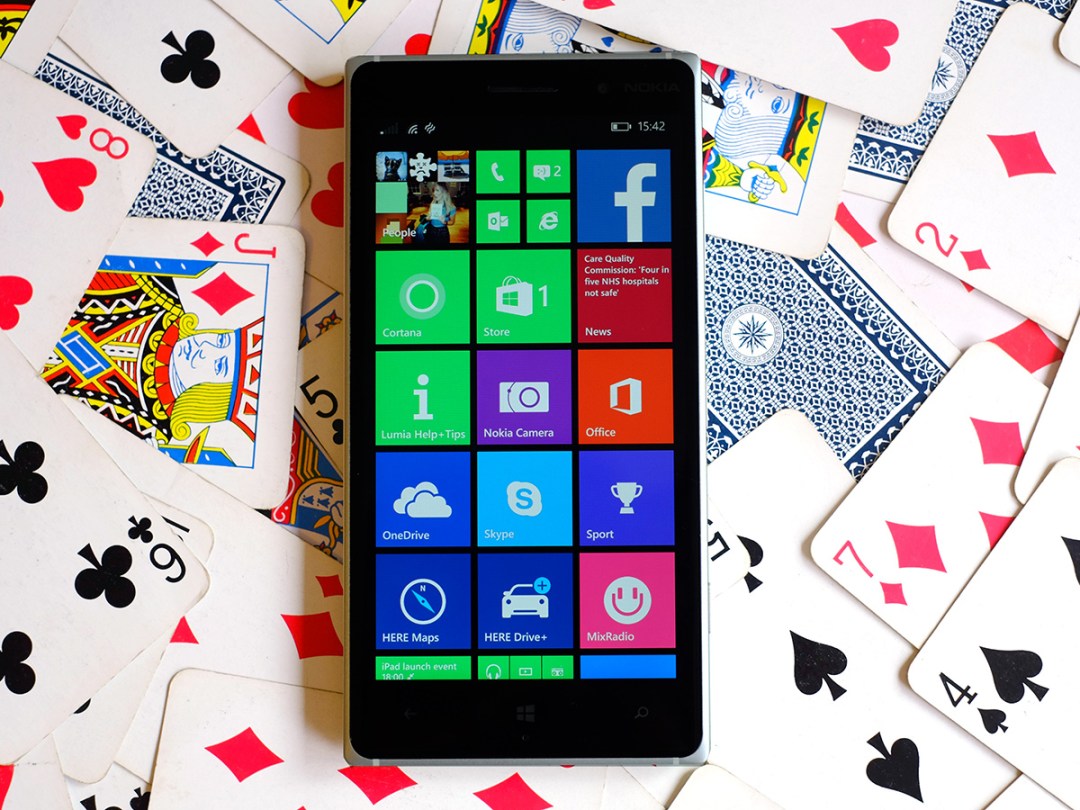 Nokia likes to pitch the Lumia 830 as a flagship phone without the flagship price. Lots of tech goodness for not much cash? We're up for that. 
The reality is a little different, as you might guess. Look close enough and you'll see little cuts in most areas. It's a flashy mid-range Windows Phone 8.1 phone, not a top-end one like the Lumia 930. However, Nokia's usual top-quality design work and some clever tech in the camera ensure that once you get past the numbers of the spec sheet you may stop noticing.
It's only gamers that lose out in the longer-term here. And, let's be honest, if you're a dedicated mobile gamer you're barking up the wrong tree with a Windows phone anyway.
At £300 SIM-free, the Lumia 830 really doesn't offer the stellar value Nokia keeps on banging on about, but it is a pleasure to use.
READ MORE: Windows Phone 8.1 review
When plastic and metal love each other very much
Nokia was the company that made plastic phones cool again. What was once considered a bit naff and cheap suddenly became fun and, unexpectedly, classy with Nokia's Lumia phones.
Nokia rebranded plastic as 'polycarbonate' and made it so that the colour wouldn't chip off if you dropped the phone after misguidedly trying to read Facebook while juggling a family pack of Quavers.
And we all loved plastic again. But Nokia has moved on with the Lumia 830.
This doesn't have the full plastic 'classic' Nokia phone design, instead using aluminium sides and a plastic back, but you do still get that other Nokia staple: colour. You can get the phone with a bright green or bright orange back.
White and black are also available if you find the brighter versions a bit headache-inducing, or just feel the weight of your years a bit too much for such frills.
It's a similar style to the Lumia 930, except here the back pops off. Removable plastic backs can feel cheap, but not here. There's little-to-no flex and the parts your fingers touch are usually hard aluminium.
Nokia is onto another design winner, except that the back cover is incredibly fiddly. You can't win 'em all.
This is also the first time we've really seen Nokia gun for a thin phone design. The Nokia Lumia 830 is 8.5mm thick, much thinner than the 9.8mm Lumia 930 or all-out chunky 10.4mm-thick Lumia 1020.
It feels great as a result. It makes sure that, for a 5-inch phone, it's very easy to handle.
Nokia still doesn't offer mega-slim bezels as an LG does, and it's not as slim as an iPhone 6 – not by a long shot – but in day-to-day use we reckon the Lumia 830 is one of the most pleasant Lumias to live with so far. Perhaps even the most.
READ MORE: iPhone 6 review
An LCD dressed up like an OLED
The screen doesn't quite reach such heights, but it gets close. The Nokia Lumia 830 has a 5-inch 1,280 x 720 pixel IPS LCD screen, which Nokia fanatics will immediately notice is a drop down from the Lumia 930's Full HD Super AMOLED panel.
OLED screens aren't categorically better than LCDs in phones, but they fit perfectly with the ClearBlack tag Nokia applies to its fanciest mobiles. ClearBlack is all about providing the best contrast, the best clarity, the deepest blacks.
With an IPS LCD screen, the Lumia 830 can't offer the contrast and black level of the Lumia 930, but it does get fairly close. You can see that blacks have a hint of grey to them, especially in a darkened room, but unless you watch movies in bed, it's not a big issue. This is one of the better LCD screens we've seen, too: like the Sony Xperia Z3 it offers good black performance for its type.
Colour performance is pretty fantastic as well. The Lumia 830 makes Windows Phone 8.1's Live Tiles really pop, without much of the radioactive eyeball-melting saturation you can sometimes see in an OLED rival.
You can tweak how the display looks, too, more so than in older Lumias. Like Samsung's top phones, the Lumia 830 offers colour profiles to customise how warm or cool the screen appears, how saturated it is and even the colour tint.
It's among the very best screen customisation interfaces we've seen in a phone, letting you make meaningful tweaks without giving you the scope to be able to completely ruin the display.
In other respects, it does seem as though the Nokia 830 misses having an OLED screen, though. It displays the time and any recent notifications in black and white for a while when you turn the screen off. This was originally introduced for OLED models because, as OLEDs don't use a backlight, it doesn't use much power.
You don't get the same benefit with LCD, meaning the Lumia 830's taking a bit of a battery hit for this – although not a major one.
The eagle eyed will also notice that the Lumia 830 doesn't have a Full HD display. Its 294ppi isn't quite high enough to get you that Retina-style perfect sharpness, but the display is certainly in 'sharp enough' territory. Those who really care about screen sharpness might want to consider the LG G2 or Nexus 5, both of which are available for the same amount or less these days.
The Lumia 830's brightness setting could possibly be improved, too. As with other Nokias, it offers three manual brightness settings (low, medium, high) or an automatic one. We often found that the Lumia 830 was a bit too bright when set to auto: no good for that last bit of Facebook'ing in the cinema before the trailers roll.
There is a way to customise auto brightness in the Settings menu, but it changes the level in general, meaning dimming it reduces maximum brightness as well as the minimum level – and we're not convinced that many people will even realise it's there.
Still, being a bit bright in dark rooms is better than not being able to see the Lumia 830 in bright sunlight. Outdoors visibility isn't quite on-par with a top Super AMOLED screen, but the phone's screen is still easy to read on a sunny day. Crank up the auto brightness setting lever to max and the display goes seriously bright.
READ MORE: LG G2 review
Gazing through Windows
We imagine many of you have seen what Windows Phone looks like by now, and there's not a great deal that makes the Lumia 830 stand out in software terms.
It's quick, it's snappy and it looks good. Only a few of the extra bits added in Windows Phone 8.1 let down the side a little.
For example, Windows Phone is all about smooth transitions and slickly moving interface elements. And in Windows Phone 8.1 Microsoft added the Action Center, a notifications system a bit like the one found in Android.
Sometimes this menu scrolls like the sort of rickety old lift you might find in Fawlty Towers. The effect seems to come and go, and we think it's a sign that Action Center hasn't been optimised quite as well as some of the other parts of Windows Phone 8.1, the bits that were there in earlier versions. That said, we're glad it's there – it's very handy.
Unfortunately, we did notice a few performance issues elsewhere. It's not general performance – loading apps is quicker than with an entry-level Lumia – but gaming.
Some games that would perform just fine on mid-level Android stutter on the Lumia 830. For example, in Asphalt 8 the slight slow-down causes juddering in the audio as the action fails to keep up with the frame rates the game expects.
A big part of this may well be that developer Gameloft hasn't optimised the Windows version of the game as much as the Android one, but once you've bought a Lumia 830, whose fault this is becomes academic. Despite having a great screen, this is not a great gaming experience.
And, while we've said this a hundred times before, Windows Phone 8.1 still doesn't have the apps and games wealth you get with Android. We're frequently surprised by how often we come up against app limitations even today.
It's not just missing apps, it's underdeveloped ones. Key apps will often lack the little extra features you'd find in the iPhone and Android versions. Just make sure you're ready for this: it can get frustrating.
READ MORE: The 25 Best Free Windows Games
More of a nice mid-terrace than a true powerhouse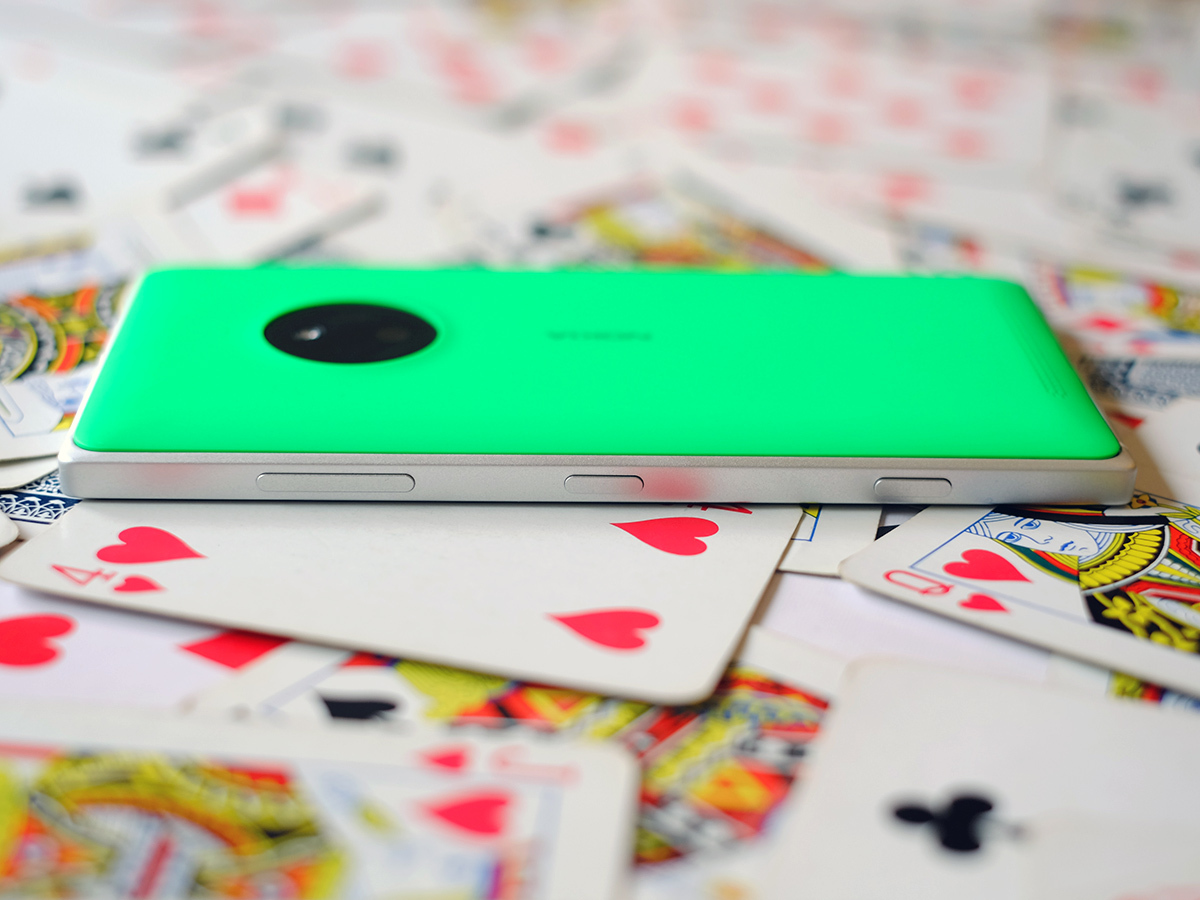 So what actually powers the Nokia Lumia 830? It's a processor we see in loads of entry-level and mid-range phones, the Snapdragon 400 from Qualcomm.
This is a quad-core CPU clocked at 1.2GHz. We think it's a bit stingy given the price – it's less powerful than the Snapdragon S4 Plus of the Lumia 925, which is available for a chunk less nowadays. We're torn here, as while the Snapdragon 400 is a solid chipset, and provides good performance in the Windows system, it's clear that some under-optimised games could do with a bit more grunt.
And it's hard to forget the £100-odd Motorola Moto G uses the same CPU. If you're going to get hung up on these issues, the Lumia 830 might not be the phone for you.
At least internal storage is reasonable. You get 16GB of internal memory, plus a microSD card slot under the plastic back.
There are also some important extras that are generally missing from cheaper Lumia phones. You get 4G – although we'd be pretty annoyed if a £300 phone didn't have this – and NFC.
READ MORE: The Best Cheap Smartphones Reviewed
Slow and Steady: the Nokia camera way
The Nokia Lumia 830 has an interesting camera, too. Its sensor is a lot lower-res and smaller than the top Nokia PureView phones, but it also has optical image stabilisation and much savvier image processing for rubbish light conditions than most mobile cameras.
It has a 10-megapixel sensor that's 1/3.4 of an inch in size. That's not very large or high-res for a camera given the PureView tag: the Lumia 930's is 1/2.5 of an inch and offers 20 megapixels. If that sounds like numbers jargon, the Lumia 930 has a much beefier camera brain.
And yet the Lumia 830 impresses a good deal in some conditions. We'll get to those, but let's get the bad bits out of the way.
As with most Nokia phones, it's not very fast at shooting. You can only take a photo around every two seconds, where iPhones and Samsung phones can often manage several a second.
The Nokia Lumia 830 offers a burst mode called Smart Sequence to make up for this – it takes ten photos in the space of a couple of seconds. But they're not full-resolution shots and the focal point stays static throughout, therefore it's not a real replacement for faster shooting unless you a) don't care masses about image quality and b) have time to plan to actually use this mode.
Like other Nokia Lumia phones, the Lumia 830 also confuses things by having two camera apps: Nokia Camera and the standard Windows camera app. The latter is basically there because Nokia can't wipe out what Windows puts in place.
Despite having all this extra camera app bloat, there's no HDR mode either. Those sort of larger-than-life cloudy sunset photos you can get with most Android phones aren't really possible with a Lumia 830.
Now the good bits.
The Lumia 830's great at adjusting the exposure level of your photos so they don't end up looking too dull, and appears to make some dynamic range tweaks through processing. You don't have to try too hard to take good photos with the Lumia 830. Close-up focusing is also way better than average. As well as having manual focus control in the Nokia Camera app, we found getting macro shots with the autofocus far easier than we're used to.
The Lumia 830 also offers something we don't often get in phones anymore: a physical shutter button. It's a proper two-stage button as well – depress it a bit to make the Lumia 830 focus, then push it down all the way to take the shot. Using the touchscreen is more-or-less ingrained into muscle memory these days, but it's nice to have the choice.
Where the Lumia 830 really stands out from the competition, though, is its low-light photo shooting.
Through a mixture of fairly intense but intelligent image processing and use of optical image stabilisation, the Lumia 830 can make virtually any scene appear bright and clear. Even if it's past midnight and the only illumination is a street light 25m away. With some of our sample photo scenes, other cameras would display a pretty dark, muggy image. It's all clear with the Lumia 830.
We've seen similar effects in Sony's top-end Xperia phones, and it helps make the Lumia 830 a very versatile night-time snapper – and this is without using the flash. The only downside is that using optical image stabilisation to slow down the camera shutter means you'll see a bit more blur in moving objects. But it's better than the shots being plain horrible.
The front camera isn't much cop, though. With a 0.9-megapixel sensor, you get bog-standard selfies and little more.
READ MORE: Sony Xperia Z3 review
Lumia 830 vs Duracell Bunny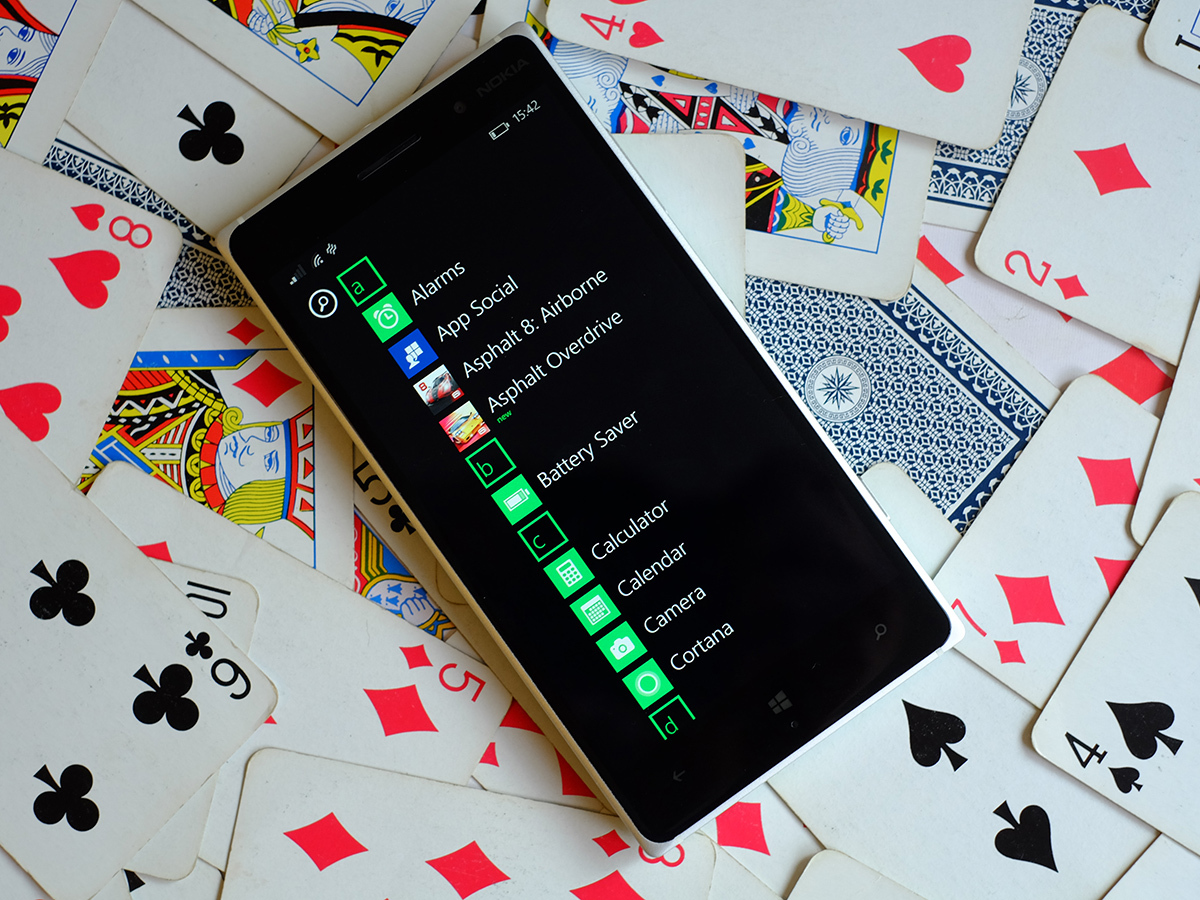 The Nokia Lumia 830 has the 'good results most of the time' thing down, and this adds to the ease of use supplied by the slim, great-feeling body. However, it doesn't have quite as capacious a battery as some rival phones.
It uses a 2200mAh battery, a chunk smaller than the Lumia 930's 2420mAh one. In general use, we found the stamina perfectly good, if not exactly worth a standing ovation.
You'll generally get a day and a half's use, which is enough to give you the buffer that stops you from having to worry about where you'll get your next charge from. We have seen better performance from some Androids at the price, though. For example, the LG G2's match of a Snapdragon 800 CPU and 3000mAh battery sees it comfortably beat the Lumia 830.
So if you're looking for a phone at the price, rather than a Windows one in particular, don't forget last year's golden oldies. There's life in them yet.
The inbuilt speaker is also a bit of a weak point. It sits on the back, is mono, and doesn't have the beefiness that marks a genuinely good speaker from one that's so-so. As is the norm with a Nokia, call quality is very good, though.
READ MORE: Apple iPad Mini 3 review
Nokia Lumia 830 verdict
The Nokia Lumia 830 succeeds because it's so pleasant to use in a very simple way. It's among the slimmest and lightest large-screen Windows phones, and the screen is both bright, clear and colourful. Those merits go a surprising distance here.
If you're a hardcore mobile phone user, you might find yourself hankering after a bit more, though. 1080p phones with much more powerful CPUs are available for the same money if you're willing to side with Android rather than Windows.
And if you want to be sure you've got access to all of the newest and greatest apps, or if you're into mobile gaming, we recommend doing so. However, if Windows sounds like your bag this is one of the best pieces of mid-range hardware Nokia has created yet.
Stuff Says…
Gamers and app-ficionados should steer clear, but those after an easy to use, attractive Windows phone will lap up the Lumia 830
Good Stuff
Slim, stylish and nicely made
Vibrant screen
Good low-light camera performance
Bad Stuff
A bit expensive
Not great for high-end games
Low-end CPU for the price