Nest Thermostat E review
E's are good, E's are good
Smart thermostats represent one of the most hotly contested (sorry) areas of the connected home, with Hive from British Gas and Honeywell competing with disruptive upstarts like Netatmo and Tado.
Controlling your heating from anywhere in the world and creating an intelligent schedule to lower your bills makes sense and is a key reason why Nest's Learning Thermostat has been a bestseller since going on sale in the US in 2011.
Meanwhile Britain waited until 2014 for Nest's second generation thermostat before we could officially cosy up to the cute controller.
And there's been a third generation since that which is thinner, with a bigger and better screen, increased functionality, plus a wider range of polished metal finishes – but ultimately, still requires expert installation and feels all too much of a faff.
Nest has obviously been paying attention because the Thermostat E – a slightly cheaper alternative that can be placed anywhere in the home can be self-installed, supposedly. 
So… is the E scalding hot, or does it leave us feeling a little cold?
Design: Frosty the showman
The Thermostat E isn't made from metal. Instead you get white polycarbonate with a ceramic-feel finish and a USB power lead. It's nice, if not as premium as its slightly more expensive sibling, but retains the same dial interface and user-friendly controls.
Other concessions include a 1.76in 320×320 display with a frosted overlay to give graphics a subtle glowing effect, compared the third gen's more colourful 2.08in 480×480 screen. The E also does away with Farsight, which wakes the Learning Thermostat's display when in close proximity.
Elsewhere in the box you get a battery-powered Heat Link E. Wrapped in grey fabric and resembling a Google Home Mini (Google owns Nest, so that figures), it replaces your existing thermostat and is wired directly to the boiler. Also bundled are two electrical terminal blocks and wall mounting fittings for the Heat Link E.
All in all it's a neat package and first impressions are you don't need to be an all-star Corgi-registered heating engineer to install everything.
Installation: Eazy-E?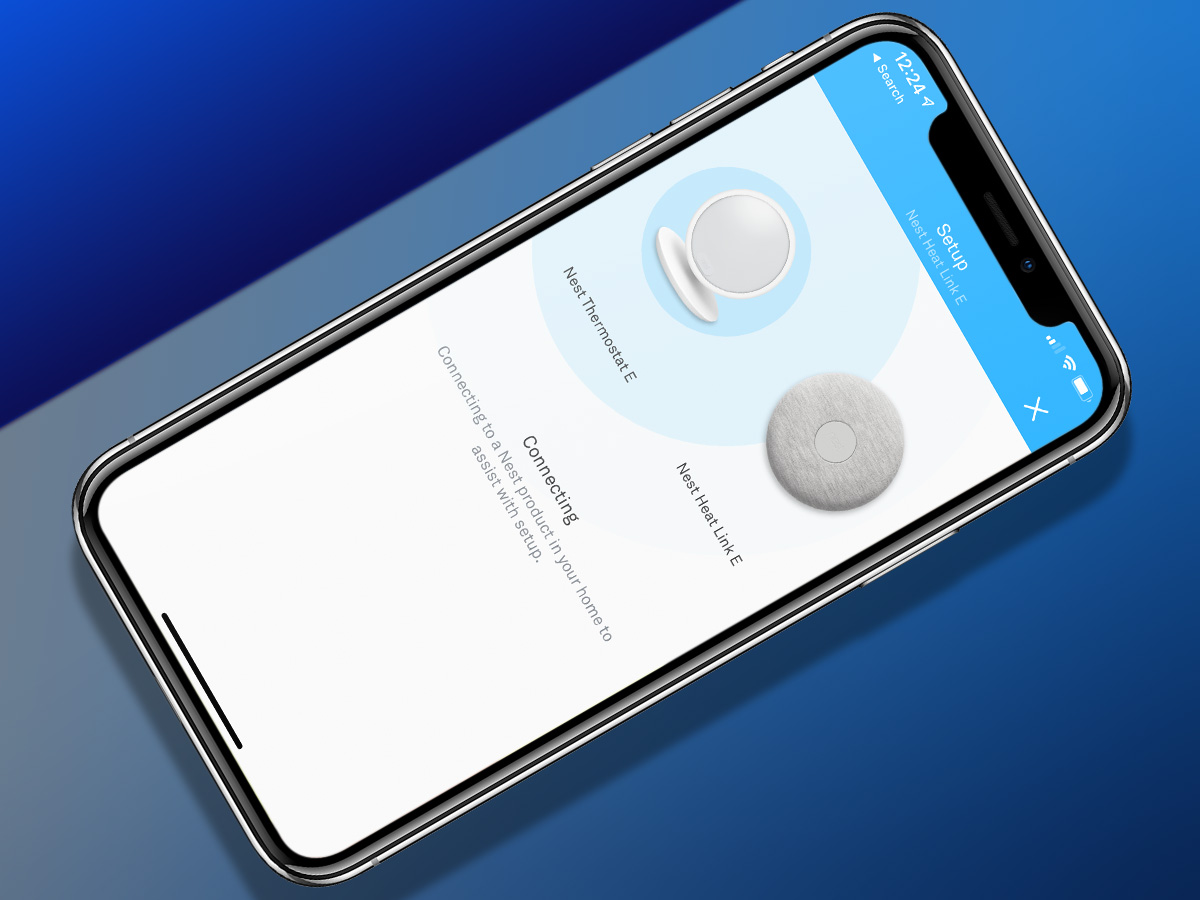 Nest have made a big deal of the fact you can install the E yourself and the accompanying instructions do make it look relatively simple, but before purchasing use Nest's compatibility tool to check it will work with your heating system.
Download the free nest app, click the '+' in the top right to add a new product and you're guided through a Q&A setup process, where your answers determine the correct installation method.
After following the initial safety precautions to stop you from electrocuting yourself, the idea is to use the existing wires leading from your boiler to your thermostat, and feed them into the Heat Link E instead.
As I was undertaking an incremental upgrade from an existing Honeywell digital wireless system with a two-wire setup, this was done and dusted in under 45 minutes, with time for a coffee and a couple of Digestives.
Unfortunately, if your current setup isn't that simple, and you don't have a basic grasp of electricity, it's probably best forking out the extra £60 for a professional install – heed the advice of Public Enemy's Chuck D: "Your crossed wires are always starting fires".
Place the Thermostat E where you want it or move it around – just ensure it's plugged in. This makes it more practical than the Learning Thermostat and takes advantage of temperature readings in different parts of the house.
With a Nest Hello video doorbell already on the network, the thermostat should have automatically connected to my Wi-Fi, and it's the same if you own an existing Nest product.
In reality, this didn't quite happen and I had to manually select the network after rebooting it. This may have been to do with my broadband than the thermostat, so I'll give it the benefit of the doubt. Finally, remove the blue tab from the Heat Link E and you're set.
How it works: Plug In Baby
The Heat Link E is controlled by the plug-in Thermostat E or via the Nest app. Choose between Heat, Off, or Eco to set everything to an agreed temperature so the heating only kicks if it drops below that level.
Like the Learning Thermostat, you can set your own schedule or let it build a history of your habits. The E also comes with a pre-loaded schedule based on the usage data of existing Nest users, setting it apart from its competition.
True Radiant learns how long your home takes to warm up and shuts down the boiler earlier – brilliant for lowering those bills. Home/Away assist uses your phone's location – and anyone else's connected to that thermostat – to automatically switch in and out of Eco mode when coming and going from the house.
As well as taking the temperature, the thermostat has sensors for humidity, ambient light, proximity and occupancy. The Heat Link E carries an additional temperature sensor and an override button should the thermostat or the app fail.
The E itself is sturdy and weighty, while its display graphics soft, subtle and welcoming. The outside dial rotates like the Learning Thermostat for adjusting the temperature and other settings.
It's arguably the most user friendly smart heating system for the home and a joy to operate. However, unlike the Learning Thermostat, the E doesn't control hot water, so for those with a seperate tank it could well be a deal breaker.
Voice support: Go go Google gadget
Nest is Google-owned so it works flawlessly with Google Assistant as expected. There are voice controls for pretty much everything, and you can also use the Google Home Hub to toggle settings.
There's no Amazon Alexa support, but as with the Learning Thermostat, Alexa shouldn't be too far behind.
Standard IFTTT is a-ok and there's also Works with Nest that includes the potentially life-saving trick of turning off the heating if your Nest Protect detects carbon monoxide.
Verdict: E's are good… within reason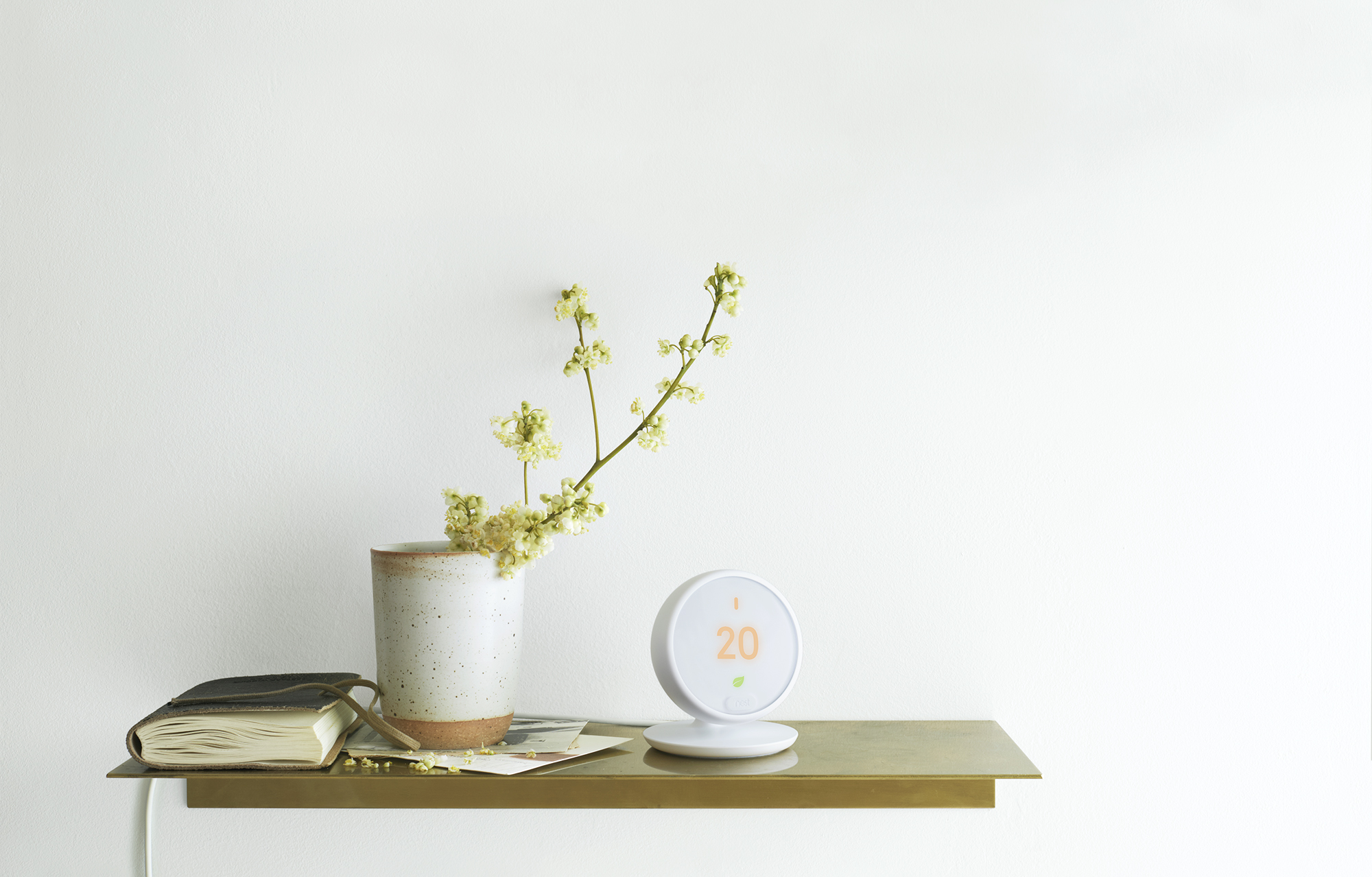 Of all the smart home families to choose from I've always found Nest products the most thoughtfully designed and user friendly. The E has done nothing to waver that view, even though I'm an iOS user and it's not HomeKit compatible.
The E has certain advantages over the Learning Thermostat; greater flexibility with placement, easier to install with the right setup, a subtle design and display that blends with your surroundings, and a pre-set heating schedule based on big data.
The decision really rests on whether a) You feel comfortable installing it yourself and b) Need hot water support. If you answered 'no' the the first question and 'yes' to the second, then the Learning Thermostat with a flash finish is an extra £20 well spent.
Stuff Says…
A supreme smart thermostat, but not necessarily the best Nest for you
Good Stuff
Subtle design
Flexible placement
Easy install within reason
Bad Stuff
No hot water support
No Alexa or HomeKit
marginally cheaper than the Learning Thermostat