Motorola Moto X Play review
Heavy duty Android for hardcore users on a budget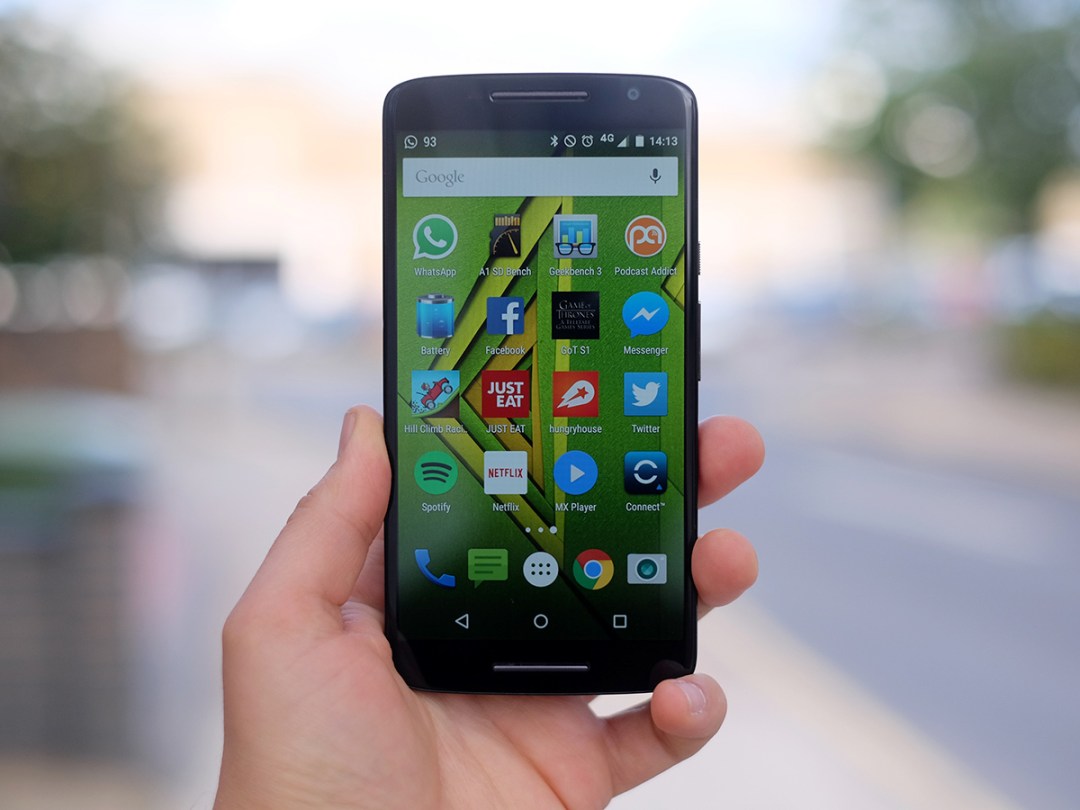 The Moto X series is where Motorola usually places its fancy phones: the ones that'll bludgeon your budget at least a bit, but tend to look and feel fancy. However, the Moto X Play is different.
This £269 phone is really a cheaper antidote to phones that cost £500 or more. Having lived with the Motorola Moto X Play for a while now, we see it as a hybrid. It's like the Moto G stepped into the Moto X factory and ended up having a bit of an XL-size makeover.
That's no bad thing. What you end up with is a phone with a dashing screen, impressively detailed camera and long-lasting battery, just without the flashy design bits you get on the Moto X Style or something like the Samsung Galaxy S6. If you have the patience to deal with buying one, we still prefer the OnePlus 2. But this value-soaked mid-ranger isn't too far off the top spot.
Leave the metal to the 80s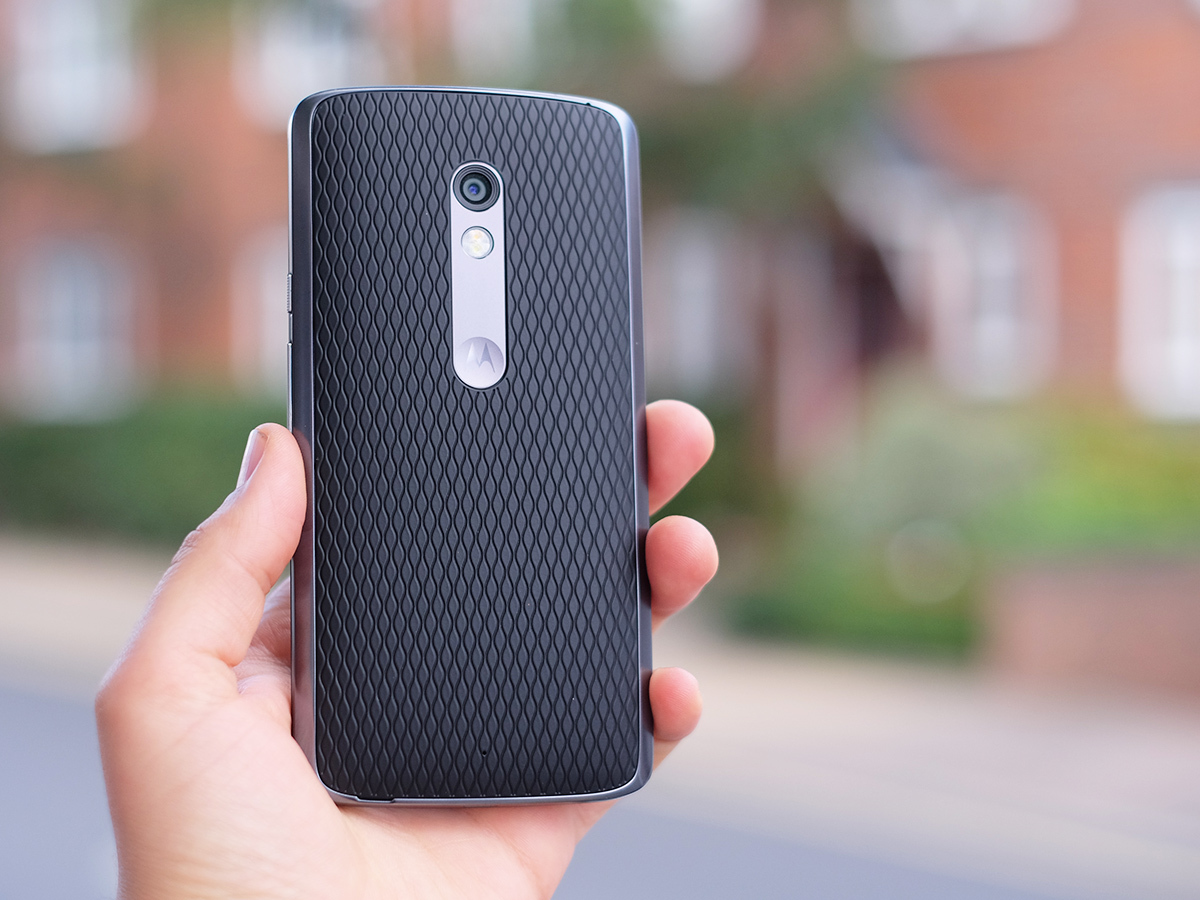 Let's get the most obvious cut-price bits out of the way first, though. And why we think the Moto X Play is a bit more Moto G style than X-factor grade.
Motorola has quite obviously gone for a more affordable, heavy duty feel with the Motorola Moto X Play. It doesn't try desperately to seem high-end or catwalk-ready. The phone has a plastic rear, and plastic sides that have a slight metallic glint to them: but it's all in the paint job.
Like the Moto G, the one little bit of metal is the 'accent' that sits by the camera lens. Thanks to a tubby-but-smoothly curved design, the phone feels good, but isn't exactly going to wow your digits. The deep-ridged contouring on the back is a clear sign the phone is designed for practicality too. Not for showing off to your friends.
It's a little bit odd, then, that the Moto X Play isn't fully waterproof like the Moto G. It doesn't have those all-important rubber seals. Instead it claims to be just 'water repellent'. In other words, don't worry about the rain, but don't drop it in the bath. The SIM and card slot are kept in a little tray up top, which should help keep them fairly safe, mind.
Find the look a bit plain? Our black/grey version is about as vanilla as the Moto X Play gets, and there's also a white body version and a load of different-coloured back plates to choose from if you buy direct from Motorola. As the battery cover is just yanked off with the help of a fingernail, buying them later on should be no problem too.
Avoiding overkill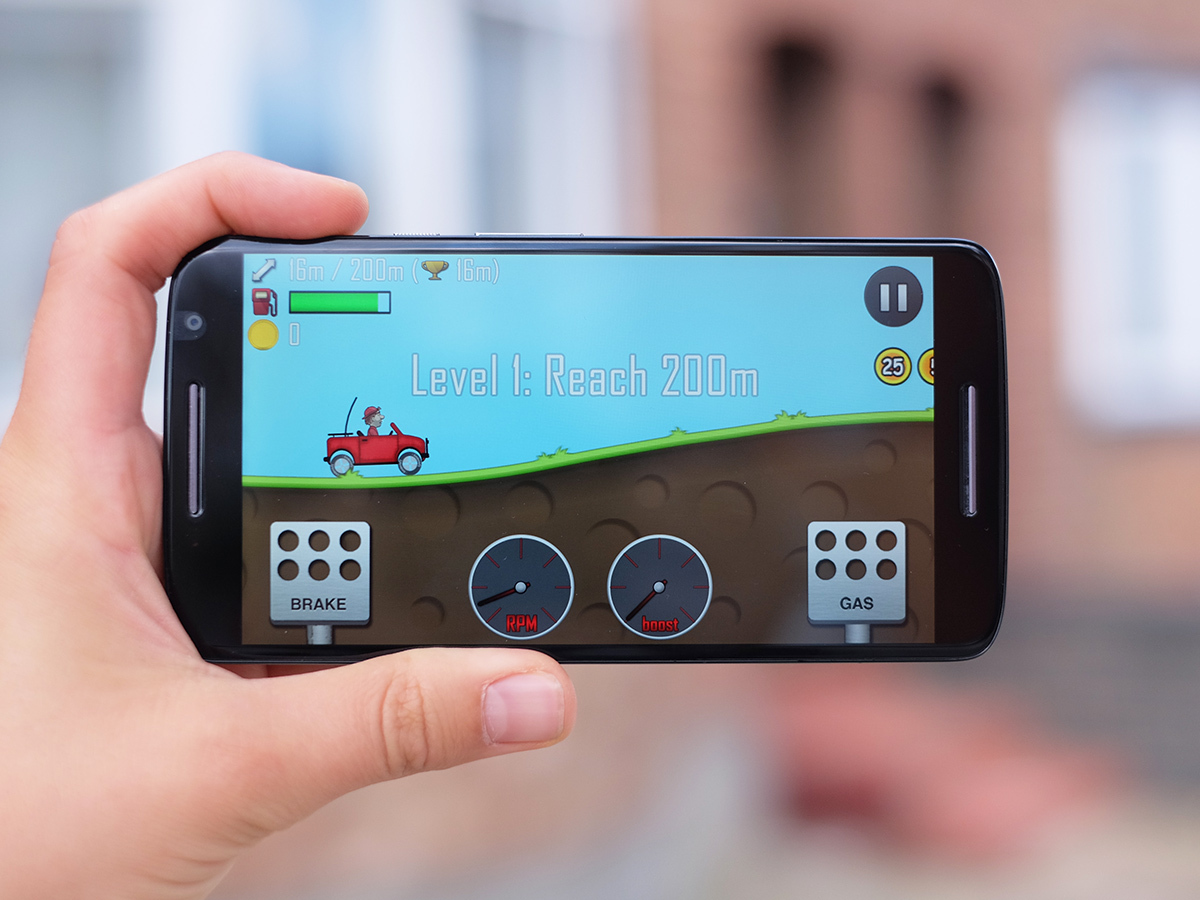 So far the Moto X Play seems a bit like a Moto G blown up in size. However, its screen is a good league or two ahead, cutting out all the sense of compromise you get with a 720p screen.
It has a 5.5in 1080p display, the same as the OnePlus 2, and somewhat-similar to the Sony Xperia Z3+ and HTC One M9. This is an IPS LCD screen much like those, and while it's not quite up there with the best mobile phone screens in the universe, it doesn't seem too shabby put next to them either.
First of all, Motorola has really got the colour level right. From the company that made the Moto X (2014), a phone with colours so vivid they look as though they might burn right through the screen, the Moto X Play has nice natural-looking shades. And if you want that bit of extra boost, there's a Vivid mode that offers slightly more saturation than the Natural one.
I find a lot of turbo-charged screens kinda difficult to look at, but I could live with either mode. Nice work, Motorola.
Motorola's Moto X Style does offer that next level of screen quality, with a 2560 x 1440 screen like the Samsung Galaxy S6. But it's a much smaller leap than 720p to 1080p, getting you about 90 per cent of that phone's visual pop.
The one giveaway element that the Moto X Play isn't the most expensive screen panel around is that the backlight is a tiny, tiny bit inconsistent up at the top. But it's very minor.
The predecessor › Motorola Moto X (2014) review
Software: subtle Moto sauce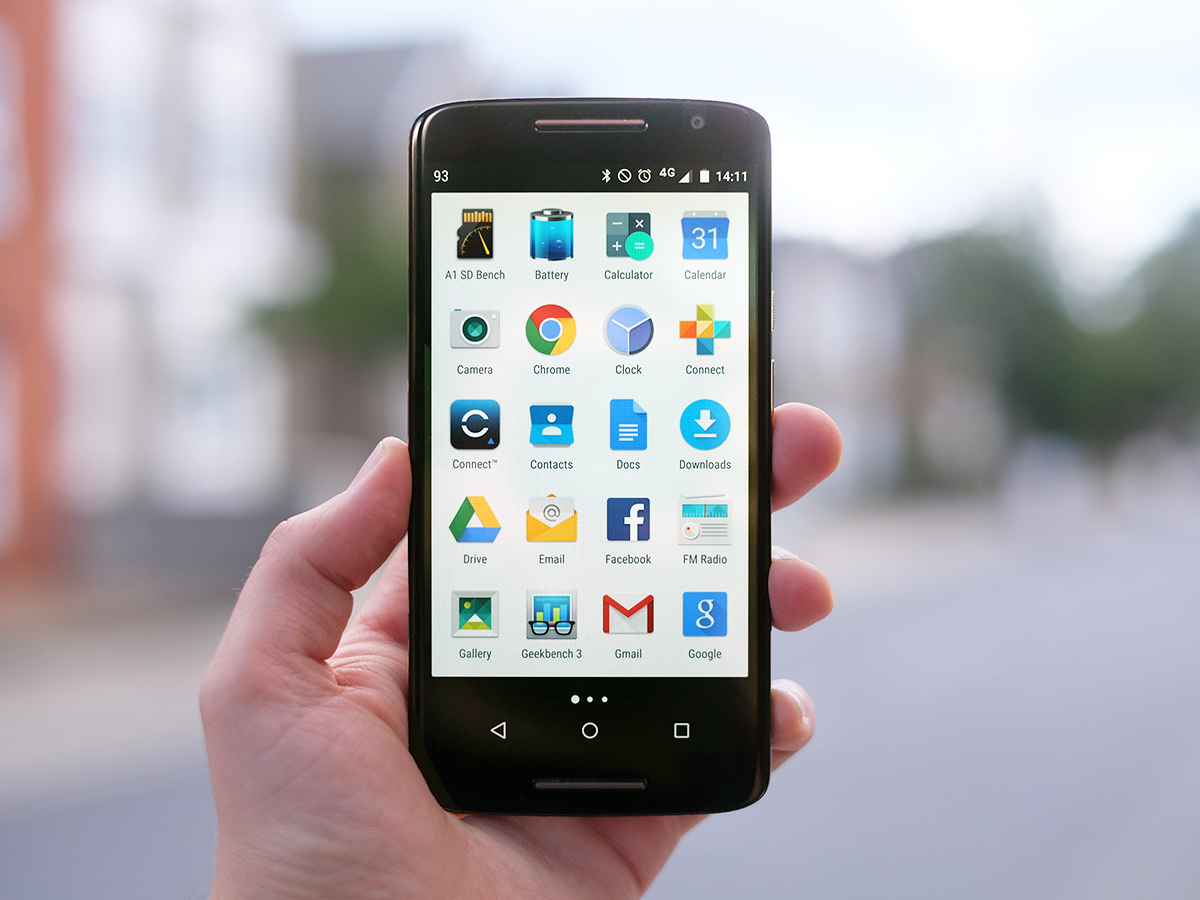 As ever these days for Motorola, the Moto X Play has software pretty similar to a Nexus device, with zero app bloat loitering in its app corridors. You get the Android Lollipop Google Now look, with just a couple of extra Moto apps and little tinker-y bits under the hood like that screen colour flicker I mentioned earlier.
Want to get your bloat-identifying magnifying glass on those extras? There are just two apps. Moto sets up the Do Not Disturb function and a few others bits, while Migrate helps you transfer all the rubbish from your last phone, just to make sure your new mobile runs as badly as your old one. Remember: there's nothing wrong with a fresh start now Google remembers all your phone numbers.
So far it's a case of: nothing offensive, but nothing worth much more than a shrug of the shoulders. There is one special software extra, though. It's called Active Display and is a new sleep display that turns on whenever you get a notification. It also works whenever the sensors pick up that you're handling the Moto X Play making it that bit snappier to use.
Octa Loungecore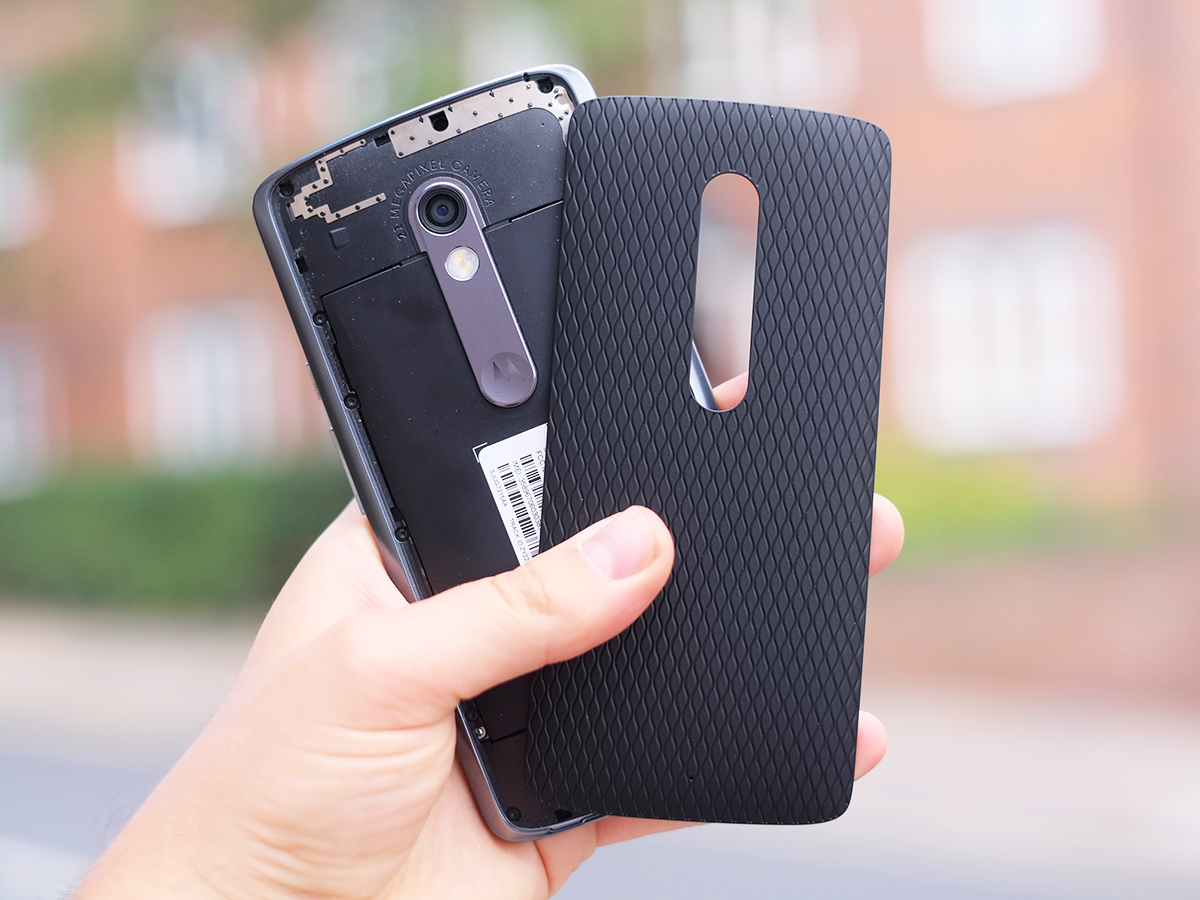 It's fast almost all the the time too. The Moto X Play has a Snapdragon 615 CPU, which is kinda like a turbo eight-core version of the Snapdragon 410 used in the Moto G. It's a true mid-range CPU, not a high-end one like the Snapdragon 810 used in the OnePlus 2.
Does it matter? Not for the most part. The Motorola X Play is generally very snappy. There's just the very occasional slight glitch as you move between areas of the phone or load some apps. It's the sort of performance we expect from a mid-range phone running Android Lollipop, which is unfortunately a lot slower than the Android 4.4 KitKat software that came before, for some reason.
In Geekbench 3 the Moto X Play scores 2641 points, a solid mid-ranger result but around 2000 points less than top phones and — more importantly — the OnePlus 2. Anything less at £270 would be a bit disappointing.
All your megapixels are belong to us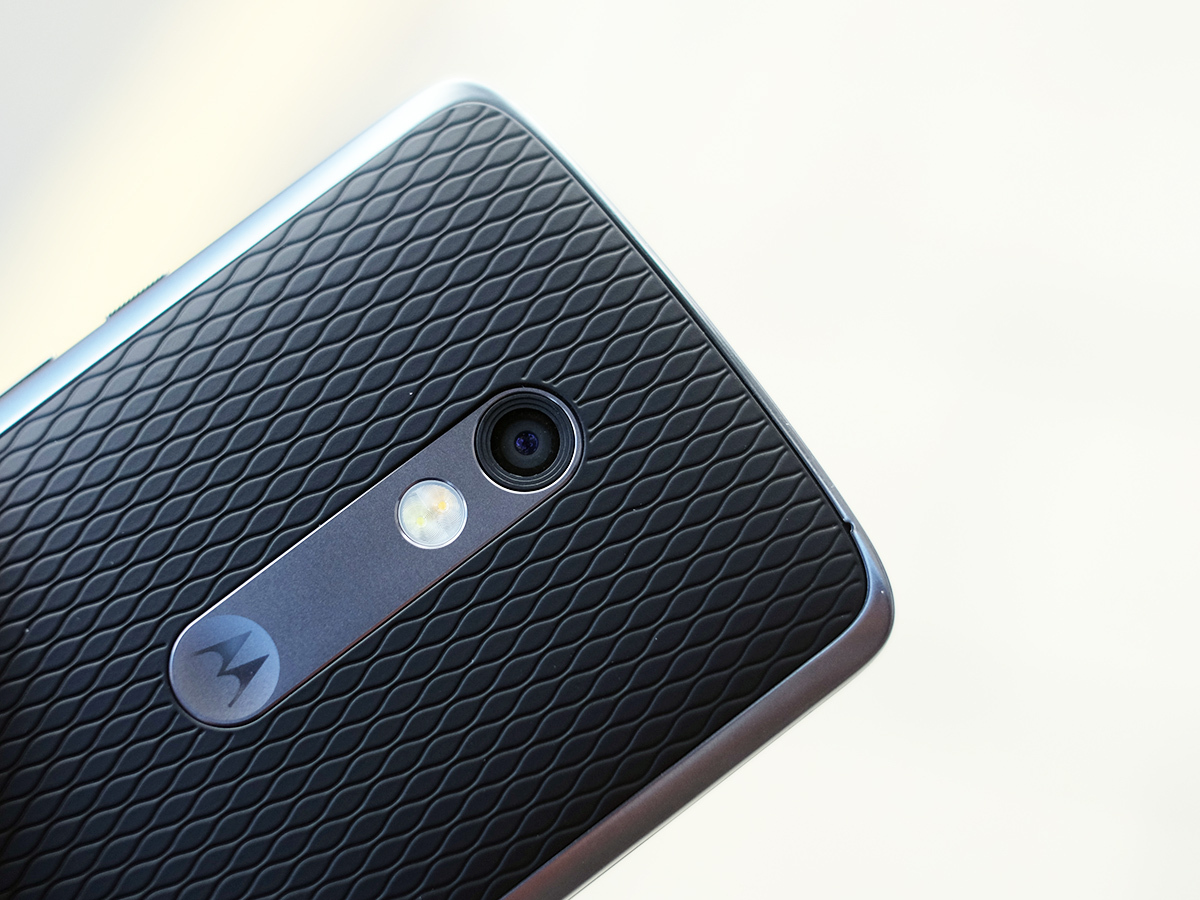 Motorola isn't pushing things on the processor front but it is on the camera. This is one of the first phones to use Sony's new IMX230 sensor, a camera brain that comes with a fistful of hardware bits worth boasting about.
First, it has a 192-point phase detection autofocus points. Just about all other phones use plain old contrast detection autofocus, which involves peering at part of the image and then just looking for the sharpest point as the lens focuses, the point of starkest contrast. Phase detection is altogether smarter, putting special bonus sensors in front of the camera sensor that can check for focus. Phase detection is what's used by DSLRs.
It still uses contrast detection at times (the giveaway contrast detection back and forth is there at times), but the Moto X Play is about as fast to focus as you'd hope given this tech wizardry. It's just a pity that it's just not always that fast to actually shoot images. 90 per cent of the time I shot using the 'Auto HDR' mode, and in certain situations it'll have to think for a second or two before it'll let you take another shot.
It's no high-speed shooting wizard like the Samsung Galaxy S6, a phone that can be found for around £410 SIM-free these days, cheaper than you might assume. The Moto X also lacks a couple of other things that make shooting with a phone that bit more fun and intuitive.
You don't really get an accurate preview of what your photo's going to look like before you hit the shutter button. It doesn't take into account any HDR magic it's going to pull off. Even when you head into the gallery to see a photo you've just taken, there's a delay of a couple of seconds as the Moto X Play applies the optimisations that turn the raw data into the final image.
This is not a camera that can move as fast as your fingers.
Photo showdown
It's a good job, then, that the Moto X Play's photos are often pretty awesome. You can see that this is one of the most advanced phone camera sensors ever in the results.
Absolutely boatloads of detail, good dynamic range and rich colour get you images with plenty of pop. I get the feeling we'll see better cameras with the IMX230 at the helm, though. The Moto X Play has a slight tendency to overdo its reds, there are better Auto HDR modes out there and right down at pixel level images tend to look a bit scratchy. I've seen this in top Sony sensor cameras before, and it's part of why most 20-megapixel Sony phones actually capture 8-megapixels photos as standard.
I also miss optical image stabilisation, the main thing the Moto X Play camera lacks. OIS makes it much easier to take photos carelessly without ending up with a blurry mess. It's most useful at night, but is handy whenever you're snapping away in conditions when the shutter can't fire away at 1/200 of second or faster.
The Moto X Play slows down its shutter to 1/15 second and the sensitivity ramps up to ISO 1600 at night time, and while I managed to get some decent shots like this, 1/15 sec is quite a long time to hold a camera perfectly still. Longer than it sounds. Unless you manage to stay perfectly still, your lower-light photos will look terrible.
Light noise reduction means you end up with some quite noisy low-light shots too, although you do get pretty nice colour (aside from those errant reds) and good contrast.
As much as it may not challenge the LG G4 and Samsung Galaxy S6 generally, the Moto X Play has a good camera for a £270 phone.
No external battery needed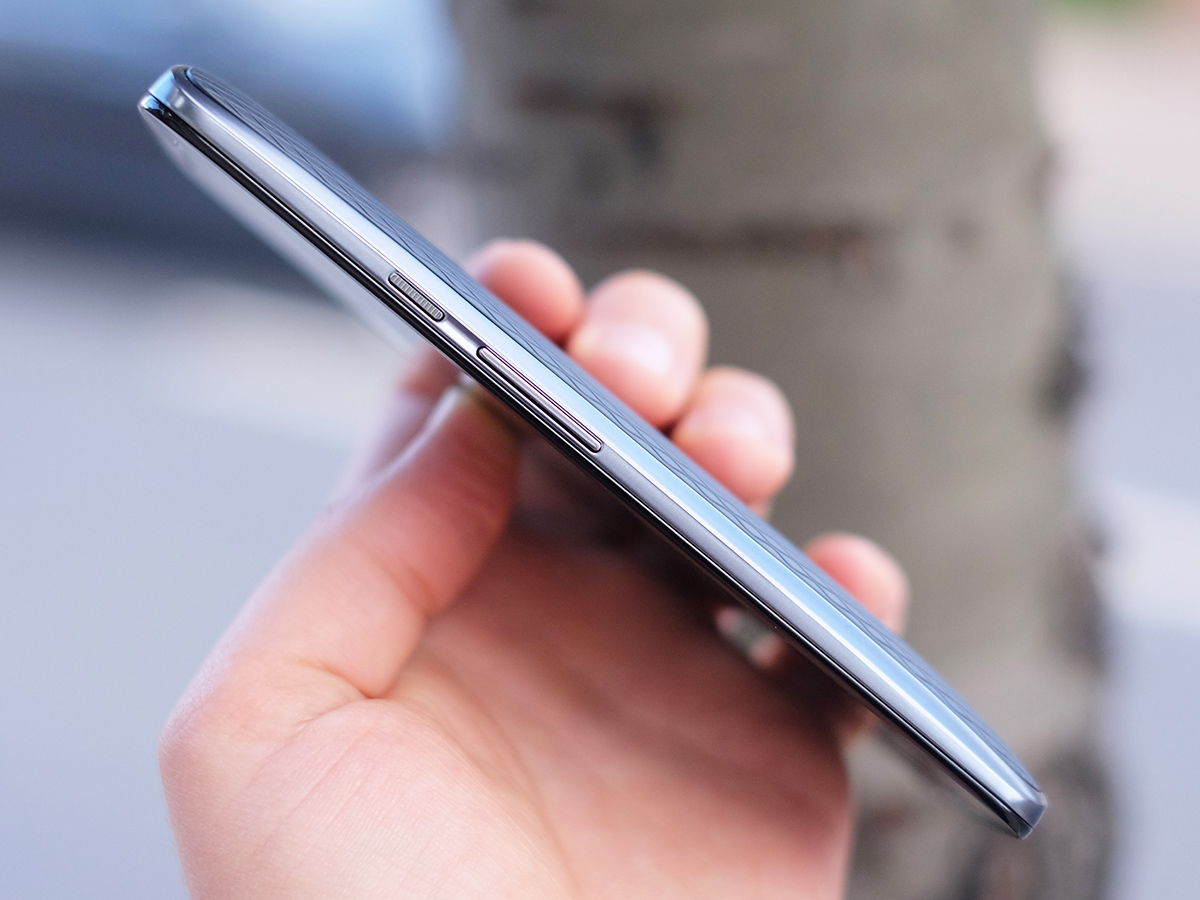 The other area where the Moto X Play is a bit of a specs fiend is the battery. This phone has a 3630mA unit. That's far bigger than the 2000-odd mAh batteries we're used to. Is it a stamina monster?
Yes, although it's still not going to last a full two days for you YouTube-guzzling, Clash of Clans addicted hardcore users out there. For example, it lasts for 13 and a half hours when playing a 720p film on loop, or 7 hours 50 minutes when streaming Netflix over 3G/4G (the 4G was coming and going where we were testing, sadly).
That positively steamrolls the Moto G, by about three hours on the video test and two hours on the streaming one. However, it doesn't massively outperform top-end phones like the Samsung Galaxy S6 Edge+. That phone lasts even longer playing video thanks to its ninja-grade efficiency chops.
Using the Moto X Play more generally, we still managed to drain it down in a day on occasion, but it's a tank you have to batter pretty hard to see it die before bedtime. It seems to slightly outlast the OnePlus 2, if not by a life-changing amount.
The Moto X Play offers fast-charging too, seeing battery life zoom up to an amount that could get you through most of a day in 30 minutes. However, the funny thing is you don't get a fast charger in the box. You have for fork out an extra £25 for one, although I used a fast Samsung charger I had lying around and it worked just as well.
In so many areas the Moto X Play is sort stuck between being a high-end phone and one that has more in common with the Moto G. The speaker belongs in the lower-end Moto G camp.
You get almost exactly the same design here. It looks like there are two front-facing speakers, but we've been had, folks. Only the bottom one is a speaker, and the sound quality isn't exactly going to rekindle your love for bangin' dance music. As with the Moto G, it has enough volume to compete with the kitchen extractor fan, just about, but doesn't have the extra mid-range and bassy welly that separates the best phone speakers.
Moto X Play verdict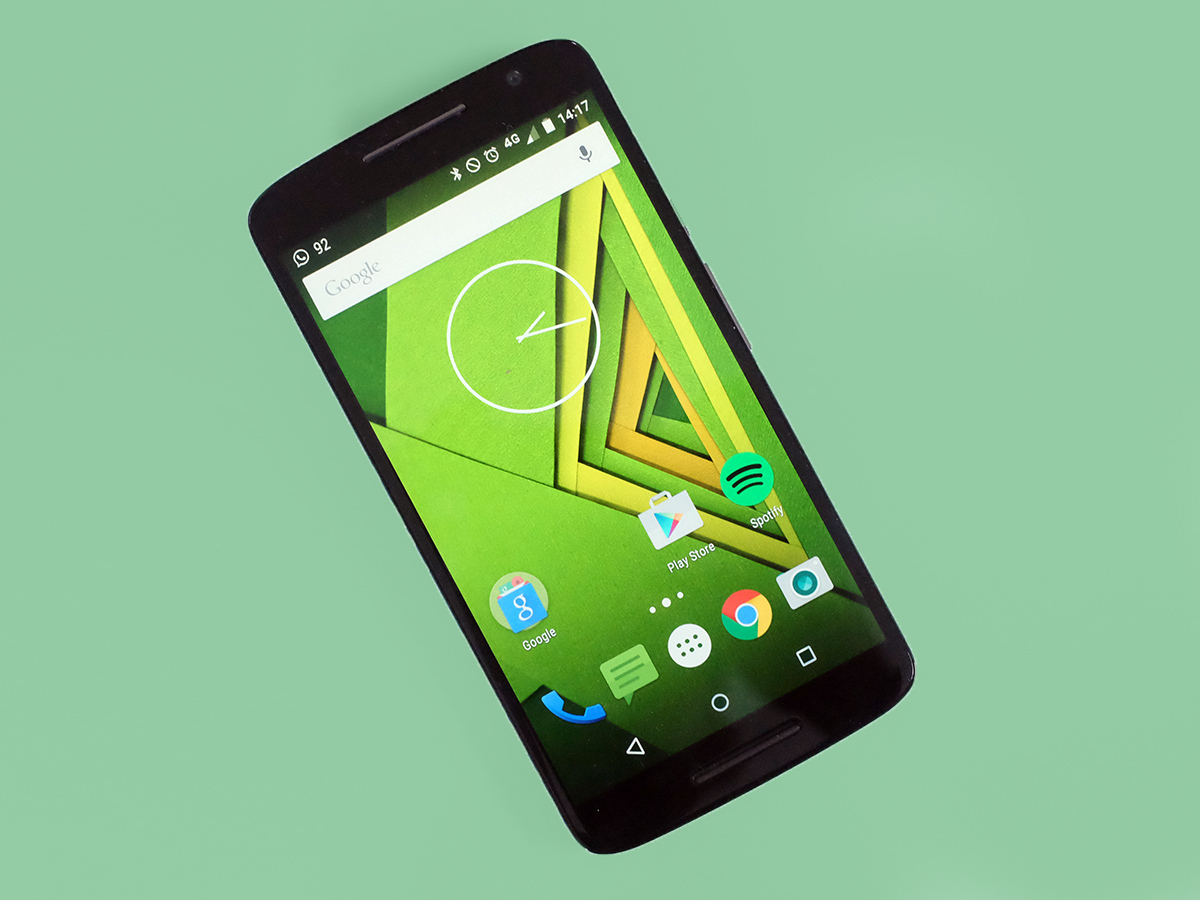 The Mototola Moto X Play is one of the best phones to consider if you want a quality phone without paying a high-end price. It maxes out the camera and battery while offering a nice big screen that isn't shown up too badly by any phone, anywhere.
It does seem a bit more like a Moto G XL than something that belongs in the Moto X line-up, though. And having just come from reviewing the spec hero OnePlus 2, the Moto X Play isn't quite as amazing.
The phone's look and feel probably won't make you fall in love in an instant, and the core specs, the CPU, storage and RAM, are just about right for the money. This isn't a disruptive ultra-bargain phone. But it is still great value if you can't stomach the idea of queuing in a virtual line to buy a OnePlus 2.
Stuff Says…
It may not have Moto's usual wow factor, but shades of the Moto G's value make this a top affordable pick
Good Stuff
Massive battery
Good screen
Advanced camera sensor
Bad Stuff
Camera could be snappier
… and it's begging for OIS
Not the prettiest design