Lenovo Yoga 900 review
Yoga teacher gets guns
Listen to the wrong people and you could believe laptops are about to stop existing: soon to just pop out of existence like Betamax video players.
And it's all because we're trading in our laptops for iPads with Bluetooth keyboards, apparently. Or maybe making do with touchscreen typing and hoping future the chiropractor bills won't be too bad. Laptops like the Yoga 900 will convince you there's life in the things yet, though.
It's only recently that laptops like this caught back up with tablets. Just look at the roll call: ultra-sharp screen, 360-degree hinge, all-day battery life and power that makes an iPad Pro look like a wind-up toy.
Sure, for noodling on the sofa we'd take an iPad. But for working in a cafe? The Lenovo Yoga 900 is hard to beat.
Advanced Yoga class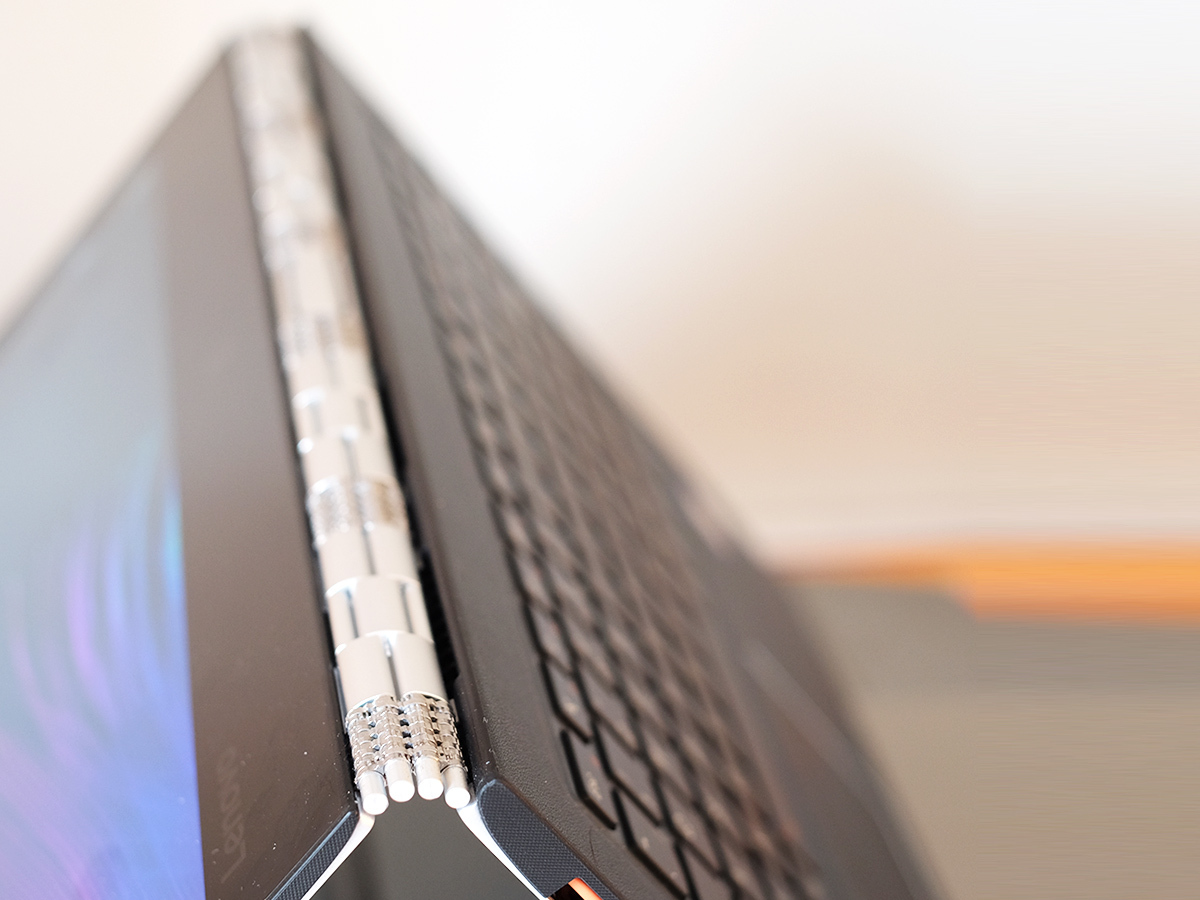 The Lenovo Yoga series has been around for a few years now. It's probably the most recognisable 'brand' of funky-hinged laptops going.
The Yoga 900's screen carries on folding back way further than any MacBook, than any regular laptop. You can push it flat onto whatever surface you're using, then even further, turning it into a funny-looking tablet with keys covering its back.
This is why the Lenovo Yoga 900 uses that snazzy metal hinge that looks as though it has been made out of Brietling watch off-cuts. Now, this style of hinge has caused many a nerd to coo, dazed by all the stainless steel links.
But I have to say, I think the Lenovo Yoga 900 would look better with it hidden. Using the thing, it's a bright bar of silver on an otherwise demure black laptop. Like using belt buckles on a suit instead of buttons, it'll grab your attention but I'm not so sure it'll hold its appeal once we're over how unusual it looks.
A+ portable, B+ ports
From a purely practical perspective, though, the Yoga 900 is a bit of a smash. It's very light at 1.3kg and is a slim 15mm. That may not blow your mind when the 12-inch MacBook is thinner and lighter, but let's remember that the Yoga 900 has a bigger screen, a way faster processor and actually has a few ports on it.
Lenovo hasn't exactly gone all-out on those connections, though. The Yoga 900 has just two normal USB 3.0 ports and a USB-C style one. 2016 is going to be jam-packed with these. Unusually, the power socket also works as a USB port too. Handy for emergencies.
There's a full-size SD card slot as well. What we're missing is a video output to make hooking up to a monitor or TV easy. No HDMI, no DisplayPort. Bear it in mind. You can use the USB-C to attach a monitor, but if like me you often unplug the PS4 to plug-in the laptop, it's less convenient than a normal HDMI.
Portability is the main thing here. And the laptop feels good too. The inside of the Yoga 900 has an unusual fake leather finish that's soft and high-ish on friction. The lid and underside are magnesium, which feels a little more like plastic than the MacBook's aluminium alloy, but it's strong and very light.
The Lenovo Yoga 900's flippy hinge may be a bit of a visual acquired taste, but it works very well. It'll hold the screen at just about any angle and, crucially, doesn't wobble about annoyingly while you're using the laptop. Not much anyway. There's still a bit more than a normal laptop if you're stuck on the one Pret a Manger table with a wobbly leg.
The pay-off of the screeen isn't so much that you can use it as a tablet. Funnily enough, a 13in, 1.3kg laptop with keys on the back isn't exactly my dream device. However, being able to have the screen prop itself up is handy. Netflix in bed? Reading a recipe in the kitchen? Unless you have a flip case doing this with a tablet can be a right pain.
Pixel pack'd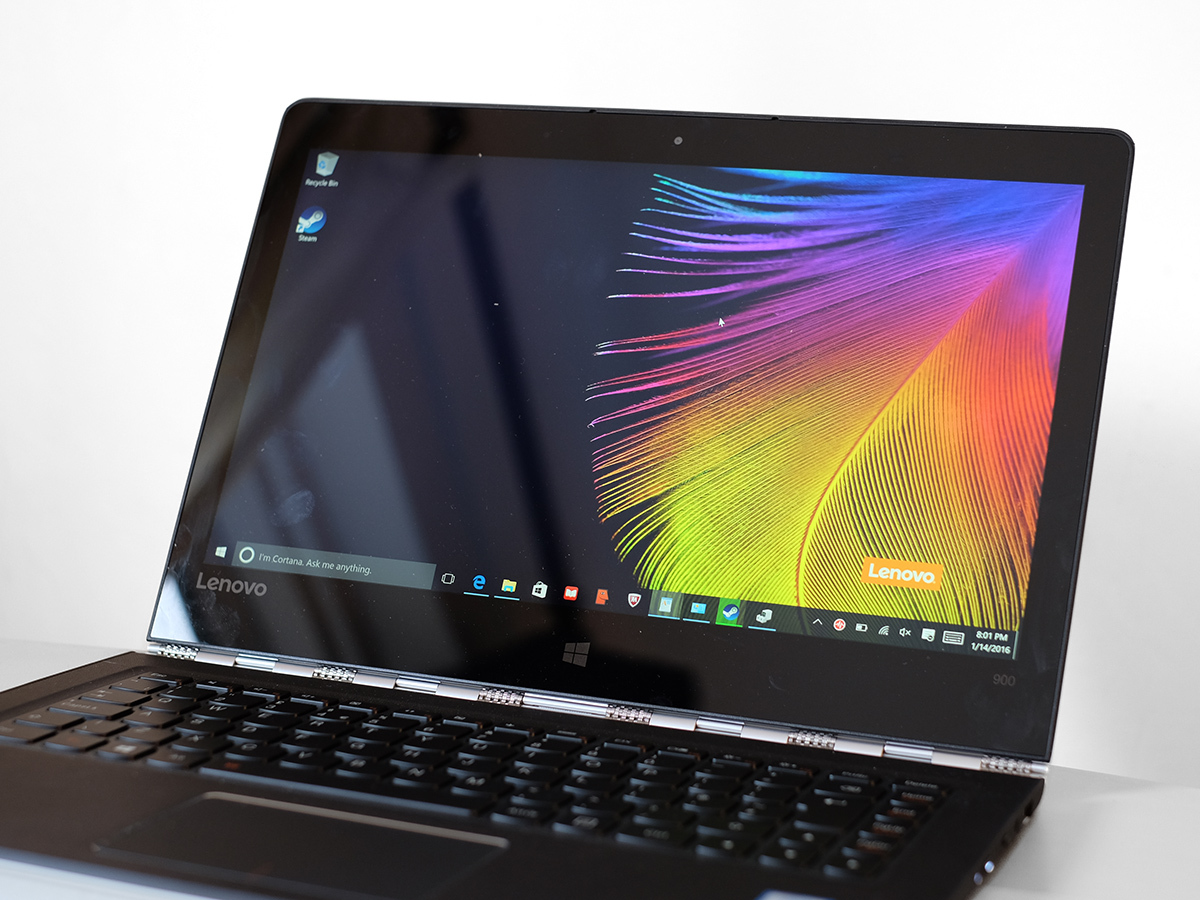 Lenovo seems to be using a similar display here as it packed into the less powerful Lenovo Yoga 3 Pro. It's a 13.3in 3200 x 1800 pixel IPS display, getting you plenty of pixels per inch and a big enough screen to work from all day long without headaches.
In pure numbers terms, the Yoga 900 display is at the top of its game. However, it didn't quite blow me away in all respects.
First of all, at higher brightness settings the black level is surprisingly so-so. If you're going to watch a lot of movies in cinema-style darkened rooms, the Yoga 900 is going to make dark scenes look pretty grey.
Contrary to what the specs say, I also find it looks less sharp than my regular MacBook Pro 13. How can that be when the Yoga 900 has more pixels? The sub-pixels that make up the display here have less tight-knit regularity than some other LCDs.
There's a bit of the fizz you see in some OLED screens. Which is weird when you consider this is an IPS LCD screen. Don't worry about this one too much, though. It's only apparent when you get fairly close and the Yoga 900 is still far sharper than a 1080p screen. Obvs.
Other bits to take into account include that the Yoga 900 has, like most laptops of this style, a super-reflective glass-topped screen and a touch layer. It's not quite as attention-grabbing as the super-slim-surround Dell XPS 13. But it's not too far off.
No semi-skimmed nonsense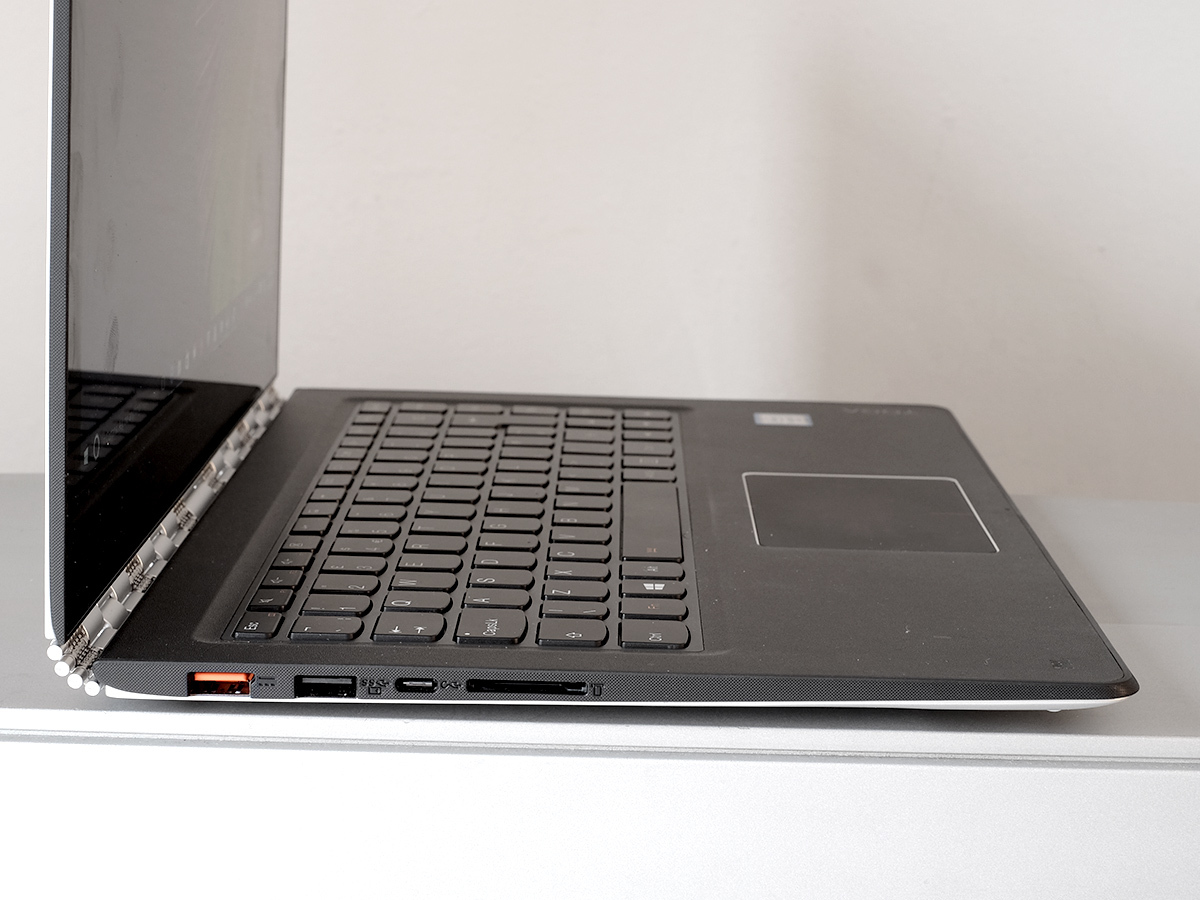 What's actually new in the Yoga 900 is its approach to the whole power vs portability balancing act. It sits roughly where the Yoga 3 Pro was, but uses a full-fat Intel Core i7 processor rather than the ultra-low-strain Cortex-M several Ultrabook peddlers started using last year.
This may seem like flip-flopping until you look at what Intel is doing with the latest generation of Skylake CPUs. They've stepped down to 14 nanometer transistors, the same level of miniaturisation used in the Samsung Galaxy S6. Generally speaking, smaller transitions equals more efficiency. And that means less heat, less wasted battery.
Because the Intel Core i7 chipset is that bit bigger, the Yoga 900 is a smidge heavier and thicker than the Yoga 3 Pro. But only Rainman would notice that on meeting the thing. Most people, like me, will think "cripes, this laptop's pretty dainty".
I have to say, for the most part I'd be just as happy with a lower-power Cortex-M system. Most of the time I'm browsing, writing stuff and checking emails. It's only when you start to strain a laptop with data-intensive stuff or gaming you'll really appreciate the performance boost.
So let's reality-check this little guy. In Geekbench 3 it scores 6779 points. It compares pretty well with any dual-core laptop around, but in a CPU drag race it'll be outdone by quad-core ones a good few years old. It definitely beats the Cortex-M crowd, though.
If you're a gamer, you might want to keep the Microsoft Surface Book in mind. Where the Yoga 900 has a bog-standard Intel HD-series GPU, the Surface Book has a custom, discrete GeForce one. It's no PS4-squisher but can apparently handle Fallout 4 and even The Witcher 3 on low settings.
The Yoga 900's limits are closer to something like Skyrim, and I still had to switch of anti aliasing and drop the resolution down to 1600 x 900 to get nice frame rates.
Bells vs whistles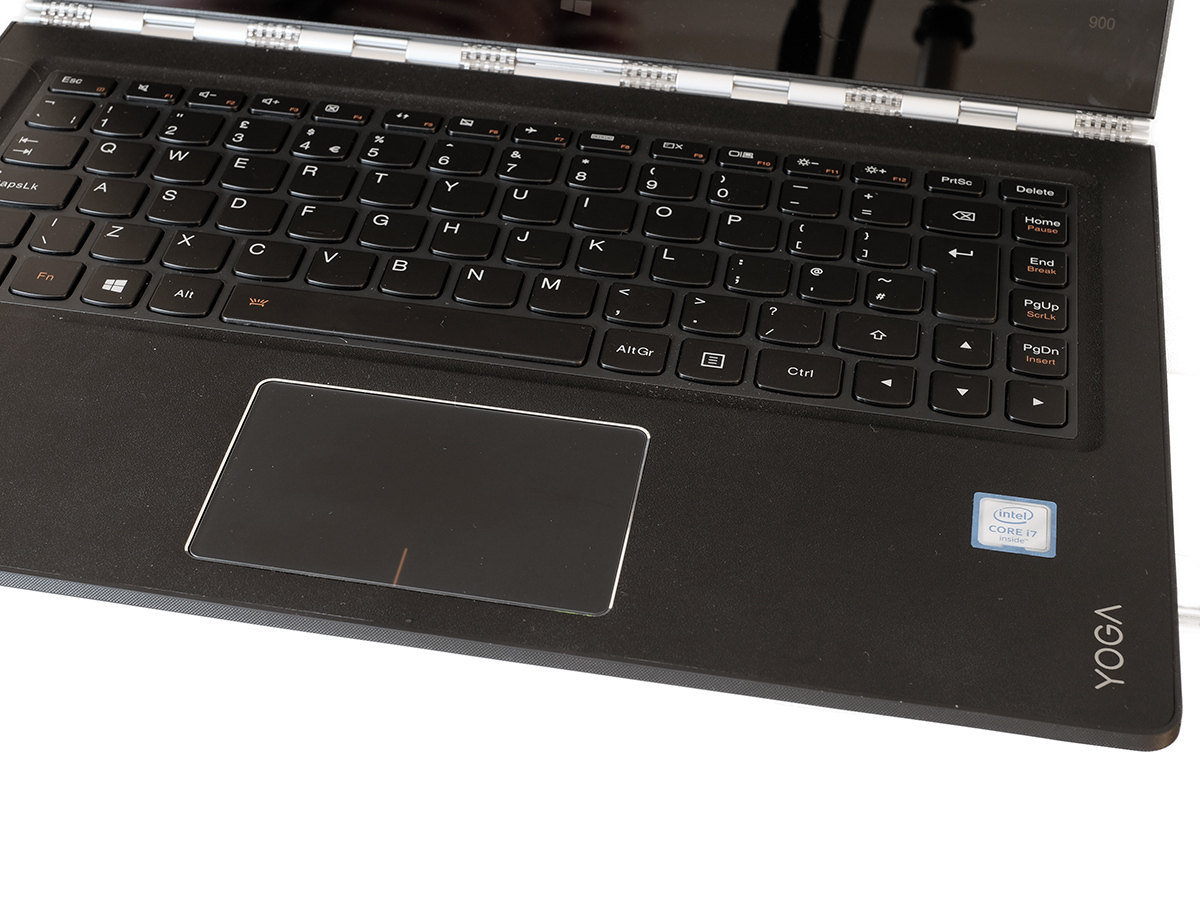 In true Ultrabook style, the Yoga 900 has an SSD rather than a much slower HDD too. There's a chunky 500GB in our review model: not a lot for a hard drive, but a fair bit for an SSD.
This, along with a generous 16GB RAM, gets you the sort of zippy responsiveness I expect from laptops like this. There are weird little quirks, though.
Sometimes the trackpad seems to take a moment to 'wake up'. Looking online it seems a few people have had issues with the Yoga 900 trackpad, and on occasion I've experienced 'phantom' clicks, with scrolls registering as taps.
I also found the Yoga 900's keyboard takes quite a while to get used to. There's just one big issue: cut-down keys. These are fairly common in portable laptops, but over the last week have increased my typo quotient by about 700 per cent.
Compared with chunky business Lenovo laptops of old, the Yoga 900's key action is pretty shallow. No surprise there. But it's up there with the best in this size class in terms of feel. A bit like a MacBook, basically. Just be prepared for some frustration as your muscle memory realigns to those shrunken keys.
Is it worth it? If you dig what the Yoga 900 is doing elsewhere, then yes. One element I was little worried about was battery life. In switching from a Cortex-M chipset to a 'proper' Core i7, there was a chance of fouling-up stamina. But everything is A-O-K.
I've been using the Yoga 900 out and about as my regular work PC, and with brightness at around 50 per cent it'll last for a solid 7-8 hours with regular WiFi use. It's not mind-blowing, but it is solid.
Lenovo's own claim for the Yoga 900 is that it'll last for a suspiciously-specific "9 hours of video".
What about audio quality? It seems to depend a bit on the position of the laptop. Flat on a surface the little edge-mounted drivers don't have much room to breathe, but up in its 'tent' position they actually sound pretty good, with good clarity, decent body for a thin laptop and a nice tone. For a laptop speaker, anyway. There's a tiny bit of mid-range distortion that crops up at max volume, though.
Lenovo Yoga 900 verdict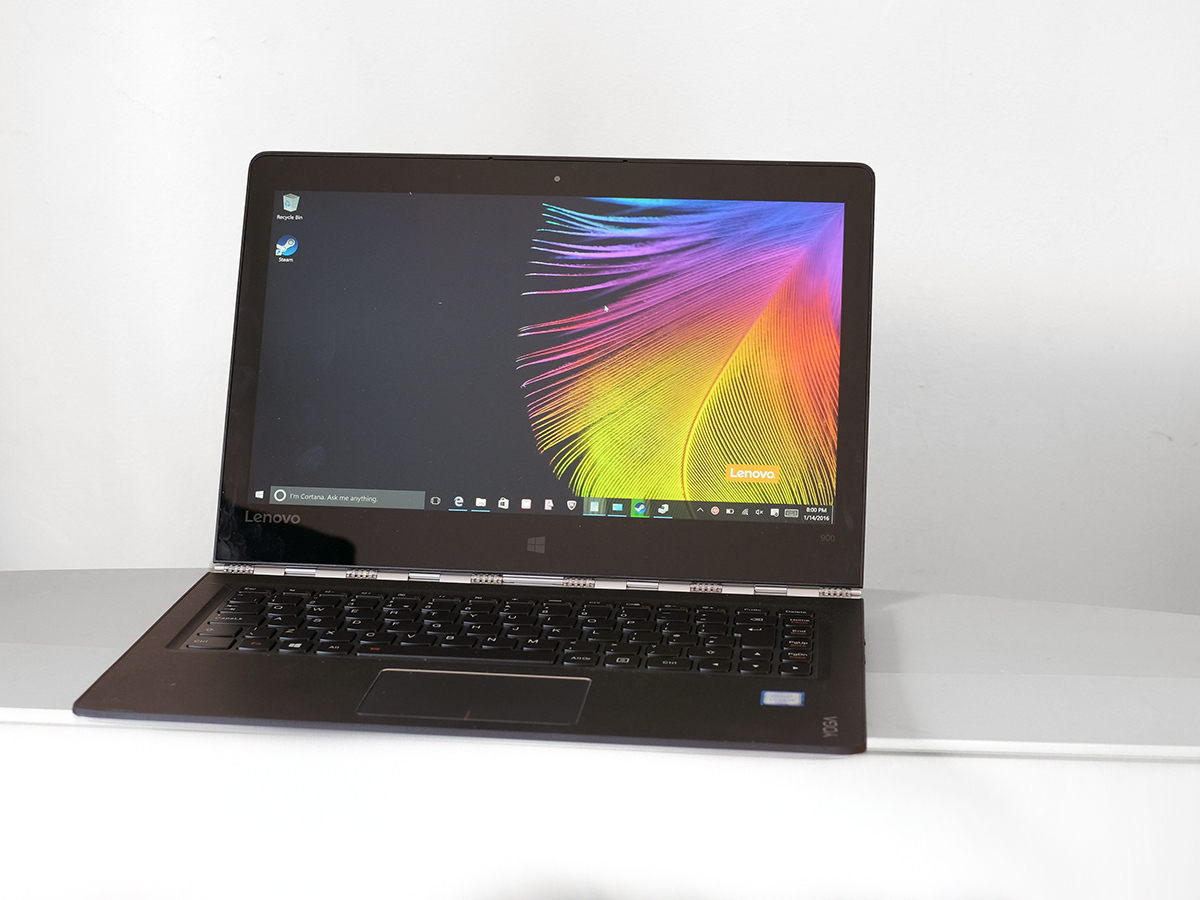 The Lenovo Yoga 900 is a new take on the laptop Lenovo established with the Yoga 3 Pro. It's slim, it's bendy, it's portable. And now it's more powerful.
Some little quibbles about screen black level and a misbehaving trackpad driver mean it doesn't seem quite as interesting as the Microsoft Surface Book. However, it's a little bit cheaper too.
Spec-up a Surface Pro 4 to this level and the price gets seriously terrifying. The Yoga 900 won't prove quite such a drain on your finances, and it's a better all-round device.
Stuff Says…
A few niggles aside this is a top-quality luxury laptop with great portability
Good Stuff
Pretty powerful
Very light and portable
Decent battery life
Bad Stuff
Cut-down keys take some getting used to
Trackpad driver misbehaves
Display black level could be better