Honor Magic hands-on review
AI-controlled smarts make all the difference - but it's China-only for now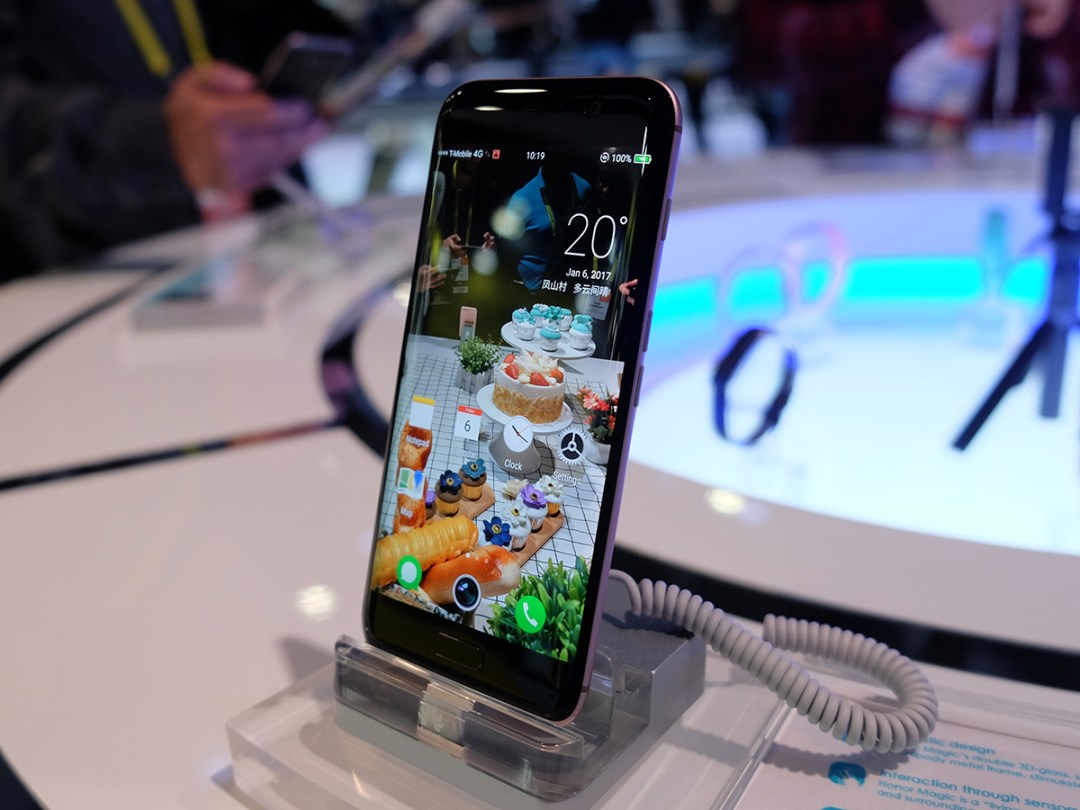 Honor has been knocking it out of the park with mid-range phones, recently. First we had the top-notch Honor 8, complete with flagship-busting looks, and then the Honor 6X arrived just after New Year with an impressive spec for your cash.
Wandering onto the Honor stand here at CES, though, I spotted something that blows those other phones out of the water.
The Magic, like most Honor phones, started life out in China. It only launched there a few weeks ago, which usually means we've got months to wait until it gets relaunched in the US and Europe.
Based on what I've seen so far, though, that can't can't come soon enough.
SLEIGHT OF HAND
The Magic is the first Honor phone I've seen with properly curved glass, not just 2.5D edges. They fold in at the sides, just like Samsung's Galaxy S7 Edge, making an already thin phone look even thinner.
The rose gold metal frame around the edges won't be to everyone's tastes, but I was surprised how subtle it looks in the flesh. Or in the metal, as it were.
There's barely room at the side for power and volume buttons, and it's so thin the SIM card tray has been shunted to the bottom of the phone, next to the headphone jack (phew). There's USB-C charging on the bottom, too.
The fingerprint sensor has been moved to the front of the phone – an unusual move for Honor, as most of its other phones have the sensor on the back. It's pill-shaped, which adds to the feeling go Galaxy S7 Edge Deja vu.
I'm not a huge fan of the all-glass back panel, though. Those twin rear cameras look a little bare without any kind of lens cover or surround – they just seem to float aimlessly in the middle of the phone.
It's well-equipped on the inside, with 64GB of storage and MicroSD expansion, a 2900mAh battery, fingerprint sensor and 5in, 2560×1440 AMOLED screen. Which looks gorgeous in person, as you'd expect, with deep blacks and vivid colours.
EYE ON THE PRIZE
It's not the design that makes the Magic stand out, though – it's the AI wizardry running underneath. It can listen into your conversations and pop information onscreen automatically, or only display notifications when it detects your face looking at the screen.
It's a great idea, if a little creepy, but any way to win an office argument about who really scored the winner in an early 90s World Cup semi-final sounds good to me.
I wasn't able to try out the tech, as it's only set to work in China at the moment, but I did try to set it up using my face. It only takes a few minutes, and a few selfies, to get going, which is pretty neat.
It integrates perfectly with a custom interface built specifically for the Magic, which has even sneakily gained a swipe-up shortcut toolbar just like iOS.
Even with so many extras sitting on top of Android 6.0 Marshmallow, though, the Magic felt super-snappy. That's mainly thanks to Huawei's Kirin 950 octa-core CPU and 4GB of RAM, which helps it open apps, multi-task and run games without any noticeable slowdown.
I didn't get the chance to try out anything demanding like Asphalt 8, but based on how it handled the Honor 8 earlier in the year, the Magic should be equally speedy.
DOUBLE VISION
The Magic has the same dual-12MP rear camera setup as the Honor 8, with one full colour sensor and a second black-and-white one to capture extra detail when the light gets low.
I snapped a few pictures on the Honor stand, and everything looked pretty sharp and colourful. As they should on a QHD AMOLED screen. I'll have to wait to get hold of a review sample (if they make it to the UK) to give it a full test, tough.
It uses the exact same camera app as the Honor 8, so you'll have plenty of modes, filters and effects to play with, including a Professional manual mode, HDR, wide aperture and bokeh-simulating blurs.
HONOR MAGIC INITIAL VERDICT
There's a lot to like here, especially if you put design first when it comes to picking your latest phone. The Magic has a premium build, excellent screen and looks great from (almost) all angles too.
Honor's software tweaks to Android have always divided opinion, and while that doesn't look set to change here, the AI-controlled additions look genuinely useful. Here's hoping they become standard features in the future.
There's no word on a UK price just yet, or even confirmation Honor will launch it outside of China, but it would be a shame if we didn't get to try out the Magic. If the price is right, it could be a real mid-range winner.