Canon EOS 1D Mark III review
Ever wondered how much camera three grand would get you? Wonder no more because the EOS-1D Mark III has arrived - and it's rather good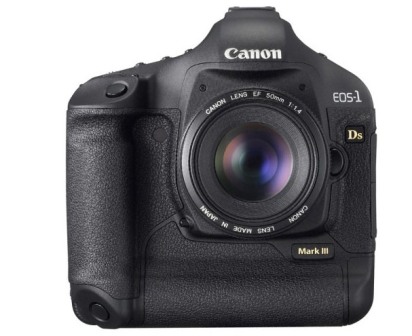 Nikon may still hold a slight edge over Canon at the pro end of the market, but there's only ever been one winner for sports photographers – the Canon EOS-1D. Put simply, it's the fastest DSLR on earth.
Its main rival, the Nikon D2Hs, may manage eight frames per second for up to 50 shots, but the new Mark III fires an unholy ten per second for up to 110 pant-wetting pics. In other words, the Canon can capture an entire 100m sprint in tenth of a second increments, while the Nikon will give in somewhere around the 60m mark.
Shoot to thrill
To give you some idea of just how that feels, think 'machine gun', with fewer fatalities. One press of the shutter and we were having sweat inducing Rambo flashbacks.
The secret is the inclusion of not one but two of Canon's spangly new Digic III processors. It's allowed Canon to up the frame rate, buffer and megapixel count from the Digic II equipped Mark II N, without losing any of its ability to keep every frame perfectly focused and exposed.
Heavyweight champ
If you're coming from a compact camera, or even a mid-range DSLR, though, you're in for a shock. The Mark III is no pocket snapper. It may have shaved a few pounds off its predecessor but it's still a hernia inducing 1.3kg with the battery – and that's before you've strapped on any optics.
It is incredibly solid but after a day tramping about with the brand new EF 16-35mm f/2.8L II USM lens on board – which brings the whole package to a round 2kg – we were feeling like we'd been on the route march from hell.
Not that this will worry the monopod wielding sports snapper, but paparazzos may want to extend that gym membership before running after kitten heel-clicking celebrities with one of these.
Snap happy
Still, all our back aches were forgotten when we uploaded the results. Nigh on perfect would be a pretty accurate description. The 10.1MP CMOS sensor may not offer quite as many pixels as some but it produces incredible detail and some of the most noise-free shots we've ever seen.
Even at ISO 3200 we were pulling off usable shots, making this one of the best low-light performers around.
We'd been intrigued by the inclusion of an Olympus style live view mode which brings the 3in display into play for taking shots without having to peer through the viewfinder. In practice we found it the only let down. You can only use manual focus and, with no optical image stabilisation on board, using it handheld without an IS lens invariably led to blurry shots.
That's one small blotch on an otherwise flawless performance. The only trouble is, any other camera we pick up now seems glacial in comparison.
Related reviews