Cambridge Audio Alva TT v2 review: Retro and futuristic all at once
Wired for sound? Only if you want to be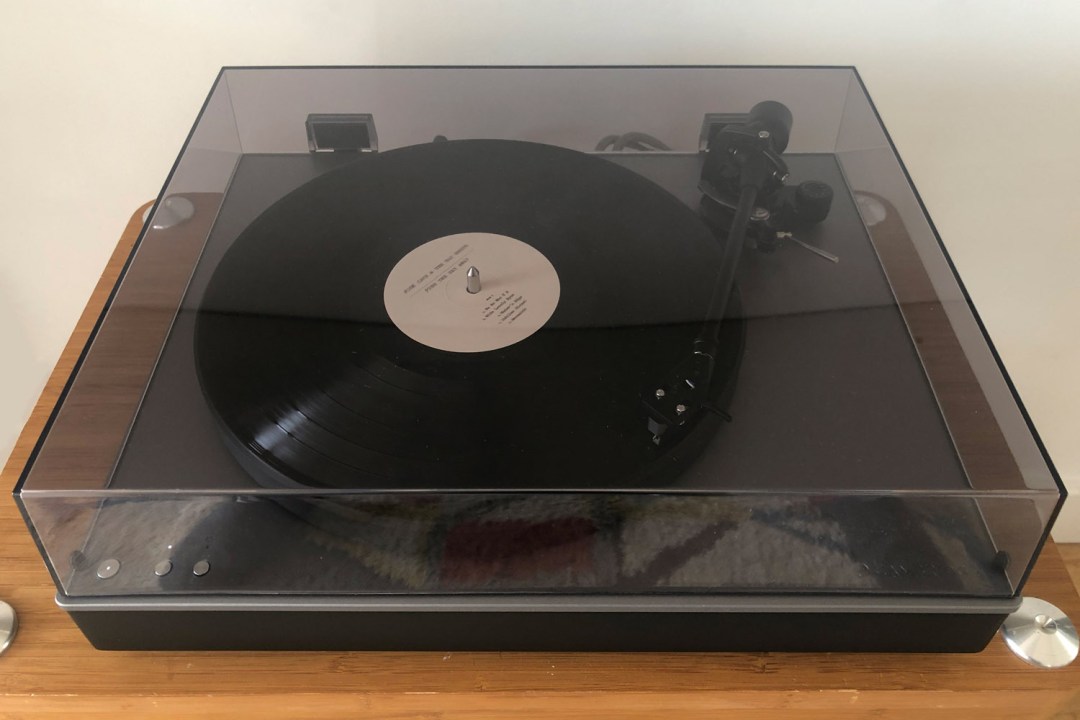 It's been less than three years since Cambridge Audio launched its groundbreaking Alva TT turntable – an eye-blink in record-player terms – but the British hi-fi specialist is back with an amended and improved version. Well, that first point is undeniable – the second is, three lines into the review, an ambition rather than a fact.
The original Alva TT caused a bit of a stir, and not only thanks to the admirable way it performed. Cambridge Audio brought an unlikely level of convenience to this ancient and inconvenient format, delivering what was at the time the world's only high-resolution wireless turntable. So naturally, Cambridge has doubled down – the Alva TT v2 has even greater convenience than the model it replaces.
Can vinyl lightning really strike twice?
Design and build: coming around again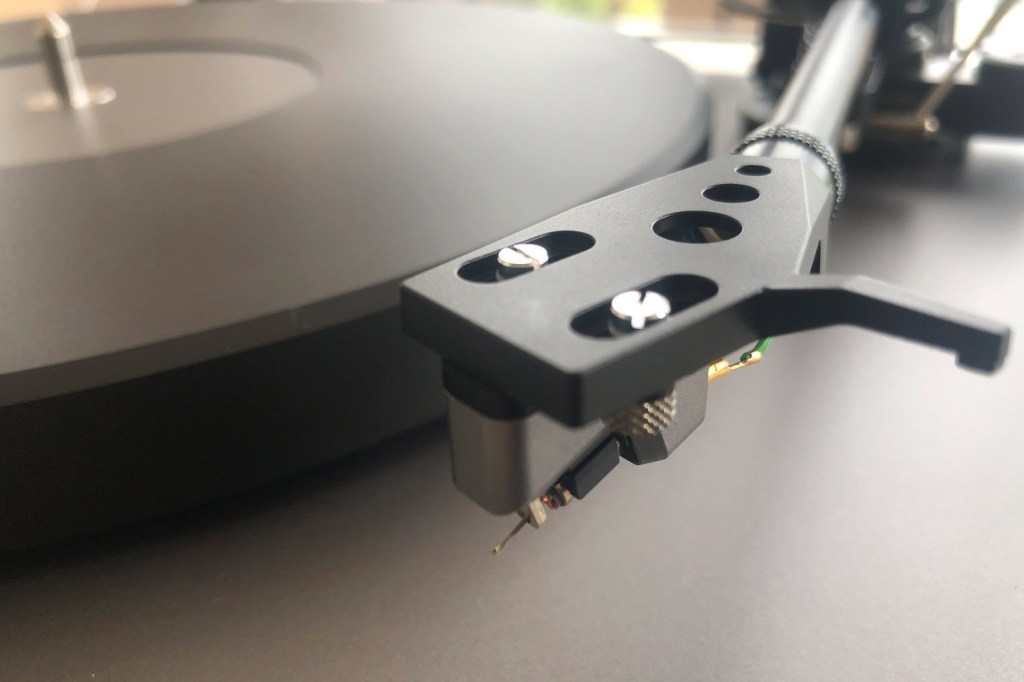 At a glance, there seems to be no difference between the Alva TT v2 and the outgoing model. Like its predecessor, the Alva TT v2 is built on a sturdy, relatively heavy base with an aluminium plinth on top, and it too features a hefty polyoxymethylene/titanium platter. This time, though, the platter is only the size of a 12in vinyl disc, rather than slightly larger. So putting a record on or taking it off is an altogether less disconcerting experience than it was with the original Alva TT.
Fundamentally, though, Alva TT v2 is a record player with a hinged dust-cover. Design flourishes a few – the brand logo punched into the plinth at the bottom of the right-hand side, three control buttons ('start/stop', '33.3rpm' and '45rpm') smoothly recessed into the bottom left, and that's basically your lot.
Build quality, as has become predictable with Cambridge Audio over the last decade or so, is unarguable. The Alva TT v2 is put together with obvious attention to detail, and feels built to last for the long haul. This is not an inexpensive record player, but it looks and feels worth the asking price.
Features: king of convenience
By prevailing turntable standards, the Alva TT v2 has a long list of features. That's to say, there's more to this record player than just a spinning platter and a tonearm with a cartridge on the end of it.
It's worth mentioning both the tonearm and the cartridge have changed, though. This v2 has a redesigned tonearm with both counterweight and anti-skate adjustment, and it now features a detachable headshell (which makes changing cartridge an altogether less arduous experience). The headshell now comes pre-fitted with a high-output Alva MC cartridge, a replacement for which will set you back £499 according to the Cambridge Audio website. It attaches to the tonearm using the long-established 'bayonet' connection.
This is a direct-drive design, as was the model it replaces – but don't imagine the Alva TT v2 has any pretensions towards (or is any way useful for) DJ applications. Cambridge Audio is adamant the most effective way to maintain rotational stability is by using a medium-torque motor in conjunction with a high-mass platter – so that's what the Alva TT v2 has. It takes a turn or two longer to come up to speed than you might anticipate, but once it's there it proves rock-solid.
There aren't many record players that feature wireless Bluetooth streaming, and even fewer have hi-res capability – but the Alva TT v2 is one. It can stream at a heady 24bit/48kHz and is compatible with the aptX HD Bluetooth codec. So for once here's a turntable that can be put where you want it, and needs only to be plugged into the mains to be good to go – and is an authentically hi-res source of wireless audio.
The Alva TT v2 is also fitted with a phono pre-amplifier. This means its output signal is at a level that's useful to systems of all kinds, not just those that have a phono stage already – which is another massively convenient feature to have. And unlike the original Alva TT, the pre-amp here is switchable rather than always on – so anyone with a pre-amp in their existing system or a stand-alone alternative (like Cambridge Audio's admirable Alva Solo and Duo models) can compare and contrast. And then use the one they like best.
Interface: lay your hands on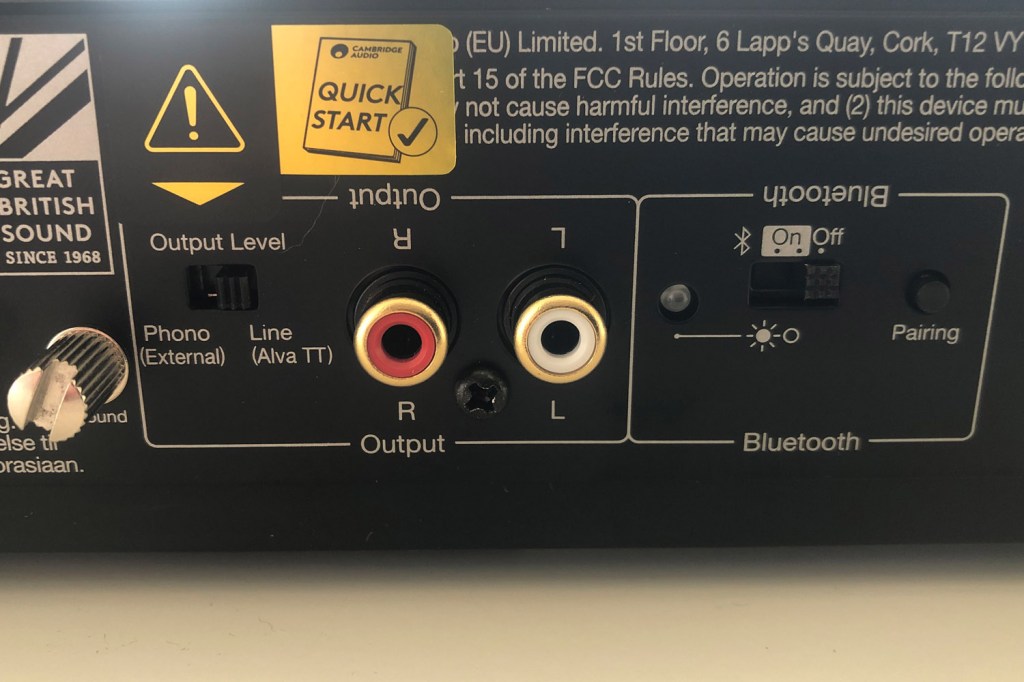 The 'hands on' nature of record players seems to be one of the things that's appealing about the vinyl format. Naturally enough, the user's interface with the Alva TT v2 is all manual, whether that's putting a record on, or using the little tonearm lift to lower the needle into the groove.
In addition, there are two little controls on the rear of the record player, alongside the stereo RCA outputs and mains power socket: a 'pairing' button to wirelessly connect the deck to your speaker system, and an 'output level' switch to choose between 'line' (using the turntable's integrated phono amplification) or 'phono' (for when you're using external pre-amplification).
Performance: the modern antiquarian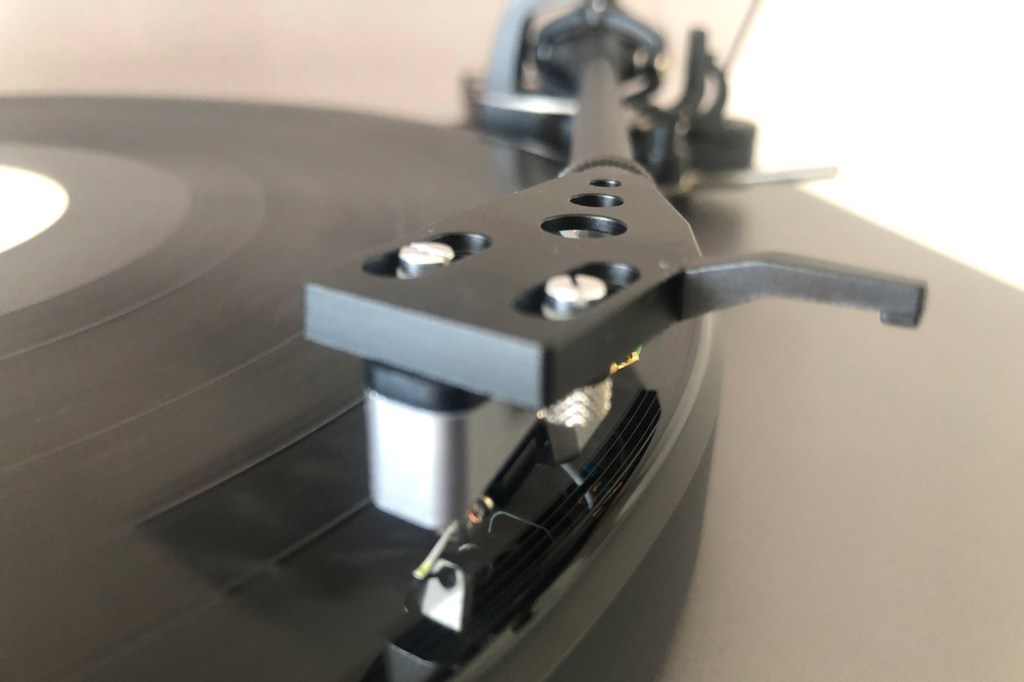 'Relief' is the first response when it comes to performance: relief that Cambridge Audio's desire to build a modern and flexible turntable hasn't compromised the sonic characteristics for which vinyl is so prized.
So no matter how you choose to listen to it, the Alva TT v2 produces a big, smooth, organised and nicely detailed sound. It digs deep and hits hard (though not impolitely) when dealing with the bottom of the frequency range, and it has an equally considerate and well-controlled degree of attack at the opposite end. In between, the midrange is packed with detail both great and small – so a singer with the attitude and character demonstrated by PJ Harvey during a listen to Stories from the City, Stories from the Sea gets to communicate with real confidence and eloquence.
The frequency range is knitted together well, and the overall sensation of 'performance' in a recording is identified and delivered. The Alva TT v2 doesn't quite have sufficient dynamic headroom to put the complete distance between the peaks and troughs of the PJ Harvey album, but it nevertheless makes the artist's intentions plain.
The on-board phono stage turns out to be a very worthwhile feature. Not only does it makes the Alva TT v2 compatible with amplifiers of all kinds, it's competitive with stand-alone phono pre-amps costing a couple of hundred pounds (which is the sort of product Cambridge Audio has always been good at).
Use the Alva TT v2 wirelessly, and quite apart from the remarkable sensation of being able to plug it into the mains, put a record on over there and have it stream to a system or a speaker over here, performance is very decent too. Some of the positivity and control of the hard-wired performance goes astray, it's true, and there's not quite the same assertiveness at the extremes of the frequency range as previously. The turntable's rhythmic certainty takes a little bit of a hit, too.
But let's not forget the circumstances we find ourselves in here. This is a high-end, impressively specified record player that's providing hi-res audio wirelessly. When you're involved in the engineering equivalent of witchcraft, there are bound to be a few minor compromises involved.
Cambridge Audio Alva TT v2 verdict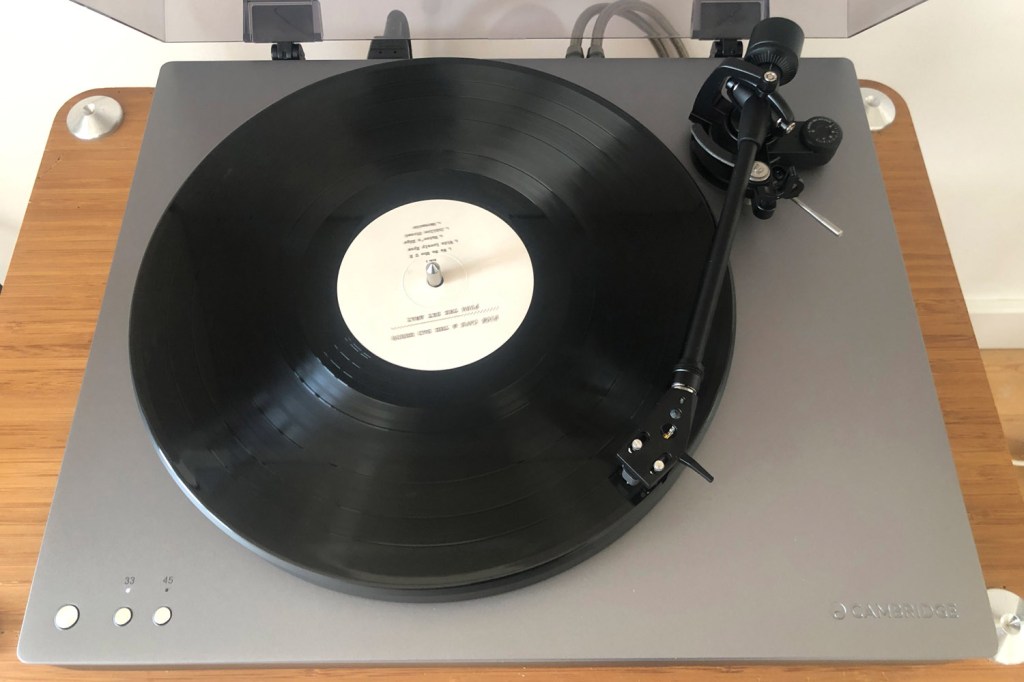 As far as pure sound quality goes, it's safe to say you can spend this money more effectively elsewhere. But the Alva TT v2 is no slouch in sonic terms, and it's got additional selling-points that no other price- or performance-comparable turntable has.
If you like your ancient technology to be as up-to-date as possible, here's the record player for you.
Stuff Says…
Wired for sound? Only if you want to be. The Alva TT v2 expertly blends old and new, with features you won't find elsewhere for the price.
Good Stuff
Detailed, convincing, full-range sound
Extraordinarily convenient by turntable standards
Built to last
Bad Stuff
Not the last word in dynamics or outright drive
Wireless performance is inferior to the wired equivalent
Not what you'd call 'cheap'