Asus Eee PC 701 review
Asus' ultra-ultra-portable laptop runs Linux and packs 4GB solid-state storage. Is it a blogger's dream or an underpowered disappointment?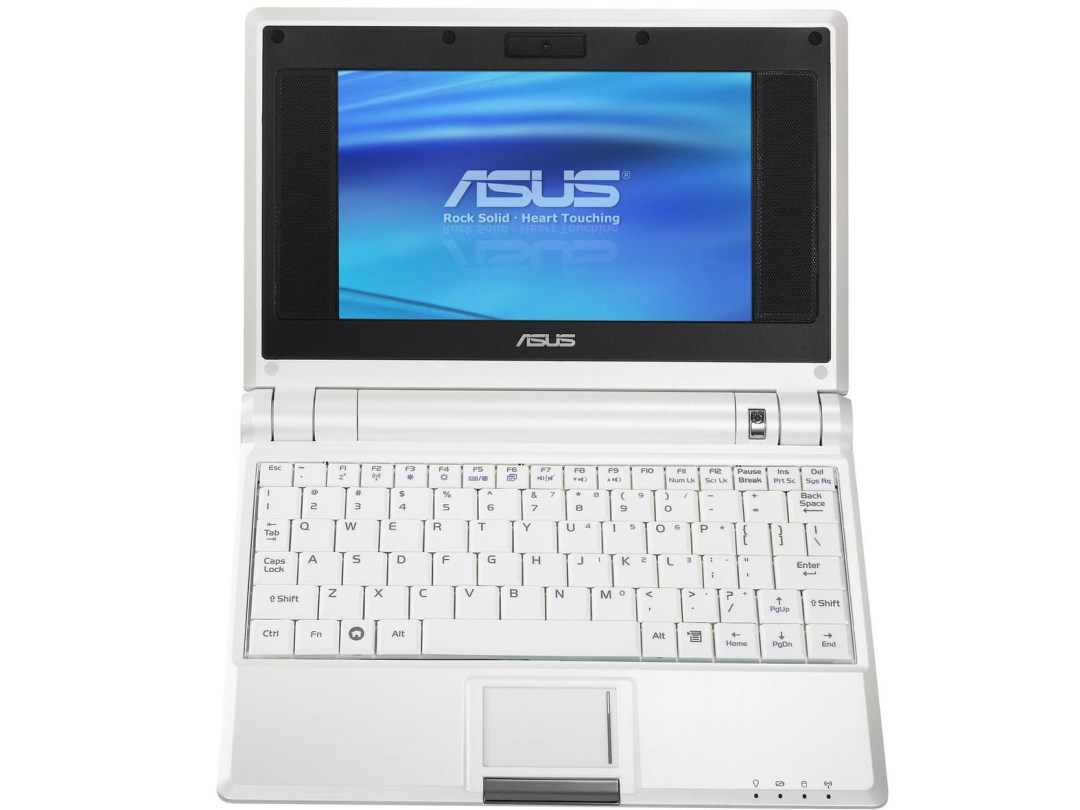 Laptops have pushed desktop PCs ever closer to the dole queue recently, but the flipside is that many are now complex, juice-guzzling beasts. Fans of the open-source operating system Linux have been calling for a small, cheap alternative for blogging on-the-move – and it's finally arrived in the form of the Asus EeePC 701.
The EeePC is an astoundingly cheap, 7in UMPC which packs 4GB of solid-state storage and some surprise goodies in the form of Wi-Fi, 3G support and an SD card slot. On paper, it punches well above its price bracket and, more surprisingly, is an equally tough nut on the road.
Hit me as hard as you can
The EeePC's case is solid – tougher than you'd expect a thing in this sort of price bracket to be. It's pleasingly compact, too, giving you the happy feeling that only comes from holding something with genuine heft, and comes in five colours: white, black, and pastel shades of pink, green and blue.
The keyboard's as flimsy as you find in most ultraportables – but that's the only downer, and overall it feels like the perfect portable blogging machine.
Open the EeePC up, though, and your heart drops a little – that 7in screen isn't as big as you've been imagining. Browsing the web sometimes feels like reading Hotmail through a letterbox, plus a few of the applications require scrollbar-fiddling to use. Still, we reckon it beats the hell out of trying to update Facebook on a Nokia 6600.
Linux is okay, really!
There's no need to fear the absence of Windows either. The Eee PC's tuned Xandros Linux distribution is totally user friendly – mainly because it's a good clone of XP. It is, basically, a phone-like icon-driven system, broken down into simple groups of software – Internet, Work, Learn, Play, Settings and Favourites.
If you're really worried about having 100 percent compatibility with PC versions of your important files, you might have to stick Windows on it, but it won't be half as fast.
Also, the likes of iTunes won't work on Linux, so you won't be able to use this as a multimedia hub or to feed your iPod. The built-in media player promises to play most formats, though.
Open source heaven
Its apps nevertheless do a good job of mimicking the Windows staples. OpenOffice deals with Word docs, PowerPoint and Excel files, although the supplied SMplayer and Mplayer movie apps wouldn't play DivX files. Firefox also comes as standard, and it's not some rubbish mobile version either – it's proper daddy Firefox.
Handily, the Eee PC will also run any Linux-compatible app, and the open-source community has been busy – there are thousands of freebie programs. Try www.softpedia.com for starters.
All the holes you'll need
You'd expect a cheap laptop not to bother with stuff like Wi-Fi and Ethernet – but it does. And it happily connected to our Buffalo Airstation G54 first time, although it had a habit of not reconnecting when coming out of sleep mode, forcing a reboot. But with three USB ports, an SD card slot and 3G card support, it's punching well above its price bracket.
Every PC toy we threw at the Asus worked right away. Wi-Fi set itself up in seconds, memory cards and digital cameras just worked, and everything we plugged into its unnecessarily generous three USB sockets was recognised first time. There's even a VGA-out socket for hooking it into a proper screen, should you demand more than seven inches.
In short, the EeePC is a geek's dream and our new favourite toy. You'll need to spend a few more bob on extras like a Asus' 3G card and a decent-sized USB flash drive to fully exploit its potential, but that's a small price to pay for one of the world's coolest laptops.  
Related reviews