Astell & Kern A&norma SR35 review: DAP's magic
Expensive, and sounds it.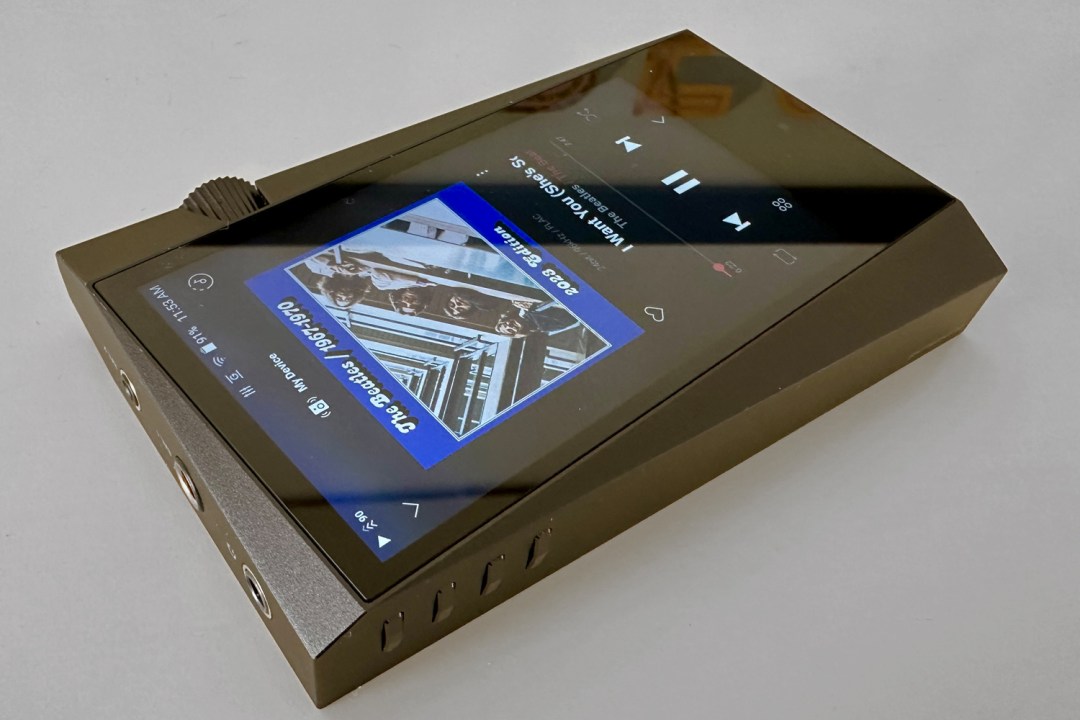 Stuff Verdict
Put that smartphone down and get your portable audio properly sorted. The A&norma SR35 is a treat for the ears.
Pros
Balanced, detailed, eloquent and straight-ahead thrilling sound quality
Small and perfectly formed
Loads of end-user options where performance is concerned
Cons
Shamelessly expensive
Battery life is variable
Internal memory gets used up quickly
Introduction
The whole concept of "entry level" is relative. You might think it means the same as being affordable or mainstream, and in lots of cases you'd be right. But not where Astell & Kern's headphones, DACs and digital audio players are concerned. The A&norma SR35 (yes, it's a mouthful) is a good example.
Astell & Kern's entry-level digital audio player only just creeps in under $800/£800. I don't know about you, but those aren't figures I'd associate with either affordable or mainstream. But in some ways that's beside the point. The real question is: is the A&norma SR35 actually worth the money?
Design and build: making a point
It only weighs 184g and is barely larger than a smartphone, but the A&norma SR35 is unmistakably Astell & Kern-y. Its aluminium chassis is complicatedly angular, to the extent that its 3.6in, 1280×720 touchscreen had to be slanted over to one side to fit between all the sharp edges. If it's distinctive you want, you've come to the right place, but you didn't also come for pointy, this may not be the digital audio player for you. The A&norma SR35 is well-made as it is acuminate, though; despite its pocket-friendly weight, it feels substantial and built to last.
There are a few physical controls here. On the top right side there's the usual jewel-like volume control that Astell & Kern has turned into a design feature, while on the top left there are four little buttons handling power, playback and track skipping.
On the top of the player there are three analogue outputs, which you'll most likely use for attaching headphones. There's an unbalanced 3.5mm output, naturally – but there are also 2.5mm and 4.4mm balanced alternatives for use with rather more upmarket headphones. This may be an entry-level player but, like I said, everything's relative.
On the bottom, meanwhile, there's a USB-C socket and a microSD card slot. The A&norma has 64GB of internal memory, which will fill up pretty quickly if you load properly high-resolution audio files – so you can add as much as another 1TB using a microSD card. USB-C is used for charging the 3150mAH lithium ion battery, and also enables the A&norma SR35 to function as a DAC if you want it to deal with the digital output of, say, your laptop.
Features: DAC DAC DAC DAC boom
There may not be much happening on the outside of the Astell & Kern, but the inside is full of useful (and, let's not be coy, expensive) componentry designed to maximise sound quality and, by extension, your listening pleasure.
Four Cirrus Logic CS43198 DAC chips take care of the digital-to-analogue conversion business – all four can run at once for optimum performance, or the SR35 can run in dual-DAC mode for greater efficiency where battery life is concerned. It's part of Astell & Kern's Teraton Alpha platform, which is designed to minimise noise and maximise performance. Until now, Teraton Alpha has only appeared on much more expensive A&K models.
Naturally enough, the A&norma SR35 has wireless as well as wired connectivity. Dual-band Wi-Fi is particularly handy when you realise the Astell & Kern is Roon Ready, and can run quite a number of high resolution music streaming service apps – Apple Music, Qobuz and TIDAL are among the more high-profile. There's two-way Bluetooth, too, so the SR35 can be a receiver as well as a transmitter. There's compatibility with aptX HD and LDAC codecs as well as SBC and AAC, so wireless high-resolution playback is firmly on the menu.
The sort of battery life you can expect depends very much on the way you're using the SR35. Listen at moderate volumes, to digital audio files of unremarkable size (16/bit 44.1kHz CD standard, say) using wired headphones and you should be good for around 20 hours of playback. Switch it up, though, and listen to big hi-res content at significant volume using wireless headphones, and that figure will dip down to below 10 hours. No matter how quickly you run it flat, though, getting back to 100% battery power takes around 150 minutes via the USB-C socket.
Interface: every grain
The few physical controls the Astell & Kern has are useful, of course – but the touchscreen on the front of the player is really where the action is.
The A&norma SR35 debuts Astell & Kern's new crimson-and-black UI – it's both easier to comprehend and most restful on the eye, according to the company. It's just as well it's easier to understand, because the screen is not the biggest – and so it follows that the relevant area you might need to touch isn't very big either. This is not a device for the ham-fisted.
Happily, Astell & Kern has resisted the temptation to port over the full Android interface experience for the SR35 – because after all, who's interested in duplicate functions their smartphone can just as easily take care of? So the user interface here is familiar – but it's very tightly focused on the player's functions.
Which means that as well as integrating your favourite music streaming services, you can adjust sound using a 20(!) -band equaliser. You can investigate four different DAC filters and a couple of amp settings. You can rearrange the on-screen layout of playback controls, set a volume limit, adjust screen brightness, adjust the USB mode (media player or DAC input) and plenty more besides. If you're interested in controlling your digital audio player on a granular level, the A&norma SR35 has you covered.
Performance: all of this and more
So you've filled the player's memory with your favourite tunes. You've downloaded your preferred music streaming service apps. You've connected some appropriately talented headphones (either wired or wireless). You're good to go.
And the headline is this: it doesn't matter how you choose to eke out the SR35's battery life – it won't be long enough. The A&norma SR35 sounds so clear, so detailed, so all-around great, that you're going to want to keep listening even when the battery is begging you for a visit to the mains.
It doesn't really matter if you're listening to a 160kbps MP3 of My Love Mine All Mine by Mitski or a 24bit/96kHz FLAC of I Want You (She's So Heavy) by The Beatles, either – the SR35's fundamental character shines through. Oh, the bigger and more information-rich the file you listen to the better this player sounds – but even in the most unpromising circumstances, it's still a very accomplished device.
Tonally, it's balanced really well. It extracts and reveals a huge amount of detail at every point, and manages to put even the most fleeting, most minor stuff into proper context. It's got the sort of dynamic headroom that lets it describe even the biggest changes in intensity without any problems. It can organise a soundstage so that every element of a recording gets enough space in which to do its thing – but it doesn't make them sound isolated from each other. Instead, it makes sure they all hang together as part of a common thread. And it gives the spaces and the silences in a recording the same sort of prominence and importance as the actual sounds themselves.
Bass sounds are deep, properly shaped and so well controlled that rhythmic expression is completely confident. At the top of the frequency range, there's proper bite and attack to treble sounds – but it's never edgy or splashy, even when you really crank the volume up. Instead, it's crisp and convincing, and a great counterpoint to the punchy bottom end. And in between, the SR35 creates so much space for a vocalist to do their thing, and carries along so much of the fine detail in their voice that less accomplished players ignore, that character, attitude and emotion really shine through.
Astell&Kern A&norma SR35 verdict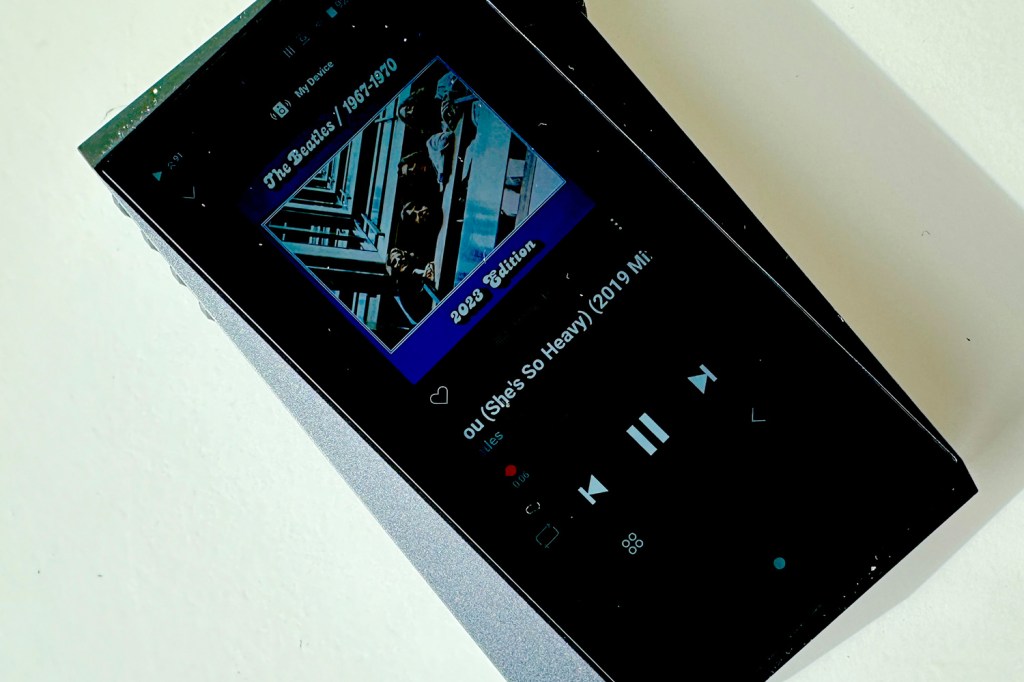 No, it's not anyone's idea of a bargain. But the A&norma SR35 is so very good at what it does that it justifies the asking price all day long.
Astell & Kern may have abandoned the entry level as most of us understand it. But its jumping-off point is better, it turns out, than the best that most rivals can offer.
Stuff Says…
Put that smartphone down and get your portable audio properly sorted.
Pros
Balanced, detailed, eloquent and straight-ahead thrilling sound quality
Small and perfectly formed
Loads of end-user options where performance is concerned
Cons
Shamelessly expensive
Battery life is variable
Internal memory gets used up quickly
Astell&Kern A&norma SR35 technical specifications
| | |
| --- | --- |
| DAC | Cirrus Logic CS43198 x4 |
| Outputs | 3.5mm (unbalanced), 2.5mm/4-pole, 4.4mm/5-pole balanced |
| Inputs | USB-C |
| Screen | 3.6in, 1280×720 LCD |
| Storage | 64GB on-board, microSD expansion |
| Operating system | Android |
| Dimensions | 108x64x16mm, 184g |