Apple MacBook Air 2011 review
Has Apple's absurdly slim crowd-magnet finally matured into a 'proper' laptop?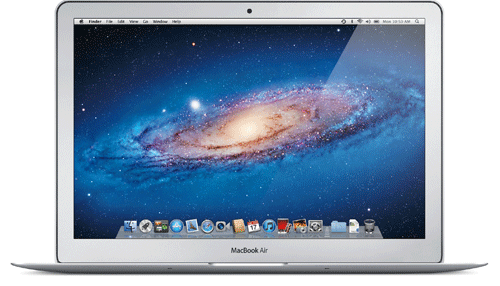 Apple's original 2008 Macbook Air was like a human beatbox – a crowd-pleaser that quickly turned out to be, well, just plain annoying. The then 'world's slimmest notebook' slid from Steve Jobs' manila envelope promising a new era in ultraportable computing. It delivered a measly one USB port, two-hour battery life and lethargic user experience.
But after three years of measured evolution, the Macbook Air has come of age. With Intel's nippy Core i5 chips (or top-range Core i7, for an extra £100) plus the innovative Mac OS X Lion purring away inside, 2011's 11in and 13in models are fully qualified to be 'main laptops' for everyone bar gamers and power users. They're so capable, the standard white Macbook has been forced into retirement.
Backlit buttons return
At first sight, the 13in model seems identical to its 2010 predecessor. Indeed, there have been just two external design tweaks. The backlit keyboard, last seen in the 2009 version, has returned to aid night-typing. Its chiclet keys remain a pleasure to type on, if a tad lacking in cushioning.
Then there's the (currently useless) Thunderbolt port, which on the 13in Air sits alongside two USB ports, a headphone jack and an SD card slot. Apple's lovely Thunderbolt Display is incoming, but we await more affordable accessories.
A familiar sight it may be, but the Air remains one of the few slabs of tech with the magnetism of a newborn baby. Handsome rivals like the Sony Vaio Z and Samsung 9 Series have aped its aluminium charm, but no other laptop feels as bomb-proof, durable or premium as 'the unibody'. Its screen hinge alone could entertain a gaggle of industrial designers for an entire evening.
Speed demon
For all the Macbook Air's physical allure, the 2011 edition's biggest improvement, and the one that turns it from niche icon to mainstream star, is its performance. The combination of a solid-state drive (we'd ignore the feeble 64GB version) and a Core i5 or i7 processor certainly doesn't come cheap. But, for day-to-day tasks, it makes for a computing experience that's as slick, fast and downright enjoyable as any piece of tech we've used.
The Air boots in 20 seconds, wakes from sleep quicker than an insomniac mouse, and shuts down in a few seconds. Even with multiple browser tabs and apps like Reeder, Twitter and iTunes open, plus Spotify playing away in the background, the Air never gets flustered or spins beachballs.
Intensive tasks like rendering and editing HD videos bring the fan into play, but noticeable slowdown is rare. Apple claims the 13in model is twice as fast as the 2010 version, and it certainly feels it.
Demanding games are a little beyond the 2011 Macbook Air's integrated HD 3000 graphics – Crysis-lovers are better off looking at something like the comparably-priced Alienware m14x. But aside from the disappointing lack of an option to upgrade to 8GB RAM, which will rule out intensive Photoshoppers, the Air is now a serious option for Macbook Pro owners looking to move onto something more manbag-friendly. 
Making the Lion roar
It's also tailor-made for the new Mac OS X Lion. Like the Air itself, Apple's revamped desktop OS blurs the boundaries between tablet and laptop with its gesture-based navigation. Thanks to its speed and best-in-class multitouch trackpad, the Air makes it a joy to whizz around, as you flick unwanted windows off the screen or open Mission Control with a three-finger push. Once you've learned the gestures, it's hard to live without them.  
Fortunately, none of these extra goodies have made any dent in the 13in Air's battery life. In our real world test, which involved watching a 720p film, web browsing, playing music via Bluetooth and short periods of sleep, it managed an impressive 8.5 hours. More intensive tasks like HD video editing with no rest brought it down to the five-hour mark, though it recharges swiftly in about two hours.
While impressive, this battery performance is largely matched by the Samsung 9 Series and Sony Vaio Z. And, in some areas, these new rivals trump the new Air. The 9 Series' matte screen is easier to read in sunlight than the glossy Apple equivalent, and it boasts superior connectivity. 
An equivalent Vaio Z is more expensive than both at £1844, but offers greater customisation with options for built-in 3G, 8GB RAM and a longer life battery. Its matte, 1600×900 display is also slightly superior to the Air's otherwise excellent 1440×900 screen.
The new Macbook
But if none of these features are deal-breakers, the 2011 Macbook Air is the best ultraportable, nay laptop, in the land for day-to-day computing. Its combination of lightning speed, slim profile and the gesture-tastic Mac OS X Lion mean it melds the benefits of tablets (portability, usability) with the power of traditional laptops. And, to top it all, it's an incredibly lovely thing. We recommend adopting one as soon as financially possible.