Advent DHE 2000 review
The Advent DHE 2000 comes with an Intel Pentium 4 processor, a 250GB hard drive, stylish neon blue display and gives top sound and vision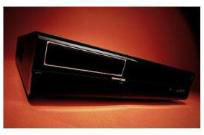 The Advent looks spookily similar to the Elonex Artisan LX but, thankfully, you do get a bit more bang for your buck.
The advent comes with an Intel Pentium 4 processor, and the 250GB hard drive is capacious enough for most needs, while the addition of both analogue and digital tuners gives you the best of both gogglebox worlds.
Once you've stopped flirting with the sexy neon blue display, the Advent gets down to business. It's super quiet and super easy to use. Expect clear and well-defined images with both DVD playback and pictures from the digital telly tuner. Using the coaxial digital output ushers forth a dynamic and utterly non-rubbish sound.
We can't find fault with the Advent, it's impressive ability and alluring price tag have stolen all our stars.