Onkyo TX-NR5000E review
Does the daddy of all AV receivers warrant its mighty price tag?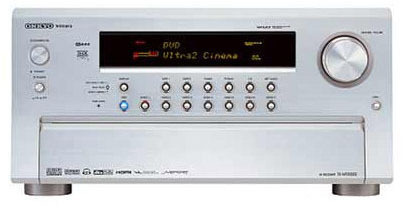 If you're used to a bit of customisation of your PC – we're not talking liquid cooling and more fans than a 1960s cross-channel hovercraft, but just the odd memory upgrade or drive-change, you might wonder why all consumer electronics aren't built for simple upgrading.
The mother of all boards
Well, here's one piece of kit that is: the TX-NR5000E is integrated receiver is based on a modular system, the rear of the chassis being effectively a substantial 'motherboard', into which 12 slot-in 'cards' are fitted. These carry input and output sockets for both audio and video, complete with the relevant DACs, decoders and the chipsets required by the board itself, the idea being that as the demands on AV receivers change, Onkyo will just make a new card you can slot in. Neat.
Last man standing
Not that the basic model is in any way bare-bones, as you'd hope given that price tag: it comes with a full range of processing and decoding options, including THX Ultra2, and extensive inputs and outputs, including twin FireWire sockets, and three-zone multiroom capability. It also has 'last man standing' build quality.
And it sounds truly effortless, wondrously composed and highly impressive. Dynamic constraints simply aren't an issue, no matter how demanding the movie soundtrack: this is a reciever that, more than most, makes everything sound, well, easy.
To an extent, this laudable home cinema performance is nothing less than we'd expect: a product in this class ought to excel with movie sound. But the Onkyo's winning way with music… now that surprised us. Of course, it isn't the equal of a dedicated, similarly priced hi-fi amplifier, but it times reasonably well, shows good agility and offers a highly convincing stereo image.
This ability makes this mighty Onkyo receiver an immensely appealing buy: yes, it's expensive, but it's great value.