The best electric cars of 2019 – reviewed
Breaking up (with fossil fuels) is so very hard to do... so allow us to help you kick petrol bills to the kerb with this collection of the greatest electric vehicles of 2019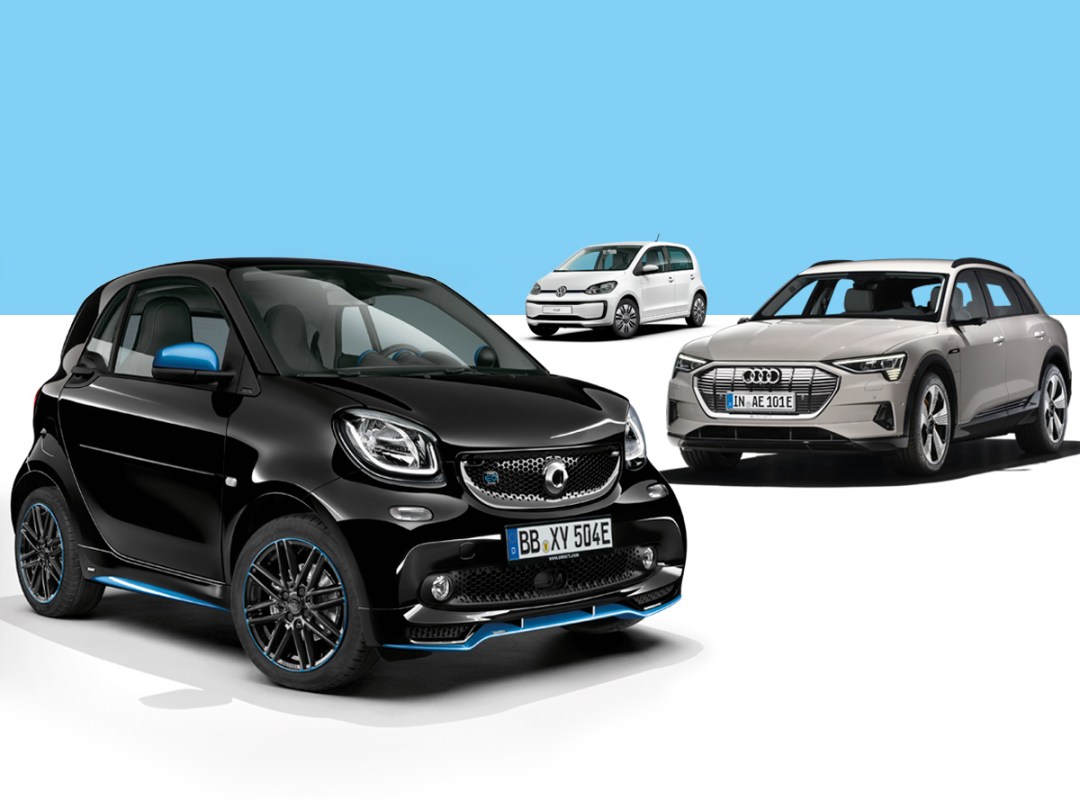 Thee news headlines paint a gloomy picture for the automobile as we know it. Declining sales, increasing taxation and a general disgust towards diesel make the prospect of investing in new wheels a bit daunting. And yet, since the 1980s, car ownership has more than doubled in the UK as the cost of running a car has decreased by 12% – while in the same period, bus fares have risen 59% and rail fares 62%.
So we love cars, but need to save the planet – Sir David Attenborough said so at Glastonbury and therefore it's gospel. There is hope, because billions of pounds are currently being poured into the development of electric vehicles – and the latest generation aim to eradicate the nasty muck emitted from belching tailpipes. We're not naive enough to think EVs are a silver bullet cure for Earth's assorted misfortunes, but we do know that impressive range, scintillating performanceandexcellentpracticality make them an enticing, future-proof offering. Plus it costs, like, a quid in leccy to drive 50 miles.
Wrap your head around the UK's charging network – it's better than you think – get used to plugging in overnight by installing a charger at home, and adapt to eerily silent motoring with instant acceleration, low maintenance and slashed fuel costs. You don't have to buy either: leasing an EV is a bit like a phone contract, where you pay a monthly fee and upgrade your handset every few years.
To assist this surge of positivity we've rounded up – and sampled – a collection of the finest battery-powered vehicles on the planet, ranging from compact city cars to load-lugging premium SUVs, so you can enjoy emissions-free motoring whatever your oh-so-modern lifestyle demands.
SMART EQ FORTWO (Buy from £17,695 // Lease from £239/month)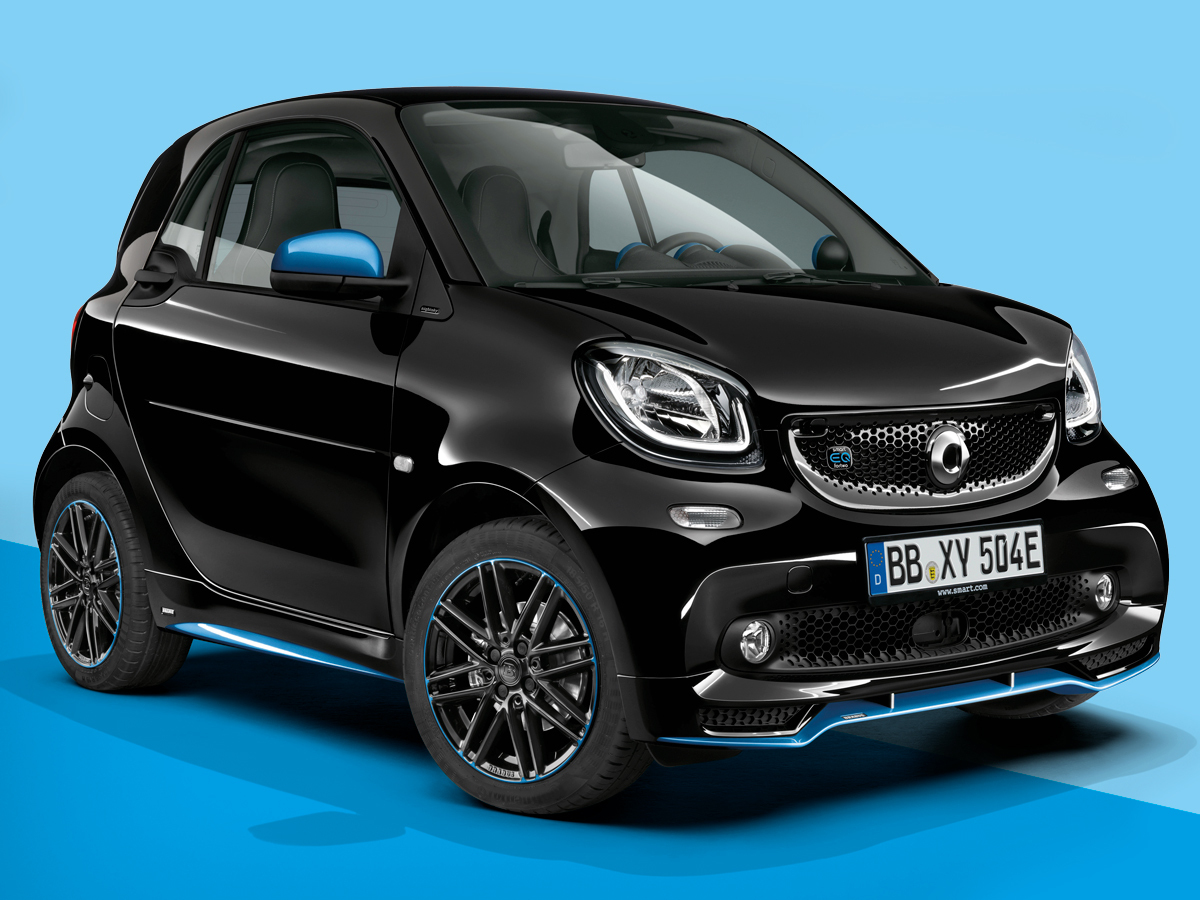 The latest of Smart Car generation hasn't shied away from everything that made this teeny city whip so loveable in the first place – not least the blunt rear end, which is great for parking in tight spaces, and comically flared wheel arches. On top of this, the 'tridion' safety cell remains an integral part of its design and is one of the most impressively robust pieces of engineering seen in a car.
But let's get down to the nitty-gritty, because the 7.6kWh battery and 60kW rear-drive electric motor deliver around 79bhp, which is enough to see the EQ ForTwo run out of steam at around 80mph. But you'll never have to trouble the top speed, because this is a car that very much loves to zip around congested city streets and will do so for around 100 miles before the batteries run flat.
Thanks to a single fixed-gear ratio, the burn away from traffic lights is comically fast. In fact, the full 160Nm of torque is available from a standstill, which sees the sprint to 30mph completed in less than 4 seconds. Plus, the new suspension setup feels more nimble than ever. Yup, it still jiggles and wiggles over big bumps in the road, but it doesn't feel quite as eager to fall over as it used to.
Inside the more lavishly appointed models you'll find a 7in colour touchscreen infotainment display, while an 8.9cm TFT screen replaces the monochrome trip computer if you go for more basic spec. Charging takes as little as six hours from a domestic socket, so you won't need a designated charger installed at home or work, but that figure tumbles to 2.5 hours if you plug it into one of the beefier units on the UK's charging network.
So what are the downsides? Well, that asking price is almost on a par with larger EVs offering a much more usable range. Still, nothing gets close to its petite dimensions and the sheer joy of pointing the nose of the Smart EQ ForTwo towards a kerb and parking in a space typically occupied by a motorcycle (or two).
Smart EQ FourTwo Key Specs
Range: Up to 98 miles // Power: 60kW (79bhp) // 0-62mph: 11.5 seconds // Top speed: 80mph // Infotainment: 7in touchscreen
Stuff says: ✭✭✭✭
Smart's electric whizz-about is a champion of narrow city streets and seemingly impossibly parking spaces
VOLKSWAGEN E-UP! (Buy from £19,615 // Lease price tbc)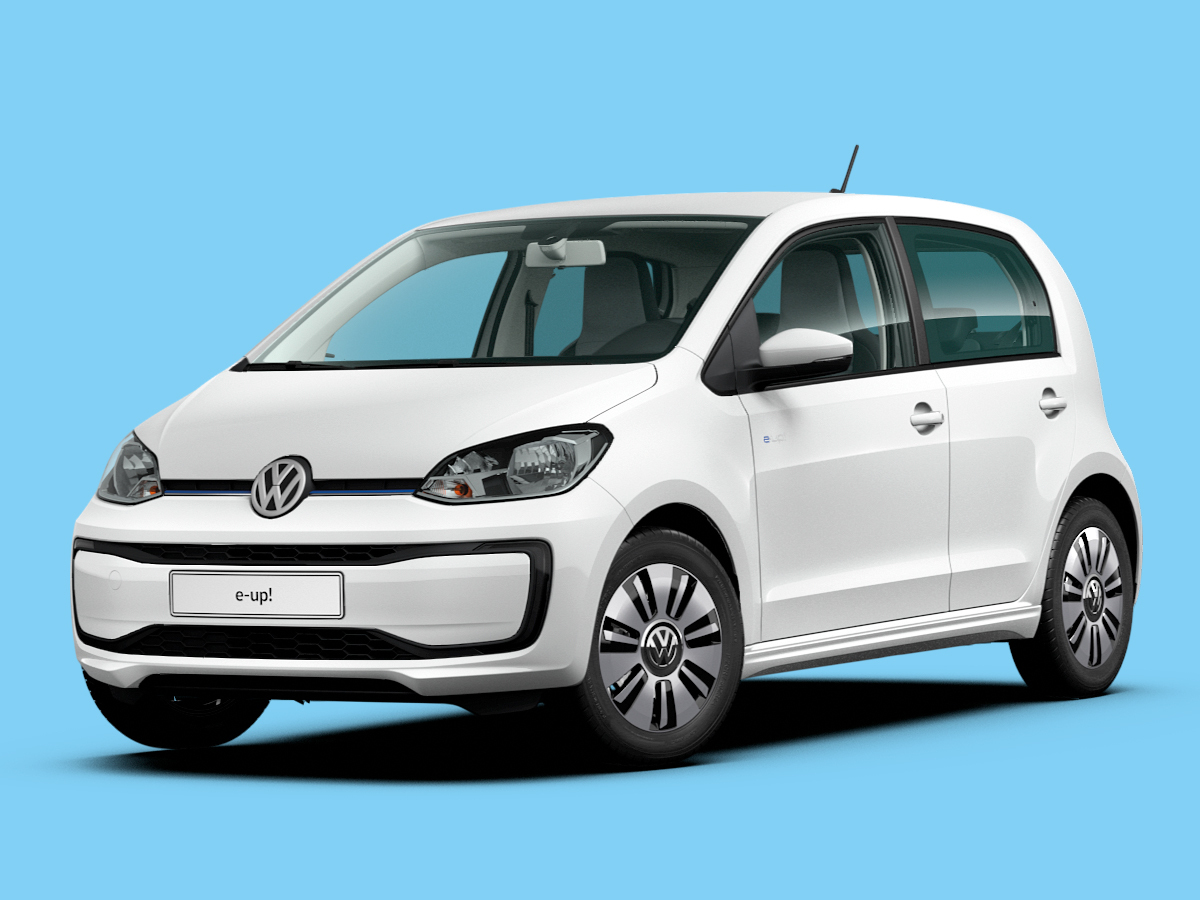 The VW e-up! might sound like it was 'thunk' up in a Yorkshire pub, but it is in fact the most car-like compact, erm, car on this list, as it offers the same VW build quality as the rest of the Teutonic range. An electric motor delivers the equivalent of 81bhp and 210Nm of torque – that might not sound like much, but the feather-light construction makes it crazily nippy.
Because it's a VW, it rides exceptionally well, and features all the mod cons you would expect of a spanking new car. It's just a shame the range is limited to 99 miles, so you might have to plug in at home every night.
Volkswagen E-UP! Key Specs
Range: 99 miles // Power: 60kW (80bhp) // 0-62mph: 12.4s // Top speed: 80mph // Infotainment: 5in touchscreen
Stuff says: ✭✭✭
A compact and nimble electric whip that falters on the milage front.
NISSAN LEAF (Buy from £27,995 // Lease from £349/month)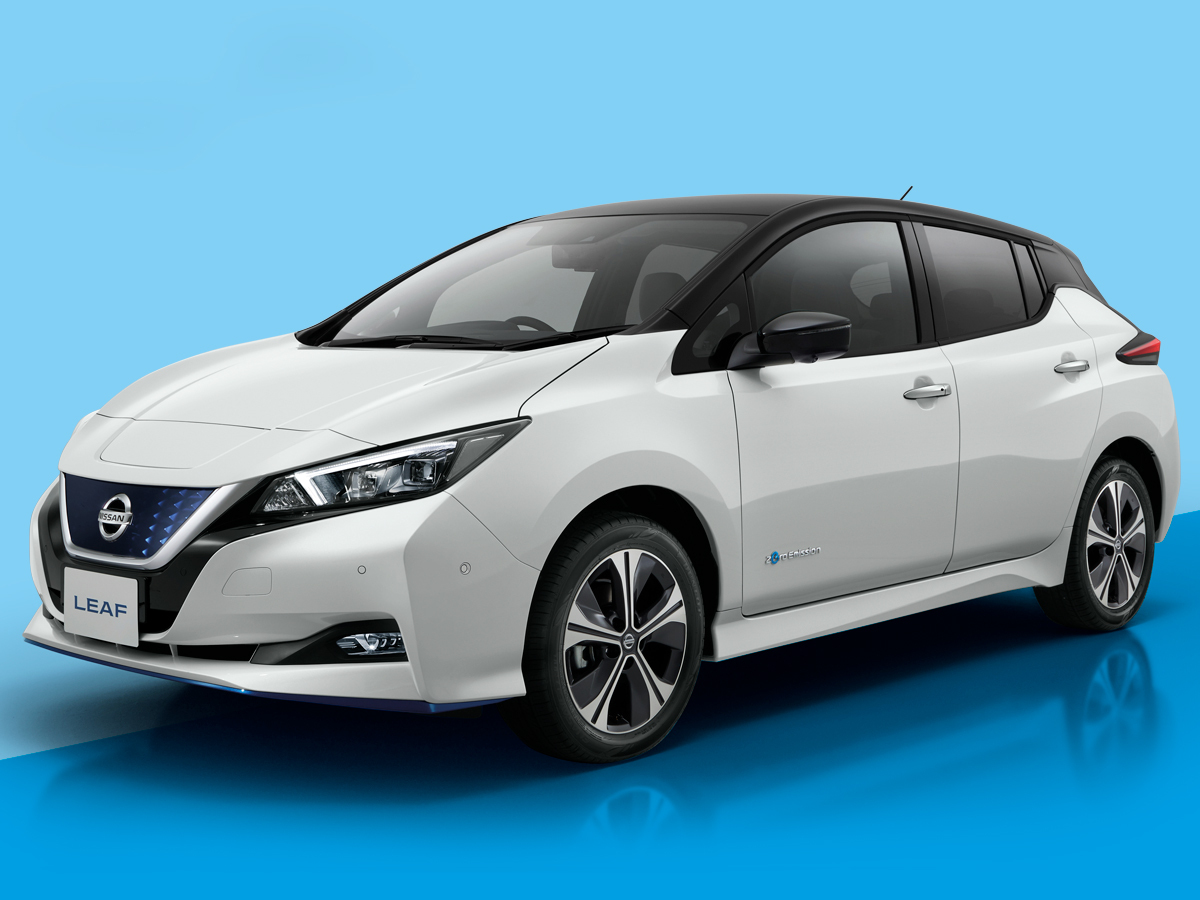 It's not surprising the Nissan Leaf is officially the best-selling electric car in history (shifting 400,000 worldwide since 2010), simply because the Japanese manufacturer was one of the first mass producers to bet its chips on battery tech. The gamble has paid off, as after years of honing and perfecting the EV recipe we're now left with an extremely accomplished family car that packs some serious range and performance – and acts as a flagship model for the company's most advanced driver assistance gizmos.
Nissan ProPilot is essentially the highest autonomous driving level that's legally permitted on UK roads at the moment, and sees the car take charge of business even in stop/start traffic. The intelligent Around View Monitor paints a live 3D picture of the car and its surroundings (say goodbye to car park prangs… at least, ones that are your fault) and ProPilot Park will even park the thing for you.
Those requiring monster range can look towards the new E+ model, which delivers a punchy 217hp and up to 239 miles on a single charge, while a neat e-Pedal feature allows the car to be driven with one foot. Activate this function, ease off the gas and the regenerative braking will bring the car to a complete stop if it needs to. It's not only an exceptionally easy way to drive, it's also bizarrely fun – and the eager, nippy nature of this little EV is proof that going electric can be a hoot as well as easy on the wallet.
Inside, the Nissan feels well built and there's easily enough space for five folks plus some luggage in the rear. This generation is also arguably the best-looking yet, shunning those odd, bulbous lines of yore for a sharper, more purposeful silhouette. Enjoying the silence on remote open roads, it's an undeniable pleasure with a silky-smooth ride; and if you're concerned about the UK's charging infrastructure, Stuff online editor Natalya Paul managed to charge her Leaf in the Outer Hebrides.
Nissan Leaf Key Specs
Range: Up to 239 miles // Power: 110-160kW (150-217bhp) // 0-62mph: 7.1 seconds // Top speed: 98mph // Infotainment: 8in touchscreen
Stuff says: ✭✭✭✭✭
Nissan has played a long game with the Leaf, and the 2019 model is a strong candidate for your eco-conscious cash
BMW i3 (Buy from £31,850 // Lease from £349/m)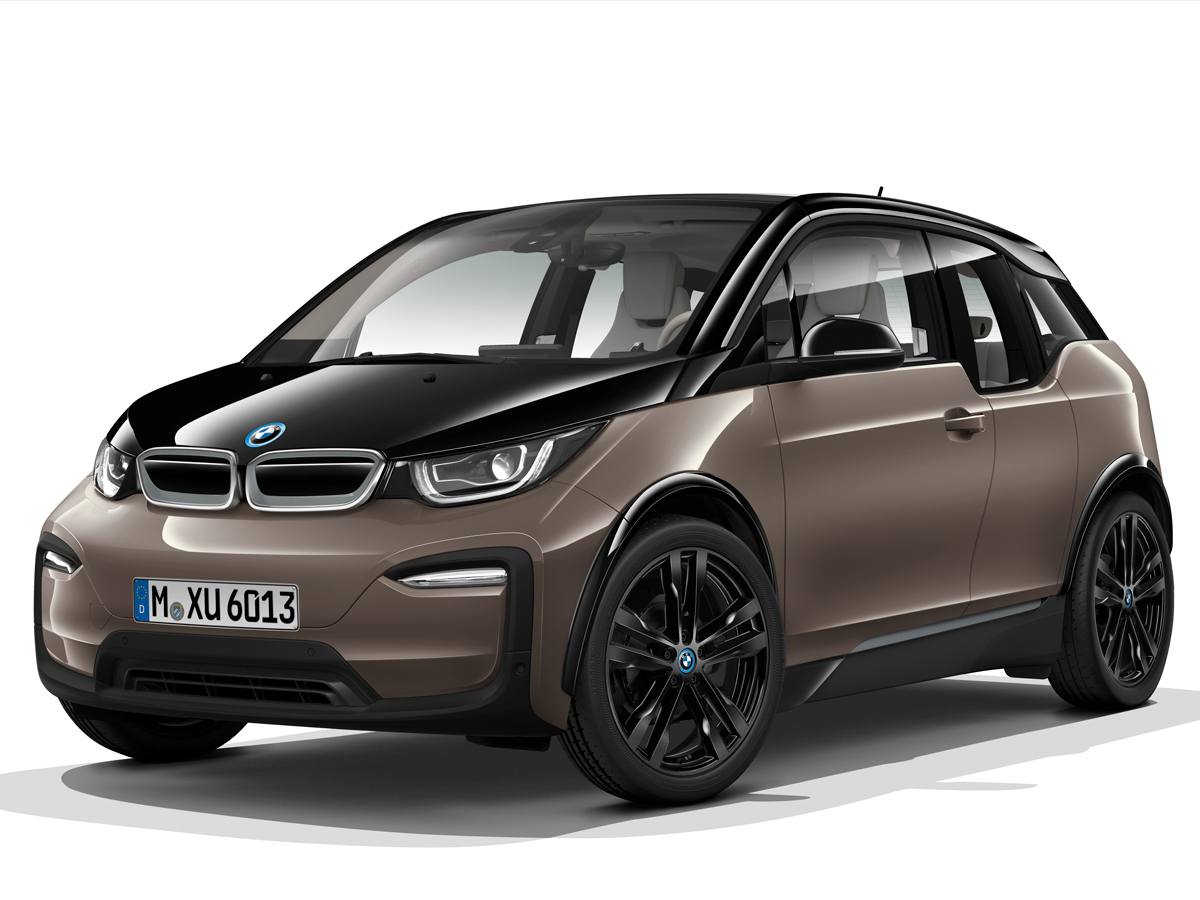 Compared to some of these new kids on the block the BMW i3 is starting to look a little wrinkly now, but it remains one of the most innovative pieces of automotive design of recent times. The i3 pioneered the use of plant-based materials for its interiors, with an overall construction that's 85% recyclable and radical coach doors that offer a massive aperture to climb in and out of its svelte frame.
The i3 still feels rapid, but its maximum range falls some way short of rival models that are now on sale for a fraction of the price. Still, very little looks as radical on the road as BMW's pioneering EV.
BMW i3 Key Specs
Range: 193 miles // Power: 125kW (168bhp) // 0-62mph: 7.3s // Top speed: 93mph // Infotainment: 10.2in touchscreen
Stuff says: ✭✭✭✭
An aging pioneer that still does the business, but is starting to fall behind in certain areas.
JAGUAR I-PACE (Buy from £60,995 // Lease from £599/month)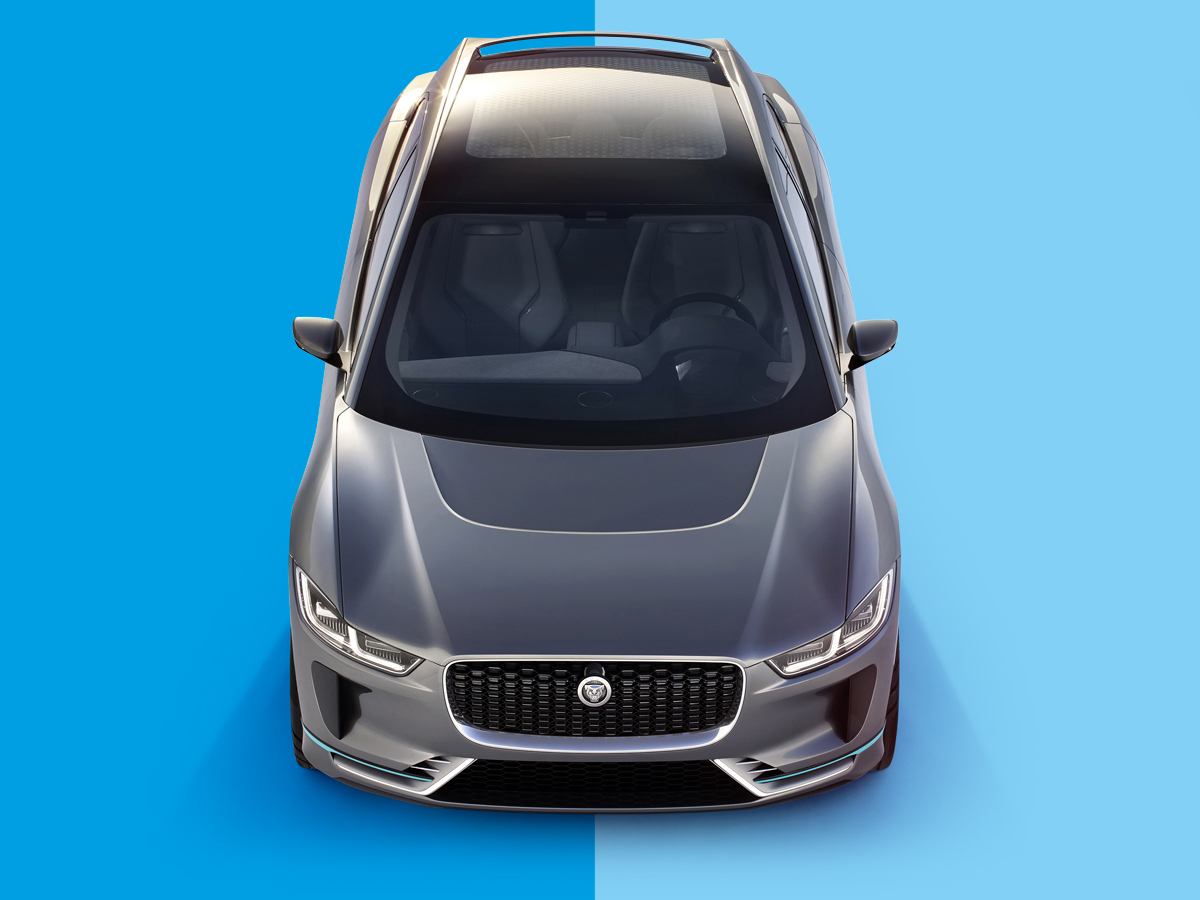 You could almost hear the panic emanating from Silicon Valley when Jaguar unleashed its cutting-edge I-Pace: this was one of the first production vehicles from a luxury maker that had the range, handling and performance to match the might of Tesla. Fusing SUV and coupé styling, Jaguar wanted to create something elegant and aerodynamic, with every curve, intake and line intended to improve range.
It's worked, because the I-Pace delivers 292 miles on a charge – and that's been calculated using the new, much stricter WLTP test cycle. Plus, performance from its all-wheel-drive system is up there with some of the fastest sports cars on the road: the 0-62mph dash is dispatched in a brisk 4.5 seconds. Amazingly, the I-Pace proves pretty capable off-road too: the added benefit of motors at each wheel is ultimate control over traction.
Point this thing up a muddy hill and it'll happily plough ahead. Inside, owners are greeted to multiple TFT displays (no analogue instruments here), with Jaguar's dedicated smartphone app able to track journeys, remotely locate the car and highlight any charging spots in the local vicinity. Due to the size of the I-Pace's battery packs (90kWh, to be precise), it takes a hefty amount of charge to achieve optimum levels of juice.
Unfortunately, for the best charging performance – 168 miles of range per hour – you'll need to use a 50kW DC rapid charger, and they aren't exactly ubiquitous in the UK. This is the one area where Tesla owners really have the Jaguar licked, thanks to the American marque's awesome network of Supercharging stations. Charging an I-Pace at home will take around 13 hours, so plugging in at bedtime might be a little too late.
Jaguar I-Pace Key Specs
Range: Up to 292 miles // Power: 294kW (394bhp) // 0-62mph: 4.5 seconds // Top speed: 124mph // Infotainment: 10in and 5in touchscreens
Stuff says: ✭✭✭✭✭
Jaguar leads the way with an all-electric star that combines desirable styling with Tesla-troubling performance
TESLA MODEL S (Buy from £78,050 // Lease from £1160/m)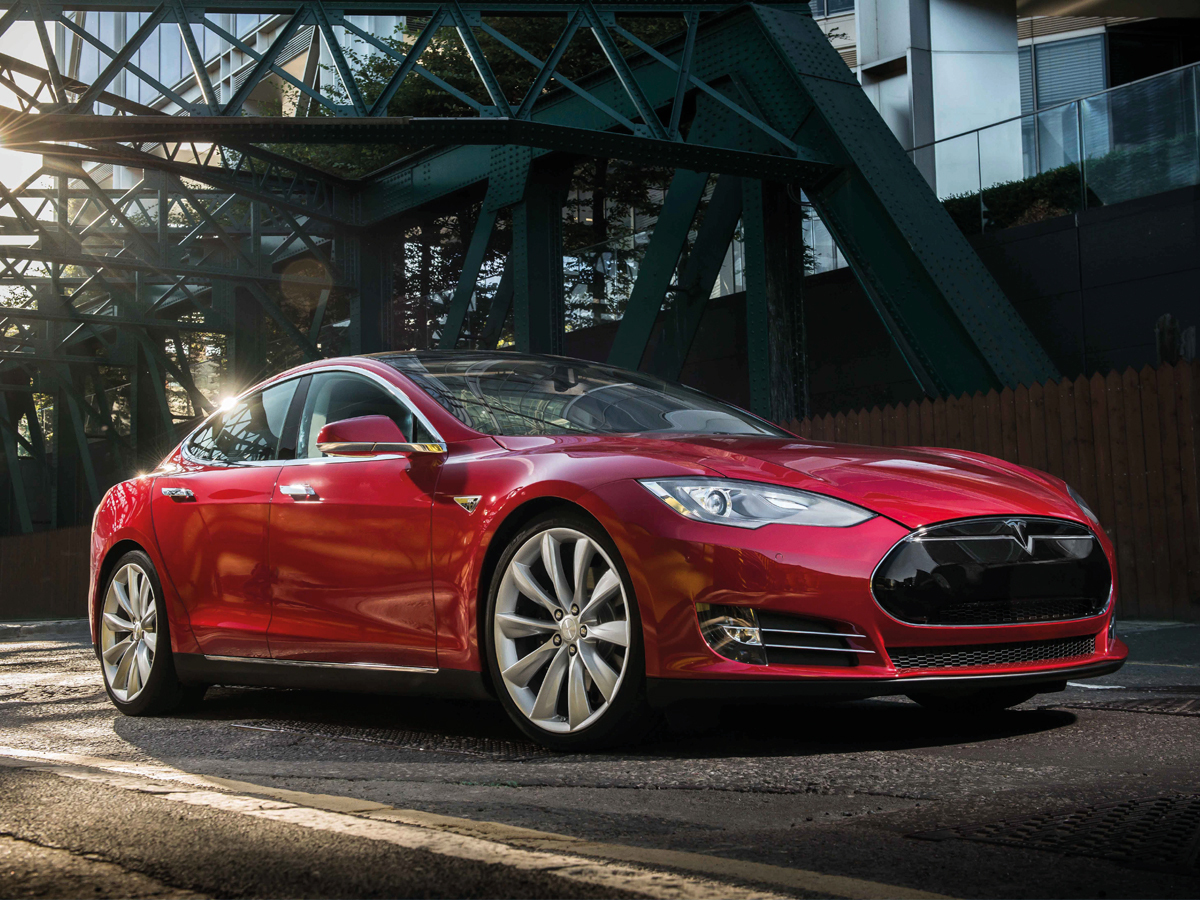 No EV list would be complete without a mention of Tesla, as the Californian giant has arguably been the catalyst behind the auto industry's monumental change in direction. Elon Musk has many critics, but that shouldn't take anything away from the groundbreaking Model S.
This sleek saloon re-writes the rules for all-electric performance and offers advanced autonomous driving tech that most of the other makers are only just beginning to explore. Add the enormous 17in touchscreen, the 393-mile range and the 0-to-62 sprint time of 2.4 seconds in Ludicrous mode, and you have a winner.
Tesla Model S Key Specs
Range: 393 miles // Power: 250-451kW (335-605bhp) // 0-62mph: 2.4s/3s // Top speed: 93mph // Infotainment: 10.2in touchscreen
Stuff says: ✭✭✭✭✭
A tech-smothered pioneer of an EV, the Tesla Model S is one of the best in the business.
POLESTAR 2 (Buy from £49,000 (tbc) // Lease price tbc)
Motorsport buffs might recall Polestar's successful involvement in touring car racing, but it recently announced it would change direction to become the premium electric arm of Volvo. Cue the Polestar 1, with a hybrid powertrain that proved the performance potential of its next-gen tech but cost a packet.
The gorgeous Polestar 2 is a far more sensible choice, with a 78kWh battery, two electric motors and a smaller price tag. But Polestar doesn't really want you to buy this car: it's offering a subscription package that covers everything from insurance to maintenance.
Polestar 2 Key Specs
Range: 275 miles // Power: 300kW (402bhp) // 0-62mph: 4.7s // Top speed: 155mph // Infotainment: 11in touchscreen
Stuff says: ✭✭✭✭✭
A super-sequel that aiming to become the Netflix of electic vehicles.
MERCEDES-BENZ EQC (Buy from £62,140 / Lease from £759/m)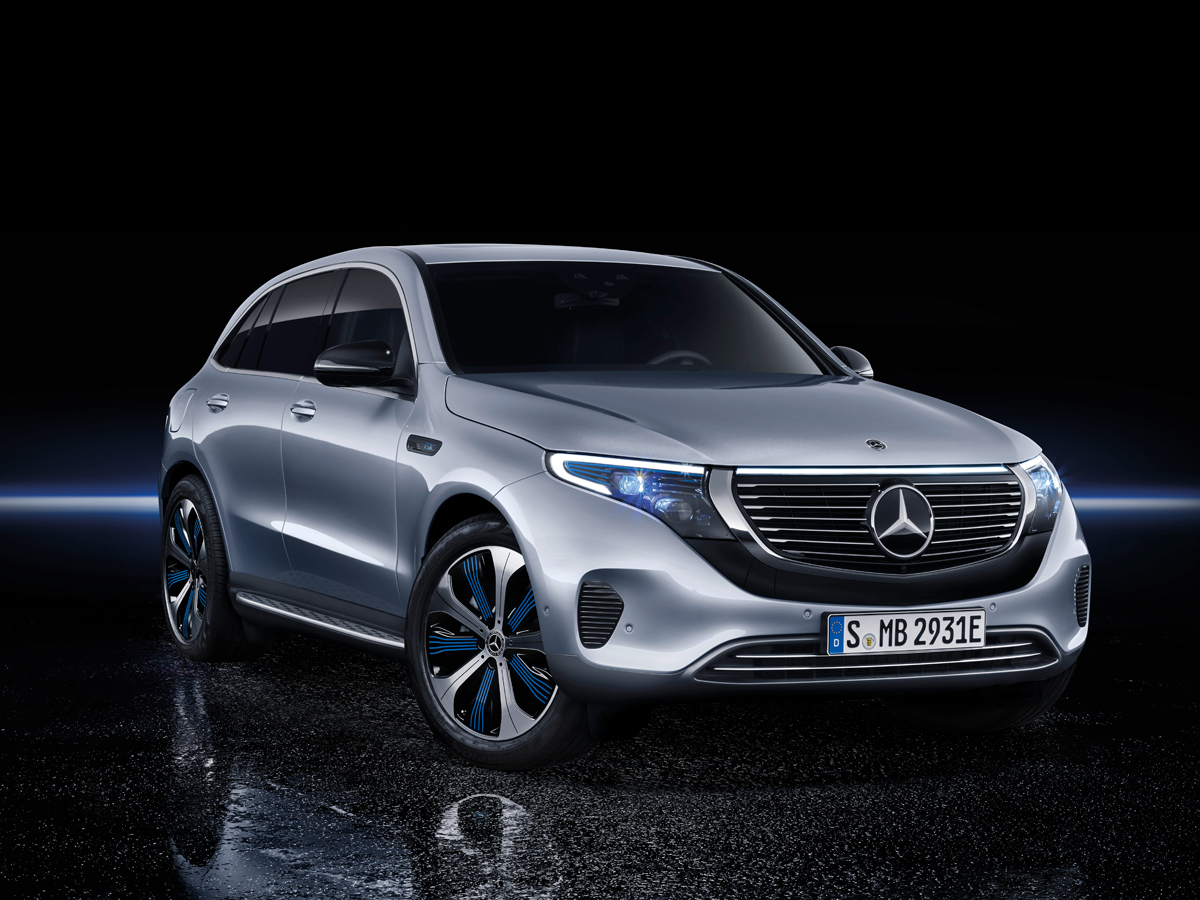 The upcoming Merc EQC will spearhead a massive EV onslaught from the brand, which will see 10 new electrified whips hitting the road by 2025. In order to impress the Tesla crowd, the EQC packs an 80kWh lithium-ion battery with a WLTP-certified range of 259 miles.
Two electric motors deliver a combined 402bhp, which Mercedes claims will get this bulky unit to 62mph in 5.1 seconds. Like Audi, Mercedes-Benz is playing is straight here in design terms: you're getting luxury motoring, intuitive tech, some stylish design and a premium price tag.
Mercedes-Benz EQC Key Specs
Range: 259 miles // Power: 300kW (402bhp) // 0-62mph: 5.1s // Top speed: 112mph // Infotainment: Twin 10.2in touchscreens
Stuff says: ✭✭✭✭
A robust, luxury EV that offers plenty of range and a fair bit of speed.
AUDI E-TRON (Buy from £68,060 // Lease from £687/month)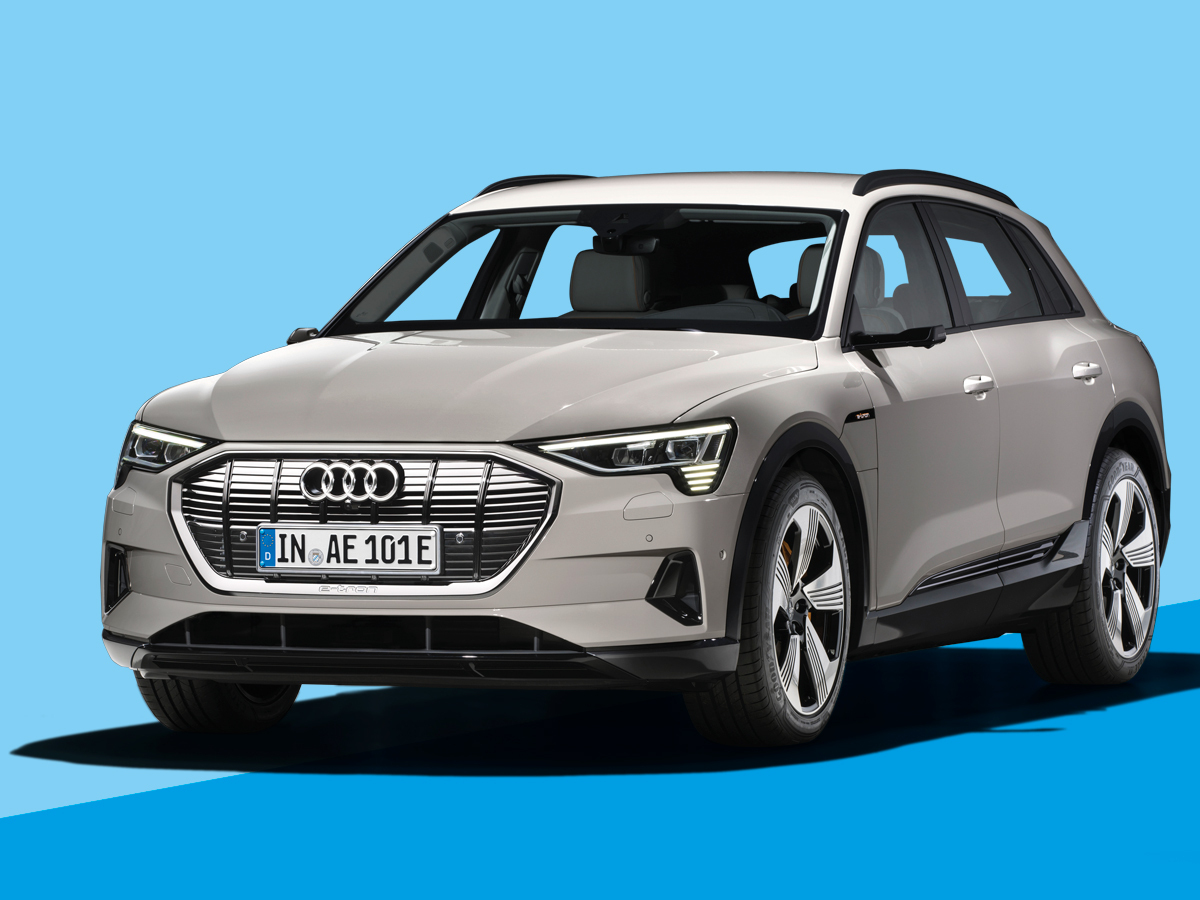 When electric cars began appearing on our streets, some makers thought it best to make them look as futuristic and otherworldly as possible. Silly rounded proportions, blanked-off radiator grilles and liberal use of blue were all present, as manufacturers assumed early adopters wanted to shout about their eco sensibilities… but it turns out most folk just want a regular car.
Audi recognises this fact and its big, brutish E-tron is about as conventional as premium SUVs come. Stand it next to the Tesla Model X, for example, and the Californian import looks as if it's been beamed down from outer space. But underneath the recognisable veneer is a massive 95kWh battery pack and dual-motor configuration that Audi claims is good for around 220 miles on a single charge. There's also a bunch of exciting new technology that hopes to entice buyers away from smoke-spewing diesels and into the future.
The wing mirrors, for example, are actually little cameras on stalks that deliver a live video feed to two large screens on the inside of the driver and passenger doors. It takes a little while to get used to as the screens aren't in the typical mirror location – and of course, you can leave that option box un-ticked and go for old-fashioned slabs of glass instead. However, Audi claims it does wonders for aerodynamic efficiency; and when you're trying to eke every last drop from the lithium-ion battery packs, a couple of massive wing mirrors are a handy thing to be able to dump.
And how does it drive? Well, it feels very much like every other large Audi SUV in the range, albeit one that emits hardly any sound when cruising around town. But this is largely the point, because the German marque wants to appeal to as many customers as possible with its electric offering – and it feels the best way to do that is with familiarity.
Audi E-Tron Key Specs
Range: Up to 237 miles // Power: 300kW (402bhp) // 0-62mph: 5.7 seconds // Top speed: 124mph // Infotainment: 10.1in and 8.6in haptic touchscreens
Stuff says: ✭✭✭✭
The very best of Audi with added eco credentials: an EV with widespread appeal among electro-sceptics
TESLA MODEL X (Buy from £83,050 // Lease from £1254/m)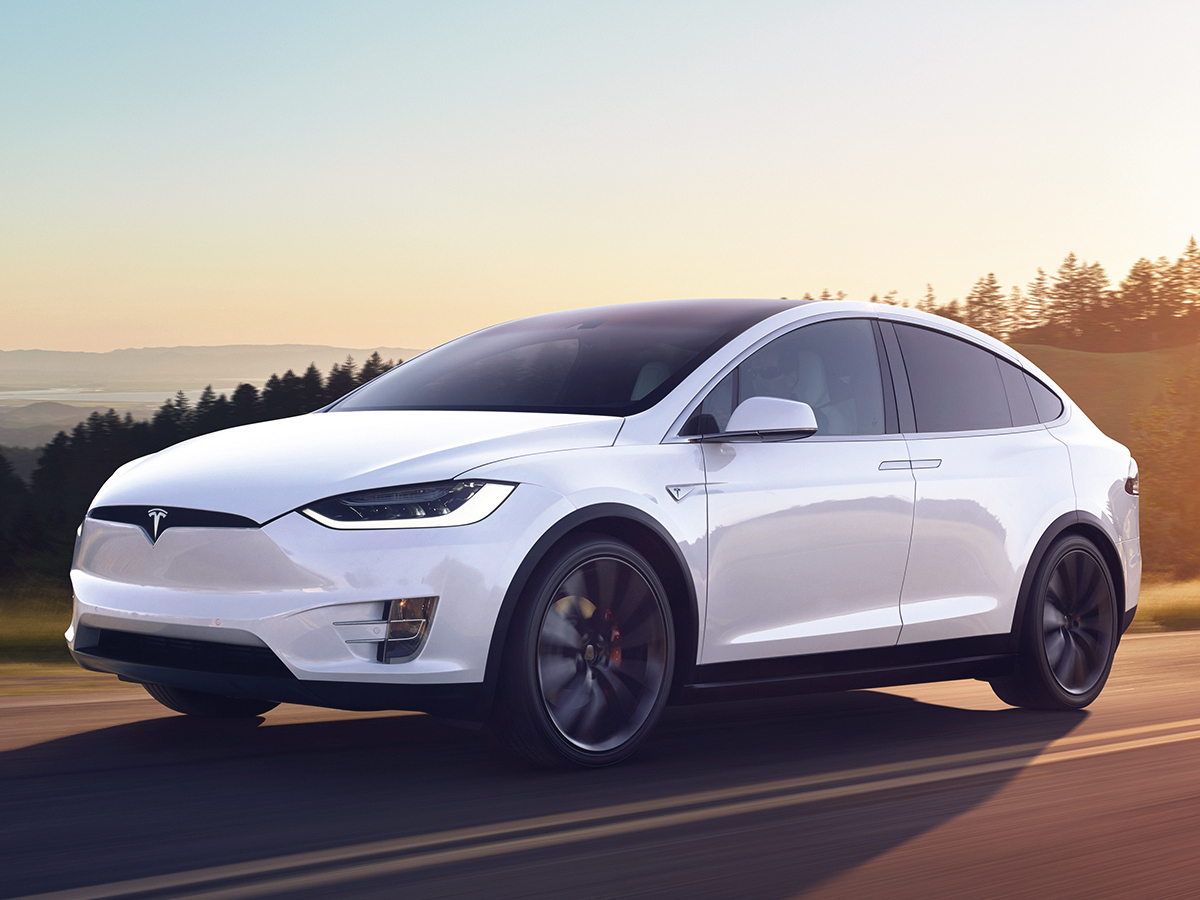 Largely based on the Model S, Tesla's space-age people-carrier is driven by the same battery and electric propulsion system as the saloon, so you can specify the range-topping 100D model and liquify anything at the lights.
There's a claimed range of 315 miles, seven seats and a set of eye-catching 'falcon wing' doors that never fail to draw a crowd. It's a technological tour de force, with one of the best infotainment systems known to man, but it's very expensive, it doesn't ride particularly well… and we still can't quite get to grips with the oddball styling.
Tesla Model X Key Specs
Range: 315 miles // Power: 250-500kW (335-671bhp) // 0-62mph: 2.7/3.4s // Top speed: 155mph // Infotainment: 17in touchscreen
Stuff says: ✭✭✭✭
A showpiece EV that ticks plenty of space-age boxes, but skips out on some of the basics.