Simaudio Moon Equinox review
This funny-looking bit of kit carries a hefty pedigree. Can it live up to expectations?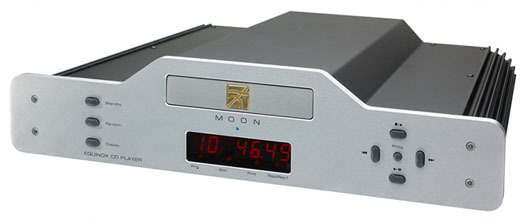 Even though products that carried the Moon brand name only emerged from the shadows in 1997, manufacturer Simaudio has actually been building hi-fi equipment since 1980. So, the company should have a decent idea of what sounds good.
The Equinox is the Canadian firm's most affordable CD player, and though office opinions were split over the visual appeal – the aesthetics are based on the pricey-as-it-is-lumpy £5950 Moon Eclipse – the overall quality of the build received an all-round thumbs-up. The 10kg case feels very solid, and key functions operate with satisfying precision.
Unfortunately, the same can't be said for the unimpressive plastic remote control, which doesn't feel like it belongs with a two-grand piece of kit. But as long as the player performs, no doubt you could live with that…
Rich sonics, accurate rhythms
And, boy, does the Equinox ever perform. Recent Moon kit has exhibited a talent for combining a rich sonic delivery together with foot-tappingly accurate timing, and this machine displays similar characteristics. Spin Prince's 3121 set, and the presentation is full and deep, but not at the expense of information or low-frequency tautness. You'll detect plenty of detail from the complex percussion, and there's good pace and snap to the bass, together with rich vocals. The whole presentation combines a sultry richness with a tight, precise and extremely funky rhythmic display.
Impressive dynamics and realism are also among this player's attributes: switch to an operatic piece, and the Moon delivers soaring, weighty voices underpinned by a thrilling sense of orchestral power and conviction. It conjures the necessary scale to portray the most dramatic of classical pieces, and – again – finds just the right blend of warmth and detailed precision to reveal every ounce of musical meaning in Wagner's Tristan Und Isolde.
Overall, this is a CD player that both invites and compels you to listen to it. Some rivals offer even greater speed, but the Moon Equinox will bring to your music a warmth of character that's difficult to ignore – and very, very easy to enjoy. Overall, this fine balance of sonic qualities makes the Moon a great buy.