Sanyo CE32LD81-B review
In footballing terms, Sanyo's 32in LCD is a decent squad player with a good engine – and a fraction of the price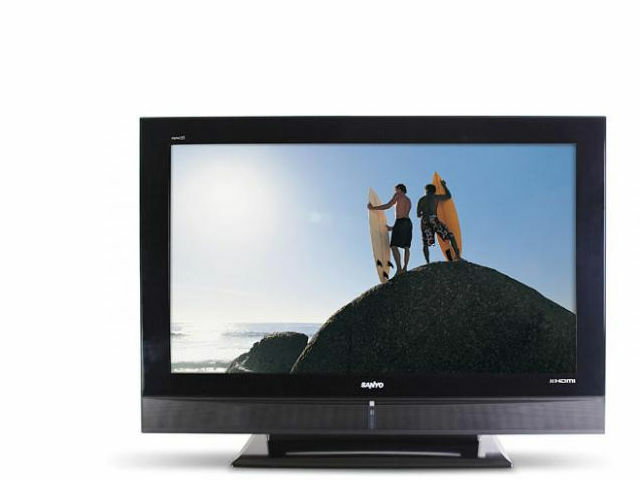 Sanyo seems to have got the budget end of the LCD spectrum sussed by building TVs that offer a good range of features and decent performance, without leaving you feeling like you've been mugged. Root around a few online stores and you should find prices for the CE32LD81-B well under the £600 quoted here.
Basic feature set
But what features does that sort of money get you? Nothing exactly earth-shattering, but this set does have twin HDMI inputs and a digital tuner. Also, while not exactly a stunner, Sanyo has clearly taken a leaf out of the Sony school of design with subtlety the order of the day.
It's a shame the same can't be said of the dazzlingly bright-blue standy light on the front panel. The only practical purpose of this glaring beacon seems to be to serve as a reminder of your ever-growing carbon footprint. 
Getting down to the nitty gritty of performance, it goes without saying that corners have been cut to keep the price down. One of the casualties is DVDs, where detail levels aren't particularly high – although overall sharpness, colour balance and contrast are good.
Even blacks are well represented, let down only by the relative lack of detail that can leave dark scenes looking a little flat at times.
Hi-def on a budget
This lack of three-dimensionality is also our big gripe when it comes to the CE32LD81-E's hi-def performance. The depth and scale mustered from the best sets  during the epic battle scenes in films like Flags Of Our Fathers simply can't be matched here.
Despite this, the digital TV tuner is pretty good. Alright, so there's some instability to motion, but the picture is bright, punchy and vibrant.
The menus are a simple affair, but Sanyo could do with taking a closer look at the unnecessarily confusing remote that hampers operation.
Review continues after the break…
It may seem like we've given Sanyo's set a bit of a hard time, but even taking into account our moans this is still a good set. In fact, were it not for exemplary rivals being so close in price, we might have gone so far as to lavish the Sanyo with five stars. As it is, an honourable mention will have to suffice.