Roth Music Cocoon MC4 review
The uber-sexy Music Cocoon takes on the Fatman iTube by blending an old-school valve amp with aluminium, acrylic and an iPod dock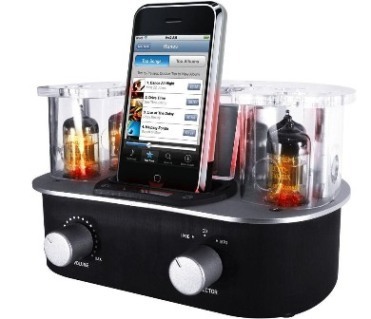 It can be jarring to see old mixed with new. Wrinkly ladies in mini-skirts, say, or mirrored skyscrapers looming above an ancient cathedral. Then there are the exceptions, such as the Music Cocoon's mixture of old-school valves with clear acrylic covers and anodised aluminium.
A peak here, a trough there
Not all about style, though, is it? Hence the Cocoon loses points for having an external power supply – which partly explains why it's so much smaller than the similarly specced iTube Carbon. It claws a few back by having LEDs displaying the volume level, and the speaker connections are heavy-duty jobs.
In fact, the whole thing feels very well put together. The aluminium top plate and acrylic valve covers have been superbly finished, and the knobs are quite solid. The remote control is tiny but really heavy and sturdy, and offers almost total control over your iPod. It also does source switching, which the iTube doesn't.
Force feeding
Where Fatman's iTube valve amp seems to add flesh to those MP3 bones without restricting their movement, this fella fattens them up just a tiny bit too much. It doesn't turn your tunes into couchbound behemoths, just gives them a touch of post-booze lethargy.
£400 is a lot to ask for an iPod dock, especially when you still need to find money for speakers, but the MC4 offers plenty of style, as well as cred among audiophiles. Sonically it falls a tad short of the astounding iTube Carbon – which costs £100 less – but not terribly so, and it has a more premium feel to it than the Carbon.