Philips SLA5520i review
The Philips SLA5520i has sleek looks and bundles Philips' Media Manager software, which is both PC and Mac-happy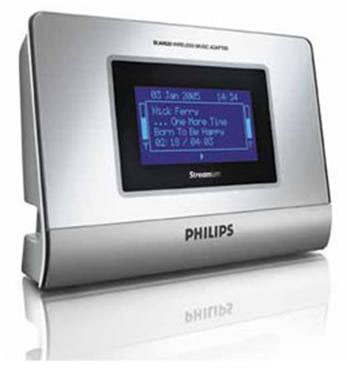 This kit was so new that, to prevent it from rejecting us, we had to wrap it in the pelt of a freshly skinned Philips employee. But once 'mommy' and the SLA5520i became acquainted, the bond was more than skin deep.
Kitchen nightmares
This wireless audio link isn't perfect – we'll come to that – but neither is it the black sheep of Philips' Streamium family. It has sleek looks and, though it lacks solidity, our complaints are more 'food delicious, service average' than 'caught salmonella, waiter stabbed me'.
Bright and breezy
Naturally, it bundles Philips' Media Manager software, which is both PC- and (using the Beta version) Mac-happy. The Apple friendliness doesn't extend to AAC file capability, though, and to play Windows DRM files you need Windows Media Connect.
Otherwise, this is a warm breeze to use: a wise wizard helps your computer shake paws, and the fearfully small-looking display is easy to read, thanks to its brilliant text.
The Philips doesn't sound as dynamic as, say, its Roku and Squeezebox rivals (possibly not helped by the solitary 3.5mm jack audio output) but, for the cash, it impresses even your tightest nylon socks off. This is top-performing budget kit.