Asus P526 review
The launch of Asus' latest Windows Mobile 6.0 wielding, GPS-tastic Pocket PC is imminent, but will it deserve space in your pocket?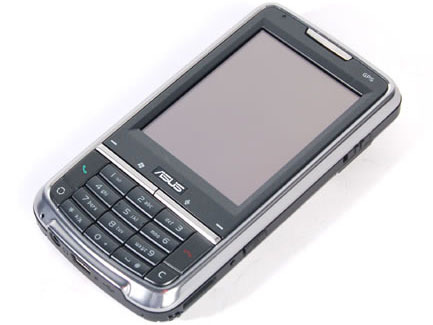 The P526 is one of the slimmest, trendiest Pocket PCs we've seen, slathered in grey and silver and weighing just 115g – a fair whack less than an XDA Orbit/MDA Compact III and, astonishingly, marginally lighter than Motorola's new Z8.
It promises to make it easy for users to keep connected with friends via instant messengers, blog updates and emails as well as being a faithful companion around the office.
It's also a potent road warrior, boasting built-in GPS and supplied with both a car charger and a cradle.  Asus hasn't made the decision on whether or not it will bundle it with the software as well, but if they do then it's likely to be Destinator 6 which features the latest Navteq maps and the usual 2D/3D/night views.
Controlled substance
The sheer practicality of the P526's controls shines through and makes this feel like a device you could actually live with on a day to day basis. 
The standard numerical keypad makes number dialling and SMSing refreshingly familiar, and Asus have provided extra shortcut buttons and a brilliant spring-loaded jogwheel for navigation.
Windows Live is integrated into the home screen, showing your MSN account and a search bar for speedy access to surfing on the move. 
Direct Push email will keep Exchange-using corporate types happy while Pocket Office lurks in the background ready to make mincemeat out of editing downloaded Word and Excel files.
There is a glut of unique goodies pre-installed too, including a presentation controller for impressing the boss with your wireless PowerPointing and, for the paranoid, the "MySecret" software which allows those sensitive documents to be concealed. 
For people who are new to Windows Mobile, there's also the Asus Launcher which is a simple icon-driven menu providing a list of shortcuts to common tasks.
Talk is cheap……but surfing isn't. The biggest surprise about the P526 is the criminal lack of Wi-Fi or 3G connectivity; with only GPRS/EDGE on tap, using the plethora of web-based applications is going to rack up a humongous bill unless you get a substantial data package from your network operator.
Windows Media Player 10 squashes multimedia cravings and blasts out tunes through the built-in speaker or the supplied headphones – big respect to Asus for throwing in some half-decent cans.
The 2MP snapper doesn't really sparkle, although it's perfectly ample for drunkenly MMSing pictures that you later come to regret.
The P526 may not be the best realised smartphone on the market. It is, however, one of the most enjoyable to use, easy to live with and stylish Pocket PCs around.
Related reviewsNokia N95