Subbuteo shoots, scores
No wonder this kid's smacking his forehead - he's up against the boy with the strongest forefinger in Britain. So what's the big deal about new Subbuteo?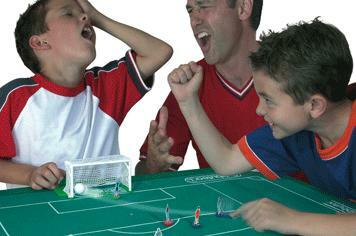 We're a sucker for updated 80s kids' games, so Subbuteo's new Dream Team Stadium and famous player model are right up our street. The stadium is more Roots Hall Southend-style than Theatre of Dreams United-style – it's basically two tent-like poles that arch over the mat and keep the pitch flat.
The famous player models are cooler. For the first time, Subbuteo's actually made individual models for the squads of Arsenal, Chelsea, Liverpool, Manchester United, AC Milan, Barcelona, Inter Milan, Juventus and Valencia. So you can have your own little "photo real" Mini Roo, rather than just drawing a frown on your white United player with the brown hair. The stadium's £30, players will cost £5 each. Click here for more info.