Sony to launch 3D Experience streaming service
Following hot on the cables of Samsung in the smart TV revolution, Bravia TVs are to get free 3D treats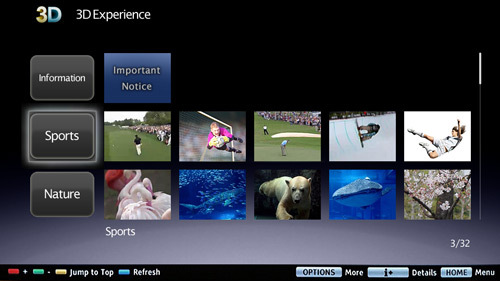 Gadgetland hasn't hidden its recent fervour for all things 3D, cramming it into TVs, computers, cameras and even phones. But there's still a dearth of quality 3D viewing for those early adopters who've taken the plunge. Samsung was first to grant some stereoscopic freebies with its 3D Explore app on Smart TVs.
Now Sony is following suit, offering owners of 3D capable, internet ready Bravia TVs access to its 3D Experience smart TV app from 13 July. The TV over IP channel will offer Wimbledon highlights, game previews, movie trailers and music videos. A future offer to owners of 3D-capable Blu-ray players and hi-fi systems is also planned. Here's hoping for some free 3D movies coming to our PlayStations soon…
Also
App of the Week – StumbleUpon!
I'm Watch gets decked out in gold, diamonds and Android
Guardian newspaper Kindle edition launched