Samsung Galaxy S III spotted, again
Is this the new Samsung flagship smartphone? Or just another fake?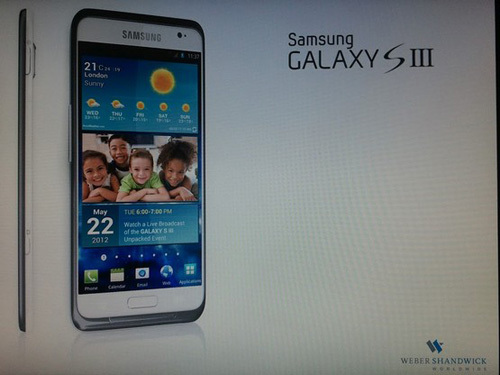 The Samsung Galaxy S III has been teased and taken away with dates popping up and being shot down. The only thing as sporadic as these announcements has been the mocked up photos. So is the above shot from Reddit a fake or the real thing?
While this Galaxy S III mock-up looks great with a slim body, minimal bezel and big clear screen, there are a few warning flags. For instance, the presence of a button seems unlikely since it'll be running Android 4.0 Ice Cream Sandwich, with its on screen menu buttons.
The two-tone colour would be a first – but might cannibalise sales of individual black and white versions of the Galaxy S III. Lastly, the date of May 22 is the first we've heard of it and the PR company named in the corner – Weber Shandwick – is no longer Samsung's representative. But then, they could have been brought on board for a single major launch.
So is this just a pretty fake or can we expect a two-tone Samsung Galaxy S III to be announced on May 22nd? We've got our fingers crossed.
You may also like
Intel Ivy Bridge HP laptops due in April
Apple TV (2012) has double the RAM