RIP: 7 megapixel compacts
7MP compacts? Pah! Ours is already on eBay - we want an 8MP job like this slinky new Ricoh GX8.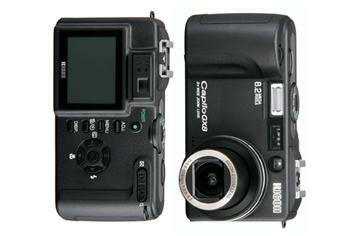 You gotta love a press release that starts: Northampton. 2005. After the N-word you know you're in for a treat, and Ricoh's new GX8 doesn't disappoint. It shoots 8.24MP snaps, which comfortably beats 7MP rivals such as Casio's EX-Z750 and Sony DSC-P200 for sheer image size. The other big fuss here is the wide-angle lens, a feature that Ricoh's become something of an expert in. If you've not used one before, it basically makes it easy to shoot big subjects – such as an elephant strolling down the street – at a short distance.
The rest of the tech specs don't warrant much excitement. There's a ho-hum 3x optical and it's worth noting there's no VGA movie mode (slap on the wrist, Ricoh). If our previous experience is anything to go by, this'll be like most Ricoh cams – very good, just not very sexy. It's out May 9th for £300. Click here for Ricoh's website.