RIM confirms it's not abandoning physical keyboards for BB10
CEO Thorsten Heins confirms RIM will not be ditching its famous QWERTY keyboard in favour of a virtual one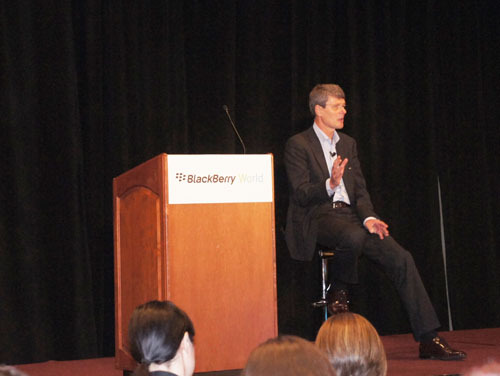 Contrary to the influx of reports that hit the web yesterday, RIM has set the record straight that it will not be ditching the QWERTY keyboard its Blackberry smartphones have become famous for in favour of its new smart touch keyboard with its next-gen BB10 OS.
During a Q&A session at BlackBerry World with an exclusive group of journalists, RIM CEO Thorsten Heins said: "I read a few statements yesterday that we are no longer going to make phones with physical keyboards and I don't know where these statements came from?" He also confirmed "we don't want to give this up" and "physical keyboards will be an option in the BB10 portfolio."
After yesterday's keynote it became clear that virtual keyboards will play a big role in the BB10 OS, but as there was no direct mention of physical keyboards, this led to wild speculation that that RIM is ditching its trademark QWERTY.
Commenting on the Dev Alpha phone that did the official rounds yesterday, Heins said: "we only showed you one element of what BB10 may look like, there is much more to come."
So there you have it – we've heard it straight from the horses mouth. And while the smart touch keyboard and its gesture-based features sound impressive, RIM is still going to hold on to the feature that is synonymous with its BlackBerry smartphones. If the BlackBerry faithful were not convinced, they should be now.
Want to know more about the new BB10 OS? We can tell you everything you need to know.
BlackBerry 10 Dev Alpha hands on review
Rimac Concept One goes on sale
Spotify iPad app out now