Retina Display MacBook Pro (2012) first look
Here's our first through-a-glass-case impressions and photos of the beautiful next-gen MacBook Pro from WWDC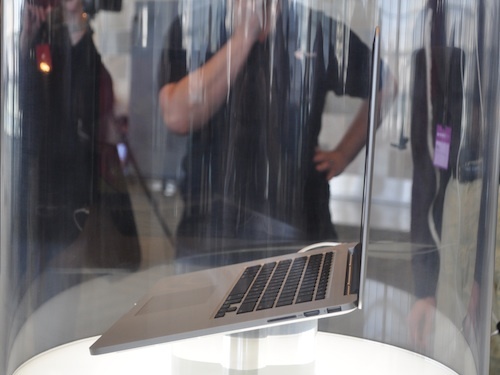 And here it is: the laptop we all suddenly want to run away and marry. The "next generation" MacBook Pro – as Apple's calling it – was kept safely behind glass as we rushed towards it at the end of Tim Cook and friends' mammoth two-hour WWDC keynote (liveblogged to within an inch of its OS here). But we still managed to get a peek at that 220ppi screen and amazingly thin design.
First up, that Retina Display – if you were in any doubt about still plumping for a MacBook Air – don't be. The 2012 MacBook Pro's screen really is something else – it looked utterly beautiful during our brief encounter and we can't wait to edit 1080p video in a Final Cut Pro window and view high resolution images on the 2880×1800 display.
Then there's the MacBook Pro's new glorious form itself – it's not quite as thin as the MacBook Air and it has sacrificed its optical drive. But at 0.71in thin and weighing in at just 4.5llbs (making it the lightest ever MacBook Pro too) we're not complaining and tell us, when was the last time you stuck a DVD in your laptop?
Compare it to the current 0.95in thick MacBook Pro and it is a radical change we'll welcome with open arms (and open wallets). Apple reckons no-one else can come close to copying the MacBook Pro and MacBook Air. Ultrabooks assemble!
With just as much beauty on the inside as out – thanks to sexy Core i5 and i7 quad-core processors and up to 16GB of RAM – this is no shiny accessory. It took a bare glimpse of the Retina Display MacBook Pro for us to want one and we can't wait to have a longer play when the Apple gives us the nod. Keep an eye out for our first hands-on experience with the world's latest most-wanted laptop in the next couple of days.
Apple reveals new Thunderbolt accessories at WWDC 2012
Apple reveals new MacBook Air lineup at WWDC 2012