Nike unveils super light Flyknit running shoes
This trainer looks pretty fly for a knitted guy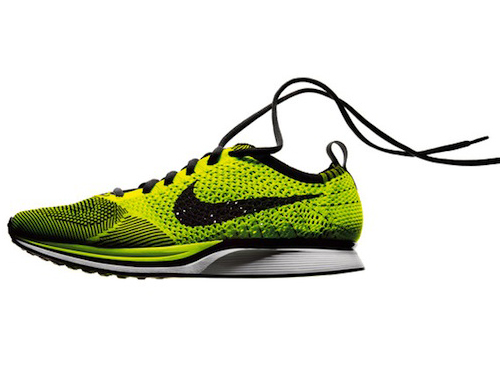 Nike's upping its trainer game just in time to shimmy onto Olympians' London 2012 shopping lists. And it's taken inspiration from your gran, with Nike introducing Flyknit tech in its new running shoes.
Yes, yarn looks a lot cooler in lime green and with a great big trademark tick in the middle – but can it compete with the big boys on the track?
Nike reckons that the Flyknit Racer shoe weighs in at just 160g in total (for a size 9) – that's almost 20% lighter than marathon fave the Nike Zoom Streak 3. All this this shaving off of pounds is aimed at making the trainer like a second skin for your foot – in theory making it more comfortable and natural to run miles and miles.
Nike's also launching the Flyknit Trainer+, aimed at those of us who get a stitch running for the bus. Even this everyday trainer weighs just 220g.
The Flyknit range is set for a July 27th release – but we doubt Nike will make those Olympians wait that long to get their feet in a pair.
Google Glasses coming this year
Epson reveals world's lightest GPS watch