Need to know – new Apple iPad (iPad 3)
That's it folks, the rumours have been quashed, the curtains have been lifted, and the new Apple iPad has been shown off for all the world to see. Here's everything you need to know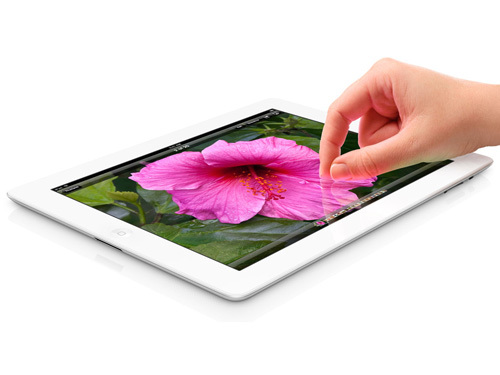 Finally. After aeons of speculation and rumours, the new Apple iPad (yes, that's its official name) has been revealed to the world in all its shiny glory. It's been one hell of a ride, but now we know the facts you can sit back, relax, and join us in lapping up all of the delicious facts about the Apple's latest addition to its iFamily, the new Apple iPad..
New Apple iPad (iPad 3) – overview
Apple's iPad 3 might still be packing a 9.7in screen, but its whopping 2048×1536 resolution makes it an industry-leading super-sharp retina display. While the body remains roughly the same as its predecessor, it's host to a souped-up A5X dual-core processor (which apparently packs in four times the graphical grunt of Nvidia's Tegra 3 processor), and an upgraded 5MP camera with full HD video recording. Read on for the full lowdown on the new Apple iPad 3…
New Apple iPad (iPad 3) – screen
The new iPad has Apple's biggest retina display yet, whose 2048×1536 resolution packs in so many pixels that you won't be able to distinguish between them with the naked eye, just like the iPhone 4S' display. That's a total of 3.1 million pixels at 264ppi, with a 44 per cent increase in colour saturation. The end result is an astounding screen that squeezes in more pixels than the projector that it was shown off on. Mighty impressive stuff, we think you'll agree.
New Apple iPad (iPad 3) – processor
The new Apple iPad will be powered by a dual-core A5X processor, but don't let that put you off – it also features quad-core powered graphics, supposedly four times faster than Nvidia's Tegra 3 offering, which Apple claims will wipe the floor with the latest games including the newly announced Infinity Blade: Dungeons. Time will tell how the new iPad will match up against its Tegra 3 quad-core toting Android rivals, but it's a battle that we can't wait to witness first hand in our reviews. Watch this space.
New Apple iPad (iPad 3) – camera
The new iPad will be toting a 5MP camera (sans flash), as opposed to the 8MP snapper that was on the cards, although an big improvement in performance over the iPad 2's paltry camera is still expected thanks to auto-exposure, noise reduction and image stabilisation tech. Full 1080p video recording is another upgrade and both video and photos should look spectacular on that drool-inducing retina display.
New Apple iPad (iPad 3) – design and build
The new iPad doesn't stray too far from the iPad 2 in the looks department but it does measure in at 9.4mm, slightly thicker than the iPad 2's svelte 8.8mm body. The home button, volume and power buttons still remain, as does Apple's proprietary 30-pin dock connector, which, to be honest, was always a given.
New Apple iPad (iPad 3) – 4G and 3G
The new iPad will be hitting US shelves with 4G capability, while UK Appleites will still be stuck rocking 3G speeds. Boo, hiss. A Wi-Fi only model will of course still be available for those of you who don't fancy forking out for an extra monthly data plan.
New Apple iPad (iPad 3) – iOS 5.1
Siri makes a cameo appearance in the new iPad, with voice dictation cooked straight in to the iOS keyboard, activated by a new microphone key. Apple has also introduced updates for iPhoto, iWork, iMovie and GarageBand. iPhoto's bezel gestures, photo beaming and multi-touch editing look particularly tasty.
Apple iPad 3 – battery
The new Apple iPad will serve up the same 10 hour battery life as its iPad 2 predecessor, with 9 hours of use reported with 4G turned on. Not too shabby, considering the extra processing power and pixel-cramming retina display on offer.
Apple iPad 3 – price and release date
The new Apple iPad will be available from March 16th in black or white, and prices will start at £400 for the 16GB Wi-Fi model. £480 for the 32GB Wi-Fi model and £560 for the 64GB Wi-Fi model. We assume that UK prices for the 4G models are actually for the 3G models, given that the UK won't be getting a 4G model. Prices for the 3G models are £500, £580 and £660 for the 16GB, 32GB and 64GB models respectively.
The original iPad 2 will continue to be sold alongside the new iPad and has had its price slashed down to just £330 for the 16GB Wi-Fi model.
New Apple iPad (iPad 3) – first impressions
It may not have an actual name, but the new Apple iPad packs in plenty of improvements to get excited about. From the glorious retina display and powerful A5X processor with quad-core graphics, to the improved camera and same great battery life, the new Apple iPad offers a very compelling package for new tablet owners. As more and more apps begin to cater to the new iPad's insane screen resolution, it will also look like a very tempting upgrade for existing iPad 2 owners too. Stay tuned for our hands on review and more new iPad news as we get it.
UPDATE: Read our in depth new iPad 3 review here.
New Apple TV launches with 1080p video and new UI
By Numbers – the new iPad (iPad 3)
Apple's new iPad (iPad 3) launches with HD Retina Display