Need to know – B&O BeoSound 8
B&O, purveyor of uniquely styled bits of hi-fi, TV, phones and alarm clocks, is now a purveyor of iAccessories, too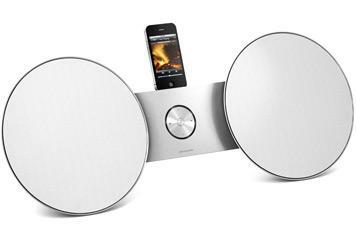 B&O, purveyor of uniquely styled bits of hi-fi, TV, phones and alarm clocks, is now a purveyor of iAccessories, too. We've been in-depth to bring you all the details on the BeoSound 8 iPad dock.
It's an iPad dock
Although it looks like WALL-E getting a surprise, the 30-pin connector on the BeoSound 8's top will plug into your iThing, while an adjustable nub on the rear supports it from behind.
It'll play music from anything
It can play tunes from iPod Touches and iPhones (plus other iPods, we're told) and has a 3.5mm line-in jack for, well, everything else. Despite the iPhone's warning that the BeoSound 8 may be affected by "celluar interference", we're assured this isn't the case.
That's not a jog wheel
It's just a circular four-way clicker with a glowing central select button. Not that you'll need it much – you'll almost certainly prefer navigating your music library on the touchscreen.
It's pumping stereo
Each channel has two drivers with independent amps. We'll reserve full judgement for a review in controlled conditions, but first impressions to our ears were worthy of B&O's reputation for thoroughly listenable sonics.
Your wall will love it
Despite its conical speaker backs, B&O has made a simple, non-invasive wall bracket for people who don't have a spare table. We haven't seen it up, but apparently it "floats".
There's an app for it
Or will be soon. B&O's updating its BeoLink app to fully accommodate the BeoSound 8. Meanwhile, you can use your B&O phone, existing BeoLink software or the thumbable circular remote that comes in the box.
You can have one for Christmas
It's a limited release, but we're told it's going on sale in the first week of December for £895 in black or white. Optional speaker covers in a variety of colours will set you back a further £50.
More from Stuff.tv
– LG L-03C is more camera than phone
– Facebook fails to produce mythical phone
– Rumour Mill – Apple to offer logic board upgrades again
– Next Big Thing – guerilla filesharing
– Rumour Mill – Chrome OS laptops slated for November
– Gibson Firebird X – world's most gadgety guitar
– 25 most iconic computers of all time
– Next Big Thing – SIM-less phones