MWC 2010 – HTC Desire, Legend and Mini HD uncaged
As mentioned over on the Mobile World Congress live blog, HTC spilled a trio of new phones in Barcelona this morning.Two Android handsets – the Legend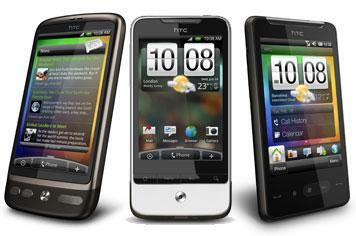 As mentioned over on the Mobile World Congress live blog, HTC spilled a trio of new phones in Barcelona this morning.
Two Android handsets – the Legend and Desire – and the WinMo HD Mini (sadly not running the freshly announced Windows Phone 7) were unveiled at the company's press conference. All are skinned with HTC's Sense UI.
The Legend's aluminium unibody backs a 3.2in AMOLED HVGA capacitive touchscreen and has replaced the usual trackball with an optical joystick in line with the device's slick industrialised design.
It has the requisite 5MP cam with AF and flash, GPS, 3G and a host of social networking options, but could be let down by a weedy 600MHz processor. It should be coming in April through Vodafone.
Like the Legend, the Desire runs Android 2.1 Eclair, but should have a lot more poke thanks to a 1GHz Snapdragon motor. Stretching across 3.7in and with WVGA resolution and multitouch gesture recognition, the screen is also top spec.
It's also rocking a 5MP cam (with face detection), plus HSDPA and GPS, and will be available on T-Mobile from 26th March.
Lastly, is a miniaturised version of the HTC HD2. The HD Mini has a 3.2in capacitive touchscreen, GPS, 3G and a 5MP cam, but is blighted by a 600MHz processor and WinMo 6.5 Professional. Coming at the beginning of April.
All three phones dim the ringer volume when you pick them up, a trick learned from the HD2, and auto-mute when placed faced down.
Looks like that's it from HTC this year, and not a Windows Phone 7 prototype in sight from one of Microsoft's favourite manufacturers. When that day comes, we'll have the details right here on Stuff.tv.
Hungry for more of the latest news? Check out the Mobile World Congress live blog