Motorola unveils RAZR trio
Droid RAZR HD, Droid RAZR Maxx HD and Droid RAZR M debuted in New York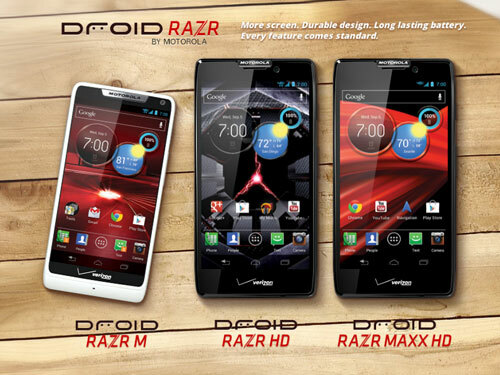 While we were getting a close look at the Nokia Lumia 920 in New York today, Motorola was launching a triple whammy of new Android phones just up the road. Or "street", as they call it there.
The Droid RAZR HD sports a splash-resistant Kevlar body, 4.7-inch Super AMOLED Gorilla Glass screen and will come with the Chrome browser pre-installed – not that surprising perhaps, given Google's ownership of Motorola.
Moving onto the Droid RAZR Maxx HD, the highlight could well be the battery: Motorola says it'll last up to 27 hours for music playback, 10 hours for video and will withstand 21 hours of talk time. There's 32GB of internal storage and the same 1280 x 720 4.7-inch display as the RAZR HD.
Rounding off the new range is the Droid RAZR M, which is slightly more wee at 4.3 inches (and a 960 x 540 resolution). Like the other models, there's a Kevlar body. You also get an 8-megapixel camera, 8GB of built-in storage and a micro SD slot.
We expect slightly modified versions of these three phones (all of which will be available through Verizon in the States) to appear in the UK at some point. Motorola aims for all its devices to be either sold with Android 4.1 Jellybean installed or be upgradeable to support it. In the US at least, if your existing Moto Android phone won't run Jellybean eventually, they'll hand over US$99 in credit.
[via Pocket-lint]
You may also like
Nokia Lumia 920 – first impressions
New video! Humax DTR-T1000 YouView PVR reinvents the living room
Nokia unveils Lumia 820